The Best Celebrity Vacation Homes
SimonePolattini/Shutterstock
Celebrities have more money than most of us can ever fathom, and their spending is usually right in-line with that — but can you really blame them? Although some stars choose to splurge on fancy cars, designer clothes, and amazing trips, there's one purchase that seems to be the most enticing. Per Wall St. Watchdog, one of the most popular celebrity purchases is additional homes, which makes sense for the rich-and-famous who love to vacation in exotic locales but don't want to check-in and out of a hotel or deal with crazed fans and paparazzi.
Celebrities choose to buy these amazing vacation homes all over the world, and unlike our one-bedroom, bare-bones beach condo that we share with all 10 of our family members, these homes are large and extravagant enough to put our full-time homes to shame. Here are some of the most impressive celebrity vacation pads, spanning the Hamptons to Hawaii.
The Obamas' traditional Martha's Vineyard estate set atop 30 acres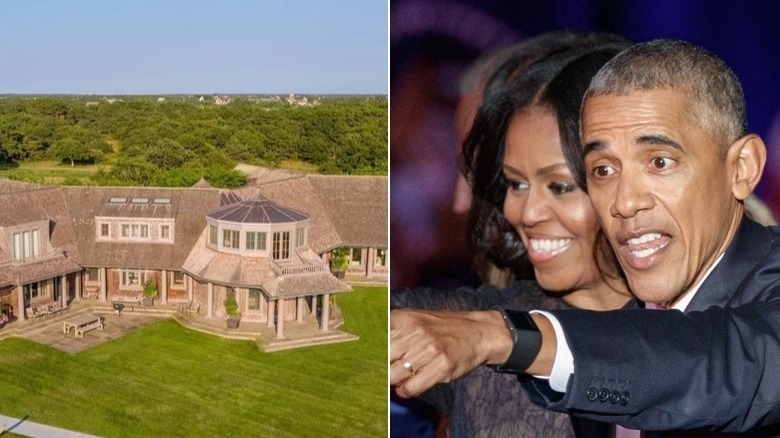 John Gress Media Inc/Shutterstock
It's been years since the Obamas called the White House home, but clearly, they still have several stunning residences to call their own. One of those is a nearly $12 million mansion on Martha's Vineyard, offering both views and privacy. According to Homes & Gardens, Barack and Michelle Obama picked up a seven-bedroom vineyard home atop 30 acres offering sights of the Atlantic Ocean and several smaller bodies of water on the exclusive island near Massachusetts. The Obamas are no strangers to Martha's Vineyard — for many years, they've headed there for family vacations — but in late 2020, they bought the same 7,000-square-foot home that they used to rent.
The traditional brick-lined house offers charming details like stone fireplaces, several overlooks, lush foliage surroundings, and crisp, white décor. It was also an absolute steal. When the estate first went up for sale in 2018, it was listed for $22.5 million. But with no offers, the price continued to drop until the Obamas decided to make the leap. With a separate barn, fireplaces scattered throughout the house, a pool, garage space for two vehicles, a boathouse, and private beach frontage, it's obvious why the Obamas fell in love with this two-decade-old estate. They're also not the only ones. Other former presidents, including John F. Kennedy and Bill Clinton, also found some rest and relaxation at Martha's Vineyard.
Victoria and David Beckham's European castle-esque getaway in the South of France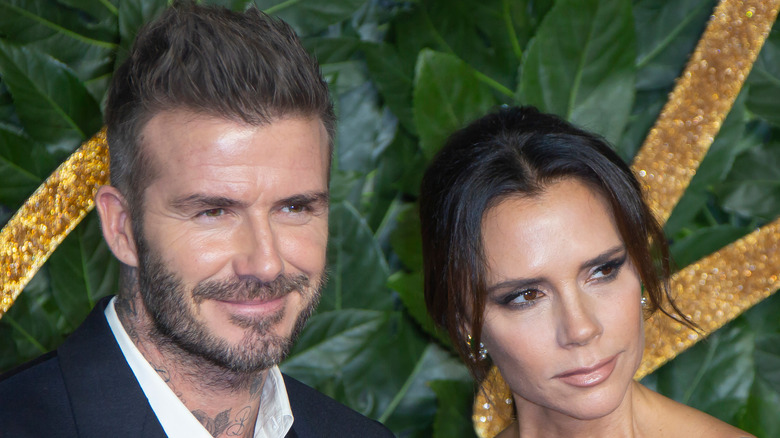 BakounineShutterstock
The South of France is known for being the getaway to celebrities and millionaires all over the world, and Victoria and David Beckham are not exceptions. Two decades ago, they bought a historic home near the Cote d-Azur for nearly $1.7 million and then pumped another $5.6 million into making it their dream destination. But The Sun reported that they seldom visited the retreat, and in 2016 they decided to try and bid it goodbye for just over $3.1 million. However, despite its surprisingly low price tag, it doesn't appear to have ever sold to another owner.
We hope that's perfectly fine with Posh and Becks, because this place is loaded with regal character. Outside, an infinity pool is flanked by Spanish-style towers, all surrounded by colorful trees, shrubbery, and flowers atop a mountain and stone steps. Inside, this place might as well be the home of a king and queen. Its jewel-colored walls are topped with towering chandeliers, exposed wood beams, and arched marble doorways. Drapery hangs from every window, many of which face the beautiful blue sea below. One of the home's suites leads directly to a terrace that walks into seemingly endless gardens. And, there's even a pool house, detached farmhouse, and chapel — in case 6,500 square feet of space isn't enough.
Christie Brinkley's personalized Caribbean paradise that's available for rent
Everyone's favorite age-defying supermodel isn't just an American beauty. Christie Brinkley also has a pad in Turks and Caicos, equipped with three bedrooms, a beachfront location, butler service, and lots of charm. However, you don't need to be a Brinkley to spend a night here. Hello! Magazine reported that the beachside paradise — dubbed the Lucky House — can be rented for nearly $1,000 per night. It's also located on a private island, said Lonny, offering celebrity-worthy privacy (whether you need it or not.)
Brinkley's entranceway is surrounded by maze-lake vines, presenting a whimsical first look at the very personalized pad. The white living room, lined with floor-to-ceiling windows, has amazing views of both the ocean and an infinity pool surrounded by tropical plants and palm trees. Towering ceilings also allow beachy wind tufts to make their way inside the home, offering a truly indoor-outdoor feel. The dining room also brings the beach indoors with a mirror adorned with pastel-colored shells, a wood table, and an opulent cabinet. Driftwood décor that reads "love" is on one of the walls, next to a light fixture also made of driftwood with hanging lanterns. But as if this house didn't seem dreamy and romantic enough, there's also a very zen-like bathroom with a classic clawfoot tub, as well as a canopied bed lined with sheer white linen.
George and Amal Clooney's $100 million Italian retreat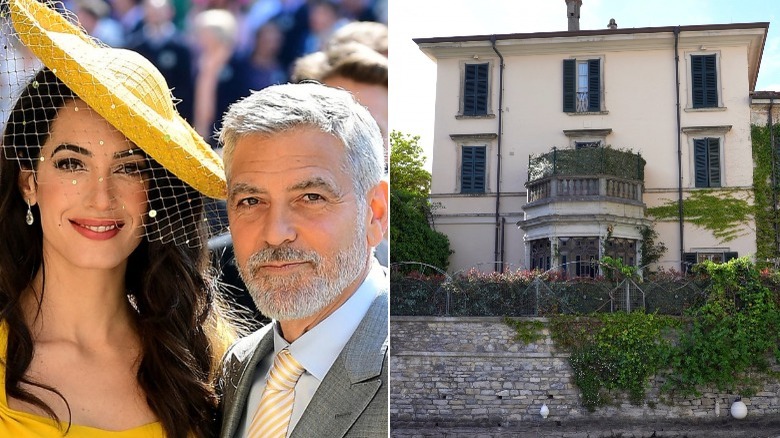 Delbo Andrea/Shutterstock & Wpa Pool/Getty
Some entire towns are worth $100 million. But per Closer Weekly, that's just what George and Amal Clooney's villa in Lake Como, Italy is worth. Dubbed Villa Oleandra (named after a type of plant), George bought the pad 20 years ago, long before he ever knew Amal, for $14 million. But since then, the value of the estate has skyrocketed. It's now worth about $100 million thanks to its 25 rooms, including amenities like a private gym, personal theater, garage that can fit several cars, area for playing tennis, a pool, and boat access (because why else live next to an Italian lake?)
The home has three floors and is tucked between several other historic Italian buildings in Laglio, a small Italian town with less than 1,000 residents. Its concrete façade is surrounded by lots of greenery for privacy, as well as Juliet balconies ideal for looking out over the water below. But amazingly enough, in the spring of 2021, two commoners got to see the pad up-close and in person. That's because the Clooneys created a giveaway contest offering one lucky winner and a companion a stay at an Italian hotel and a dinner with the Clooneys at their home, reported House Beautiful. To enter, people had to donate to The Clooney Foundation for Justice, which seeks to fight human rights injustices worldwide.
Oprah's country-style Hawaiian mansion that was completely renovated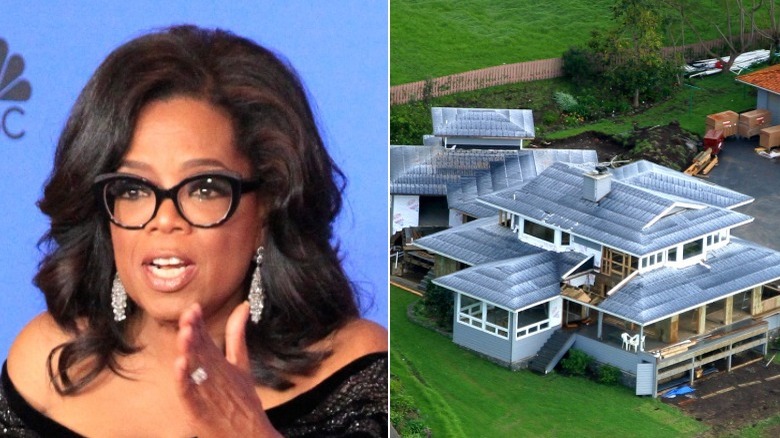 Kathy Hutchins/Shutterstock & Erik Aeder/Getty Images
Media sensation Oprah Winfrey is great at giving everything from stories to projects a renewed sense of life, and that's exactly what she did with her Hawaiian home that was once just a simple ranch-style house. According to AmoMama, when she saw the modest home set atop more than 160 lush acres with ocean views, she just knew it was destined for greater things. Now, thanks to Winfrey, her architectural designer, and her property manager, it's a modern farmhouse fit for a queen.
Winfrey is no stranger to grand renovations — she's spent over $60 million renovating a dozen properties in her enormous real estate portfolio. Her Hawaiian farmhouse was revamped and decorated in a classic style and now features a wraparound porch, a white façade, and wood details (via Oprah). Inside, traditional colors steal the show, as do country-style details like horse figurines and rocking chairs, making the home feel more like a Western getaway than a tropical paradise. But actually, that's just what Oprah wanted for the space. Since the house is already in Hawaii and has amazing ocean views, she didn't feel the need to decorate with colorful flowers, pineapples, palm trees, and other traditional Hawaiian elements.
Julia Roberts' beachfront bungalow in Hawaii
Oprah Winfrey isn't the only A-list celebrity with a Hawaiian escape. According to Nimvo, Julia Roberts — one of the longest-standing actors in Hollywood — sold her vacation home in Kauai, Hawaii, about half-a-dozen years ago for $16 million. That might seem like a lot to us mere mortals, but it's actually only half of what Roberts was asking, and only slightly more than she paid for five years prior. But Roberts wanted to sell this cozy beach bungalow on two acres because, with plenty of other properties around the world, she didn't make it to Hawaii as much as she would have liked to. So, it was picked up by Mike Fleiss, a television and film producer who created hits like "The Bachelor," "The Texas Chainsaw Massacre," and "Hostel."
Roberts' former Hawaiian home measures in at nearly 4,000 square feet and features a classic red façade as well as six bedrooms, many that have front-row ocean or mountain views (because you don't have to pick just one in Hawaii.) With a large porch, floor-to-ceiling windows, and an outdoor shower, there are also lots of opportunities for indoor-outdoor living here. It also has colossal ceilings for an open feel, more than 200 feet of personal beach frontage, and a cozy kitchen with pops of color.
Calvin Klein's ultra-modern $84 million Southampton estate
As the founder of an iconic fashion brand that is standing the test of time, we're not really surprised that Calvin Klein himself once owned an ultra-modern estate facing the bay in one of the Hamptons' most exclusive towns. The Southampton Press reported that the designer bought a century-old abode for nearly $30 million in 2003 and then gave it a total revamp by demolishing the existing historic building, and later constructed a 13,000 square foot mansion. However, in mid-2020, when most people were flocking to non-city destinations, Klein offloaded his beachside escape for a whopping $84 million to a hedge fund manager.
That may seem like a good chunk of profit for Klein, but per  The New York Times, it cost Klein $75 million to do the entire renovation. Once it was complete, the house had an amazing indoor-outdoor flow thanks to its tall glass doors in every room. Most rooms were adorned with white, adding to the modern appeal. However, this isn't even the only home on the property. There's also a standalone private theater and lots of other unique amenities, including a secret passageway. But amazingly enough, it's barely the nicest house on the block in the 300-mile town. Southampton is one of the most expensive places to buy a home in the country, said Newsday, with median prices in some villages in the town costing $5 million.
Sting's historic Tuscan villa that's available for rent
Brinkley isn't the only celebrity who keeps her vacation home on the rental market for wealthy tenants. Sting's historic Tuscan villa, which he bought in 1997 with his wife, Trudie Styler, is also available for stays. But according to People, when they purchased what is known as Il Palagio more than 20 years ago, it looked a long way off from the regal residence it is today. Nothing had been kept up, and even the onsite vineyards hadn't been cared for. So, Sting and Styler got to work to create a one-of-a-kind Italian escape on more than 800 acres. The villa includes half-a-dozen standalone visitors' houses, five bodies of water, and even its own woods. And of course, there are also many amenities for those looking for a less rustic experience, including an area for playing tennis, riding horses, learning yoga, recording music, and getting a massage.
The whole place is also available to rent, including the primary suite where Sting stays himself when he's in town. He's also not the only celebrity to have spent the night here. Villa Il Palagio (which means "the palace" in Italian) was once owned by an Italian duke and duchess, according to its website. Even the onsite fountain here was once owned by Italian actor and beauty queen Sophia Loren.
Pharrell Williams' $30 million stately Miami beach house
As a producing and rapping musical force to be reckoned with, the big bucks have been pouring in for Pharrell Williams. So, in mid-2020, he splurged on a $30 million Miami pad in Coral Gables atop three acres with 17,000 square feet, nine bedrooms, and lots of private beach frontage. But according to The Sun, this is no ordinary celebrity holiday home. It also includes its own library, bar, wine storage area, and elevator. So the real question is, is there ever a need for Williams to leave?
Outside, the home gets even better. There's a view of the blue infinity pool from every bedroom's patio, as well as views of the lush backyard with lots of foliage, stone paths, and a separate building for boat storage. It also has a massive outdoor, covered area with cozy wicker furniture and plush rugs. But inside, the home gets way more classic and stately. It has a huge living room completely lined in wood with engraved ceilings and bedrooms almost fully outfitted in white that have towering windows and lavish drapery. Iron chandeliers are in nearly every room. Even the bathroom, also adorned with white and wood, looks like its shower can accommodate a party of 10.
Martha Stewart's classic American getaway in Maine that she bought fully furnished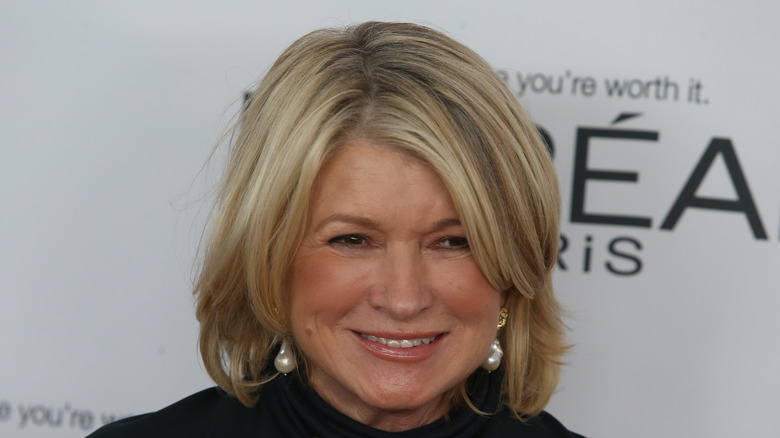 A katz/Shutterstock
Martha Stewart has long been the queen of all things domestic, which is reflected in her mansion in Seal Harbor, Maine, that she has owned for nearly three decades. Amazingly enough, however, the estate — called Skylands — was sold to Stewart with all of its furnishings and even kitchenware. According to Architectural Digest, she also hasn't changed much of the stone home with 12 bedrooms since she moved in. Today, it maintains its gigantic living room with exposed wood beams, outdoor patio with granite flooring, and classic American décor and details.
Outside, the brown-and-gray estate has green vines curling up the sides of the structure, as well as lush pine trees hiding it from view. From inside, Stewart and her guests can see Seal Harbor up-close over the tops of the trees. A limestone fireplace commands the space in the light yellow living room, as bold pops of color from various flowers give it life. The quaint dining room sits below a large bay window lined with wrought iron and is outfitted with vintage English chairs. Other vintage furniture, including a couch dating back to the late 1800s, also fills the rooms.
Giorgio Armani's laid-back Antigua home in a private community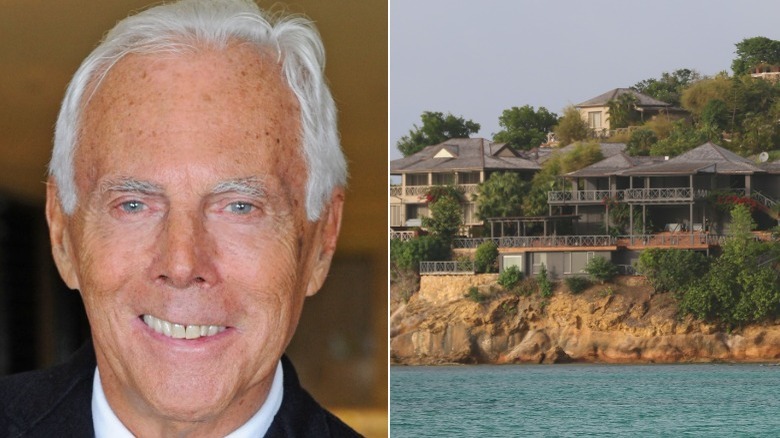 Leonard Zhukovsky & Delbo Andrea/Shutterstock
Italian fashion designer Giorgio Armani hails from a northern town in Italy where the weather can hit cold temperatures and snow can fall. However, that isn't the case for Armani's home in Galley Bay Heights, Antigua. Forbes said that Armani is just one of 24 uber-rich people to have a home in the private gathering of villas called Villa Flower. However, despite its exclusive status, it's centrally located, and other estates in the development are also available for rent — if you have $88,000 per week to spare.
But despite Armani's enormous wealth — he's worth a whopping $10 billion, according to Celebrity Net Worth — his Antigua home is humbly decorated. It has little fanfare that many other celebrity homes (especially vacation homes) have. His white-and-gray bed sits low to the floor on a wood plank, atop a beige carpet and next to a wicker screen. The living room is very similar, with low white couches, low coffee tables, and white walls. However, to no surprise, there are some truly star-worthy elements at the villa, including a pool, private fitness center, private beachfront, hot tub, and tons of outdoor space ideal for entertaining or simply checking out the picture-perfect ocean. Armani can also go beyond the coast thanks to Villa Flower's boat and captain service.
Lenny Kravitz's eclectic eight-bedroom Parisian townhouse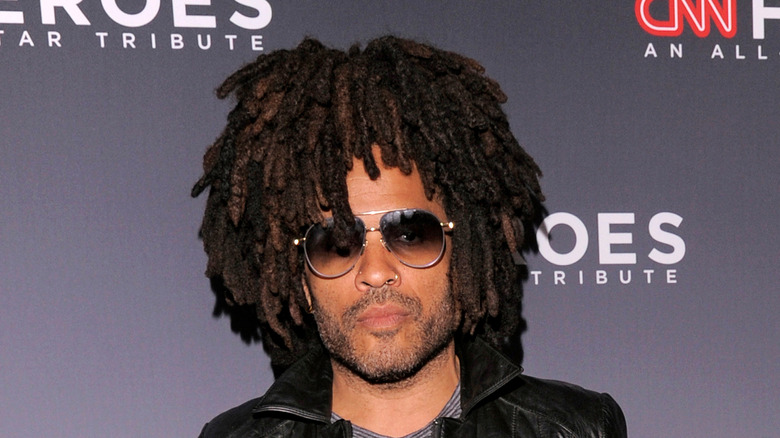 Ron Adar/Shutterstock
Lenny Kravitz hails from both New York City and the Bahamas, but he also seems to know how to appreciate life on the other side of the pond. Architectural Digest said that for more than a dozen years, he's owned a townhouse in Paris, but if you walked by it on its quiet street, you would have a hard time guessing that it's Kravitz's. Outside, it's quietly adorned and alludes to no passerby that a world-famous rocker spends some of his free time here. But inside, it's a totally different story — the eight-bedroom townhouse reflects Kravitz's unique tastes.
The entranceway, featuring towering ceilings, is topped with a crystal chandelier designed by Kravitz's home design company and is also decorated with shoes once worn by Muhammad Ali and James Brown. The walls are adorned with imitation elephant tusks dating back almost 80 years, as well as a huge panther figurine completely decked in red. If these sorts of items sound unique, it's because they're literally one-of-a-kind collectibles that could very well belong in museums. The whole place exudes elegance, starting with the black-and-white checkerboard floor next to a winding white staircase with a wrought iron banister.
Bruce Willis' rustic lakeside Idaho ranch that he bought during the height of his fame
Things haven't been amazing for Bruce Willis lately. Euronews reported that he averaged a 5% Rotten Tomatoes score for his 2021 movies. But during the height of his fame in 2003, Willis picked up an 8,400-square-foot rustic ranch in Idaho and then gave it a total revamp. Besides updating the home to modern standards, Willis also built a few bodies of water throughout the 20-acre property, constructed a pool fit for a waterpark, and added a separate visitors' house as well as a private gym. However, after only eight years, he listed the place for $15 million but could only garner $5.5 million after it sat on the market for nearly as long as he owned it, said Realtor.
The rustic qualities of the home extended inside, too (via Town & Country). The kitchen is almost entirely lined in wood, with both wood floors and cabinets. The living room has exposed wood beams as well as a commanding stone fireplace next to a fur rug and leather couch. Even the enormous walk-in closet has a rustic feel with its wooden dressers and bench. Plus, the place is always airy and bright with the home's many floor-to-ceiling windows.
Marc Anthony's 17,000 square foot Florida escape that he sold for $22 million
Marc Anthony is another celebrity that we haven't heard much from lately, but he seems to be doing just fine, judging by his spring 2021 sale of his 17,000 square foot home in Miami for more than $22 million. The Los Angeles Times said Anthony made over $3 million on the sale of his Coral Gables home located right on the water. Having owned it for three years before putting it on the market, Anthony picked up the plush pad from the family member of the founder of Bacardi rum for $19 million. When the former owner lived there, it was brand-new, so Anthony didn't make any changes to the space during the short time he had it as his vacation getaway.
There are a dozen bedrooms through the three-story space, making this home larger than some boutique hotels. To no surprise, there's lots of room outdoors, too. The home's private patios and other sunny spaces make up another 3,000 square feet, and it's all surrounded by a pool, spa, lush greenery, a dock, and a private beach.