West Elm Vs. Pottery Barn: What's The Difference Between The Two Brands?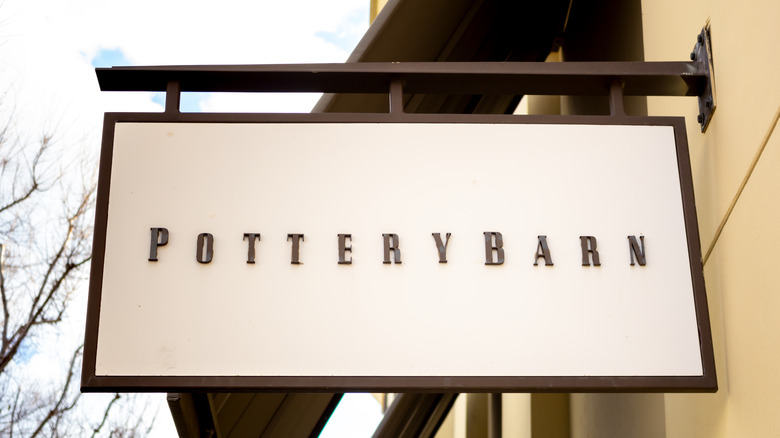 The Image Party/Shutterstock
Having established themselves as leading brands in the home furnishing market, West Elm and Pottery Barn have continued to grow in popularity and have introduced countless customers to classic and trendy designs and decor. Owned by one of the top home furnishing retailers in the world, Williams-Sonoma Inc., the brands not only share a parent company but many of the same goals. However, they couldn't be more different.
According to Stories Of A House, the two biggest differences between the brands stem from their styling and pricing. The younger of the two, West Elm, mixes mid-century designs with strong colors and fresh fabrics while working with local and international artists and designers to bring customers unique handcrafted home decor. In comparison, Pottery Barn, which was founded in the late 1940s, prioritizes crafting quality furnishings that tend to feature more traditional and timeless design elements.
As for the pricing of the two brands, West Elm's furnishings and decor are generally marketed towards millennials and young professionals who are just starting out, so their prices tend to be on the lower end of upscale furniture pricing. Pottery Barn's prices, on the other hand, often fall between mid-range and traditional upscale furniture pricing, although their furniture and decor aren't marketed towards a particular age group as they offer a variety of contemporary and traditional designs.
the importance of history
VDB Photos/Shutterstock
Along with the significant differences in style and pricing, Maria Julia and a team of writers from Chic Pursuit have also stated that legacy is an important detail to consider when discussing the differences between the two brands. In terms of Pottery Barn, the brand is roughly 75-years-old and had already opened 13 stores when it was acquired by Williams-Sonoma Inc. in 1986. Since then the brand has become a household name with almost 200 stores in the United States and operations in Canada, Mexico, the Philippines, and Australia. The brand also consists of multiple sub-brands including Pottery Barn Kids and Pottery Barn Bed, as well as outlet stores, and ships to over 60 countries.
Despite not being as established as Pottery Barn, West Elm has held its own over the years. Although it isn't necessarily a household name yet, the 20-year-old brand has over a hundred stores and can be found in more than 85 cities across the United States. The brand additionally operates in Canada, the United Kingdom, Australia, Mexico, and the Middle East, and ships to over 90 countries around the world. And while it doesn't offer as many sub-brands as Pottery Barn, customers are now able to buy furniture and decor from West Elm's kid's collection (via Apartment Therapy).