West Elm Vs. CB2: Which Is The Best Furniture Store To Buy A Sofa At?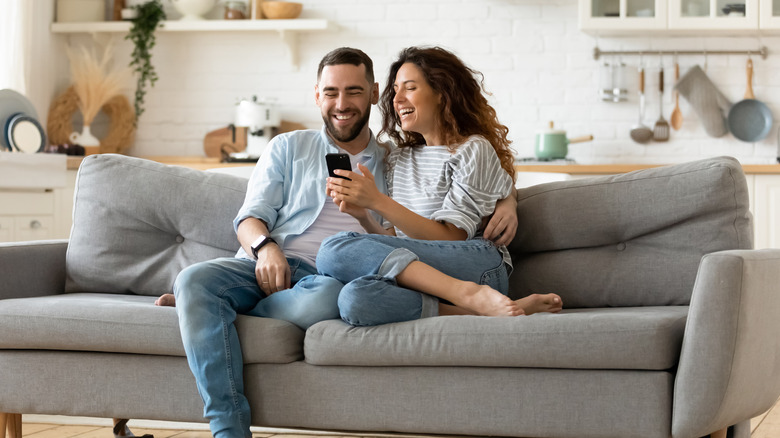 fizkes/Shutterstock
Your sofa is the center of your living room. You read, eat, watch movies, entertain friends, and even nap on this important furniture piece. If there's one piece of furniture that will get that much use in your home, you want to be confident with your purchase. So much of that confidence comes from the trust that where you buy your furniture provides you with a good product. That's why it's essential to do your research before you purchase.
High-end and luxury furniture stores claim to be unmatched in quality, design, and service. When you purchase from these stores, the higher price tags should ensure that your sofa will last you years and that they'll provide the customer service to address any of the issues you may have. Compared to big box stores, luxury furniture stores may have their advantages. But what about when compared to each other? In the case of West Elm vs. CB2 3-seater sofas, which store is the better option?
Modularity and customization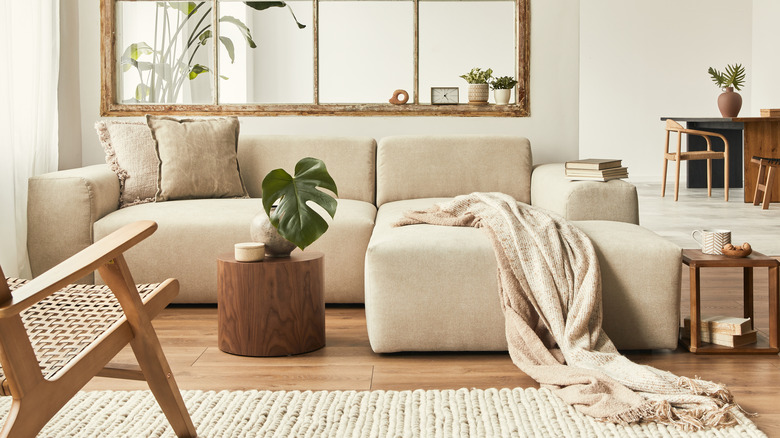 Followtheflow/Shutterstock
When buying any piece of furniture, you want it to fit perfectly into your space–both in size and in style. It can be difficult finding a ready-made sofa that'll go well with your other decor and is the right size. CB2 has a tool called build your own sectional. This online tool allows you to play with configurations of different sofa pieces to create the ideal sofa. However, not every modular piece is compatible with every sofa. So if a sofa doesn't have a chaise lounge, you can't add one through modular customization. West Elm has a similar tool where you can attach different modular pieces to create a custom layout. West Elm also gives you the option to purchase the sofa as-is. However, not all of the build-your-own-sofas options have access to this tool. Some, you have to select which pieces you want without configuring.
When it comes to furniture customization, West Elm has more options. They offer over 75 swatches with fabric, leather, and velvet, a stylish and durable upholstery option, according to Forbes. You can also customize the width and depth of the sofa, as well as the cushion and leg style. CB2 offer over 25 swatches but not every fabric is available for every sofa. They also offer fabric, leather, and velvet, though there are only a few color options per fabric type. Both stores offer modular options and customization; CB2 has a few more limits than West Elm.
Store policies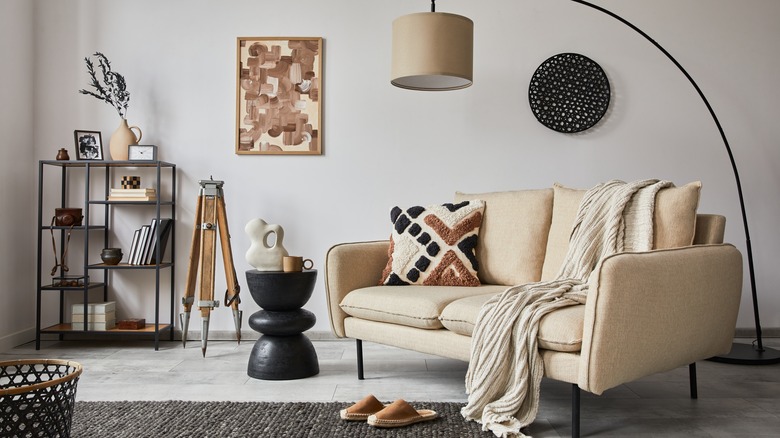 Followtheflow/Shutterstock
How soon can you expect your sofa after ordering? If the sofa is in stock when you purchase it from CB2, it'll ship quickly. If it's not in stock, then the lead time can vary. On average, the estimated wait is about four months. If you ordered a custom sofa, then the wait could be over seven months. West Elm's products are ready to ship when in stock. When out of stock, times can vary. But their custom sofas have a much quicker estimated delivery: between six and twelve weeks.
For delivery of a sofa, at CB2, their in-home delivery options will place the sofa in the room of choice and remove the packaging. The local in-home delivery costs $119 up to 100 miles from a shipping point. If you are more than 100 miles away, you'll pay a flat fee of $329 to have your sofa shipping within the contiguous U.S. West Elm offers home delivery for a flat rate of $99 to $149. This includes a white-glove delivery service, which The Spruce calls unbeatable, that delivers your sofa to your home by appointment, unpacks it, and does any required assembly.
Both CB2 and West Elm accept returns within 30 days of delivery. CB2 will inspect the item and issue a refund based on the condition, however, custom upholstery items cannot be returned or exchanged. West Elm has a similar return policy where custom furniture is not eligible for returns.