Bryan Baeumler's Ideas For Decorating Your Dream Home
Looking for your dream house? If you haven't found it yet, there are ways to transform your existing property into the house of your dreams. Made famous by his succession of Canadian HGTV shows, including "Disaster DIY" and the most recent "Renovation Island," Bryan Baeumler has acquired years of experience with home makeovers. Along with his wife Sarah, the design duo has the know-how when it comes to building dream homes, especially from their show "House of Bryan," which followed them on their journey of renovating a small bungalow into a larger forever home, per HuffPost.
Depending on the size and layout of your home, Bryan would agree that maintaining an open floor plan is always a great idea. This allows positive flow throughout high traffic areas among the kitchen, dining, and living rooms. Brighten it up! Another fundamental aspect is to incorporate more natural light, as this will also reduce artificial light within your home and save energy, per Danpal. You might add a skylight or more, including opening those blinds or curtains up for enough daylight. For added opulence, try splashing a desirable color of paint on the ceiling of your bathroom or kitchen, along with an eye-catching chandelier or light fixture. With this luxurious combination, all eyes will transcend. Keep reading for more of Bryan's best tips on creating your dream home!
Transform a utility room into a cozy laundry space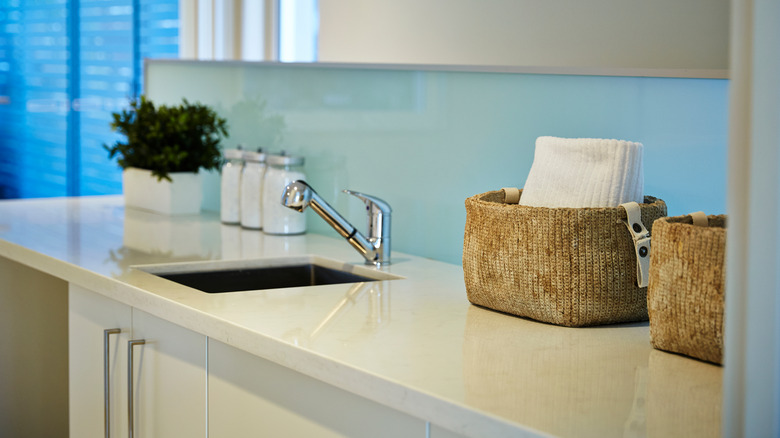 PhotoMavenStock/Shutterstock
Whatever your ideal home is, proper function is a must-have. With countless renovations Bryan Baeumler has encountered on his former show "Disaster DIY," he has managed to convert various spaces into something better, such as a junky tool shed into a private usable space in Season 3, Episode 20: "Junky Bunkie." In relation to this, Bryan might suggest converting a utility room into a cozy laundry room by including operative wood cabinetry, soft lighting, and a modular countertop over the washer and dryer, according to HuffPost. This gives loads of benefits to your laundry space with easy access for folding garments and maximizing storage. If you have a top loader, you might consider a custom piece that is able to be removed.
Whether it's DIY or store-bought, there are various types of countertop materials like marble, quartz, and granite, which are durable, non-porous, and antibacterial. While sustainable, rock materials like quartz are costly and priced at about $50 to $120 per square foot. According to Beautiful Countertop Ideas, utilizing wood and laminate is an appealing and cheaper option compared to some stone materials. Priced at approximately $20 per square foot, laminate alone has improved over the years, as you can find planks that feature various colors and patterns to resemble those top-notch materials.
Upgrade everyday rooms into an adult-friendly space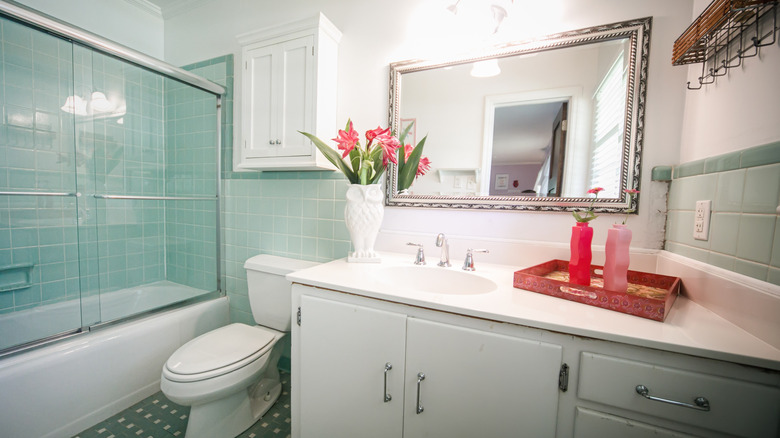 Ursula Page/Shutterstock
If you have children in the house, many times, spaces get overwhelmed with kid-themed décor, toys, and furniture, especially if the little ones are growing up. Bryan would be on board to initiate changes within the children's or collective bathroom. Whatever its size, you can upgrade this space with mature aesthetics like marble countertops, industrial-style light fixtures, and an antique-style mirror. Also, keep color, cartoon characters, and child themes low-key, as the bathroom should aim to be a tranquil space that fits your family's needs, including visitors, per Houzz.
Another space you might consider altering is a guest or spare bedroom, including a loft area or alcove. Whether it's a staycation for yourself or a resort-inspired escape for guests, Bryan would approve of creating an atmosphere that is both tasteful and inviting (via Huff Post). Like a private getaway, first designate a theme within the room that is different from the rest of the house, including a balance of color and light. Like most hotels, it's important to provide ample closet or drawer space for friends to temporarily unpack their clothes and belongings. You can also create a comfortable space by including nightstands, reading lamps, decorative floral arrangements, comfy decorative pillows, and bed linens. Depending on how long your guests stay, having a desk and cozy armchair offers a quiet space to work or read, per Impression Homes.