The Best Rug For Your Outdoor Space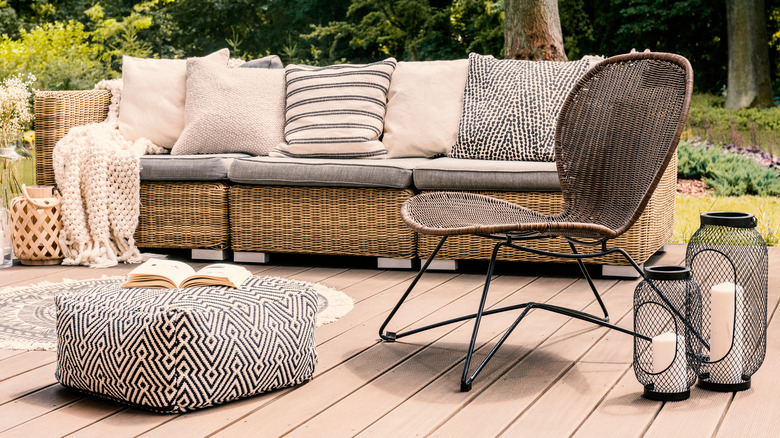 Photographee.eu/Shutterstock
Some homeowners may still be hesitant to purchase an outdoor rug; however, they don't know what they're missing out on! An outdoor rug can be the design element your outdoor space has been looking for, as it has the ability to introduce more color and texture while also creating a cozier environment, according to Sisal Rugs Direct. Having an outdoor rug can also help maintain the quality of your wooden porch and can also act as a bandaid to cover up any visible damage, such as water stains. 
There are many to choose from, but we've found what seems to be the best one. Consumer Reports says there are many factors to consider, such as its durability against high-traffic areas and weather elements, cleaning maintenance, and how it interacts with water. We've found a rug that seems to hit all the right marks, so take a look at an outdoor rug that could potentially elevate the overall design of your outdoor space.
A bright diamond design
Wayfair is known for selling a variety of home decor items at varying price ranges, and their Diamond Geometric Handmade Flatweave Area Rug may possibly be the best outdoor rug on the market. It comes in various sizes and colors, but its standard 8 by 10-foot rug in navy and ivory is priced at $828, according to Wayfair. Design-wise, it will add more interest with its diamond-shaped pattern that leads to bold edges, and there are plenty of colors to choose from to fit most design schemes.
It is made of polypropylene and was handmade into a flatweave. Not only is polypropylene soft to the touch, but it is also very durable and can handle extreme weather conditions, according to Sisal Rugs. Its beauty is also made to last, as its fade resistance will maintain its vibrant color. For those worried about keeping it clean, you'll safely be able to scrub your mess or use bleach if necessary.