15 Tips For Choosing Your Living Room Rug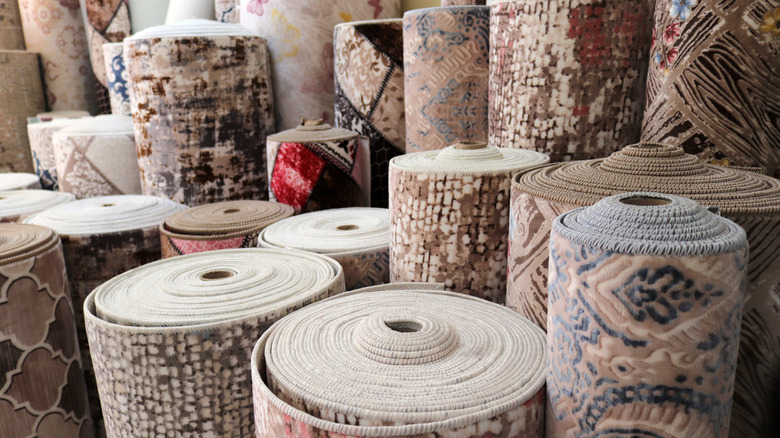 safakcakir/Shutterstock
Nothing ties a room together like the right rug, as noted by The New York Times. Whether it's an eye-catching conversation starter, the missing piece of the puzzle that brings a sense of cohesion to your space, or a background element that adds subtle warmth to the living room, a rug is not a décor item to be underestimated. The rug you choose can make or break a room's style, which is why it's so important to do your research before committing to one.
With so many styles to choose from, and given the massive price range of available options, shopping for a new living room rug can be downright overwhelming. There are a number of factors that you'll want to consider that can help guide you towards the perfect purchase free from buyer's remorse. By taking your time and asking yourself the following questions, however, you can make an informed decision that will yield stylish results for years to come. Here are 15 tips for choosing your living room rug
1. Determine where you are in the decorating process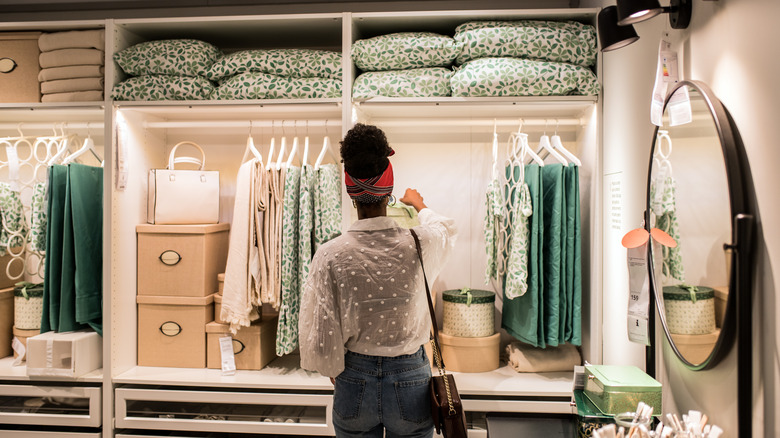 David Prado Perucha/Shutterstock
Before you think about the rug itself, it's crucial to take stock of your situation and specific goals. The way you approach buying a rug will be different depending on the circumstances surrounding the purchase. If you're simply adding a rug to an already decorated room, then the current style will dictate your choice.
However, if you're starting from scratch with an empty space, you're actually in an ideal position. According to Juniper Home founder Jenny Komenda, when decorating, you should actually start with the rug and build up around that. "It's so easy to tweak the other choices in the room to fit the rug, but finding a perfect rug after furniture, soft goods, and paint colors are set — well, that's going to take a lot more time," she explained to Architectural Digest.
2. Measure your space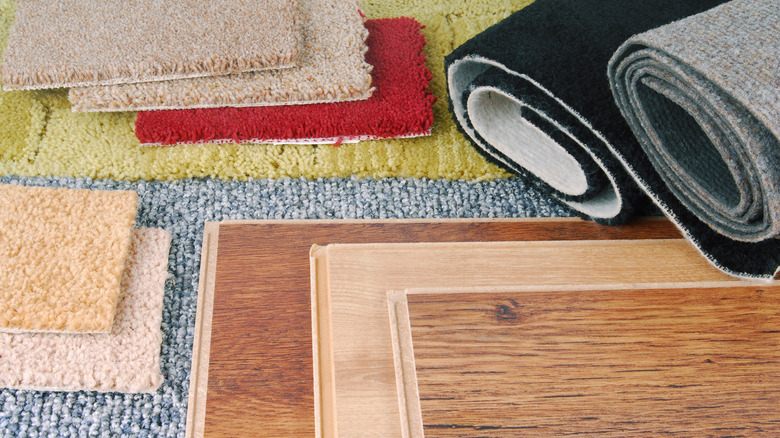 severija/Shutterstock
In order to choose the perfect size rug for your living room, first measure the room and then take stock of your furnishings. Generally speaking, it's best to have at least a 1 foot perimeter of bare floor around the room.
Ben Hyman, co-founder and CEO of Revival Rugs, explained to Apartment Therapy, "It's kind of like the Goldilocks rule here. You want a rug that fits, whether small or large. Something that isn't too big — i.e., there is enough floor visible between the wall and the rug — but also something that isn't too small." In order to envision what rugs of different sizes will look like in the space, measure out some common rug sizes and demarcate them with painter's tape on the floor.
3. Consider what size rug you need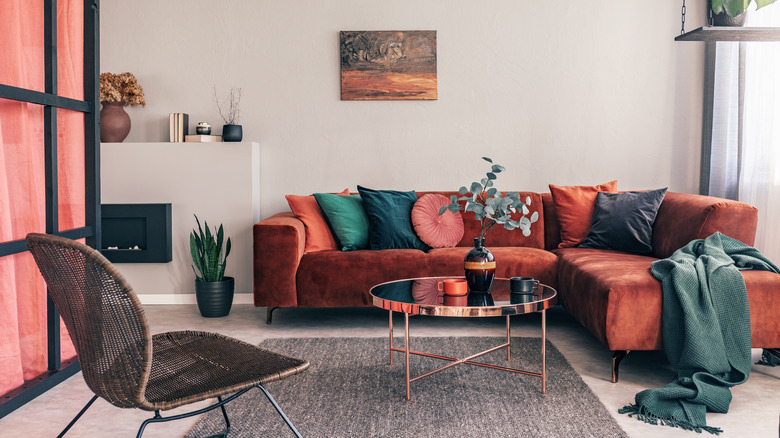 Photographee.eu/Shutterstock
According to Crate and Barrel, there are a few simple rules to follow to ensure your new rug fits the space perfectly. They recommend that you get the biggest rug possible, stressing that if it's too small, it can change the way the room's proportions appear.
Purchase a 6 x 9 foot rug for small living rooms, an 8 x 10 foot rug for medium-sized living rooms, and a 9 x 12 foot rug for large living rooms. In terms of furniture placement, you may choose to have either the front legs or all four legs of your furniture sit on the rug. Smaller rugs create a cleaner, more modern aesthetic, while larger rugs that take up almost the entire room look more traditional.
4. Come up with a budget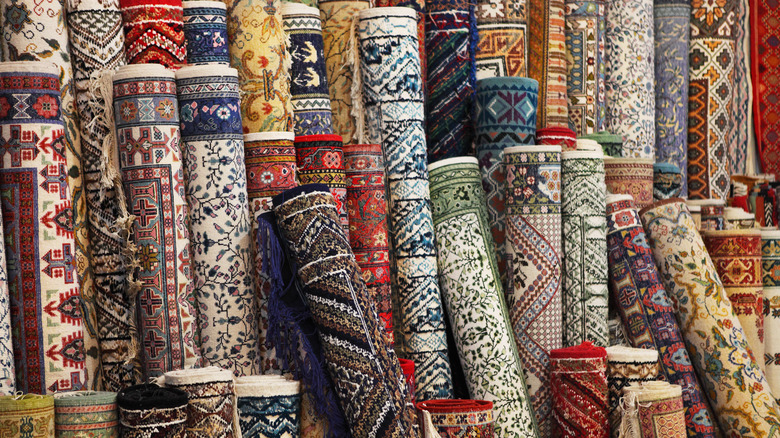 Dasha Petrenko/Shutterstock
If you'd like your rug to reflect a specific culture and time-honored rug-making tradition, like the classic Persian rug, it's going to be a significant investment. Even when going with something less iconic, however, rug cleaner Lisa Wagner tells Wirecutter that the average price for a handmade wool rug is about $20 per square foot. Should you find a used handmade rug, you're still looking at around $10 per square foot.
Thankfully, you don't need to spend a fortune to get something stylish or that's well-constructed using quality materials; Wirecutter recommends a number of rugs under $500 in a variety of styles. If you're working with a relatively tight budget, it's that much more important to do your research and ensure that low cost doesn't translate to poor construction.
5. Pick a rug material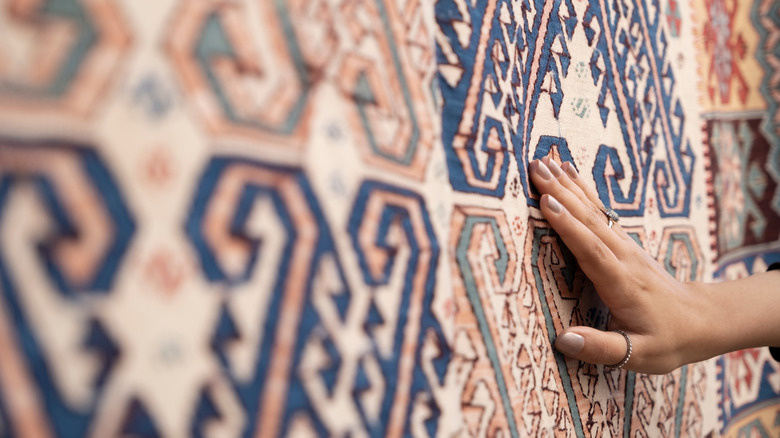 Yasinozturkk/Shutterstock
Modern rugs are made in a wide variety of materials, which can make the shopping process a bit intimidating for first-time buyers. The most common options are cotton, nylon, silk, wool, polyester and acrylic. Rugs made from natural materials remain the more popular choice, especially wool, which is known for its durability, good stain resistance, and comfortable feeling, per The Spruce.
Natural materials, however, tend to be on the more expensive side. They're also rather unforgiving when it comes to moisture. According to One Kings Lane, synthetic materials like nylon and polypropylene make a good choice for high traffic areas, especially for people with pets and young children. Acrylic is another good choice for avoiding mildew. These materials aren't the most comfortable, however, which can be a significant drawback in a living room rug.
6. Select a type of rug construction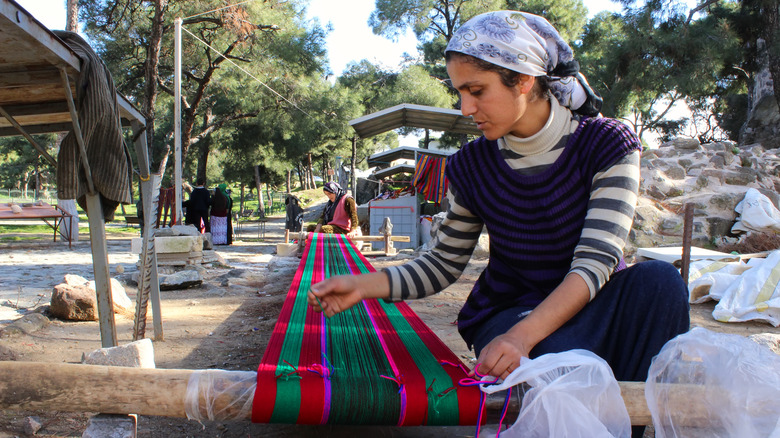 Fertas/Shutterstock
The way in which a rug's material is assembled (also referred to as the "weave") is just as important as the material itself. Though a wide variety of weave styles have been developed around the world by various cultures, most rugs fall into a number of larger categories that include: hand-knotted, hand-tufted, hooked, flatweave, and machine-made, says Overstock.
Faisal International offers a detailed explanation of the different types of rugs and the construction involved. Hand-knotted rugs are painstakingly created by artisans who tie each knot by hand for a one-of-a-kind finish. The end result is exquisite, but the process is reflected in the high price tag. Hand-tufted rugs are made with a tufting gun, which secures strands of the material to a latex backing for quicker but less durable results. Hooked rugs similarly use a canvas backing, but are weaved with a hook rather than a tufting gun, and are similarly affordable. Flatweave rugs (including Dhurrie and Kilim rugs) are weaved on a loom, while machine-made rugs are the result of an automated process — typically using a wool/synthetic blend. 
7. Consider the pile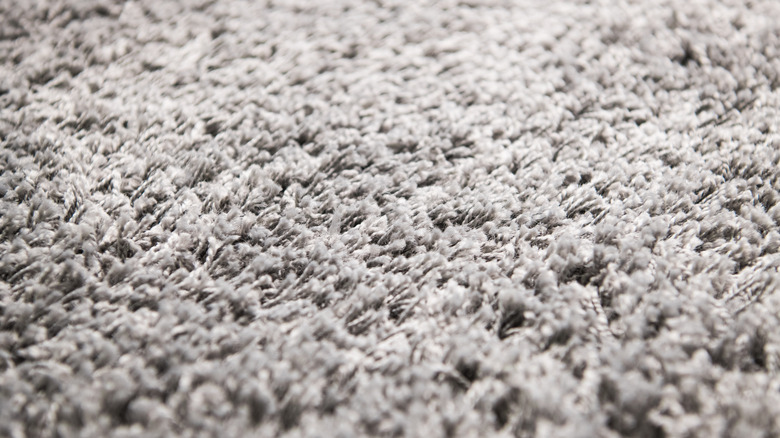 Roman Kosolapov/Shutterstock
As explained by Living Spaces, rugs are made by looping and knotting countless individual strands of material. Pile refers to the height of that loop as measured from the base or backing of the carpet. The pile accounts for both the height and density of a rug, which directly impacts the look and feel of the finished product.
Rugs come in a wide range of piles, but they're generally broken down into three general categories: low pile, mid pile, and high pile. Low pile rugs are easiest to clean and are preferable for high-traffic areas. High pile rugs are defined by their longer fibers, with shag carpets being the most extreme example. High pile carpets feel great on the feet, but can be tricky to clean and tend to show more wear and tear. Mid pile rugs represent a good compromise between the two.
8. Decide between solid colors and patterns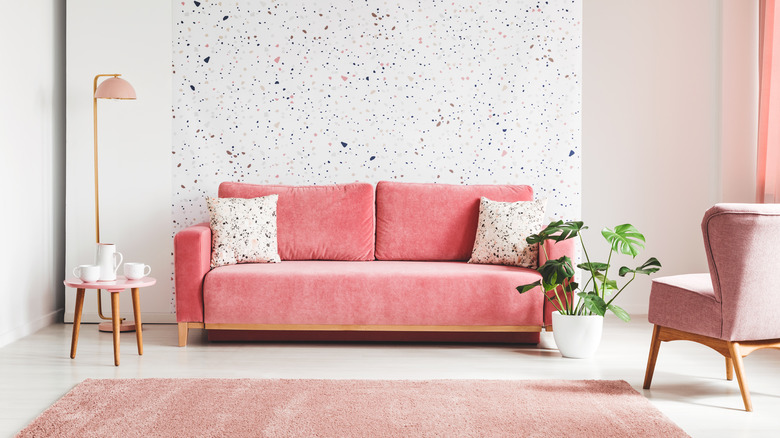 Photographee.eu/Shutterstock
When it comes to the aesthetics of your living room rug, you have a number of tough choices, but one of the biggest is whether you're going with a solid color rug or embracing a pattern. As Endless Knot reminds us, when putting your room together, you always need to be mindful of the overall balance. Between bright colors and complicated patterns, it's best to stick with one or another to avoid a distracting visual. 
Similarly, you should be using the rug to balance out the rest of the space. If you have heavily patterned furniture and artwork, opt for a single color rug or keep it to a more basic pattern. If the room is fairly tame, an eye-catching pattern can really serve as the compelling centerpiece.
9. Select a color scheme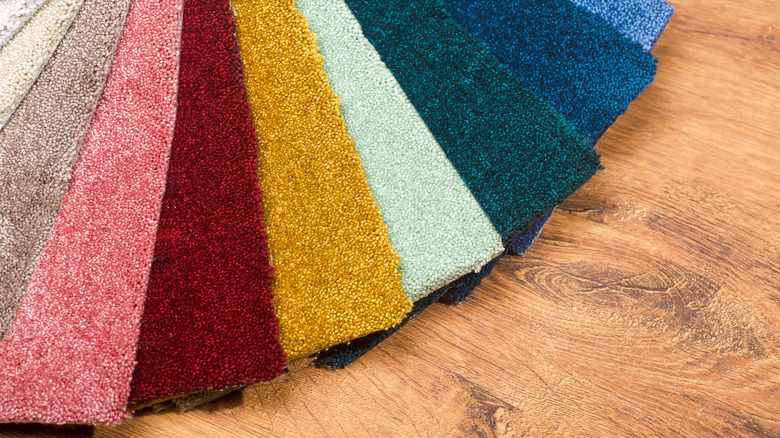 vovidzha/Shutterstock
If the rug is your first purchase, you have full creative freedom when it comes to color, but bear in mind that everything else you add to the space afterwards needs to match the rug. In this case, you can almost think of the rug as your blueprint or paint swatch.
However, if you're buying a rug for a fully decorated living room, you'll want to take a step back at evaluate the room with a critical eye. Identify the dominant color in the room, as well as the one or two accent colors that stand out. Proximity is equally a factor. The pieces of furniture that you need to be most conscious of when finding the right rug are the coffee table, couch, and any other elements that will be sitting on or immediately around the rug, shares Ballard Designs.
10. Consider the rug's maintenance requirements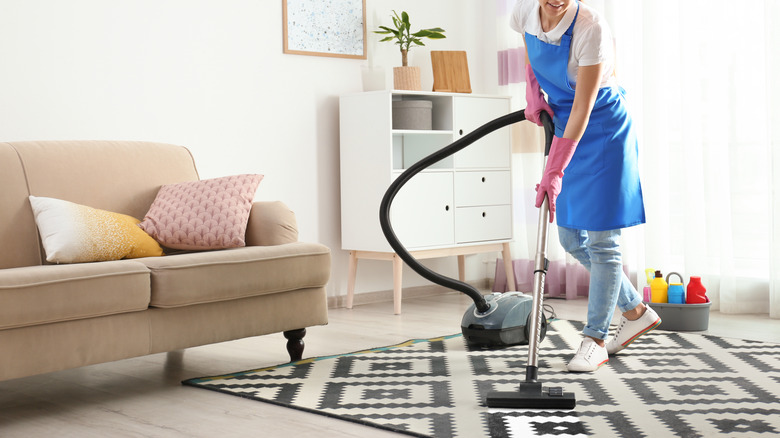 New Africa/Shutterstock
The care that goes into maintaining your carpet can vary widely depending on the material, weave, pile, and color of your carpet. Where you place the rug and the amount of foot traffic will also have a big impact on how often it needs to get vacuumed.
According to Sheerluxe, it's really the type of fiber that dictates how you clean your rug. With synthetic materials, you're pretty much always safe to use your household vacuum. Because synthetics are often a blend, however, you'll need to check the label carefully before applying any chemical stain removers. While nylon is sturdy, the tightly-packed fibers can be unforgiving when it comes to stains. The vacuum is similarly fine on a wool carpet, but bleach should not be used on it, even when diluted, for fear of damaging the fibers.
11. Consider your maintenance costs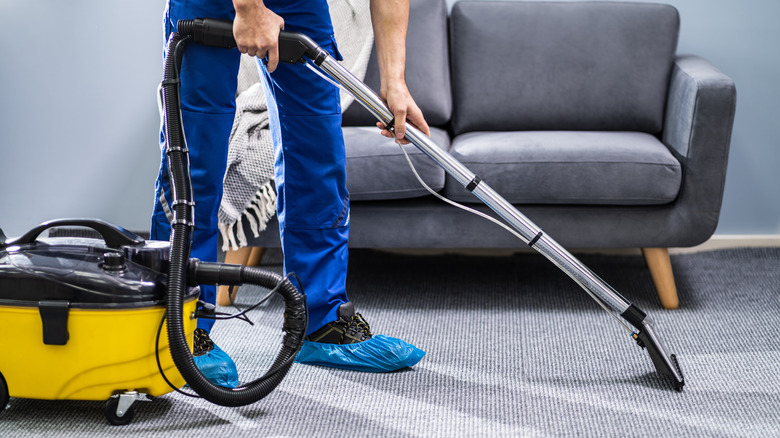 Andrey_Popov/Shutterstock
If you invest in a high quality handmade rug, its value likely warrants professional cleaning every few years, according to The New York Times. As explained to Architectural Digest by Kelly Vittengl of Frances Loom, "for any spills or stains that are more damaging (like red wine), you should really seek out a professional rug cleaner who specializes in antique or Oriental rugs."
Even if you choose a budget rug and plan to do the cleaning yourself, there are a number of products and tools that you may want to invest in for the sake of a deeper and more efficient clean. A standard household vacuum can typically get the job done for any low pile rug, but thicker pile rugs can trap dirt and get discolored with time (via Wirecutter).
12. Think about the pet factor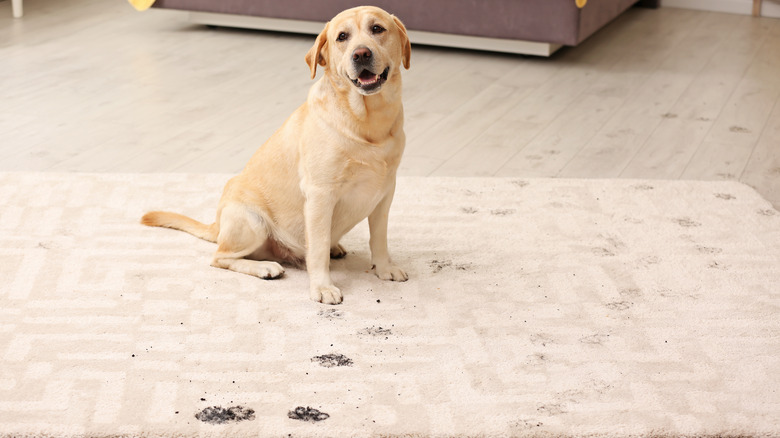 New Africa/Shutterstock
People with pets may want to tailor their rug choice to the animals in their home. According to Rug and Home, low pile rugs pair best with pets because there's less space for all that pet fur and associated debris to hide. In the event of a pet-related accident, the high pile of a shag carpet can be downright disastrous.
As for the materials, synthetics like polypropylene are ideal for pets. If you aren't willing to compromise on the feeling of your rugs, however, cotton and wool rugs also tend to be pet-friendly, so long as the pile remains low. Households with pets may also want to consider carpets with darker colors and busier patterns, as both help to obscure the staining and discoloration that typically comes with pets.
13. Choose a rug pad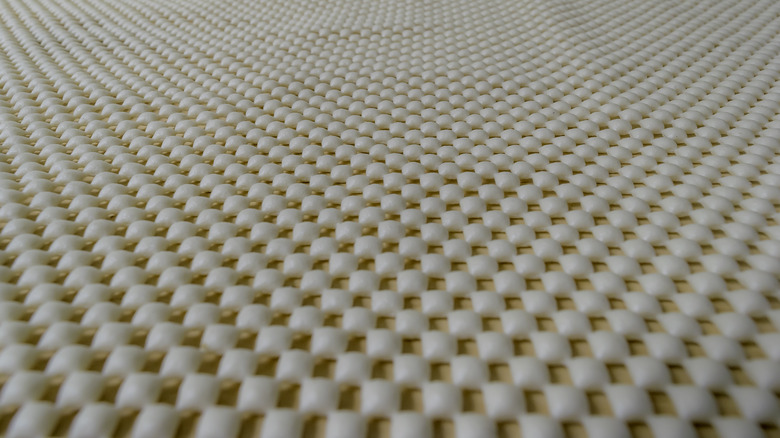 PATTAA/Shutterstock
Because rug pads are out of sight when properly installed, they're often out of mind for those shopping for a new rug. Rug pads are an essential part of the equation, however, and should not be overlooked. According to Apartment Therapy, a rug pad not only helps reduce bunching and slipping, but can actually extend the life of your carpet and protect your floors in the process.
A rug pad keeps the carpeting off of the floor, minimizing wear and tear for the rug itself, while also helping to reduce the buildup of dirt and grime on the underside of the rug. Furthermore, it creates an extra layer of padding between heavy furniture and your flooring. Note that when picking a rug pad, you need to not only measure the size of your rug, but also take into account its thickness.
14. Think about the other rugs in your space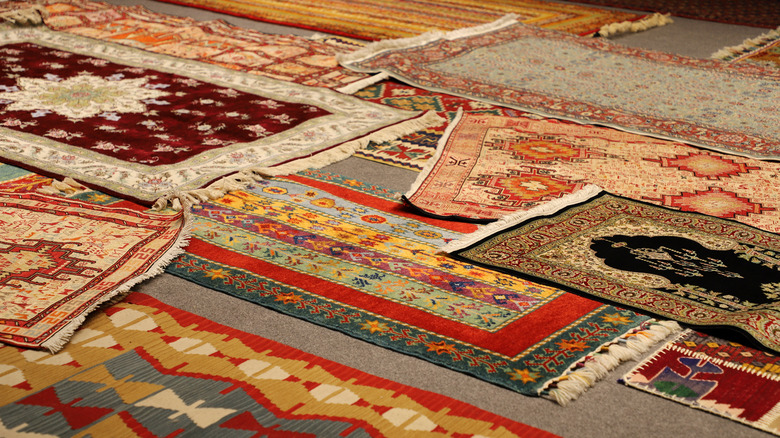 wayfarer2020/Shutterstock
Chances are that your living room doesn't exist in isolation, but rather as a continuation of another space. As such, you may need to think about how the rug you're purchasing will fit with any rugs in adjacent rooms. Carmel Phillips from Our Fifth House explores this issue as part of their Design Dilemma series. The quickest solution for coordinating rugs when (you have an open floor plan, especially) is to simply go with matching rugs. However, as Philips explains "using matching rugs could actually be the most tricky design choice because the key to keeping the space from being a total yawn is in bringing in a good mix of textures, patterns and/or colors."
If you'd prefer to mix and match, Phillips recommends pairing patterned rugs with natural fibers, and vice versa. Alternatively, you can also combine different patterns within a single style of rugs — just so long as the colors are complimentary.
15. Consider layering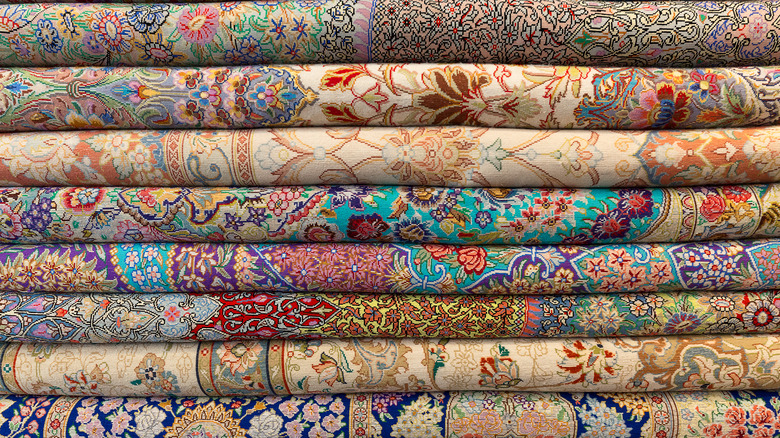 MehmetO/Shutterstock
For a more dynamic look that can also make for a surprisingly budget-friendly solution, some people opt to layer two rugs on top of one another. The technique allows you to choose a larger affordable rug as the base and a more show-stopping patterned option as the centerpiece.
The downside of stacking rugs is that it puts added pressure on your ability to find multiple rugs that complement one another and the larger space. As such, it's important to follow a few basic rules before trying it in your own living room. Color coordination is absolutely key — if the carpets clash with one another, the result is distracting and creates visual clutter. If the room is already busy, make your base carpet a single color. If the room needs livening, feel free to go pattern on pattern, per Martha Stewart.