10 Dazzling Navy Blue Paint Colors That Are Perfect For Any Home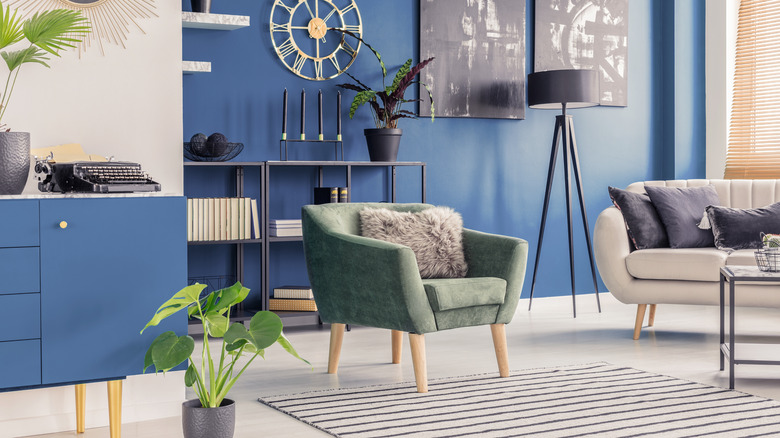 Photographee.eu/Shutterstock
Neutral paints don't always have to be taupe, beige, or cream colors; it turns out a moody navy blue hue can also be a beautiful neutral tone, according to Livingetc. The outlet describes the color as versatile, and we couldn't agree more. It can look comfortable or sophisticated, depending on the furniture it's paired with. "I can see dark navy blue becoming the new gray, which has become [bland] and overused," says Mary Maydan, founder of Maydan Architects to MyDomaine. "It is ideal as a cool, calming color and as a bold design element."
That's not all, either, as Maydan also explained that navy blue plays well with both bright hues and neutral tones. "The color is great for accent walls and accessories, such as throws, pillows, chaises, and poufs," she continued. "You can make it classy and chic or fun, energizing, and youthful." To that end, here are 10 dazzling navy blue paint colors that are ideal for any room in your home.
1. It's time for a navy living room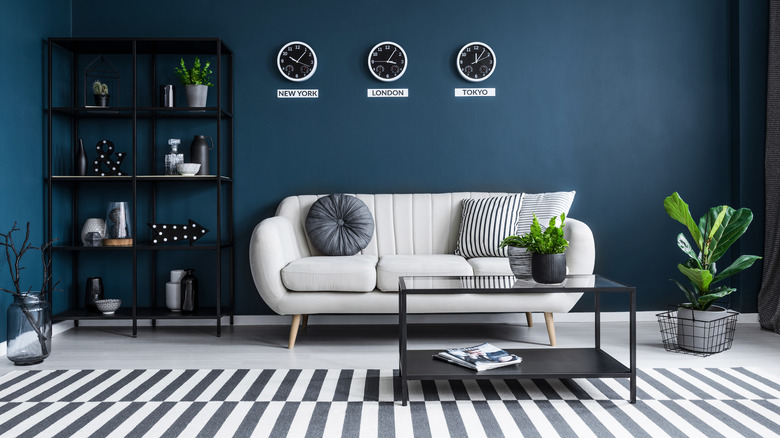 Photographee.eu/Shutterstock
2. It all blends together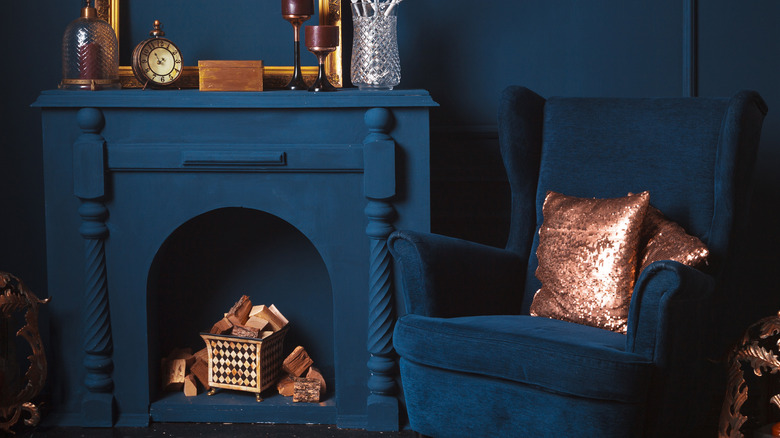 FabrikaSimf/Shutterstock
It's no secret that style can happen when you focus on the details. We love how this room incorporated navy blue tones, not just on the walls, but also on the mantel and chair that blend in perfectly. We love how the gold and maroon accents that are featured on the table really pop!
3. Simplicity stands out in this living room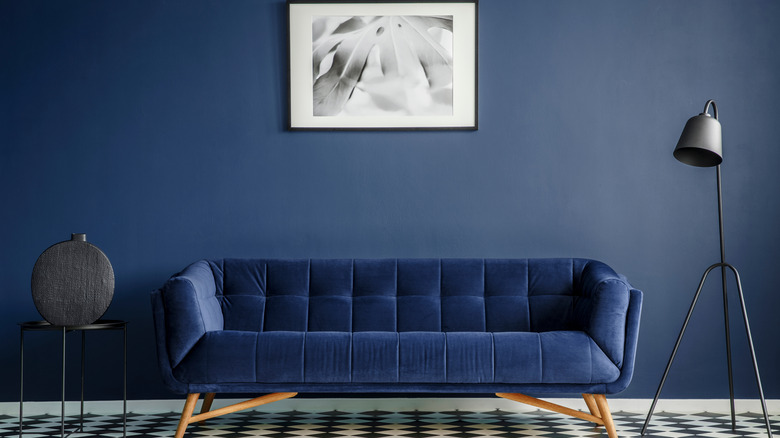 Photographee.eu/Shutterstock
A navy blue plush sofa, paired with navy walls is truly a well-thought-out match! It may be a simple look, but one that oozes comfort and sophistication.
4. Rich navy in the bedroom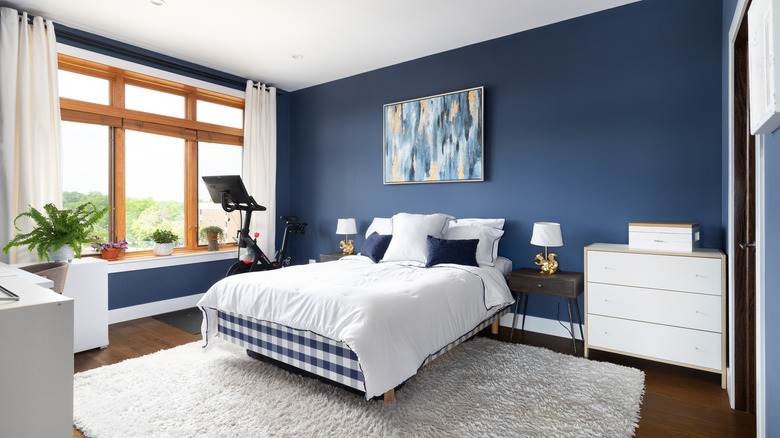 Joe Hendrickson/Shutterstock
5. A navy wall with accent furniture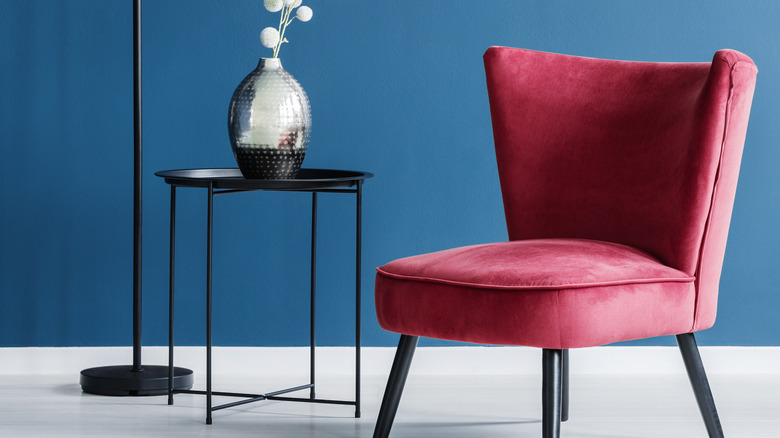 Photographee.eu/Shutterstock
If you have a blank corner of your navy blue bedroom or living room, we suggest adding a chair with a pop of color, such as red, which makes the walls pop. Then incorporate black accents, from the side table to the lighting to add a bit of sophisticated flair.
6. A navy living room with retro appeal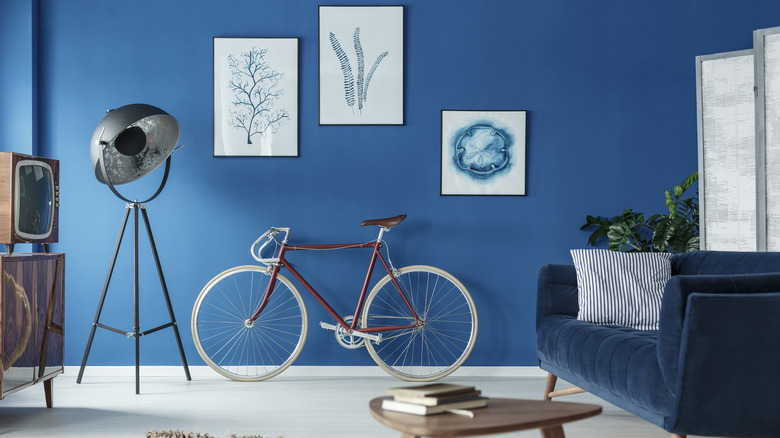 Photographee.eu/Shutterstock
Offset your navy blue walls in your living room with retro accents. We love how you could bring in a vintage bike that you use by day, and make it part of the space, almost like an added art piece.
7. Add navy walls in the dining room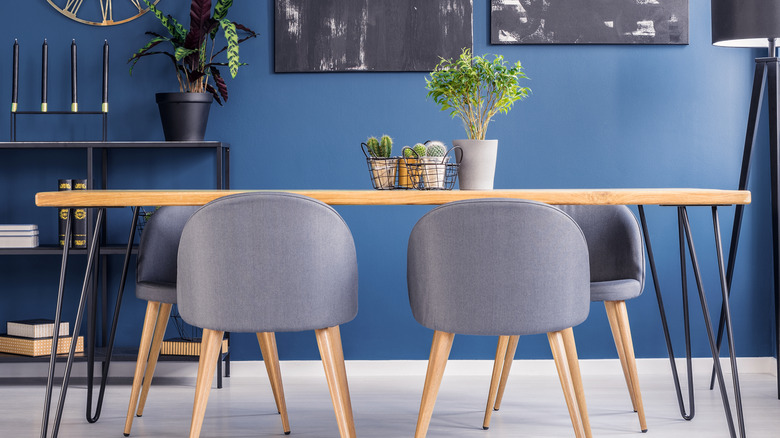 Photographee.eu/Shutterstock
Emma Pocock of design studio Turner Pocock tells Homes & Gardens that navy works great in a dining room, to "create a dark cocooning space." Add sophisticated artwork and modern furniture to finish off the look.
8. Navy walls in the bathroom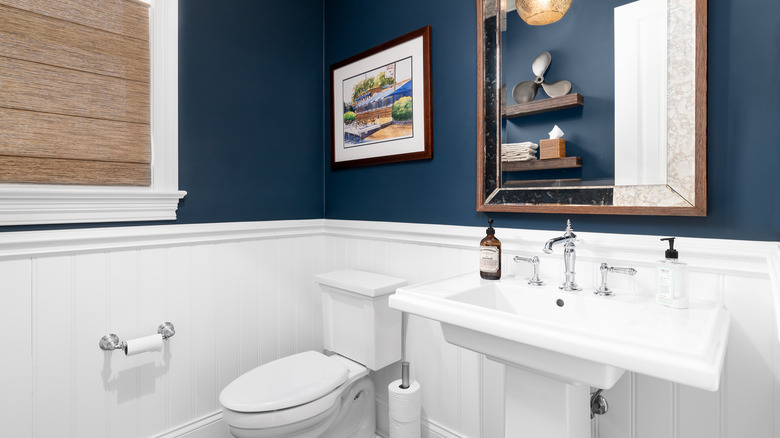 Joe Hendrickson/Shutterstock
The living room and dining rooms aren't the only spaces in a home to enjoy the moody hue. Add navy blue to your bathroom to create a cozy, comfortable space to get ready before you start the day.
9. Add interest to your hallway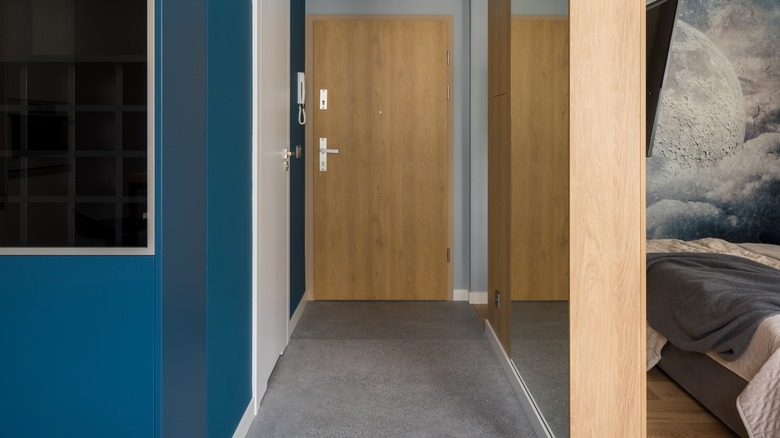 Dariusz Jarzabek/Shutterstock
Hallways are often forgotten, so if you want to add interest to yours, consider painting it navy blue and get ready to make it a standout.
10. Add interest for communal living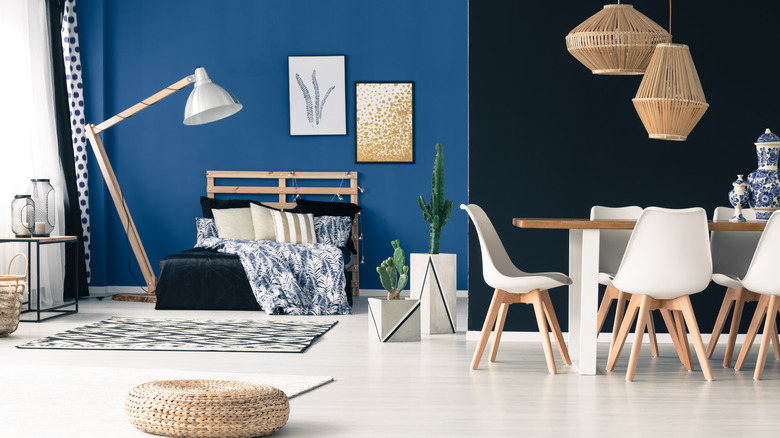 Photographee.eu/Shutterstock
If you live in a studio apartment, knowing how to separate the spaces is key. We love how they painted the bedroom area with a navy blue hue while defining the dining room with dark walls.