This Budget-Friendly Book Hack Is The Perfect Way To Spice Up Your Holiday Decor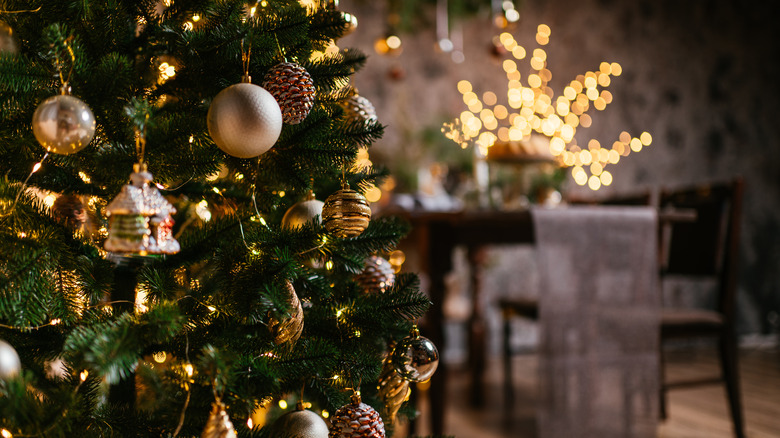 irinaneva/Shutterstock
Have you noticed the price of holiday décor lately? Even your Christmas, Hanukkah, and Kwanzaa trinkets aren't safe from inflation. In fact, Americans, on average, spent $231 on decorations alone in 2021, according to Bankrate. Since last year, inflation has caused these necessities to increase by about 13%, which is significant considering how wages haven't grown at the same rate. Fortunately, there are ways to find the best prices, so you can spend your hard-earned money elsewhere on those you care about and love.
One surefire way to reduce costs is to reuse what you already own by first doing some good, old-fashioned decluttering. As such, comb through your attic or crawl space and unpack any boxes of stuff before furnishing your home with holiday spirit. Then, you can purchase more pieces without accidentally getting something similar to what you have. TikTok user Hammsmom (@hammsmom) has a hack she uses to get additional decorations at an affordable price. Keep reading to find out her secret.
Reuse colorful books as holiday décor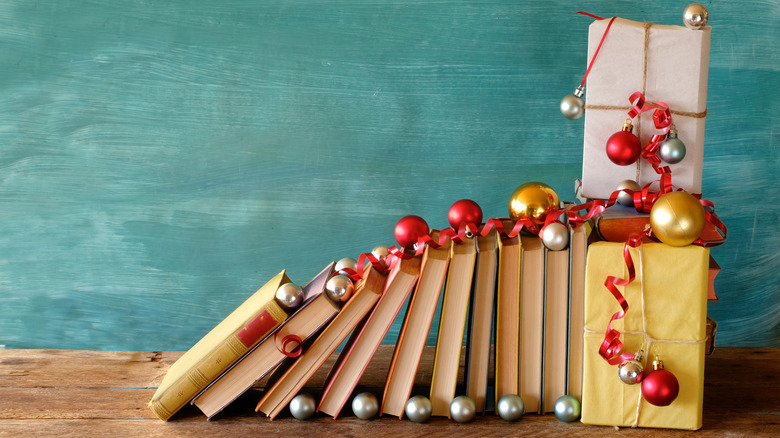 Thomas Bethge/Shutterstock
Books are simple décor pieces that a lot of people overlook. However, placing them throughout your home allows you to add pops of color, new textures, and varying heights to your aesthetic. TikTok user Hammsmom (@hammsmom) explains that she uses hardcovers to add to the color palette for her holiday decorations. She celebrates Christmas and tends to choose books with red covers and then places them around her home.
When it comes to decorations, this budget-friendly hack sure comes in handy because you can buy them super cheap at thrift stores. Some even sell hardcover books for $1. The best way to pick one out from a secondhand store is to look at it with and without the dust cover. Many look better without the jacket on them, so be sure to check that they still fit your feng shui. Indeed, a hack like this will benefit your holiday budget and the environment. Instead of purchasing new decorations, you'll keep these books from going to the landfill and give them a new purpose. You can save even more money if you already have a sizeable book collection.
How to decorate with books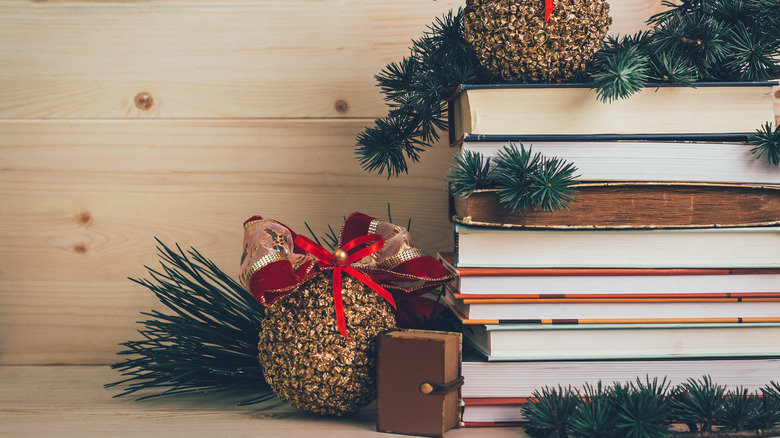 Dziggyfoto/Getty Images
Decorating with books is easy. Once you have some picked out with covers in colors that match your design, all you need to do is find the right place to display them. Per 1st Dibs, bare hardcovers are the best to use because they look timeless, while paperbacks can look cheap. One place to put them is on the mantle of a fireplace. Stick two or three standing up with the spines out near some candlesticks or other décor pieces.
Additionally, your coffee table is a great place to house a small stack. Then you can add trinkets, candles, clocks, or remote trays alongside them. Books are also good to use when you need to break up a lot of similar colors. If you have a wood side table and a similar brown lamp that you want to place on the table, add a book to it. By putting a different colored book under the light, you create a break in brown tones. Another way to use this method is with artwork or framed photos instead of a lamp.