Why You Should Declutter Your Holiday Decor Before It's Time To Decorate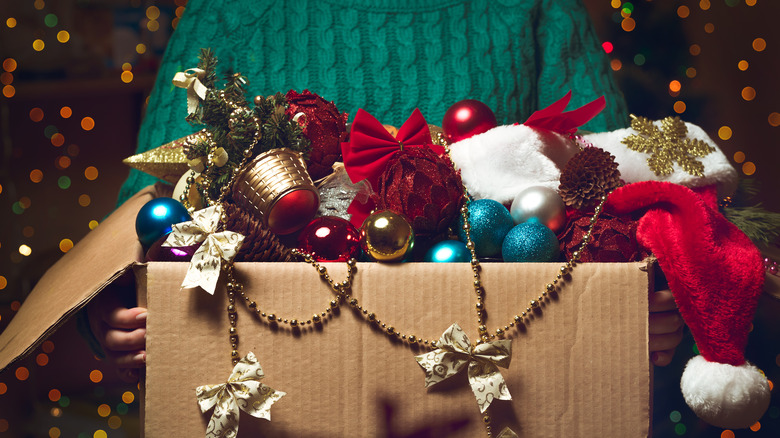 perfectlab/Shutterstock
Almost everyone likes to decorate their homes for the holidays, 97.6% of Americans decorate inside their homes, and 87.8% decorate the exterior (via Angi). Decorating can be fun, but it can also be a dusty, junk-filled, and overwhelming experience when you have too much stuff. It's a pain to drag all of the boxes and tote bins from the attic or basement, and unfortunately, the décor you bought years ago may seem outdated and underwhelming to you now.
Are you already stressing about boughs and bows? Ready to give your holiday decorating style a makeover? Before you deck the halls and hang the mistletoe, spend some time decluttering your holiday collection. That's right — before. But why is it better to declutter now and not while you're decorating? Keep reading to learn how sorting through your décor today can help you save money, generate more holiday spirit, and feel better in the new year!
Discover more holiday spirit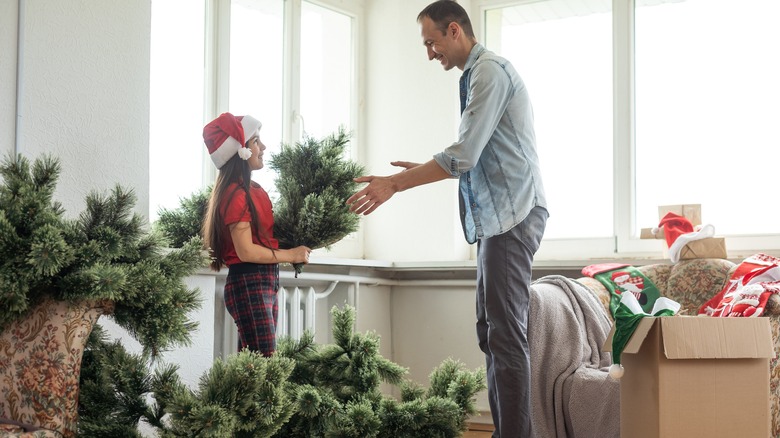 Andrew Angelov/Shutterstock
Before you do anything, sort through your holiday items and remove anything that doesn't serve a purpose or inspire you. Decluttering old items will help you prioritize the items you truly love and may help you avoid spending money on more clutter. According to a poll by Rocket Homes, the average American spends a whopping $269 on new holiday decorations every year. In fact, 14.88% of Americans spend more than $500. By only keeping the items you truly love, you'll bring more joy into your home for the holiday season and avoid clutter stress. If you simply must buy new decorations this year, you'll have a better grasp on your personal holiday style.
Decluttering your décor before the holidays also allows you to spread the holiday spirit to those in need. About two-thirds of adults worry that they can't afford a holiday dinner, and 18% say they can't afford to buy gifts for their children (via Sky News). Donating old décor to your local thrift store or charity shop before the holidays makes it easier for someone else to pick them up. Some of your décor may not suit your style anymore, but other people will be glad to decorate their homes with items you've donated.
Start fresh for the new year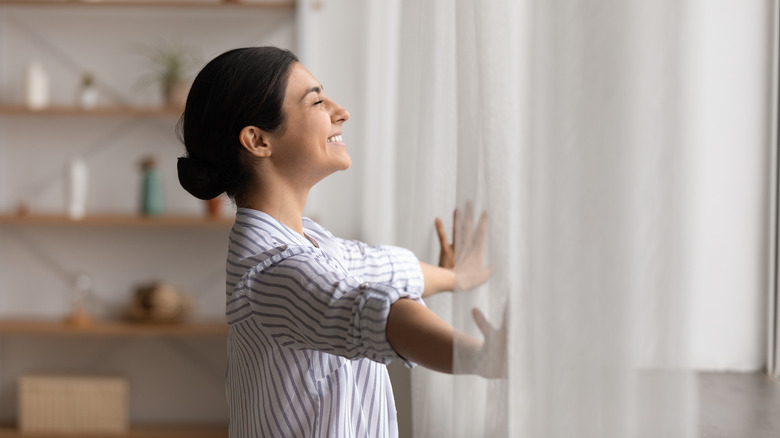 fizkes/Shutterstock
You should always be polite when receiving a gift — it's the thought that counts, right? Still, surveys show that almost three-quarters of Americans will want to donate, sell, or regift the items they receive during the holidays (via Time). Let's face it: you'll probably add to your clutter this holiday season. Even if you can't avoid it, you can be prepared. Forget spring cleaning; you know there will be an influx of gifts headed your way, so make room for the new stuff by decluttering the old stuff as much as possible. This simple practice will save you a lot of time and stress when things really start to collect around the holidays!
Sadly, decorations can't stay out forever once the holidays are over, and putting away decorations can be a bummer. But less holiday décor means easier clean-up once the new year rolls around. A shorter clean-up time may help you avoid the post-holiday blues, a feeling of sadness and emptiness that many people experience when the holidays are over (via Verywell Mind). You'll also be able to take more time putting your decorations away carefully, ensuring they're in good condition for next year's festivities.