The Property Brothers' Best Tip To Upgrade Your Furniture For Cheap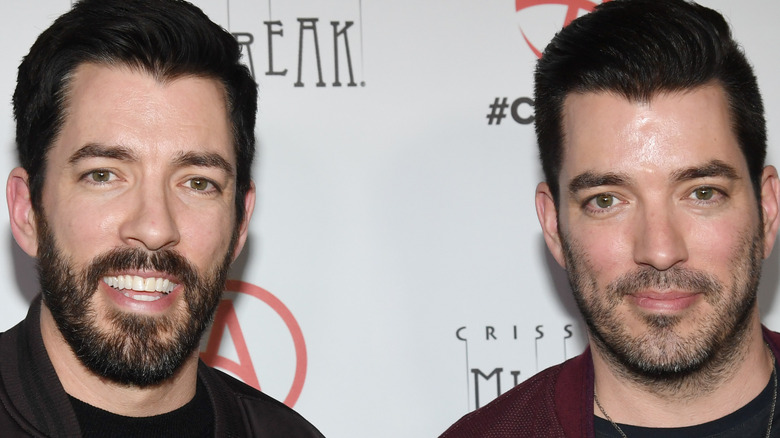 Ethan Miller/Getty Images
When it comes to revamping a space, Jonathan and Drew Scott, better known as the "Property Brothers" from their various shows on HGTV, certainly know what they're doing. The design-savvy duo have different skill sets that complement one another, and allow them to help transform just about any property to something worthy of featuring in a home design magazine. However, often those renovations come with a pretty hefty price tag — and sometimes you just want to spruce up a certain area of your home without breaking the bank. That's where Jonathan and Drew's useful tip for upgrading your furniture comes in. You don't need a super-sized budget or to go shopping for all new furniture in order to transform a piece or two in your home — you just need to pick up a roll of wallpaper (via Today).
No, you're not trying to make your less-than-modern cabinets or that dresser you inherited simply blend into the wall behind it — you're just trying to add a bit of visual interest and incorporate a pattern or color you really love. Many think of wallpaper as a material that is meant solely for walls, but that's not the case at all. There are so many wallpapers on the market that feature absolutely gorgeous designs that can elevate any space in your home.
How can wallpaper transform your furniture?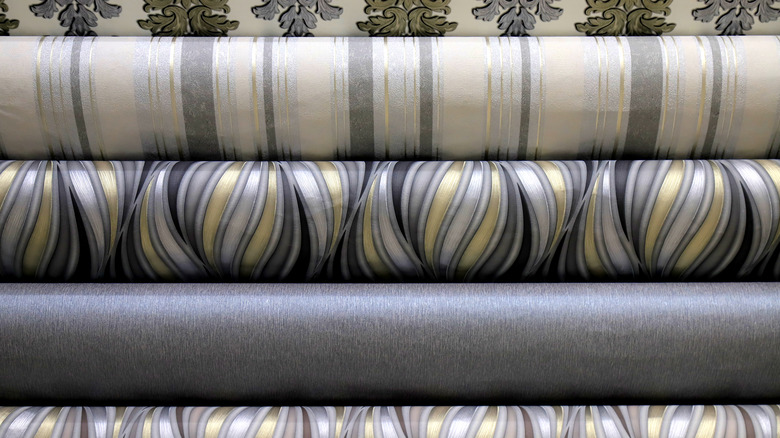 Shutterstock
You can use just about any wallpaper to transform your furniture, but you may want to be mindful about the amount of effort required for each option. Regular wallpaper can be used anywhere, but it does take a bit more skill and effort to handle, and you might want to be extra careful that the surface you're working with is prepped (per Wall Coverings). If you're more of a novice DIY-er (or are simply a little bit hesitant about doing something irreversible to a piece of furniture), there are plenty of peel-and-stick options on the market as well.
A gorgeous wallpaper can go just about anywhere, and it makes a major difference. You can add a bit of flair to the back of cabinets that will deliver a burst of color or pattern when you open each door (via Today), or use it to line drawers for a unique look. You can even cover up a tabletop with wallpaper, or use it to transform the front of a credenza or dresser. The possibilities are truly endless — from covering a piece entirely with a bold pattern to simply delivering a few pops of color or pattern in more subtle ways, it's up to you and what your vision is. The price range of wallpapers vary, depending on what brand and what type, but purchasing one roll of wallpaper is certainly more budget-friendly than buying new furniture.