These Are The Best Couch Colors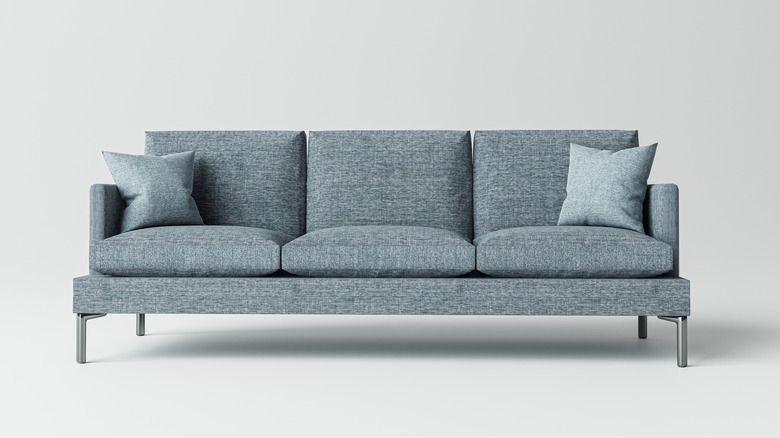 Homeworks255/Getty Images
Choosing the right color for your couch is an important decision as it is the centerpiece of your seating area. Couches are typically the largest piece of furniture in a room, and often significantly impact the overall look and feel of the space. The color of your couch can tie together all the different design elements of the room, from the wall colors to the type of flooring to the accent pieces, like pillows and paintings.
Your couch color can also create a sense of harmony and balance in your home, helping to create a cohesive atmosphere throughout your living space. Ultimately, selecting the right color for your couch can help you achieve the perfect balance of style and function in your home. While there is no one "perfect" couch color for everyone, we created a list of our favorite options, giving you all the information to make the right choice for you.
Gray for a relaxing neutral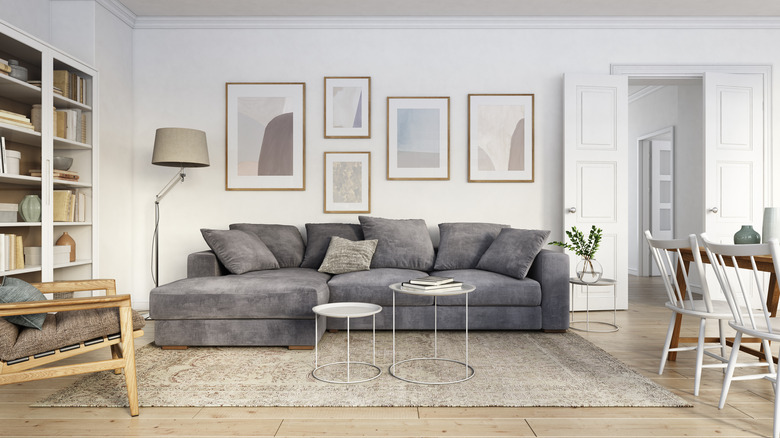 Creativastudio/Getty Images
Gray is a calming color, making it a popular choice for folks looking for a relaxing neutral to tie their space together. "We've seen a shift towards wanting a home environment that is something of a retreat from the outside. Using soft neutral tones helps to calm the body and mind and provides relief from stress and the pace of city living," home designer Sheena Murphy told Metro UK. Couches are a place to chill out after a long day, bond with family, or even sneak in a nap. A gray couch adds to the overall feeling of peace in the home.
Yet, gray isn't just a calming color. It also pairs well with just about anything, making it highly versatile. Most other hues complement the color, as white accent pillows and throw blankets look just as good as black, navy blue, or burgundy against a gray couch. The color also blends easily with wooden flooring, light or dark tile, or many classic carpet colors, like beige. If you want a comfortable couch that works well with nearly any design, choose gray.
Blush pink for a whimsical touch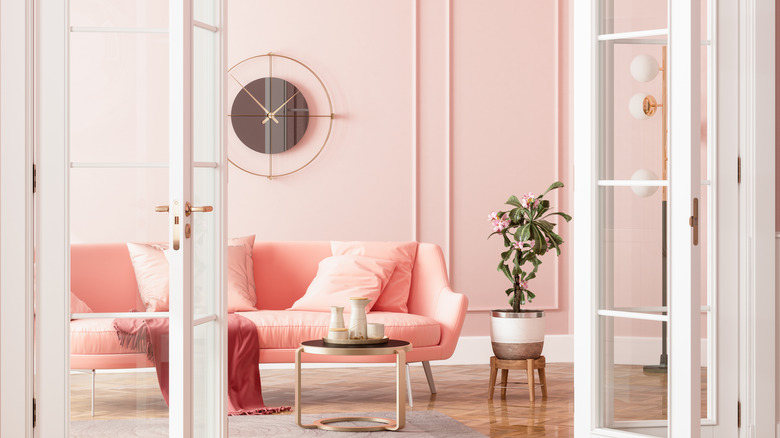 Onurdongel/Getty Images
Blush pink furniture can be a fun statement piece for those who are looking to add a touch of playfulness to their homes. Interior designer Robert Novogratz told Forbes, "Pink is ultimately the new neutral." Because blush pink works so well with many different colors, it's quickly heating up as a favorite color for couches. "A light shade of pink works with most everything. We think of it as a more colorful white! Pink decor can be whimsical, classic, soothing, or the focal point of a room," Novogratz continued.
White goes with everything, and so does blush. If you have wooden floors and cream pillows? A blush couch offers a subtle punch of color. Have dark carpet and walls in a strong, deep shade? Blush offsets the intensity and provides a soft oasis in the room. While pink used to be seen as childish or girly, modern designers are choosing to lean into playfulness and whimsy well into adulthood.
Mixed colors: stripes, florals, houndstooth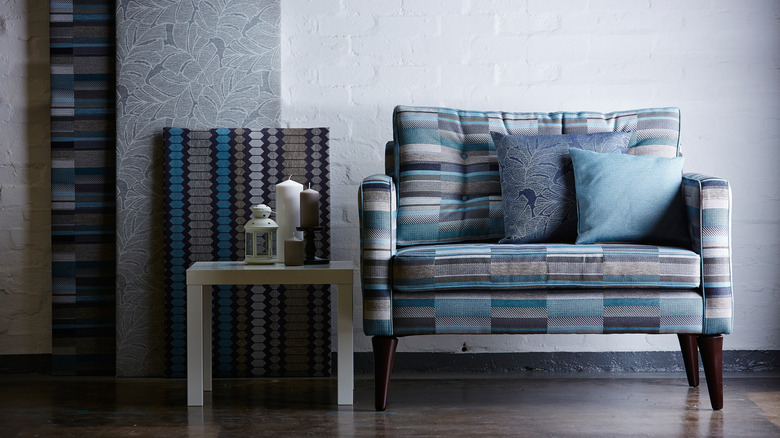 Onzeg/Getty Images
Sometimes the best color for a couch is more than one. A visually-busy patterned couch can add a burst of fun personality to your living room. Whether you opt for a bold floral print or a classic houndstooth or pinstripe pattern, a patterned couch can bring energy and excitement to your space. Mixed-color couches are certainly a statement piece.
In terms of specific pattern options, floral prints can add a feminine, romantic touch to your living room. They can be especially effective in a space with lots of natural light, as the flowers can create a beautiful interplay of light and shadow. Houndstooth and pinstripes are classic and tailored options that work well in more formal spaces. Houndstooth in particular can add a touch of sophistication and elegance to your room, while pinstripes can create a sense of structure and order.
Another advantage of a patterned couch is its versatility. While solid-colored couches can be limiting in terms of coordinating with other pieces in the room, a patterned sofa can be easier to work with. Because patterns often incorporate multiple colors, it's easier to find complementary pieces like accent chairs, rugs, and throw pillows. Plus, a patterned couch can be more forgiving than a solid-colored one, since it can hide stains and wear and tear more effectively.
Beige as a staple color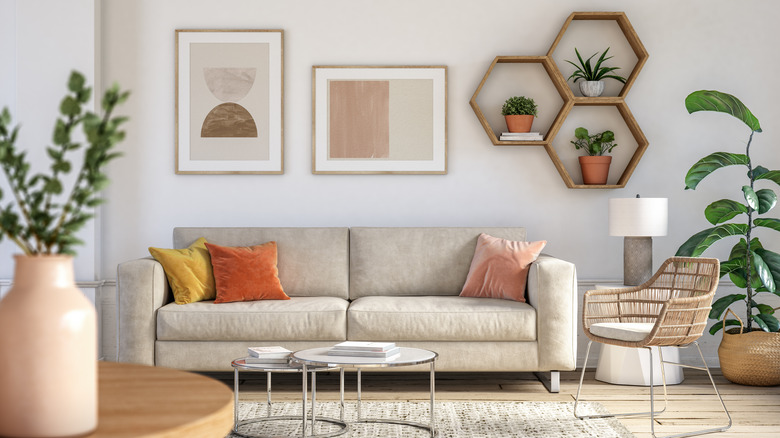 Creativastudio/Getty Images
Whether you want to call this staple color beige, light brown, or tan, one thing is for certain: It's a living room classic. The color has long been the top choice for couches for a good reason. First, beige is a warm and inviting color that creates a cozy atmosphere in your living room. Since sofas are for relaxing, it's a perfect fit. Beige is also highly versatile and goes with practically everything. You can easily incorporate fun accent pieces without worrying about clashing colors or designs. Plus, if you decide to redesign your living room down the road, a beige couch can serve as a great foundation to build on. Sofas can be expensive, so it's nice to know you don't have to sell your couch just because you want to repaint your walls.
In addition to its versatility, beige is one of the best couch colors because it's a practical choice. Because it's so light, it can help to brighten up a room and make it feel more spacious. It also helps hide stains better than a white couch, allowing you to be more lax while relaxing.
Go bold with emerald green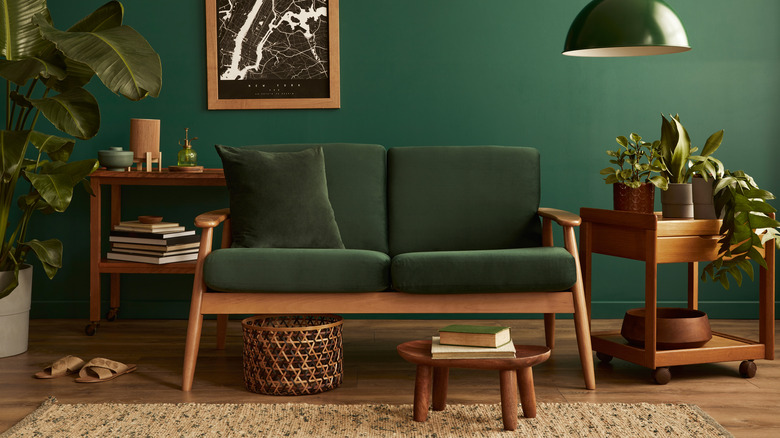 Followtheflow/Shutterstock
An emerald green couch is an exciting option for any space. No, your house won't look like something straight out of "The Wizard of Oz," but it will seem playful, bold, and luxurious. Emerald green can add a touch of glamour and sophistication to any living room. As a vibrant jewel tone, it's a color that demands attention and exudes luxury. It's also a classic choice that won't seem dated anytime soon. "I don't see it so much as a trend, but a classic option for a client project," interior designer Emma Blomfield told Mansours. "Just like the jewels we wear, they are timeless and elegant tones to add to a space."
One of the key advantages of an emerald green couch is its ability to create a sense of drama in a room, as this color is inherently attention-grabbing. Bold jewel tones typically come in certain fabrics, which adds to their charm. "When combined with an opulent fabric like a plush crushed velvet, the jewel tones give off a really beautiful elegant feel for the space," Blomfield told the outlet.
Ruby red is fun and chic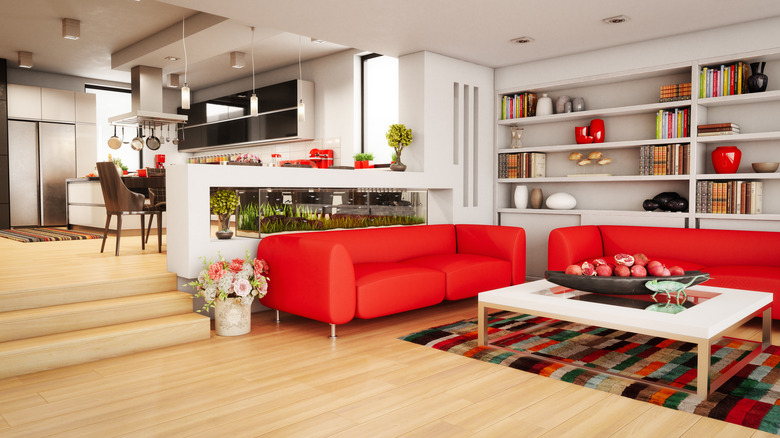 Bulgac/Getty Images
Red is a bold, fun color for a couch that works well for those trying to liven up their living spaces with a statement piece. As a bright and vibrant shade, it can instantly inject energy and excitement into a room. When styling a red couch, it's best to let the color do most of the talking. That is, don't try to overpower it with other loud colors. Instead, let it stand out and pair it with calmer options. This allows it to be the room's focus without overwhelming the space.
You can combine it with a color palette of neutral options like black, white, and gray, which can help balance out the red's boldness. These colors work as throw pillows, coffee tables, and even wall colors around the couch. If you prefer to keep things colorful, but don't want your sofa to overwhelm your living room, think about more muted shades of warmer colors like orange and yellow. Cooler tones of navy blue also work with ruby red couches.
White is a sleek, classic option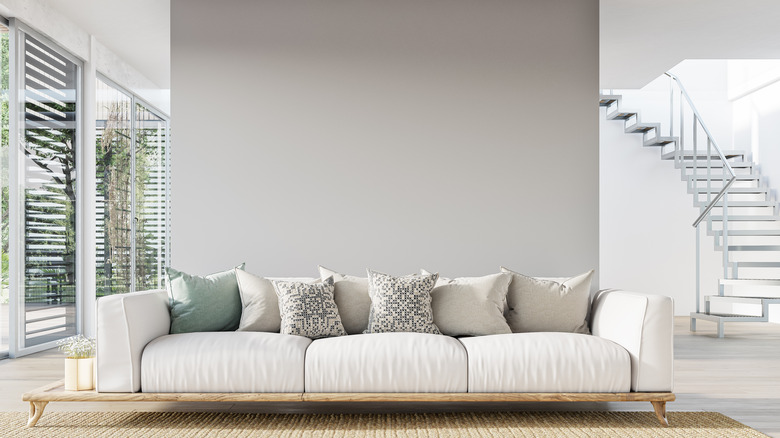 Gladiathor/Getty Images
White sofas are a classic, chic choice. "A white sofa can create a fresh, modern, and elegant vibe in a room," interior designer Erin Coren told Livingetc. "It can add a touch of sophistication and cleanliness to a space, while also creating a sense of calm and tranquility. A white sofa can also provide a versatile base for many color schemes, allowing other decor elements to stand out." Whether you are going for farmhouse chic, mid-century modern, or even a flashy art deco vibe, a white couch is a great base layer to build on.
One small thing to be careful of when purchasing a white sofa is that sometimes they can look dingey in rooms with high traffic. This is especially true if you have young children or lots of pets. Investing in some washable cushion covers is a great way to avoid your white couch looking drab. This way, you can just pop them in the wash if something is spilled, and the sofa looks as good as new. Some manufacturers also offer stain-resistant, high-performance fabric. When purchasing, be sure to ask about these options if this is a concern for you.
Navy blue is a strong option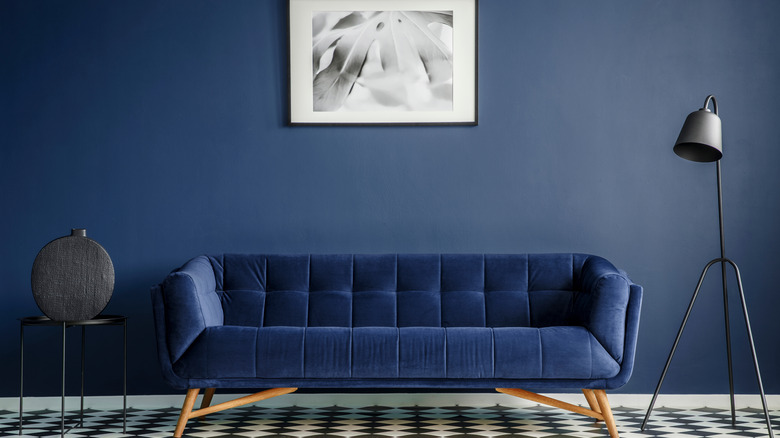 Ground Picture/Shutterstock
Navy blue is a classic color that won't go out of style anytime soon. It's been in vogue for decades, so if you don't want to shell out for another couch in the near future, it might be perfect for you. If you have young children at home or lots of pets (or are just a particularly messy person), navy is a practical color that can hide stains and wear and tear better than lighter-colored fabrics.
A navy blue couch isn't technically a neutral color, but it works similarly to one. It works great with many different designs and color palettes, like white curtains, beige throw pillows, and even gray, cream, and other shades of blue as accents around the room. If you are after a bolder look, you can pair your navy couch with brighter colors like coral pink, mustard yellow, or even emerald green. One caveat is that using too much white or any pinstripes near your navy couch can quickly turn nautical. You might want to avoid this combination if you aren't decorating a beach house.
You can't go wrong with black leather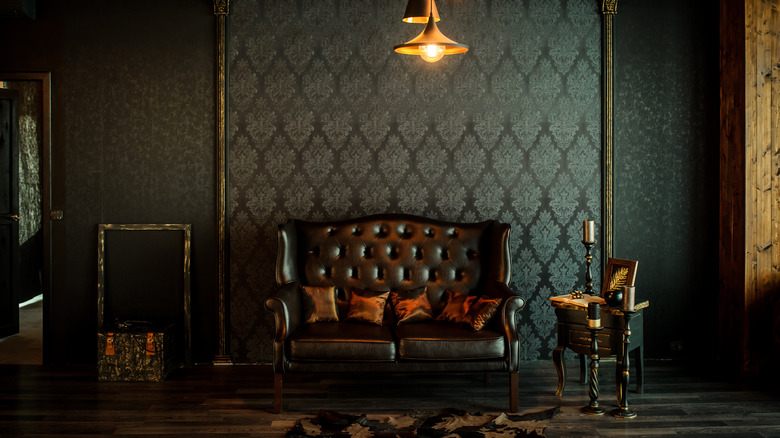 Med Photo Studio/Shutterstock
A black leather sofa is a classic design choice. This sleek, modern, and timeless piece of furniture has been popping up in home and office spaces since the 1950s, and it is not going away anytime soon. But why are leather couches so popular? First, the color black is versatile and sophisticated. It is a true neutral that can fit into any interior design vision — from whimsical to stern, modern to traditional, and everything in between. Second, leather is a durable and luxurious material that ages well over time.
Your black leather sofa will be easy to maintain and clean. Unlike upholstered furniture, you can just wipe off sweat, spills, and dust — keeping it fresher, longer. Leather is easy to patch up, and black leather is particularly easy to keep polished and new looking. If you like the sleek, chic look of a black leather sofa but don't want to purchase leather, you can also buy a black vegan or faux leather couch from most major retailers.
Sapphire blue is an electric option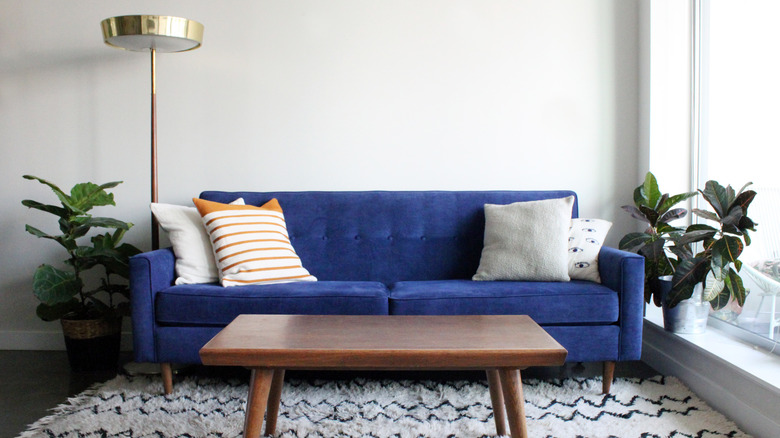 Captainsecret/Getty Images
Tired of your living room feeling drab and boring? Looking for a way to inject some bold, eye-catching color into your space? A sapphire blue couch is the perfect way to add a pop of color and make a statement in any room. The overall mood of a sapphire couch changes significantly depending on how you style it. Depending on the room's theme, the hue can be bright and attention-grabbing, or calming and soothing. For a classic, timeless look, pair it with crisp white walls and natural wood accents. This will make it stand out. Or, for a more contemporary vibe, try pairing it with bold, geometric patterns and metallic accents. 
If you have a flair for the dramatic and want to make a bold statement in your home decor, a sapphire blue couch also looks great with other jewel tones, like emerald green, ruby red, and amethyst purple. And if you're feeling really daring, you could even try pairing it with other bright colors, like hot pink or sunshine yellow. 
Go natural with olive green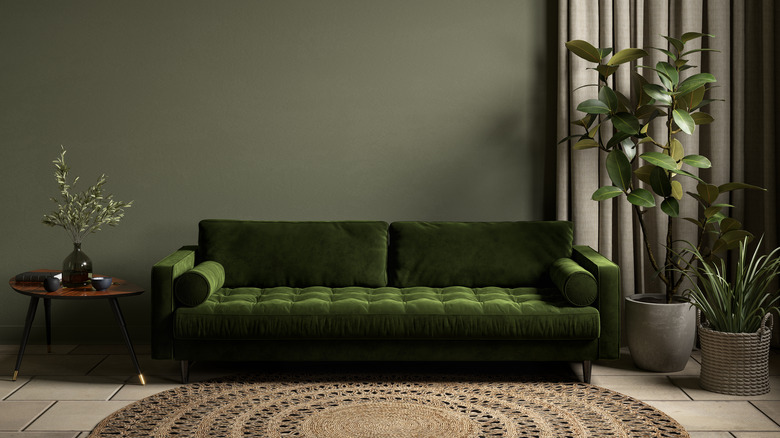 Ykvision/Getty Images
Olive green makes a great couch color as it is bold and familiar. "I like seeing olive green tones used with dusty pinks and navy blue," Sue Wadden, color marketing director for Sherwin-Williams, told The Denver Post. "Because olive is such a quintessential food color, people enjoy a positive association with this color, especially in the kitchen. Olive tones are great on cabinets and furniture." Unlike trendy colors that may fall out of fashion after a few years, olive green remains a classic choice that will look great for years to come
While you don't have to paint your living room in the hue to have it work well on a couch, layering different shades of green can also be a fantastic design choice. This is especially true if you have lots of plants in your living space. The olive couch can be a great anchor to an earthy room that almost seems alive.
Turmeric yellow is bohemian and fun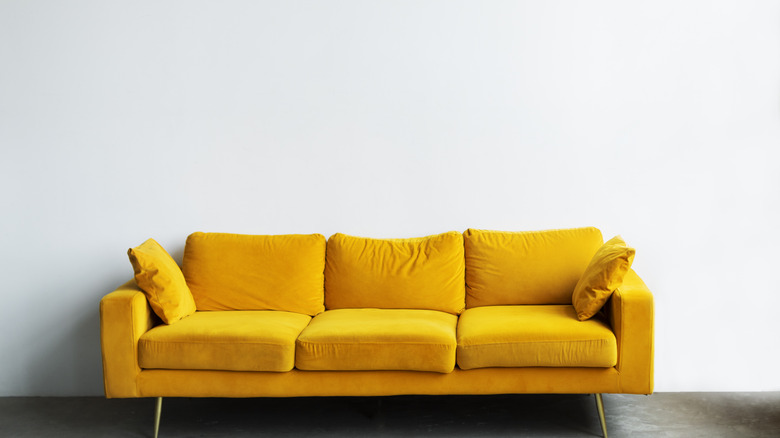 Julpo/Getty Images
An unexpected couch color, turmeric yellow can be a fun shade that's perfect for artists and art lovers to include in their homes. Sometimes called mustard yellow or even marigold, the color works well if you're going for a bohemian or eclectic look in your space. It pairs perfectly with other bold colors, like teal or purple, and can add a touch of exoticism to your decor. If that's not your style, it also works well with neutrals like gray, white, and beige. It's a great way to add some color to a neutral space without overwhelming the room.
Plus, the shade is an automatic mood booster. Turmeric yellow is a color that's associated with happiness, positivity, and energy. It's like having your own personal sun in the living room. Adding this color to your space can help boost your mood and create a more uplifting atmosphere perfect for relaxing, gathering, and even creating. 
Go for brown to keep things simple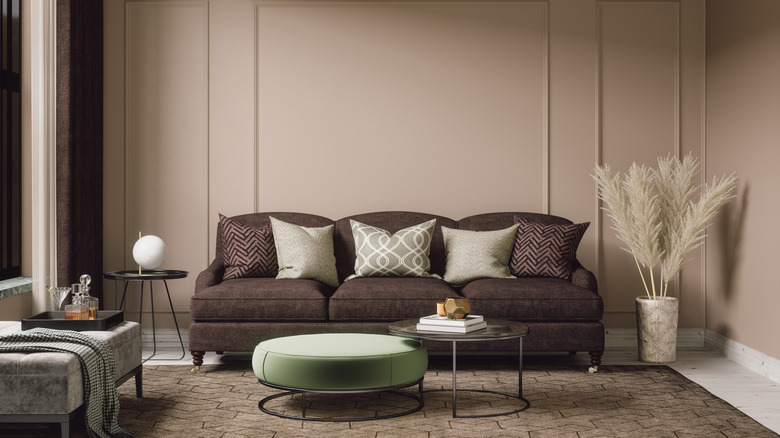 Imaginima/Getty Images
Think of dark brown as the reliable best friend of furniture colors. It never goes out of style and has a magical way of adapting to any design trend. Whether you're going for a chic modern look or a rustic farmhouse feel, this timeless shade is one you can count on. Styling a dark brown couch is like playing with a versatile canvas. You can embrace a classic look by pairing it with neutral walls, vintage accents, and earthy tones. 
If you are feeling really adventurous, you can spice up your brown couch with bold patterns in throw pillows, vibrant colors in blankets, and even fun area rugs to create a lively, inviting space that bursts with personality. You can see that brown goes well with other neutral colors like beige and cream, but it also looks great with a pop of color, like mint green.