How To Choose The Perfect Couch Color To Transform Your Living Room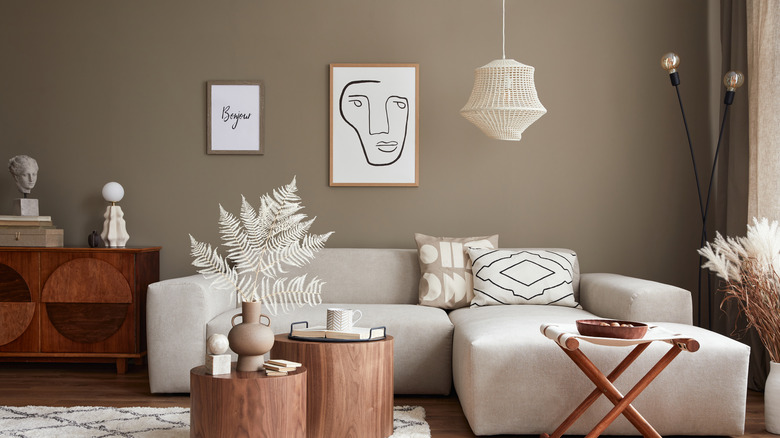 Followtheflow/Shutterstock
Picking the right couch color for your living room is not something to be taken lightly. It's an investment and a huge decor decision that'll make or break your living room design altogether. As the largest piece of furniture in the room and as your living room's main focal point, it's a given that your couch has to intertwine with and reflect your personality and interior design style. 
The couch you choose for your living room determines the vibe of the space. Since color influences the mood in a room and can affect your concentration and quality of sleep, according to Country Living, if you want your couch to feel like your own piece of heaven, start with choosing the right color. Determine what hues and tones you like best, create a color palette of top choices, and narrow it down. There are a number of blissful ways to choose the right shade and if you're ready for a living room spruce up, here is how you can pick the perfect couch color for your living room.
Bring the room together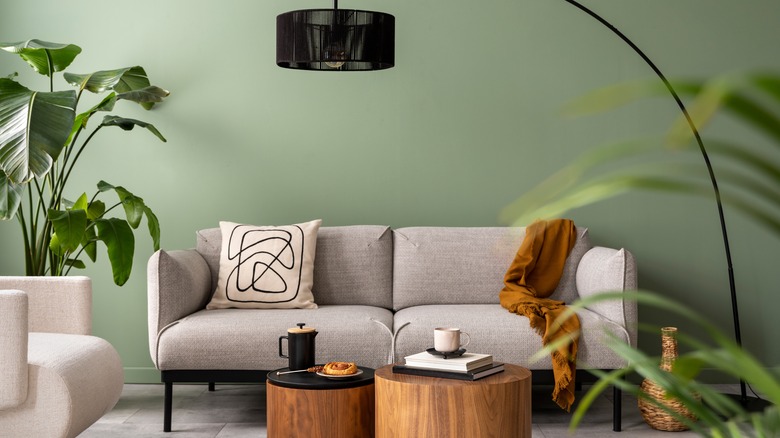 Followtheflow/Shutterstock
As the focal point of your living room, the couch you choose for your living room should complement the theme and decor of the current space. Colors, fabrics, and decor accessories all come into play here. Choosing a couch that matches the color of your living room walls is a safe way to go, but keep in mind that you'll be committing to that wall and couch color for the long haul, according to Articulate.
If you're starting over and redesigning the living room, it's important to ask yourself all the right questions. Do you want your couch to be neutral or bold? Are you choosing the couch based on your current living room color palette, or are you starting from scratch? Is your living room more modern or more traditional? Do you like functional decor and furniture or more simple and stylish? What statement do you want your couch to make? Use these questions as a helpful way to narrow your options down and finalize your color palette.
Vibrant or neutral?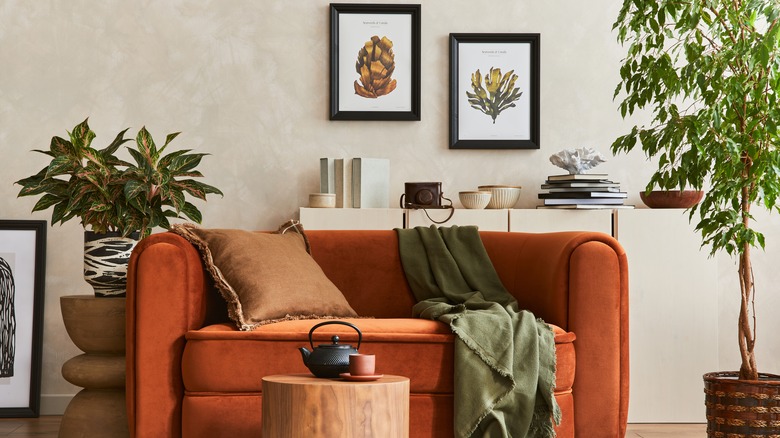 Followtheflow/Shutterstock
To start with your color palette, Articulate recommends going for hues you're naturally drawn to. You'll regret choosing a couch for your living room only based on how it looks in the space, especially if you don't like the color. If you're unsure where to start, consider tones that are currently popular and in style. The trendiest couch colors of 2022 include green, gray, navy blue, cream, and orange, according to Country Living. 
If you're one to all go out and over the top when it comes to color, bright and bold colors like yellow, green, and orange are probably more of your style. Elephant in a Box recommends pairing vibrant colors with lighter shades or pastels to avoid making the space look or feel scattered and chaotic. Some people prefer neutrality over anything else, and if you fall into this category, earth tones like brown, beige, cream, and gray are magnificent colors to consider. Although neutral colors are more subtle and soothing, they can have the same effect on a living room as bold colors if you go for distinct yet functional furniture pieces like curved furniture. It's chic and classy yet modern and contemporary. Neutral colors are sleek and are a great choice for a living room couch.