The Trendiest Ways To Style A Gray Sofa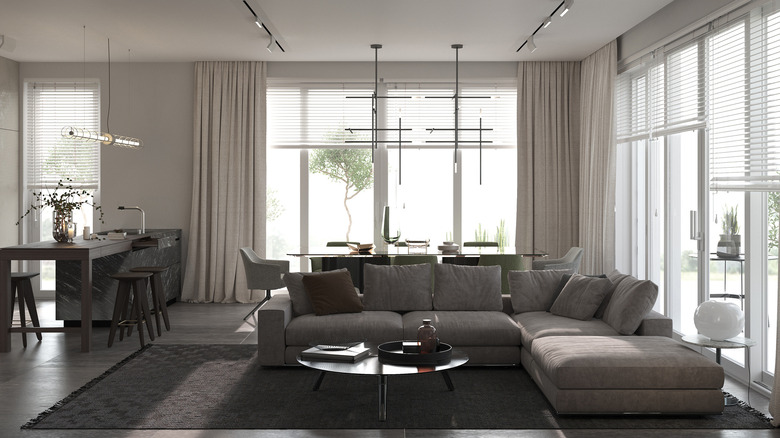 Victoriia Kovalchuk/iStock
The days of the color gray being unoriginal, bland, and dull are long gone, especially when it comes to home décor. Instead, gray has become a popular color option because it's neutral, and there are an infinite number of color schemes, designs, and styles it can be paired with. Gray sofas are a great furniture option to consider in terms of styling your home, whether you want to stay clean and neutral or mix and match it up with different colors and patterns; you can go bright or dark or keep it in between. A gray sofa will make any room in your residence feel homey, contemporary, and peaceful while simultaneously creating a neat, elegant mood and style to the room.
The beauty of gray is that in the past, it's been underestimated. Gray probably wouldn't have been the first choice for many; however, according to Smart Furniture & Decor, a gray sofa has more decorating potential than any other furniture in your home and is easier to keep clean compared to a white couch. Here you can find some good tips for adding a touch to your gray sofa.
1. Pillows, duh!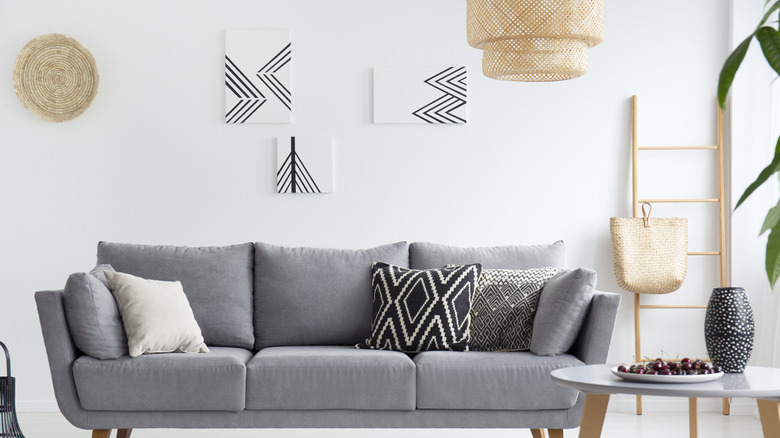 KatarzynaBialasiewicz/iStock
Pillows should be the first item you buy to style your gray sofa. Gleaming pillows similar to sheen and matte fabric are good choices. There's no need to play it safe when using gray as a base: That's the beauty of it. Then, mix and max your décor using neutral tones as much as you want.
2. Plants are a must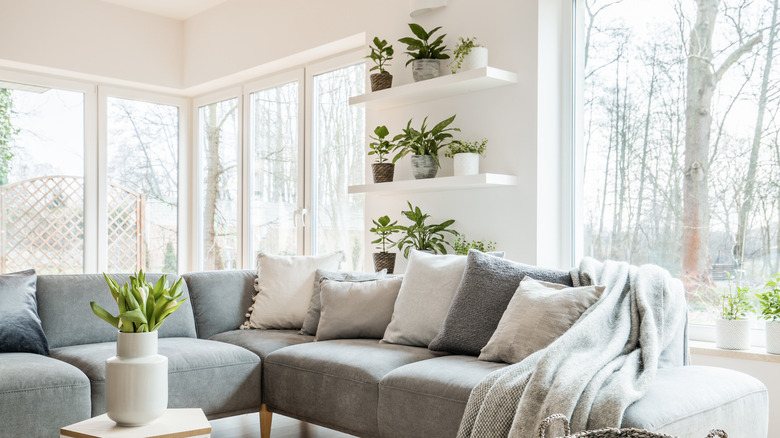 KatarzynaBialasiewicz/iStock
If you love nature and the outdoors, you can't go wrong with one or a few plants. Overall, plants create peace and light in a room, but greenery will make the sofa and the space pop. Likewise, smaller plants with shelf space bring a sense of relaxation to the room.
3. Go with a throw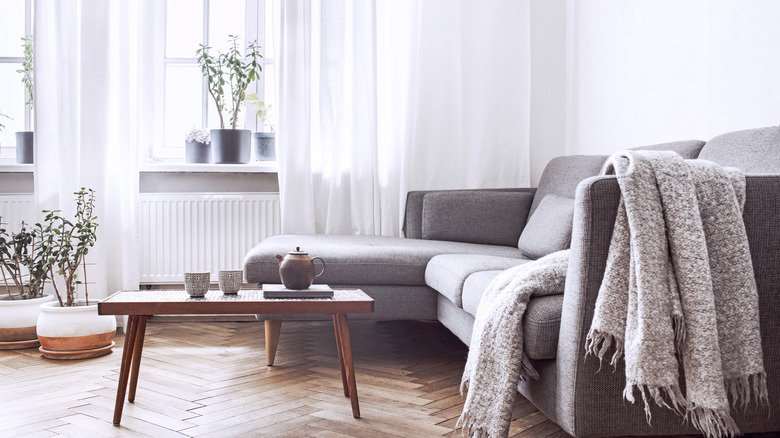 FollowTheFlow/iStock
Every gray sofa needs a throw for those days you want to curl up in a ball. Throws can be changed seasonally, so swap them out and make it fun every so often. Pick a color that complements the gray, like a lighter gray, or contrasts against it.
4. The right lighting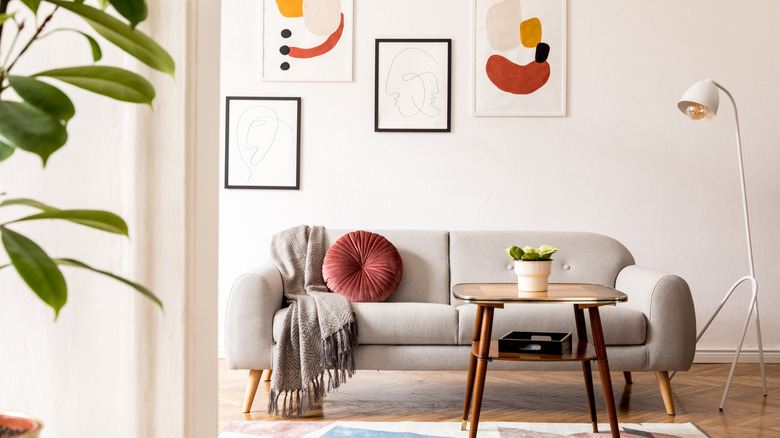 FollowTheFlow/iStock
Proper lighting can make any room stand out, but one with a gray sofa is sure to turn a few heads; therefore, you should have a source of lighting specifically for your gray sofa on one or both sides of the couch. It will create a compelling décor scene when one walks into the room.
5. Artwork for dimension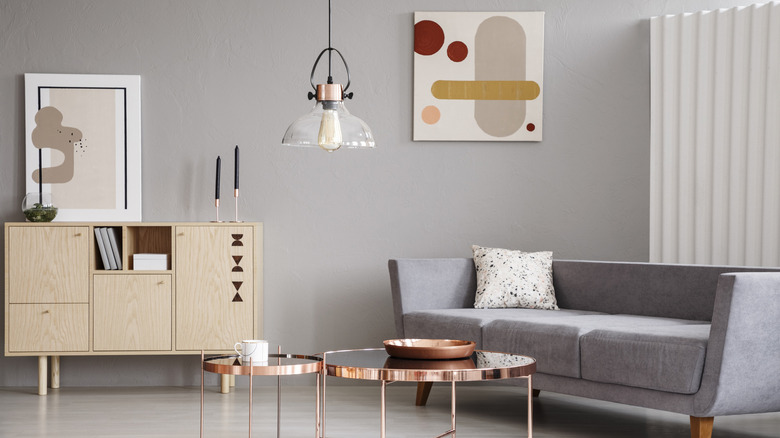 KatarzynaBialasiewicz/iStock
Art is an essential part of any room, but more so when it comes to styling a gray sofa. Include pieces that complement the space, such as lines, symmetry, and different shapes with a compilation of vibrant colors.
6. Vivid colors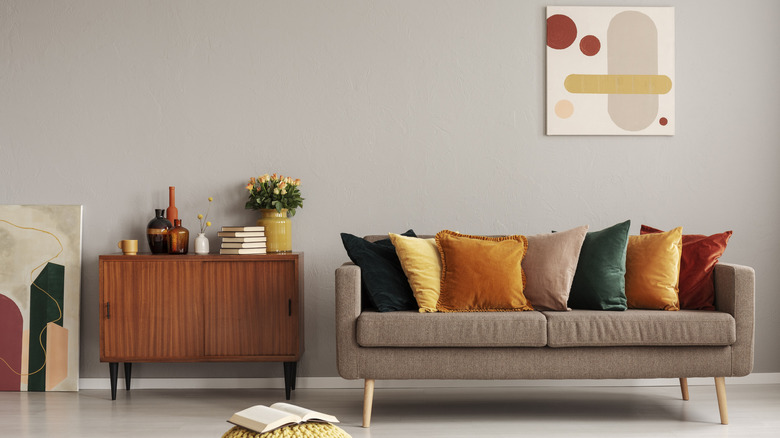 KatarzynaBialasiewicz/iStock
Bring in doses of vivid colors to make your gray sofa stand out. Home décor doesn't have to be all business and no play. Liven up your home by using pops of colors like orange, yellow, beige, green, and red as an assortment of various décors.
7. Area rugs are the best
Peter_visual/iStock
No room can look its best without an area rug. Area rugs add pattern and texture to the décor in your home. Incorporate colors that create an ambiance around the room and the gray sofa. Remember, your area rug doesn't have to match the room décor: Make it stand out.
8. Coffee tables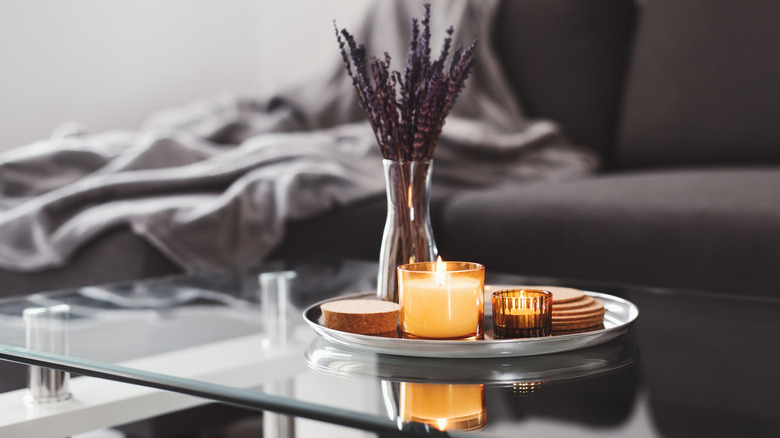 VeranikaSmirnaya/iStock
Because coffee tables come in many different sizes, colors, and shapes, you'll have several options to work with for your gray sofa. Consider a glass coffee table with an arrangement of décor like a tray, vase with flowers, and of course, candles.
9. End tables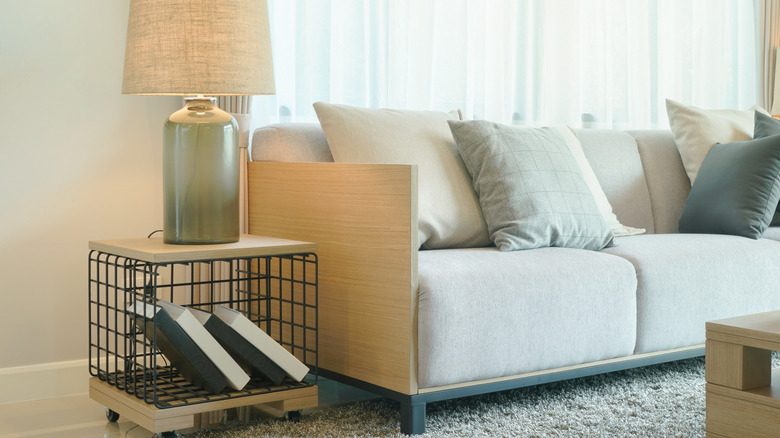 Kwanchai_Khammuean/iStock
If you'd like your gray sofa to be the center of attention in a room, end tables are perfect. Whether you decide to put one or two on either side, it'll keep your space looking neat and make your couch jump out. Add a lamp, a couple of books, and you're good to go.
10. Keep it earthy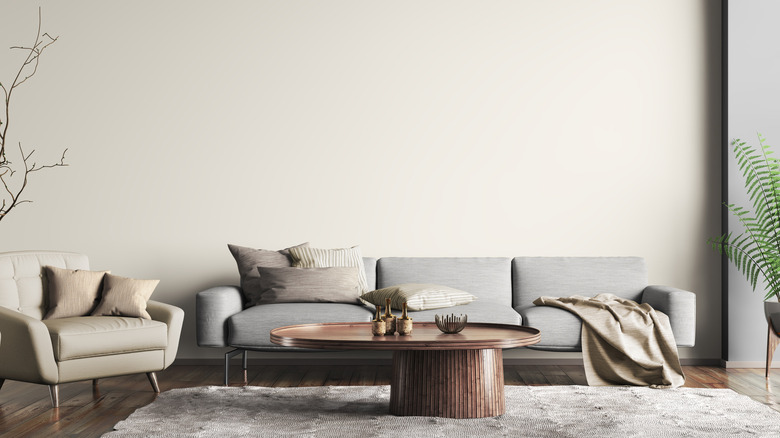 Scovad/iStock
Earth tones such as beige, brown, off-white, wood tones, wheat, and green bring an earthy, homey feel to any room. Go for lighter walls and soft décor to make the room bright, warm, and inviting, and add a plant for a little touch of nature.
11. Lots of gray is okay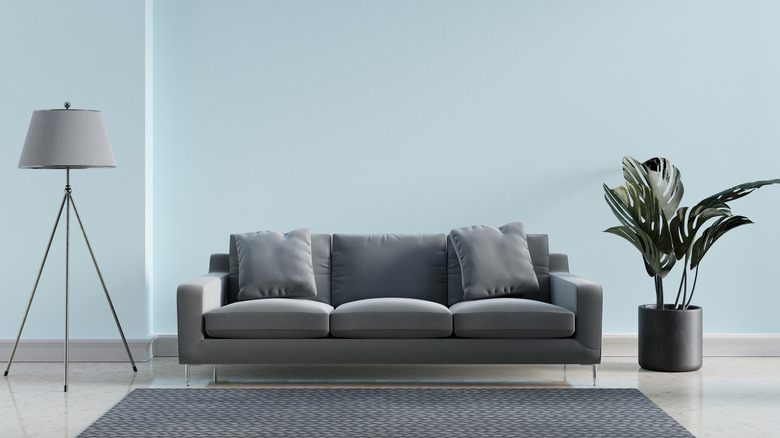 Shutter2U/iStock
Who said there was ever such a thing as too much gray? Different shades of gray will make the room feel fun and edgy but still calm. Gray doesn't have to be dark and gloomy; a sofa in a sunny room with sky gray-blue walls provides the perfect space for an all-gray décor.
12. Neutral decor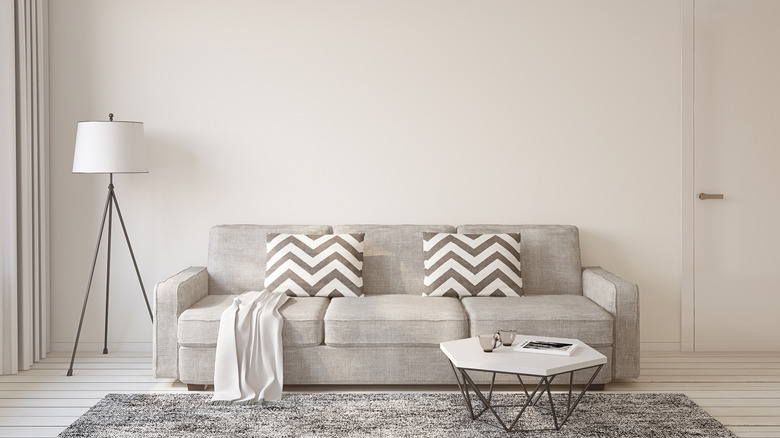 Poligonchik/iStock
Neutral décor doesn't mean basic. Style your room by pairing your gray sofa with a simple color like white. Then, get identical pillows on your sofa and go for a bright décor to bring a soft feel to the room. A slightly darker rug will make your gray sofa pop but still keep the room's aesthetic.
13. Create a peaceful sanctuary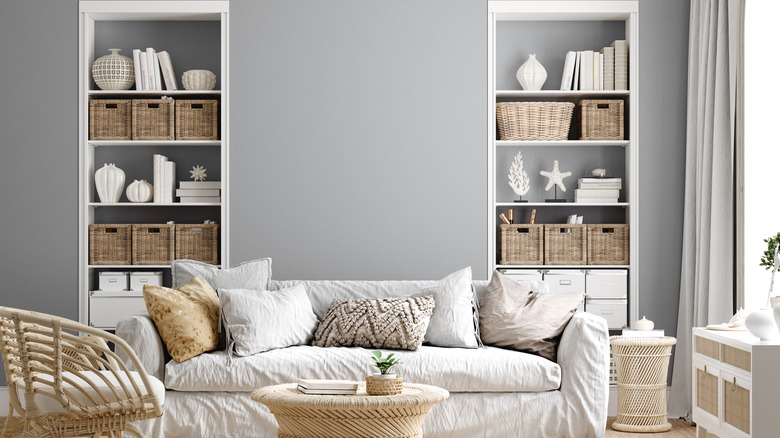 Artjafara/iStock
If you want to create a peaceful space in your home, décor is crucial. In that case, focus only on neutral tones like white, light wood, and beige around your gray sofa. Then, go for unique pillows, storage accessories, and chairs with different fabric types and styles in similar tones to bring the room together.