The Trendiest Ways To Style A Black Sofa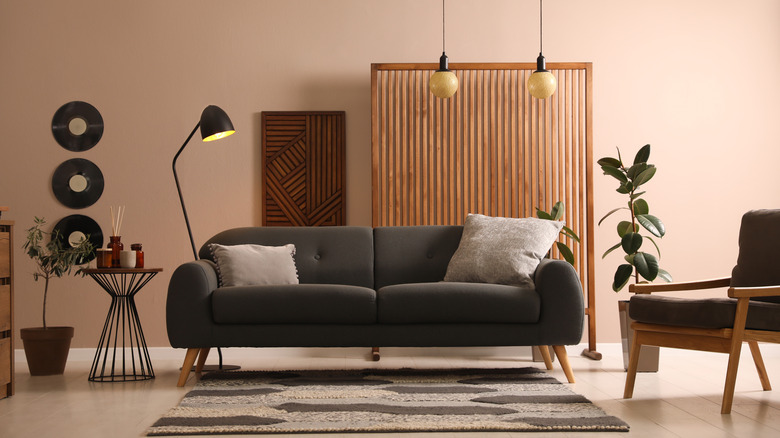 New Africa/Shutterstock
Are you trying to renovate a room with a dark sofa but can't seem to find a method to make it work? It's no secret that reupholstering and furniture are costly, but there's no reason to go that path. Instead, embrace your dark staple items and convert them into the perfect balancing complements to a bright, dynamic environment with a few design tips and accessories. Indeed, black isn't for everyone; it can come across as gothic, dominating, or even frigid to some. However, high-finish black furniture may help create an attractive, sophisticated space that mixes drama and warmth with the correct styling, complementary color palette, and lighting.
Black sofas, for example, provide a lot of drama for your design dollar. They provide look-at-me silhouettes that serve as focal points in living and family rooms because of their dark colors and physical heft. As Home Edit noted, black sofas are versatile neutrals that go well with a wide range of colors and motifs and can be used in various styles, from rustic to contemporary. You may dress up or down your living space with the proper pieces and get a vibe that feels like home. Here are some ideas for styling your living space with black furniture, whether you want a sleek and sophisticated design or something more fun and relaxed.
Soften with neutrals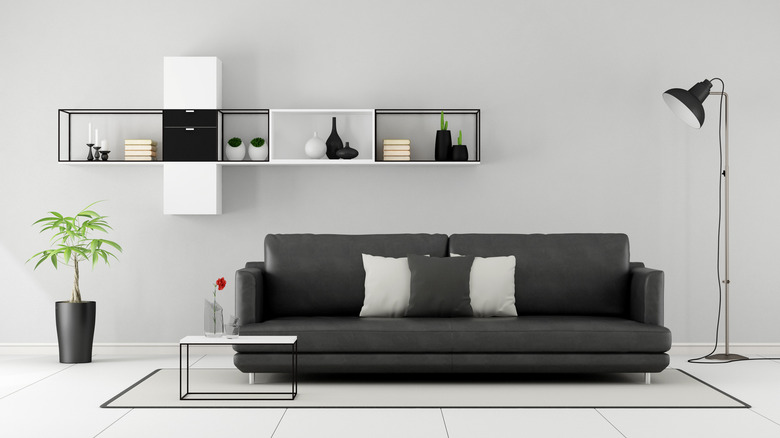 archideaphoto/iStock
A black sofa combined with neutral tones can soften your décor. Add some plants in the room and place the furniture in an area with natural light to provide warmth. When you want to create a fashionable and comfortable style, pairing darker items with neutral walls and soft furnishings works exceptionally well in a living room.
Go moody with Industrial style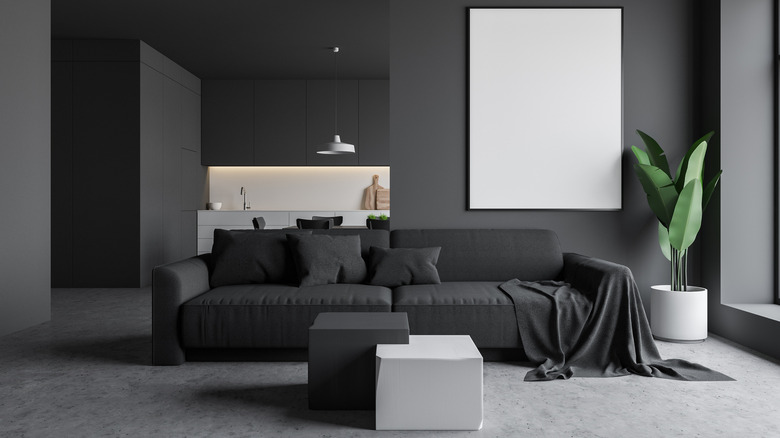 ismagilov/iStock
Traditional manly features such as chrome detailing, rich hues, lush greenery, and leather upholstery are what make the Industrial style so popular. Go for a monotone gray table with chrome metallic elements or use earthy tones, geometric furnishings, and drab artwork to give the space a more masculine feel.
Freshen up the room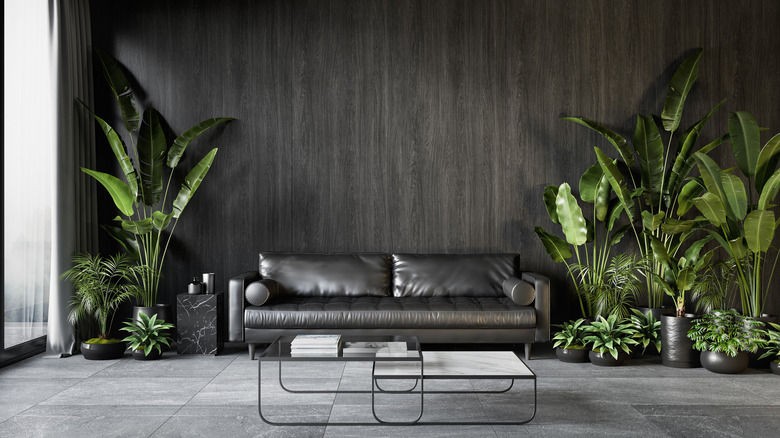 YKvision/iStock
Are you a fan of the outdoors? If so, fresh green plants are the finest way to add a splash of color to your living space. To create a charming atmosphere, use brilliant tones in trims, vases, color lamps, furniture, and upholstery textures.
Opt for a delicate design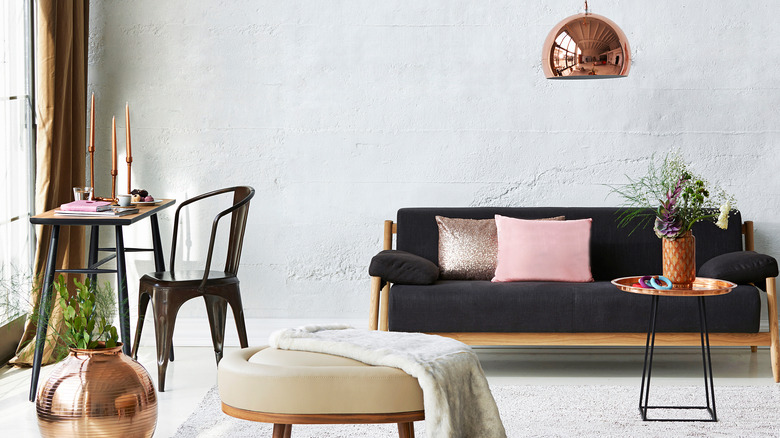 united photo studio/Shutterstock
A chandelier and fresh flowers in a vase near a black leather tufted couch are classic feminine flourishes. Pink pillows on a black sofa may make for a lively and feminine living room, and a little overlaying of peachy tones can also add a delicate touch to the living space.
Bring copper to the game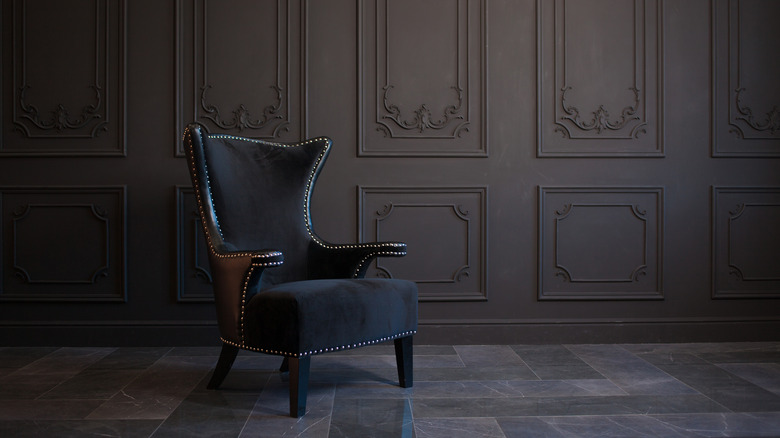 Lia Koltyrina/Shutterstock
The ceaseless copper style goes exceptionally well with a black sofa. Place a black fuzzy or velvety rug, metallic copper furnishings frames, and copper shade hanging lighting fixtures in the living room for a traditional look. Have some forged iron candle stands, and bring in some black lounge chairs for an added touch.
Contrast with bold colors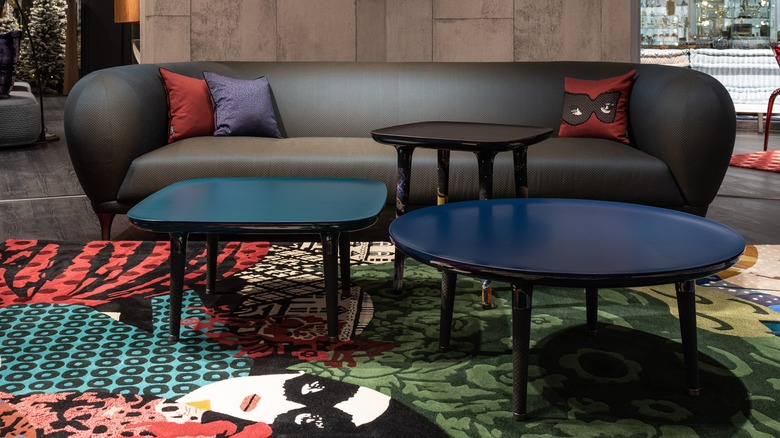 Max Vakhtbovych/Pexels
If pastels aren't your thing, contrast black furniture with vibrant color pops to lend a burst of excitement to your decor. The trick is to go strong with brilliant tones of red, yellow, green, or pink in your selection of cushions, upholstery, and carpets, rather than going too far with a neutral color on the walls.
Pair with white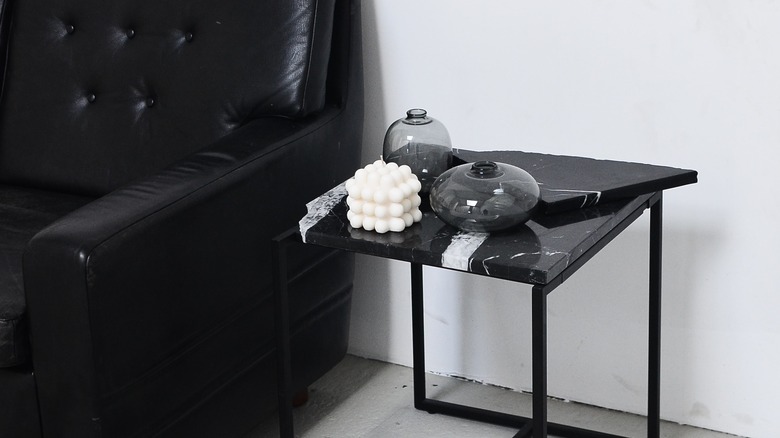 Skylar Kang/Pexels
What better way to style a black sofa than with a minimalist palette? Black furniture on white walls is a great way to appear bold, and it looks outstanding in corridors. Dark furniture makes a statement here, while white walls assist in creating a generally small area that looks light and airy.
Get the lighting right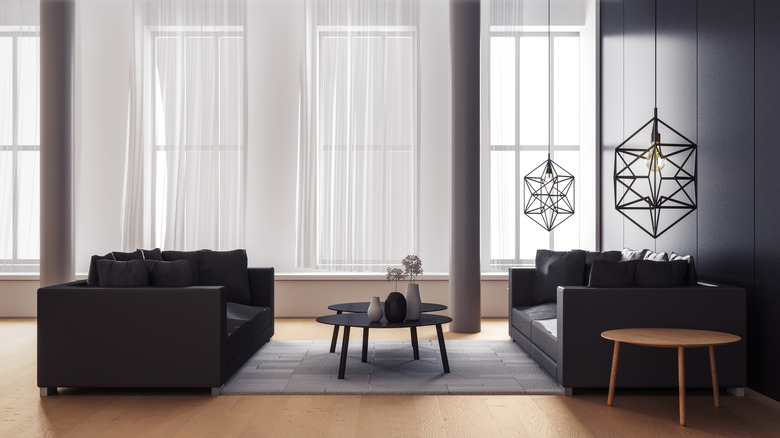 TonTectonix/iStock
When dark furniture is displayed in natural light, it comes alive. However, strategically placing lamps and above lighting will always help create further pockets of lighting and space. Style the sofa with gold or silver chandeliers for a truly luxurious look or lampshades made from soft textiles like silk or velvet for a warmer feel.
Make it look elegant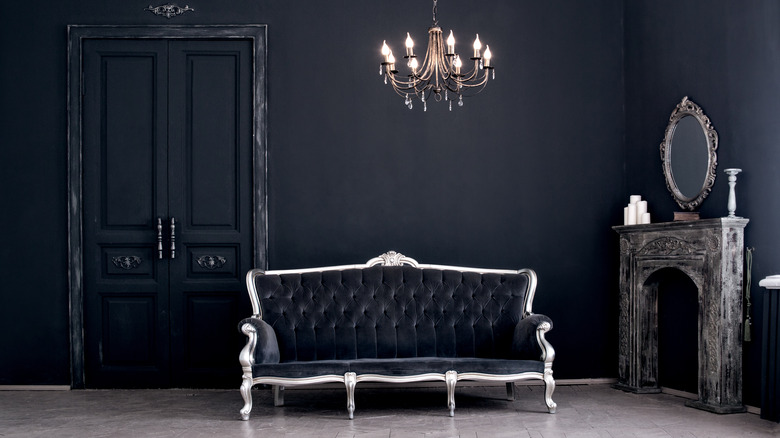 marina_eno1/Shutterstock
Pair a gigantic chandelier with a plush rug to create an elegant impression in your living area. To give the area a more ethereal feel, complement it with woodworks. A few bright velvet cushions on a black sofa can also provide a touch of elegance.
Pick up some color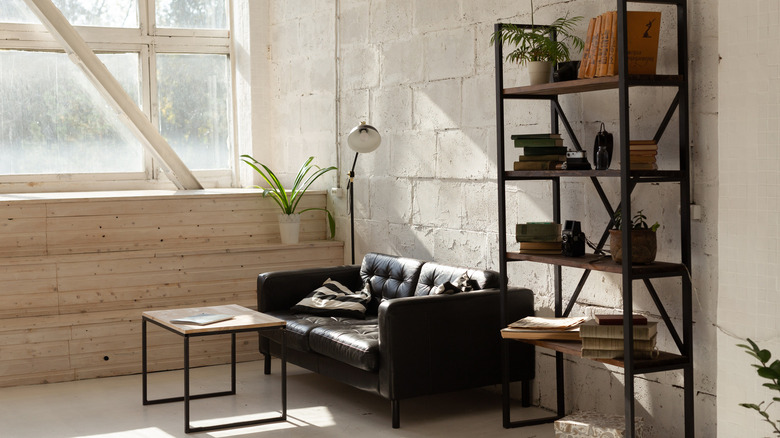 satura86/iStock
Favorite collections, lively artworks, patterned or rough area rugs, and window coverings with hints of black or dark charcoal that tie in with your sofa and upholstery textiles will brighten up your space. If you prefer chromatic environments, use vibrant accessories, aggressively patterned throw cushions, and accent furniture to spread your preferred hues across the area.