20 Gorgeous Ways To Incorporate Lilac Into Your Home Decor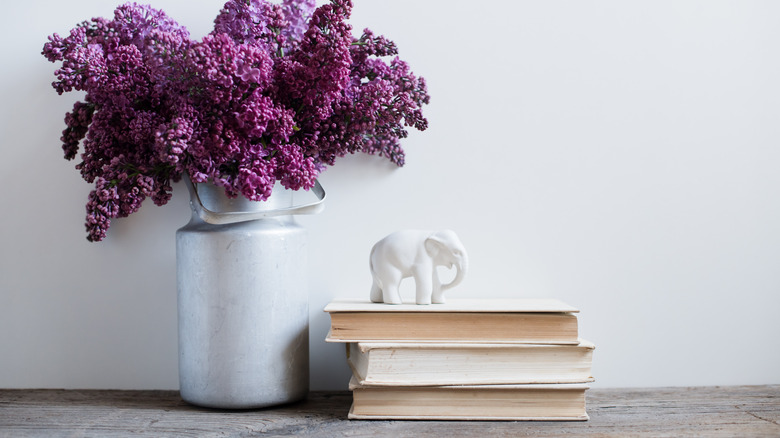 Lilac is an endlessly versatile color, taking its source from the beautiful, but fleeting, late spring/early summer flowers with their heavenly scent. Lilac is a close cousin to lavender and violet, appearing among a number of slightly nuanced shades of pale purple. According to Art in Context, lilac is steadily replacing millennial pink as everyone's favorite pastel due to its calming, youthful, and nurturing vibes. It also comes in a variety of shades, some cooler interpretations approaching lavender, others with warmer tones inching toward mauve. 
Lilac can be demure or intense, pale or vivid. It can also be formal or informal, glamorous or laid back. If you are looking to add this light purple shade to your decor, there are a number of ways to consider working it in, including combining it with other shades. To find the perfect spot for lilac in your home, there are key elements to keep in mind. 
1. Barely there lilac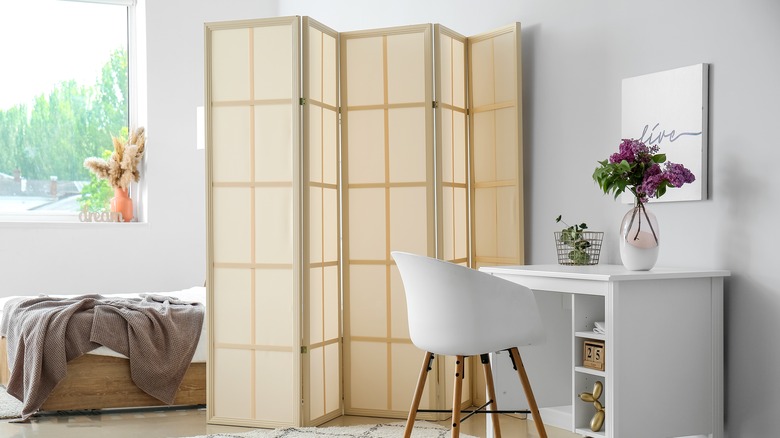 Pixel-Shot/Shutterstock
If you are a fan of minimalist decor or soft whispers of color, try a very pale lilac. In certain light, it looks almost like a violet-tinted white but adds more interest to a room. It also looks great with dustier shades of lilac, lavender, or purple. 
2. Paired with other pastels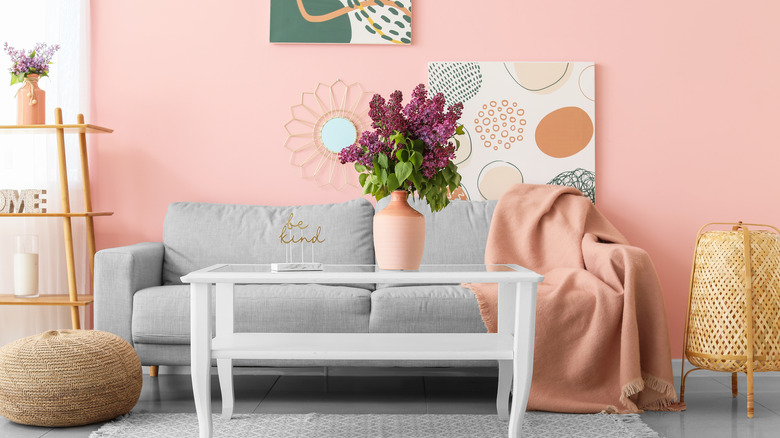 Pixel-Shot/Shutterstock
Lilac pairs well with other pastels, particularly pink and blue. Try mixing various shades and intensities, like a pale lilac sofa with a deeper pink wall. 
3. Bright lilac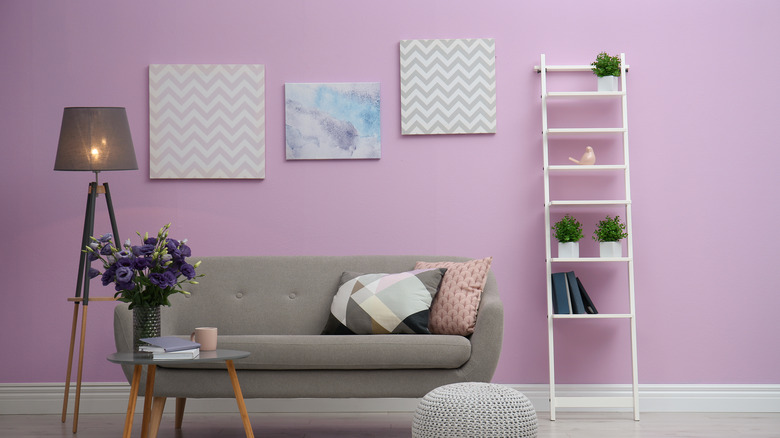 New Africa/Shutterstock
Some shades of lilac can be bright and bold, particularly those with red undertones. Here, a bright lilac wall is paired with a neutral gray sofa. The combination draws attention to the vividness of the wall but does not compete with it. 
4. Monochrome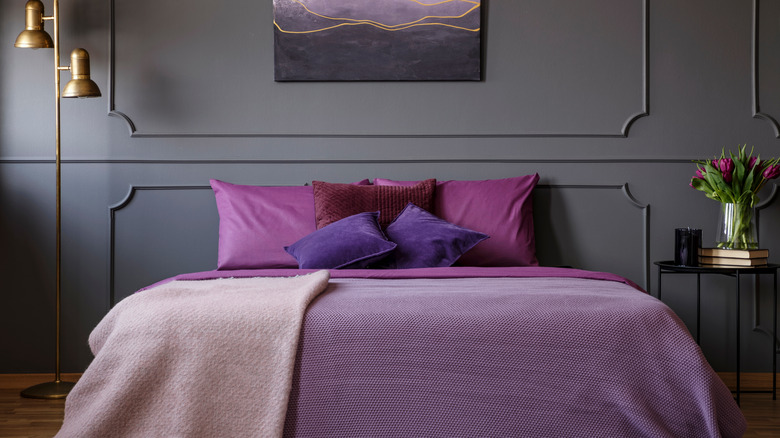 Photographee.eu/Shutterstock
Rich interiors can be created by layering shades of purple, lilac, lavender, magenta, and burgundy in a single space for a monochromatic effect. Because these shades are all close relations on the color wheel, they merge perfectly into an intentional-feeling and colorful palette. 
5. Neutrals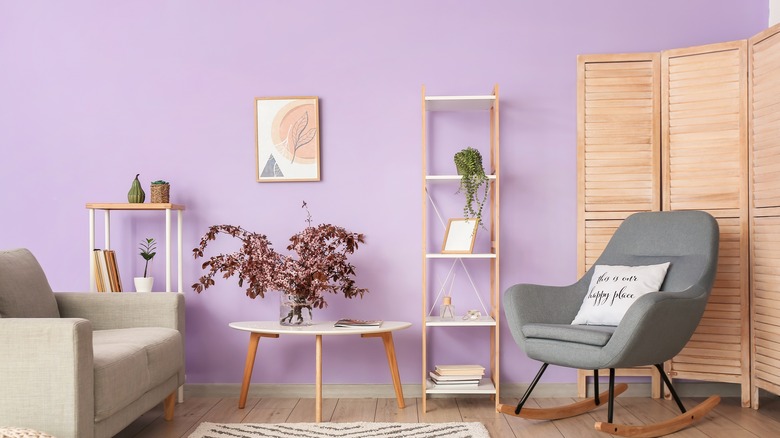 Pixel-Shot/Shutterstock
Lilac is also a shade that pairs incredibly well with neutral colors, including creams, beiges, and tans. Grays, in particular, share many of the same tones, with some varieties of this popular neutral even approaching lilac or violet. Try mixing different shades of violet-gray with lilac walls and warmer, neutral woods. 
6. Accent walls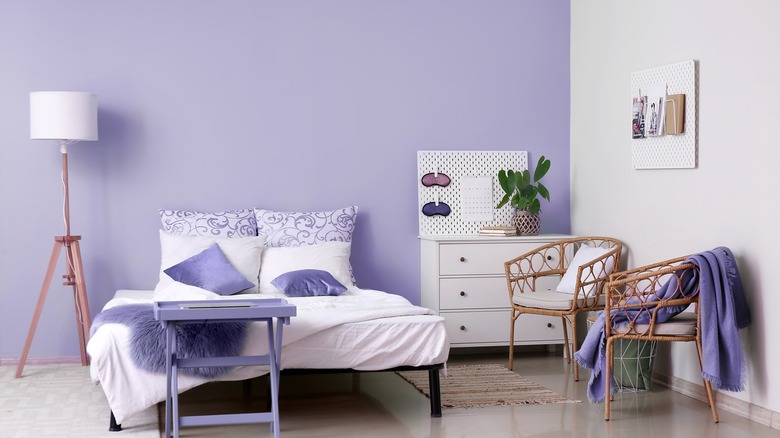 Pixel-Shot/Shutterstock
If an entire lilac room seems a little intense, a pop of color via an accent wall may be the perfect solution. Complement it with deeper shades of lilac or purple on upholstery or bedding. Or, combine a colorful wall with neutrals like gray and brown. 
7. Children's rooms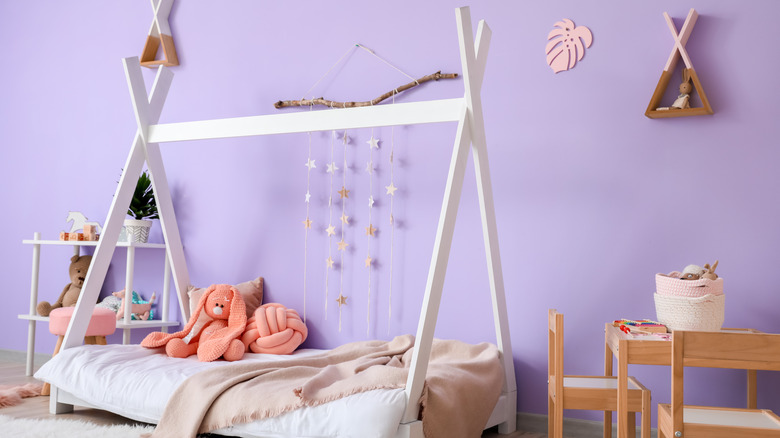 Pixel-Shot/Shutterstock
Because it's a color that denotes youth, lilac is a great shade for a nursery or kid's bedroom. Not only is it colorful, but also relaxing. Lilac can also be a great gender-neutral shade. 
8. Kitchens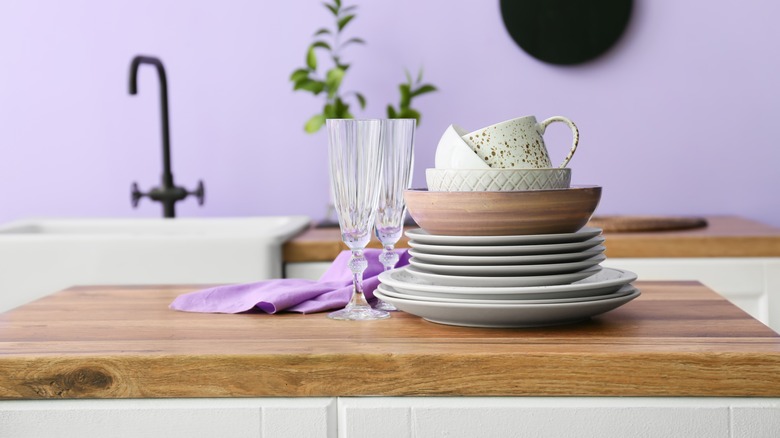 Pixel-Shot/Shutterstock
While not a color traditionally associated with kitchens, it can be perfect in large or small doses. Lilac is endlessly relaxing, so if you're seeking a laid-back but innovative pastel to calm you while you cook, lilac may be the best solution. 
9. Bathrooms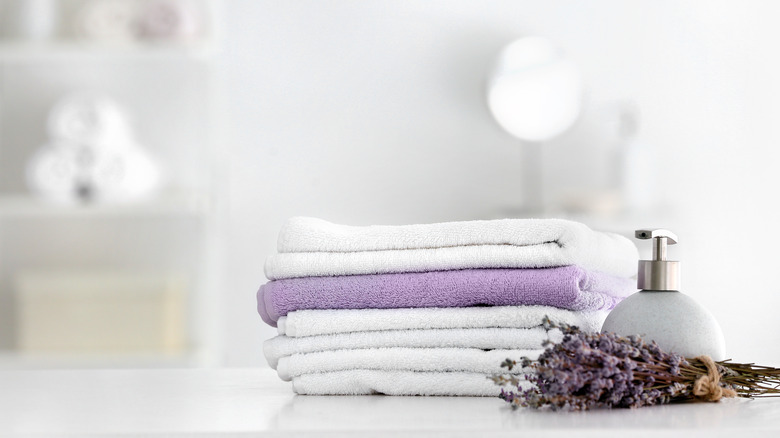 Pixel-Shot/Shutterstock
Lilac shades echo nature and the flowers that give them their name. Because of this, they make a natural choice for bathrooms. Consider a lilac accent wall to add depth to the room or lilac hand towels to add a splash of color to an otherwise white space. 
10. Wardrobes or closets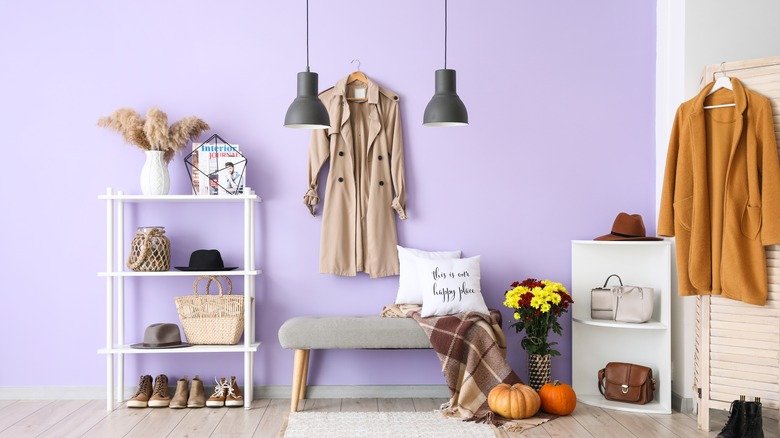 Pixel-Shot/Shutterstock
Perhaps we're inspired by a variation on Sex in the City's famous purple closet, but lilac is a great option for closets and wardrobes. Whether you have a walk-in closet, a whole wardrobe room, or even a small, dark little cave that needs a pop of color to brighten it up, this shade may be exactly what you're looking for.
11. Romantic bedrooms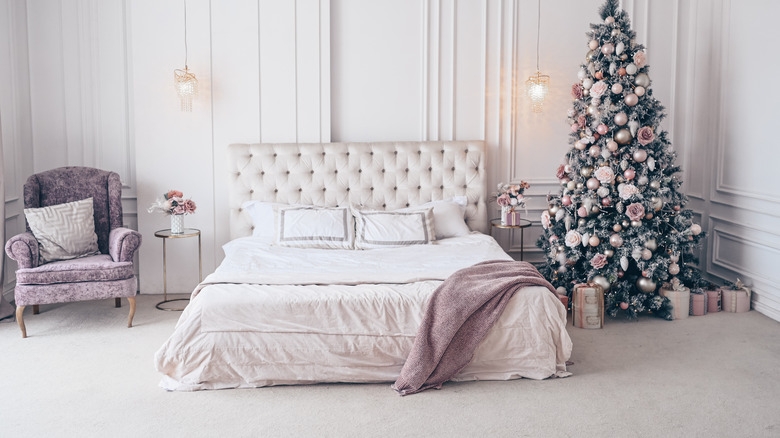 Alina Troeva/Shutterstock
In addition to relaxation, lilac is also a romantic shade that falls second only to pink. This makes it an excellent option for luxurious, intimate bedrooms filled with satin and velvet elements.
12. Glamour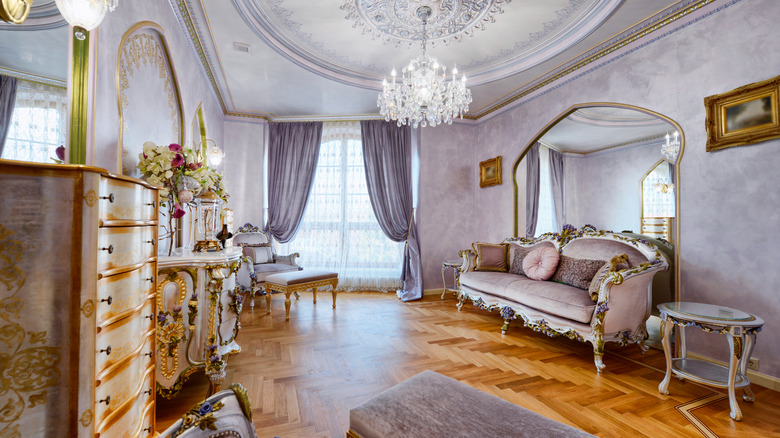 Vadim Ovchinnikov/Shutterstock
Under the right circumstances, lilac can also be a glamorous color to create rooms that would make even Marie Antoinette happy. You can get this sumptuous look by employing lilac alongside gilded elements, large mirrors, baroque pieces of furniture, and crystal chandeliers.
13. Cottage style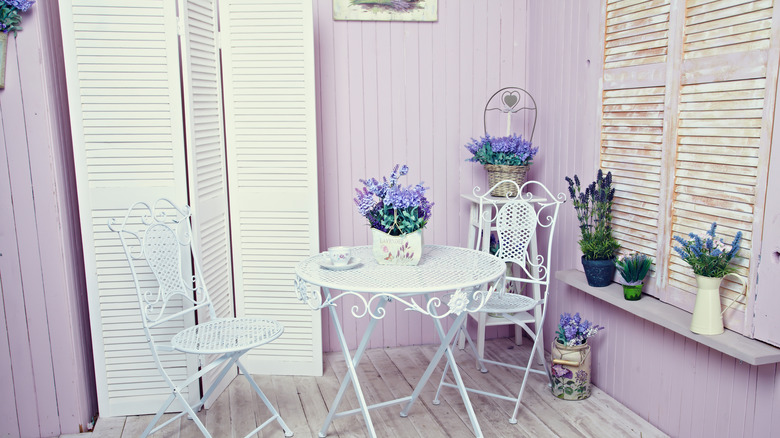 Kseniya Oniskevych/Shutterstock
Lilac's versatility lends itself well to even more informal decor schemes. One of the most used colors in cottage and shabby chic styles, lilac offers a pastel alternative to pale pink that is a little more unexpected. 
14. Sleek and modern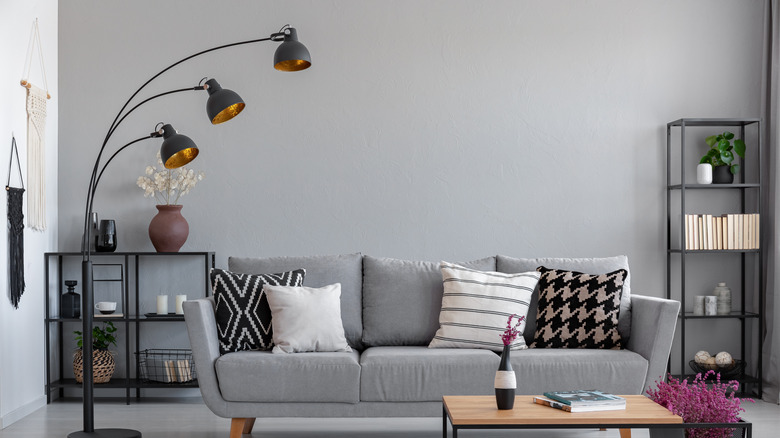 Photographee.eu/Shutterstock
Lilac can also be sleek and modern, particularly when paired with clean lines, minimalist spaces, silver or metallic elements, and the color black. 
15. Bouquets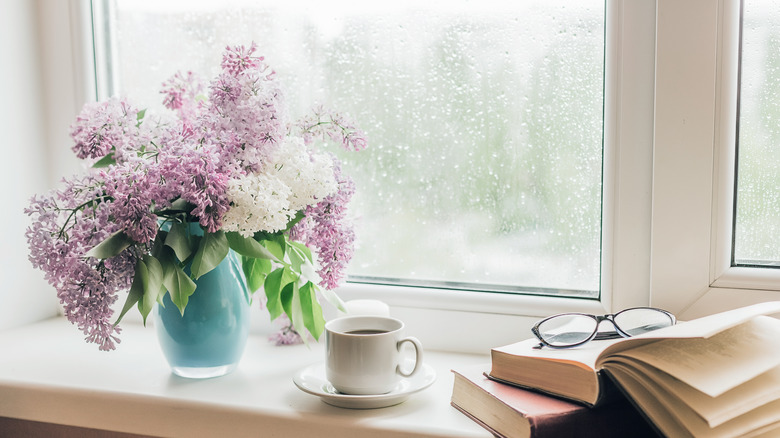 Anntuan/Shutterstock
One of the easiest and most obvious ways to bring a touch of lilac into your home, of course, is with the flowers themselves. Lilacs come in a variety of shades in nature and offer many different options. They also smell incredible!
16. Bedding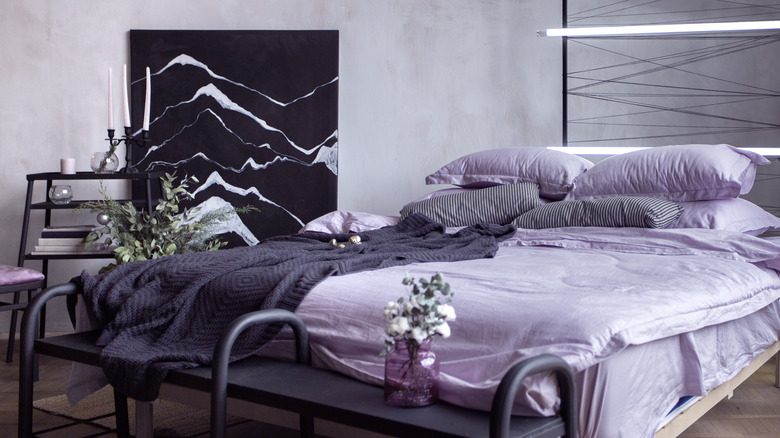 Top stock photos/Shutterstock
Because it's a relaxing color, lilac makes a perfect choice for bedding. You can combine lilac with neutrals, or mix different shades of lilac and purple for a layered look.
17. Window coverings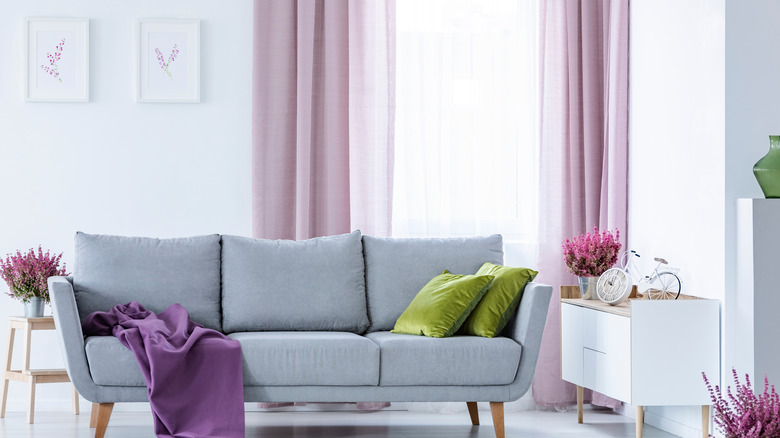 Photographee.eu/Shutterstock
Lilac window coverings are a great way to bring in the shade if you are looking to add just a bit to add interest to an otherwise neutral color scheme. 
18. Springtime tablescapes
Africa Studio/Shutterstock
Because it's often associated with spring, lilac is a perfect option for your springtime and Easter tables. Consider a lilac tablecloth with other pastel-colored dishes. Or combine neutral dishes with a giant spray of lilacs, violets, or lavender. 
19. Wallpaper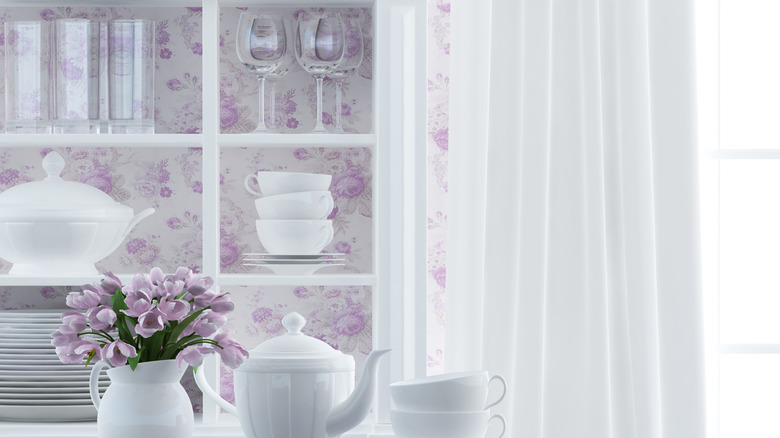 liatris/Shutterstock
Don't forget pattern. Lilac shades can be found in a number of beautiful wallpaper designs — everything from florals to stripes. If you're hesitant to put it on the walls, consider decorating the inside of a cabinet or cupboard for a fresh background for dishware and other objects. 
20. Bold exteriors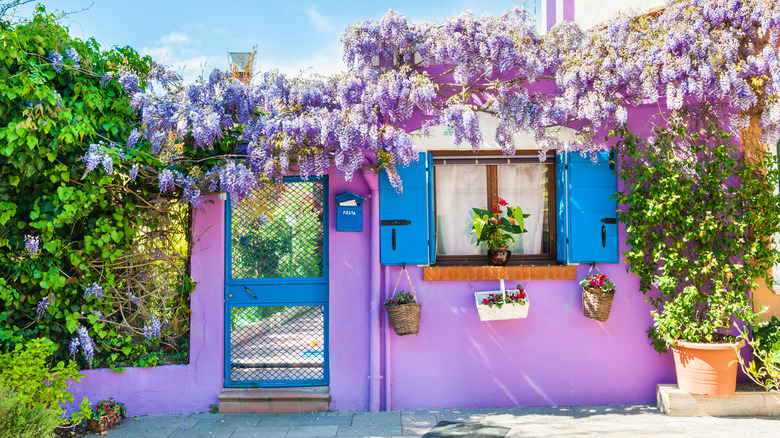 Olga Gavrilova/Shutterstock
Lilac is also a fitting alternative for pink if you are looking to add some bold and bright color to exterior spaces. While this shade of lilac may fare best in tropical and sunny locales, more muted, dustier variants may be the perfect non-traditional option for adding color to your exterior.