20 Colors That Go Perfectly With Lilac Décor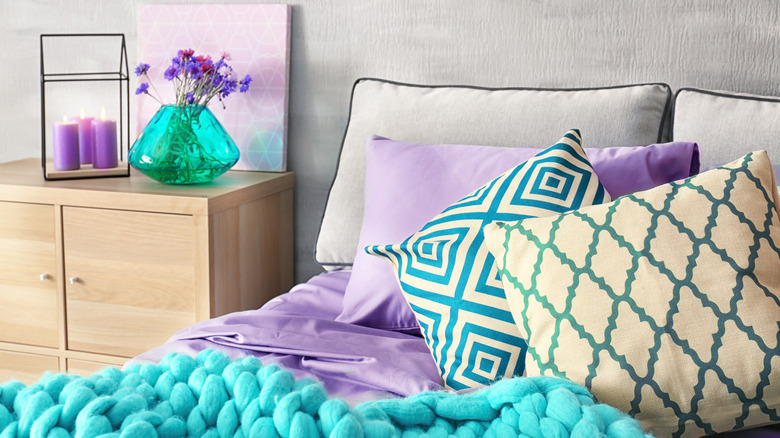 Africa Studio/Shutterstock
Adding the color lilac to a room can give it a peaceful and soothing vibe. According to Color Meaning, lilac is a likable and serene color. It's a light purple shade with a tinge of pink, and it can look great in just about any space. For example, this hue can give your bedroom a calming feel but if used in the living room, it will make your space feel welcoming. You could even add lilac to a kitchen area for a unique style choice.
HGTV suggests some different colors to mix with lilac décor. For example, you could combine this pale purple shade with other purple hues for a nicely layered room. Using cool colors like gray will give a space a soothing feeling. Or, if you're feeling brave, you could add a pop of a bolder hue into your space. Lilac is a pretty versatile color, meaning it can look cohesive with many different colors and shades. For inspiration on what color to pair with your lilac décor, here are 20 options that would look great in any space.
1. Pink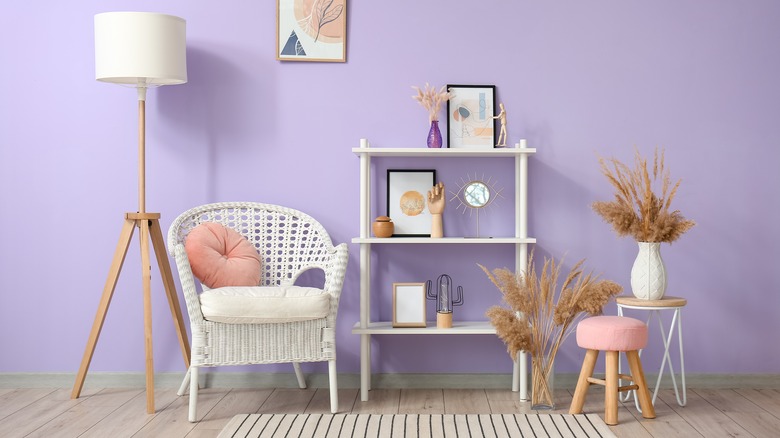 Pixel-Shot/Shutterstock
To add a bolder but cohesive color to a lilac space, go with pink. This room has a lilac wall, white furniture, and a few light pink pieces that really stand out. 
2. Gray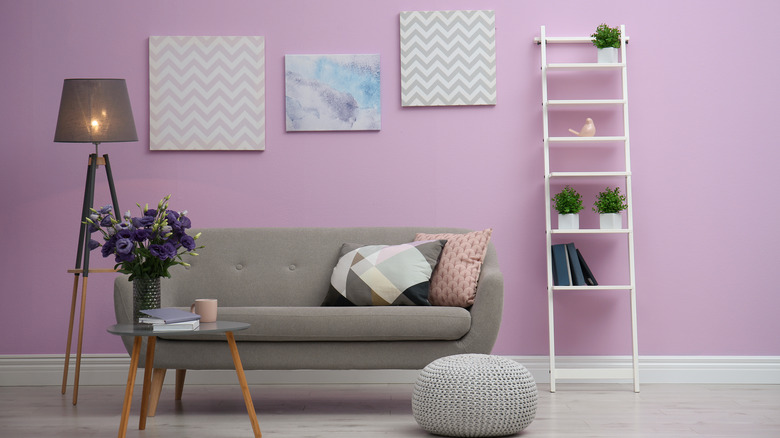 New Africa/Shutterstock
For a chill, cooler vibe, mix lilac with a medium gray. As you can see, this gray couch looks stunning against the lilac wall. 
3. White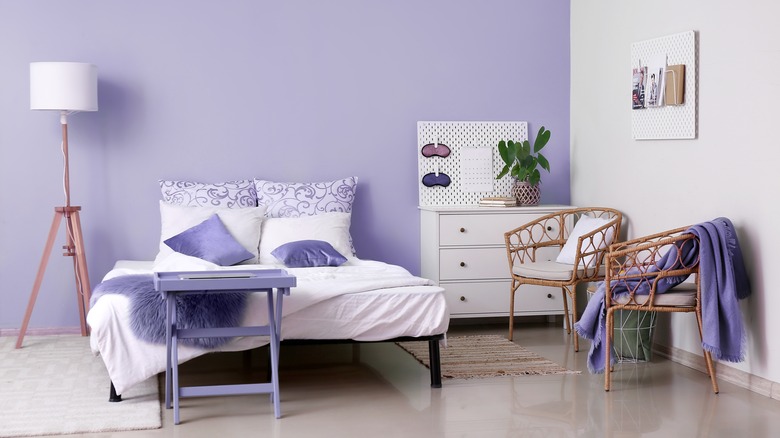 Pixel-Shot/Shutterstock
To make lilac the main focus of your room, mix it with a white shade. This white room has a lilac accent wall but it brings all the attention to it.
4. Green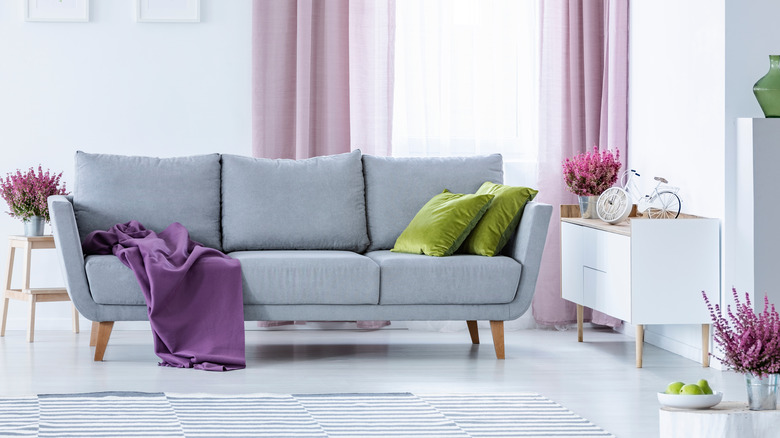 Photographee.eu/Shutterstock
Vibrant green can really stand out against lilac. This space has lilac curtains that look cohesive with green accent pillows. 
5. Turquoise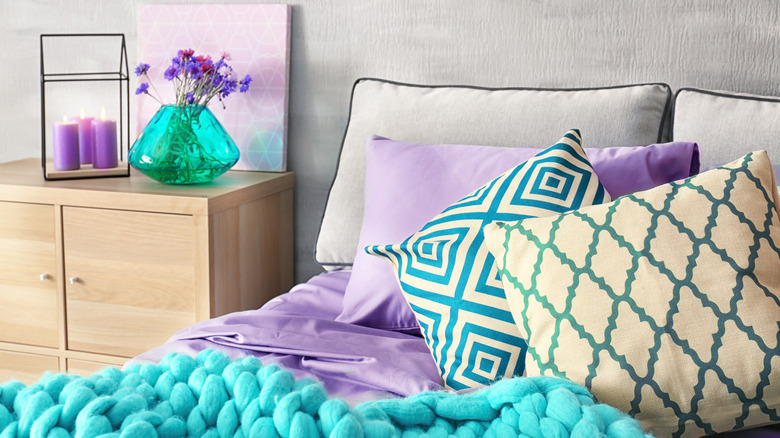 Africa Studio/Shutterstock
If you're feeling brave, try mixing lilac with a vibrant turquoise hue. This color combination looks extra fun and childlike in this bedroom. 
6. Yellow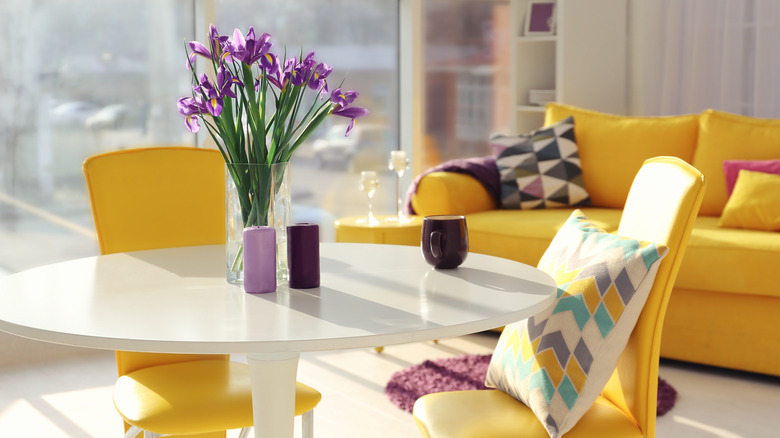 Africa Studio/Shutterstock
Yellow can also look great with lilac. You could choose yellow as the main color in your space, as pictured above, or you could make lilac the focal point. Whichever way you go, the space will look stunning with this color pairing.
7. Magenta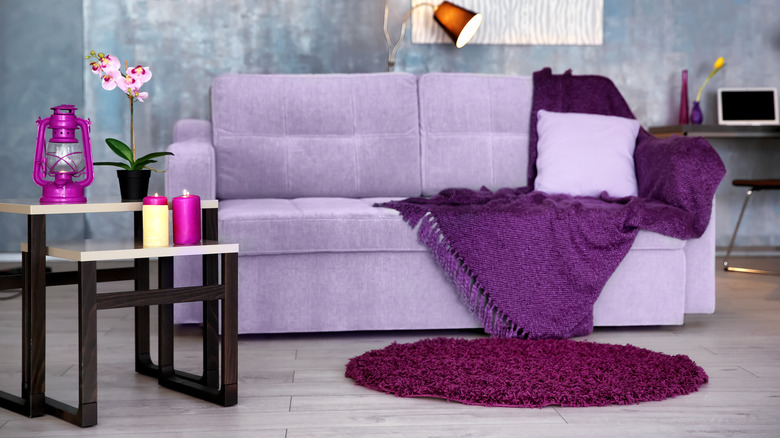 Africa Studio/Shutterstock
This image is proof that bold pairings work, with the magenta candles and lanterns sitting beautifully beside the lilac couch. Mixing lilac with different pink and purple shades can create a layered feel in a room.
8. Tan wood tones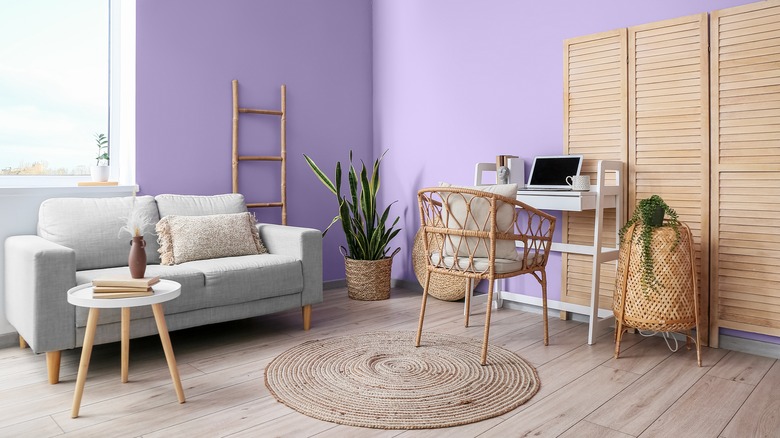 Pixel-Shot/Shutterstock
Tan wood can look chic and clean in a lilac space. For instance, this lilac room has all neutral and simple furniture but it doesn't look plain and too simple thanks to the lilac wall color.
9. Blue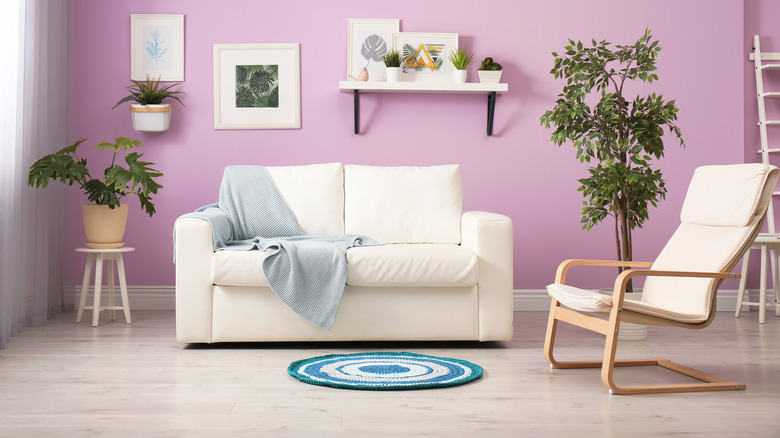 New Africa/Shutterstock
This lilac room also has simple furniture and design choices but with a pop of blue in the rug and the throw blanket. Blue can look great with lilac. 
10. Orange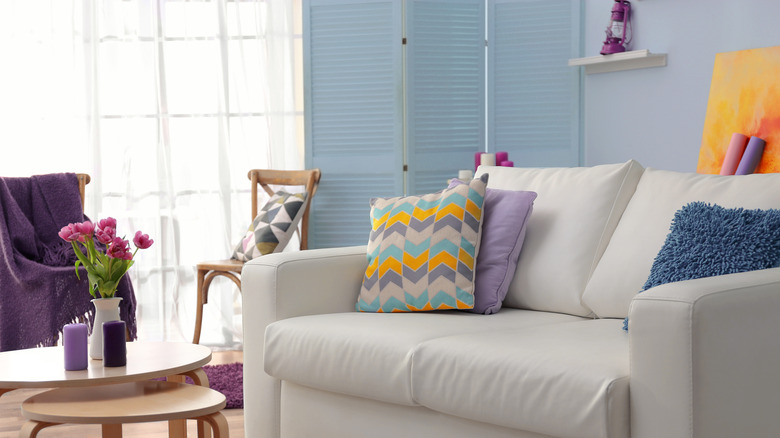 Africa Studio/Shutterstock
Orange can also look great with lilac. On this white sofa, a lilac throw pillow has been layered behind a blue and orange throw pillow, giving the room a stunning look.
11. Gold accents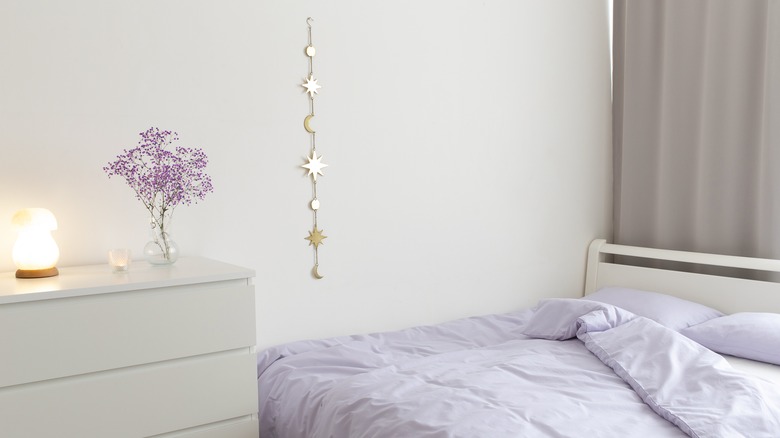 Nesolenaya Alexandra/Shutterstock
This room is super simple, with white walls and furniture and a soft lilac comforter. However, with all that simplicity, the gold celestial wall décor adds interest. 
12. Coral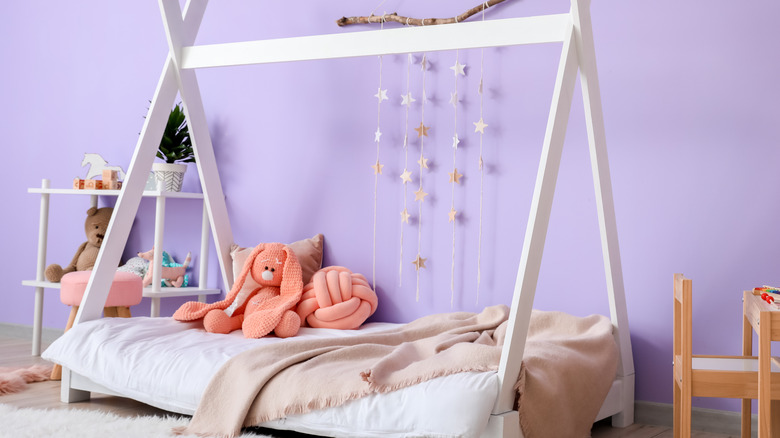 Pixel-Shot/Shutterstock
Coral, a bright pink, can also look fantastic in a lilac room. Thanks to this pairing, this children's bedroom looks extra cozy and colorful.
13. Deep pink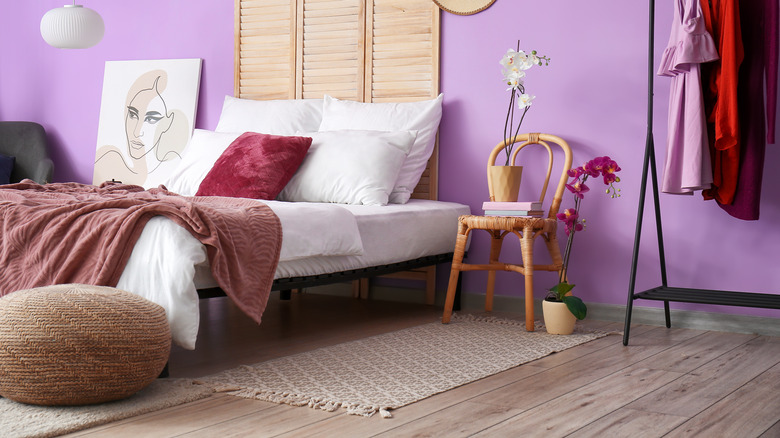 Pixel-Shot/Shutterstock
You could mix a dark, deep pink shade with lilac as well. This bedroom combines lots of red and dark pink tones with the lilac wall.
14. Dark gray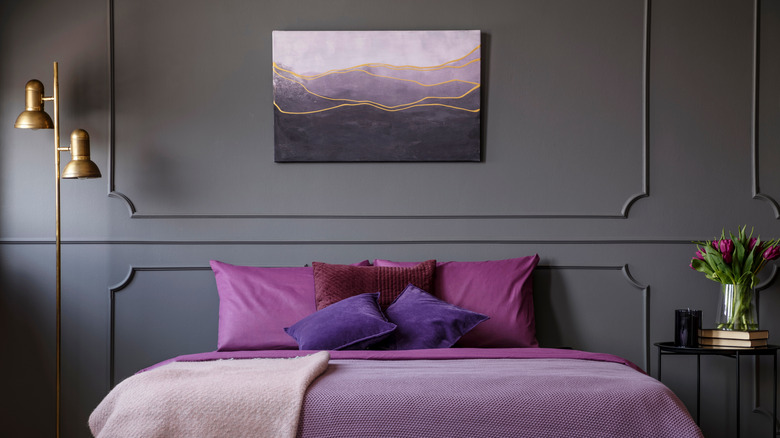 Photographee.eu/Shutterstock
Because this room has been painted a dark gray, the purple, pink, and lilac accents on the bed and the wall art really stand out.
15. Purple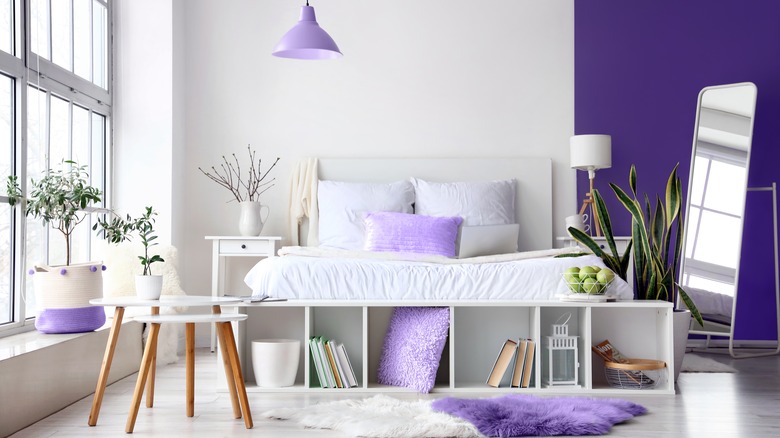 Pixel-Shot/Shutterstock
You can also style a darker purple with lilac. This room has white and dark purple walls as well as various lilac décor pieces.
16. Pastel blue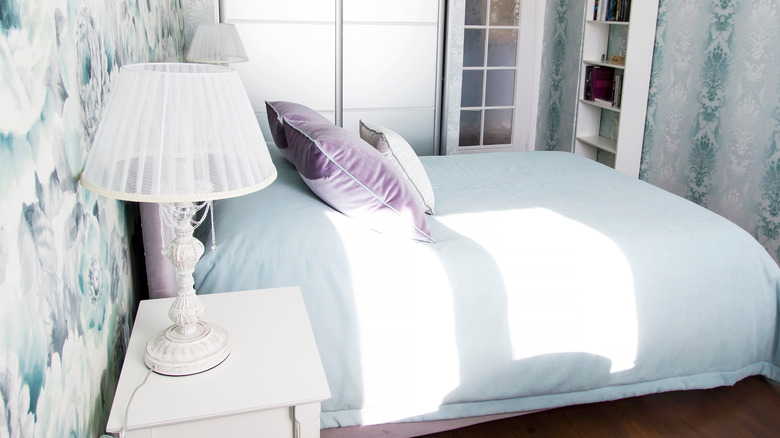 Galina Zhigalova/Shutterstock
Pastel blue and lilac is a match made in heaven. This room mixes these two colors not only in the bedding but also in the floral wallpaper, taking a dream-like space to another level.
17. Dark blue-purple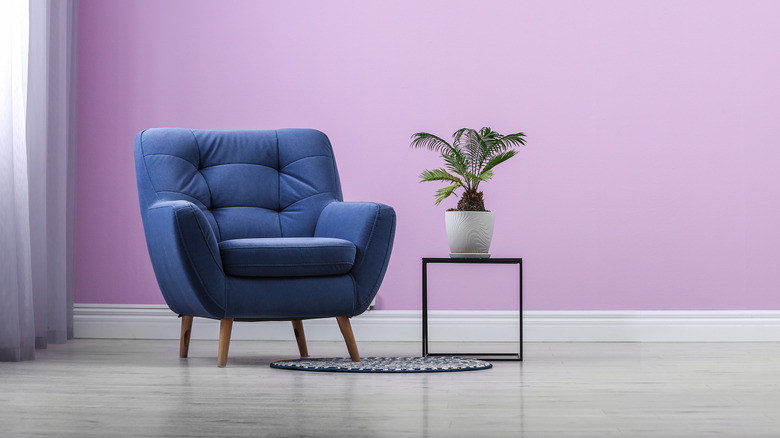 New Africa/Shutterstock
Mix a dark blue-purple tone with a lighter lilac hue for a room that makes a statement. For example, this room has light lilac curtains, a lilac wall, and a dark blue-purple comfy chair, all of which pair stunningly.
18. Pastel green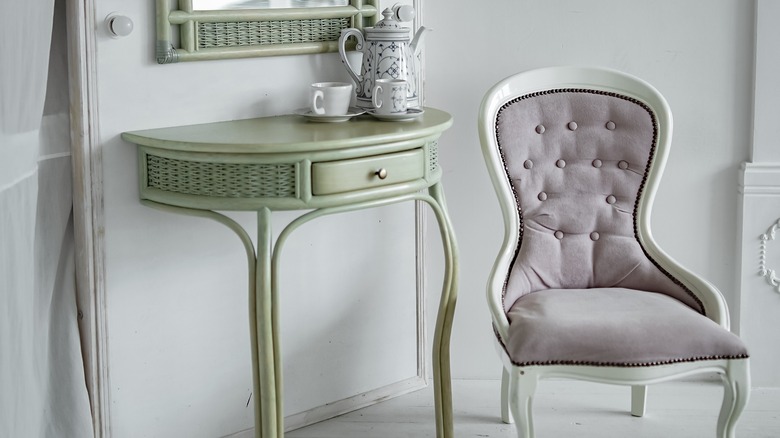 VADL/Shutterstock
Pastel green and muted lilac look great together in this space. Because lilac is a light color, pastels really complement it. 
19. Midnight blue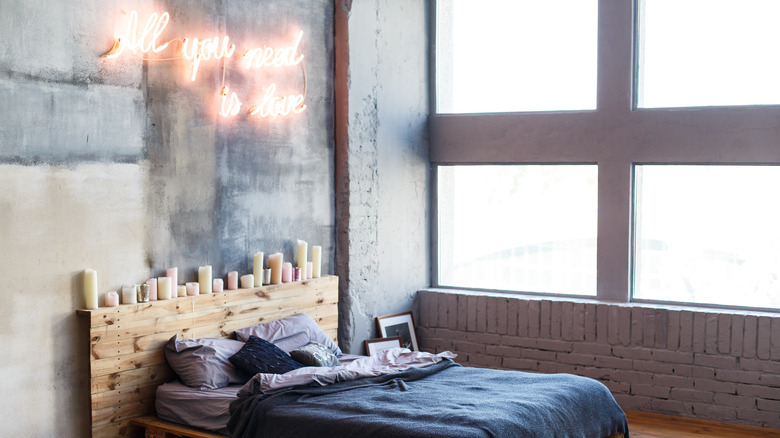 JasminkaM/Shutterstock
This fun and industrial-looking bedroom boasts a pop of color by pairing lilac sheets with a midnight blue comforter.
20. Baby pink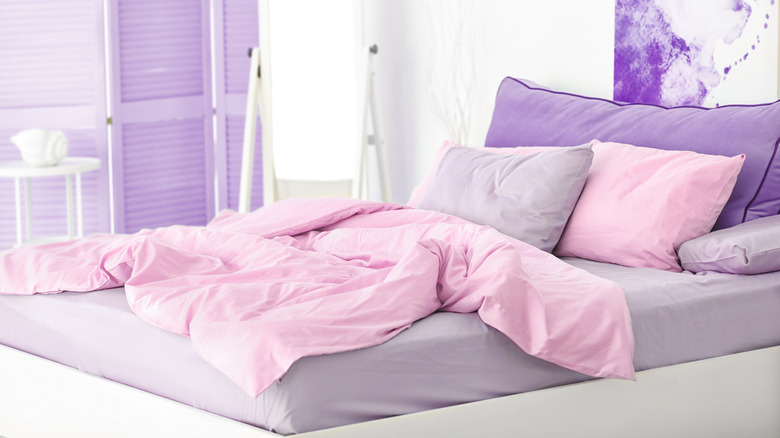 Africa Studio/Shutterstock
For a bright and extra colorful space, mix baby pink with lilac. This bedroom has muted lilac sheets and a baby pink comforter. It also has a purple pillow that anchors the two lighter colors.