5 Ways To Incorporate Purple Into Your Home Decor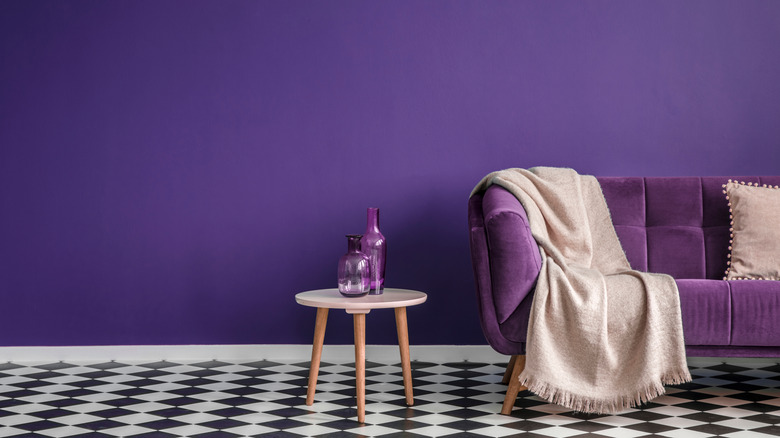 Photographee.eu/Shutterstock
The color purple is such a beautiful hue and can be as subtle or as bold as you'd like, depending on your personality, style, and overall love of the color. While most consider purple to be a sign of royalty and wealth, it can also mean cheerfulness and playfulness, according to Sensational Color. In addition, since it's a mixture of blue and red, the color purple can bring out both the focus and strength of red and the calmness of blue, helping foster creativity and independence. How great is that?
From delicate lilac to bold indigo, purple is a beautiful color that can be used in any room to bring style to the home. So whether you want to feature purple in your home or add it as a complementary shade, we are here to help. We've got five ways to incorporate purple that would work beautifully. From an outdoor focus to soft textiles, read on to see what shades of purple work. 
Front door
znatalias/Shutterstock
A front door is the first thing guests see when entering the home, and the color you choose to paint it can actually have different meanings. For homeowners, this is one of the best and most fun ways to decorate the home. A purple front door may seem unconventional, but it's certainly beautiful and unique. Since purple is not the first color homeowners choose when painting the front door, the color can mean creativity, an outgoing personality, confidence, and not being afraid of standing out, according to Pretty Purple Door.
If thinking a purple shade would be great for your front door, we suggest a bold, indigo, or eggplant shade to allow the color to stand out on its own. Keep decor around the door minimal, and use neutral, complementary colors, like white and gray, as surrounding shades to bring out the color even more. There are plenty of purple flowers out there, so consider planting some lavender or purple daisies to complement the shade.
Ceiling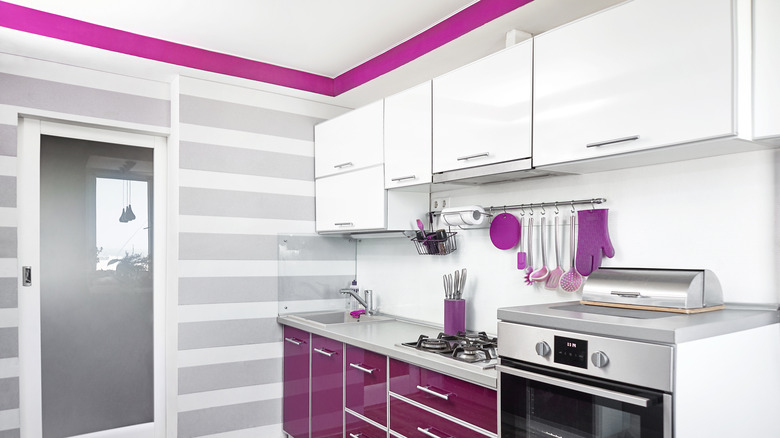 Kravtzov/Shutterstock
Sometimes, the prettiest color in the room is on the ceiling; who knew? So let go of the mundane white and off-white shade and go for something a little different that can make a big impact. Worry Free Painting suggests that there are a lot of benefits to painting a ceiling, including an upgraded or modern look to the room, making the room appear larger, and even creating the warmth that a white ceiling has a tendency to not do without the addition of natural light.
The color purple is a great color to paint the ceiling; just be careful of picking a shade that will make the room darker or make the room feel smaller. Instead, we suggest a light purple with embellishments and texture, so there is room to play with furniture and other decor to bring warmth and contrast. Once you make the plunge to choosing a shade other than white, the possibilities are really endless.
Accent wall
Pixel-Shot/Shutterstock
An accent wall is probably the safest way to add color to walls and give you the biggest "bang for your buck." A room with the walls painted in mulberry purple might be a bit much and could have the reverse effect of what you want the room to feel like when you walk in. Instead, take a wall and make it the focal point of the room.
An accent wall in beautiful plum purple in a home office where the desk and chair are placed can bring focus and a pop of color to the room. Likewise, a kid playroom with a fun amethyst or periwinkle shade can bring fun to a room made specifically for that purpose. And don't forget the beauty of stick-on wallpaper; you can really get creative with the many decals, patterns, and shades. According to MB Jessee Painting, the trick is to find a color for your wall that matches another part of the room decor, like an area rug or a piece of artwork. It'll blend easily and also bring out those subtle colors that you may not notice otherwise.
Soft pillow and throw blankets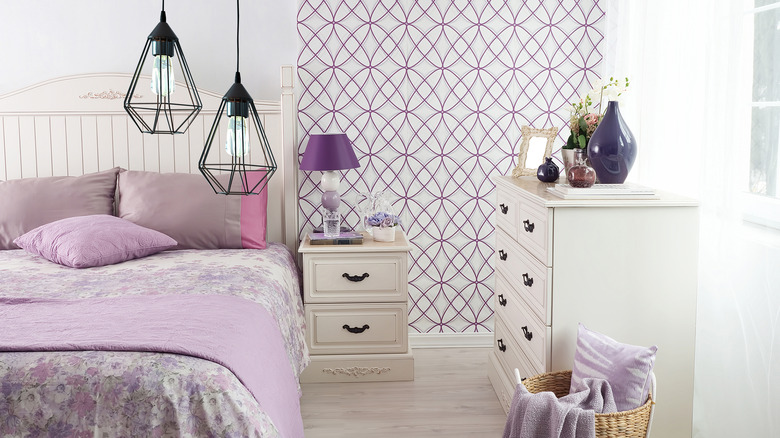 Ds design studio/Shutterstock
If painting walls or ceilings aren't in the cards, whether for rental reasons or you just don't want to deal with paint, there are plenty of ways to use the color purple that can make a statement. Using pillows, throw blankets, area rugs, and artwork can achieve that goal, and it's never permanent. Not only are you using moveable decor that can be changed whenever you'd like, but the addition of different textiles and fabrics can make the room feel warm and inviting. We love this idea for a living room, or bedroom, for example.
There are so many ways to incorporate a beautiful purple shade with other colors in the room. For example, MyMove suggests the combination of violet and wine together, as well as plush velvet in a deep purple shade with a room with gray shades. You can also throw pillows and area rugs outside on a patio, which is beautiful when mixed in with natural greenery.
Select furniture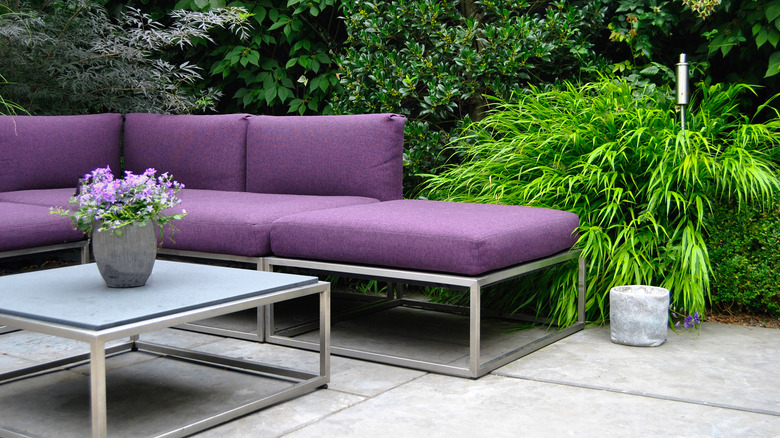 AnastassiaVassiljeva/Shutterstock
If you're looking for a solid bold piece that will make a statement and is also not permanent, furniture may be the ticket. A beautiful couch in lilac or sangria purple would be perfect with the existing neutral colors of the room. An outdoor sectional sofa would add a nice pop of color to an outdoor space.
There are so many ways to incorporate the beautiful shade of purple into a home. From light and delicate lilacs to deep blackberry, there are so many possibilities on how to use the color in the home. Pyaar suggests lavender floor tiles and window rims in the shade as an unexpected idea to use purple. Lastly, don't forget the impact that a beautiful vase with bright purple daisies, tulips, or iris can have on a room. Sometimes it's the little things that can really make a big impact.