25 Spaces That Will Make You Want To Try Monochromatic Color Schemes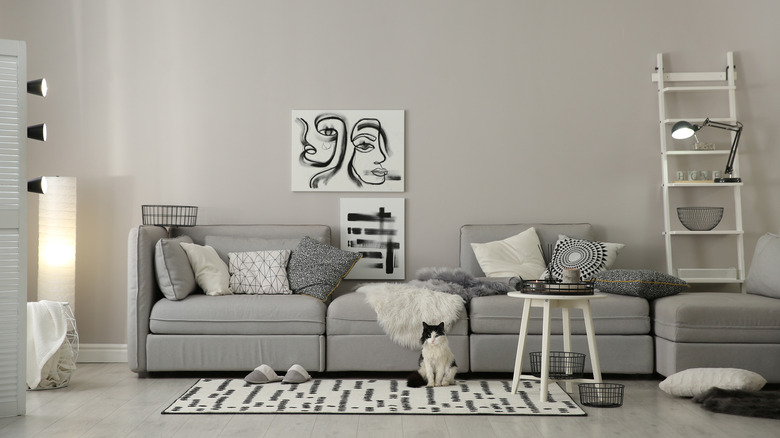 New Africa/Shutterstock
A monochromatic color scheme can look incredible when done right, and if you think it's too matchy-matchy, think again! It can tell a beautiful, cohesive color story and is an excellent option for those unsure what hues they want to incorporate into their interior design projects or play with different shades in the same shade family. If you choose to use different tones of the same color, it's essential to see how they look together.
When deciding on a monochromatic color scheme, The Spruce recommends that you look for your favorite hue to bring it to your space. The look will then be fierce and eye-catching, so it's definitely for those that want to make a statement at home.
According to Architectural Digest, New York City designer Doug Meyer recommends people who design their homes in monochromatic schemes to add texture. The reasoning behind this tip is so the shade doesn't fall flat. If you want to try a monochromatic color scheme in your home, get inspired by scrolling through our favorite looks!
1. Of course it's purple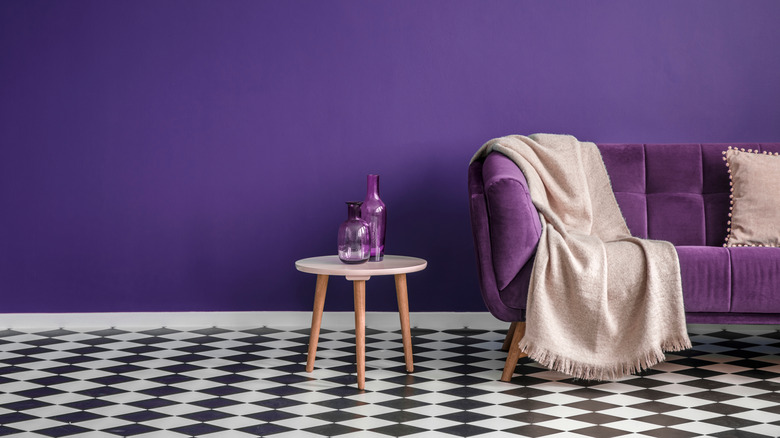 Photographee.eu/Shutterstock
The color purple has a regal history as it was quite scarce centuries ago. Today, it can be used to add a touch of whimsy to a space. We love how this homeowner went with different hues of the regal color found in the tufted sofa, beautiful glass vases, and of course, the accent wall.
2. A luxe navy room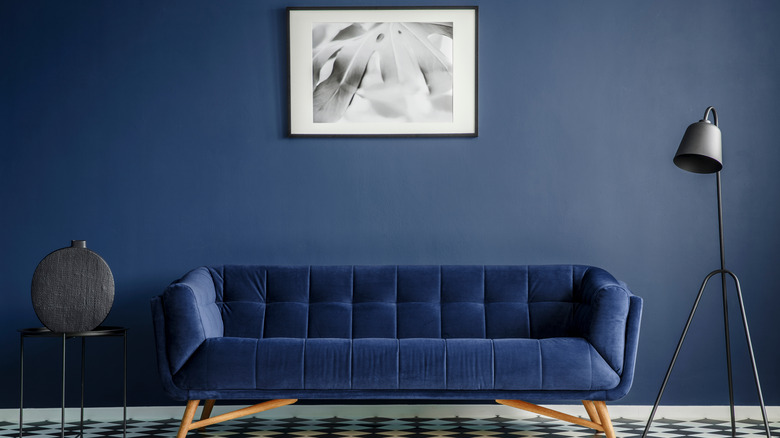 Photographee.eu/Shutterstock
There's something we love about a rich, deep navy for our interior décor. The color oozes elegance and looks layered without doing much. A tufted couch in velvet and an accent wall in the matching hue are all you need for a monochromatic look, oh, and some cool artwork and a floor lamp!
3. A moody choice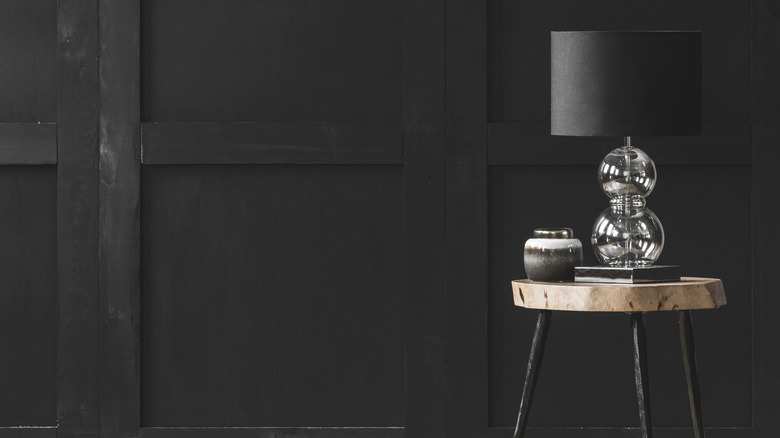 Photographee.eu/Shutterstock
If you feel black walls are too much, think again! This moody hue is all the rage, and it can add depth to a room. But, if you are planning to go with this dark shade, decide which surfaces you will paint, and choose the proper hue and finish. Also, ensure your room gets some natural light.
4. A light pink dream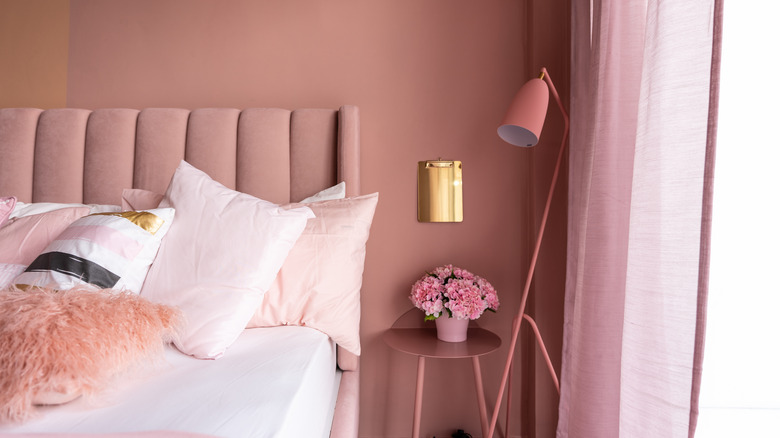 NMC2S/Shutterstock
Pink isn't just for little girls' rooms. The hue is complex and can be elegant while making a real style statement. A luxe headboard, matching side table (with a vase of flowers), and a pink floor lamp make this a monochromatic dream, but we suggest adding a light pink comforter to make it a complete look.
5. Gray matter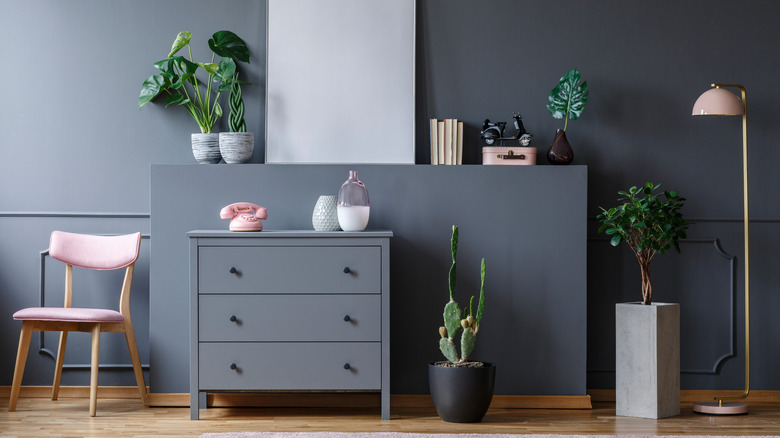 Photographee.eu/Shutterstock
A medium gray room has a calming aesthetic, and if you consider painting your furniture, such as your dresser, you can create a three-dimensional look in your bedroom or living room. The color gray actually can bring a lot of warmth to a room despite its reputation for having cool undertones.
6. Green with envy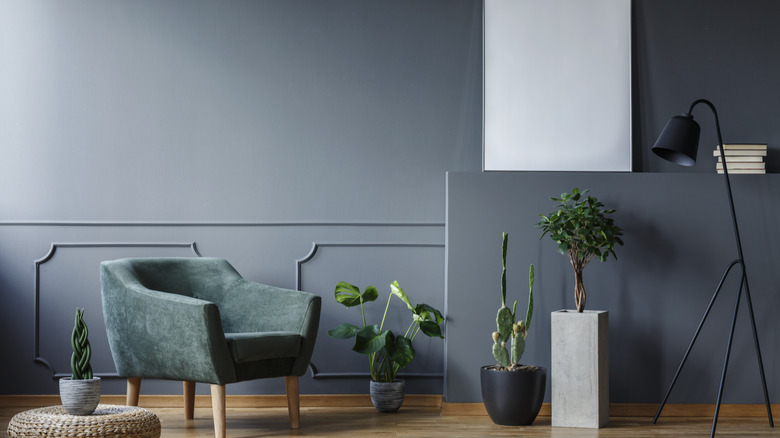 Photographee.eu/Shutterstock
Deep green is an ideal option for your living area or bedroom. It brings a natural element to the space, but it is also a calming color, which is something we all need nowadays. So bring in an assortment of greenery to bring life to the space and a luxe, velvet green chair to complete the vibe.
7. Dark gray and pops of gold accessories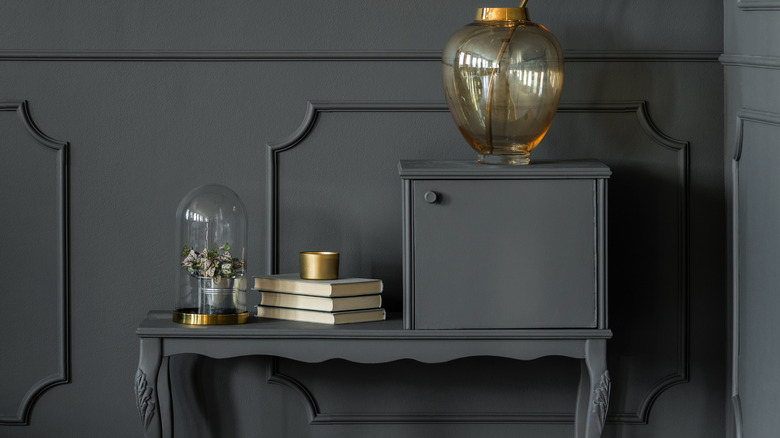 Photographee.eu/Shutterstock
Dark gray is an incredible neutral hue for your living area. The color is versatile and a favorite of many interior designers; it's one of those hues that looks great in just about any room. We suggest adding some gold accents with your accessories, from the wall art to the vases.
8. Light gray is so beautiful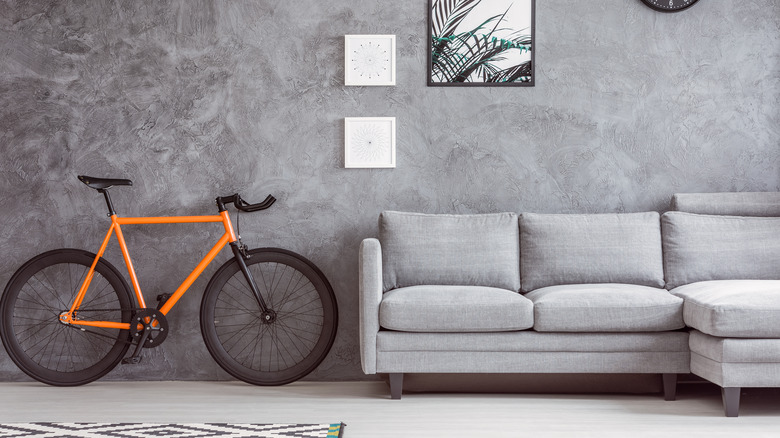 Photographee.eu/Shutterstock
While dark gray is gorgeous, light gray is another excellent option for a loving color combination. You can even add a little texture to your painted walls and bring in a matching couch. If you want to add a pop of color, a fabulous orange bike does the trick in this otherwise monochromatic space.
9. 50 shades of gray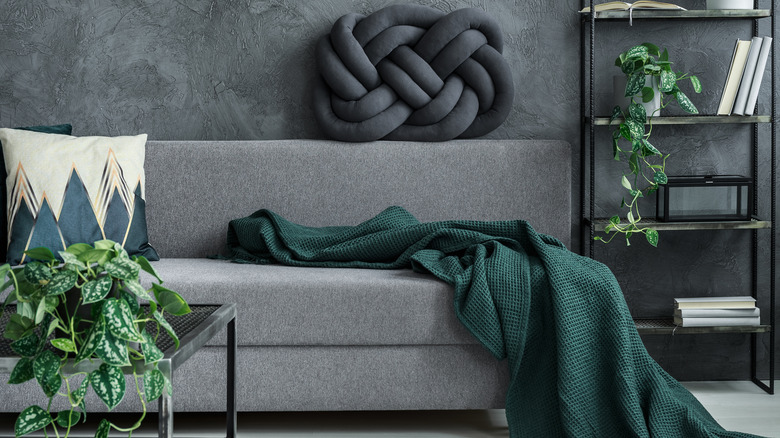 Photographee.eu/Shutterstock
In keeping with the gray obsession, a medium gray tone is another fantastic choice that looks so luxurious, whether you want to paint your living room walls or your bedroom. We suggest that you bring in a matching couch, and you have a look that will get guests talking as soon as they walk into the room.
10. Moody blues is an excellent idea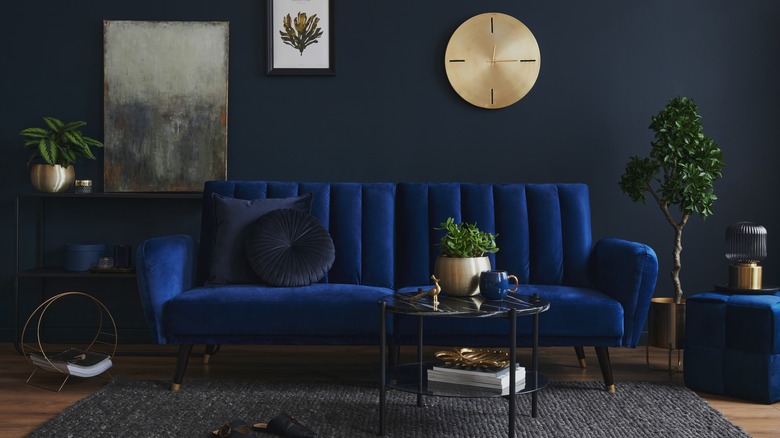 Followtheflow/Shutterstock
Dark blues in a range of stunning tones look immaculate in this living room that features a glamorous velvet sofa. Plus, we can't get enough of the luxurious round and square pillows in an array of blue tones, not to mention the gold accessories throughout to add a bit of interest to the room.
11. A teal dream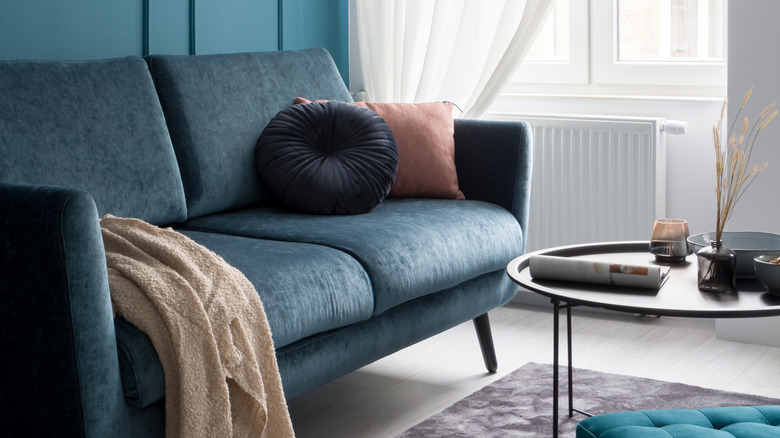 Dariusz Jarzabek/Shutterstock
Bring a dose of the beach into your home inspired by the last vacation that will have you reminiscing about spending all day on the shore admiring turquoise ocean waters. With this inspiring look, paint your walls in the perfect shade of teal, and add a streamlined velvet couch in the same hue to finish the vibe.
12. Light pink stunner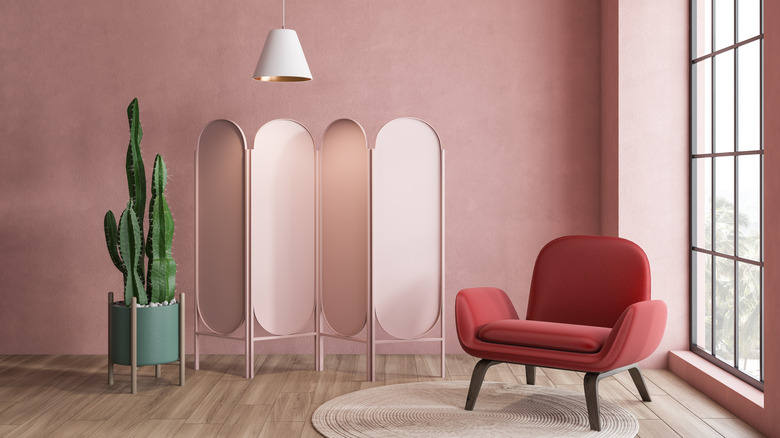 ImageFlow/Shutterstock
This light pink dream room has a ton of natural light with floor-to-ceiling windows, but we can't help but notice that the four-paneled mirror is in the same hue as the beautiful walls, making it an excellent choice for monochromatic inspiration. Consider adding a chair in the same tone for a look that will turn heads.
13. Shades of green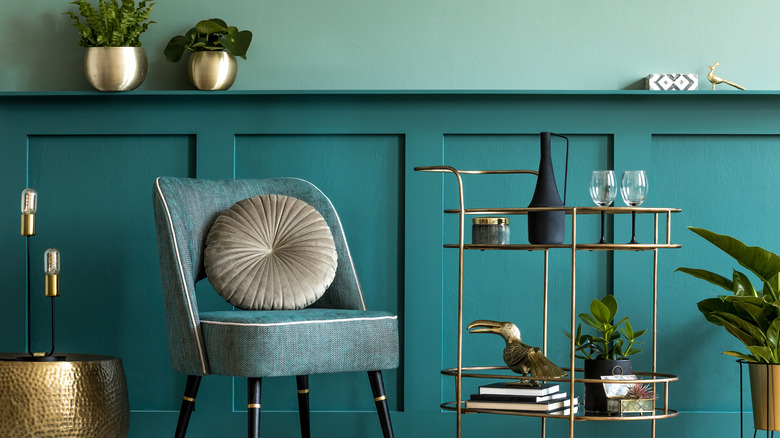 Followtheflow/Shutterstock
A monochromatic look can be stunning if you focus on painting certain wall areas, and then use another color in the same family for the rest. But don't forget to add plenty of gold accessories for plenty of visual interest! Get a matching chair, and voilà, you have an attractive option for your living room!
14. A vibrant hue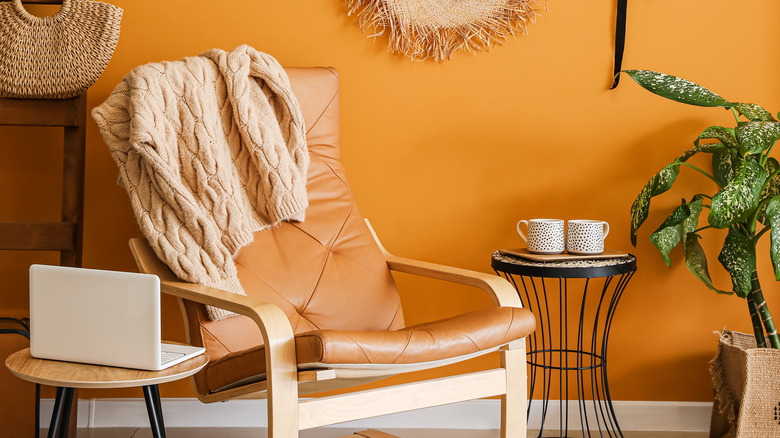 Pixel-Shot/Shutterstock
If you're bold enough to do a bright, vibrant hue like orange, we say go for it! The color is incredibly energetic, and it's definitely statement-making, which we can really get behind! To create a one-of-a-kind space, use different shades of the hue or if you want something cozier, go for rusty tones.
15. Tan glory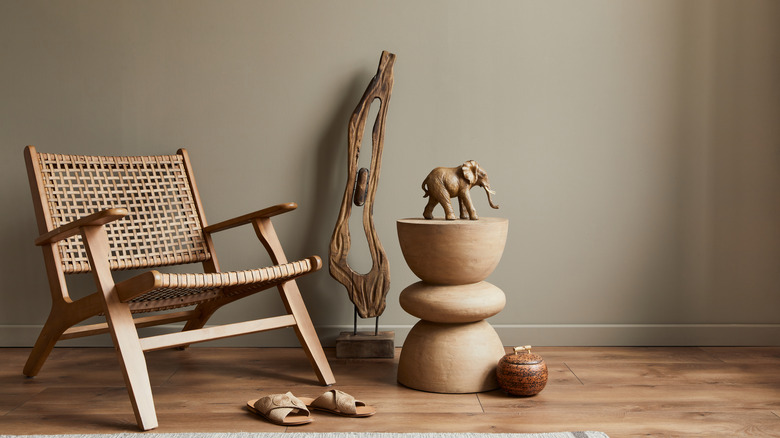 Followtheflow/Shutterstock
We love this natural look that mixes tones of tan together for a monochromatic look that truly makes a strong style statement. The homeowner added interesting sculptures that make the room look well-traveled, as does the side table with the elephant, so don't be afraid to bring in exciting elements in your home from the same color family!
16. Beautiful bubble gum pink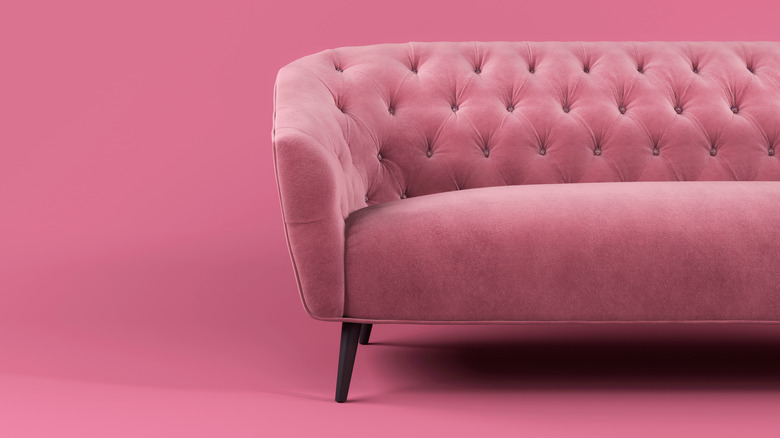 Arkhipenko Olga/Shutterstock
The color of bubble gum is our next cause for celebration and inspiration for a monochromatic style that would work beautifully in a living room, office, or bedroom for anyone who loves pink! However, it is a bold, statement-making look, so be sure you fancy the hue before dousing your walls in the shade.
17. The Emerald City at home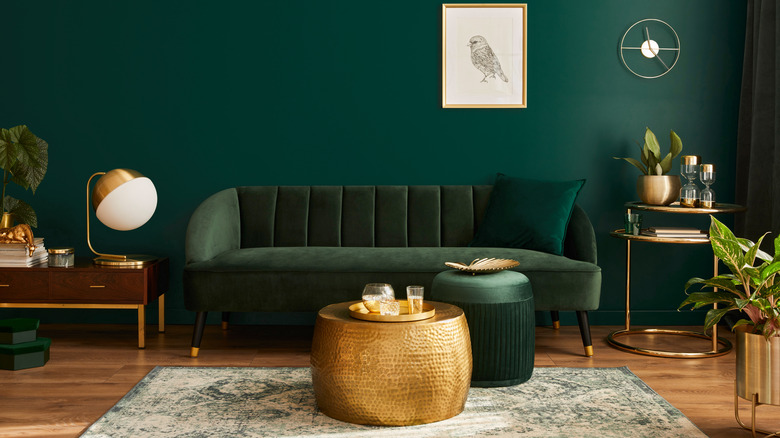 Followtheflow/Shutterstock
Consider adding some pizazz to your living room or bedroom by painting your walls emerald green and picking up furnishings in the same color. Thanks to its association with nature, this hue will bring a sense of radiance and rejuvenation into your space. It's the perfect shade for adding a touch of sophistication as well.
18. Matching tiles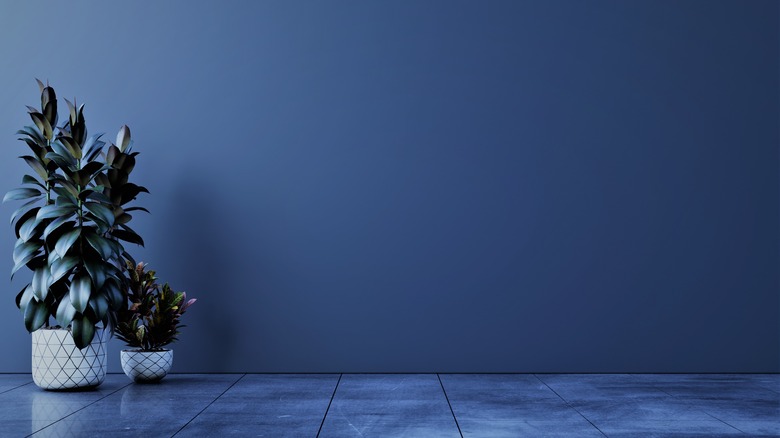 fazilran1234/Shutterstock
For the monochromatic look, don't forget the floor! First, decide on a color that you love, as these homeowners did with choosing navy. We love the dark blue tones of the oversized tiles that perfectly match the wall color, which is such a bold look. All that's left is to add complementary furnishings for a look that inspires!
19. Subtle pink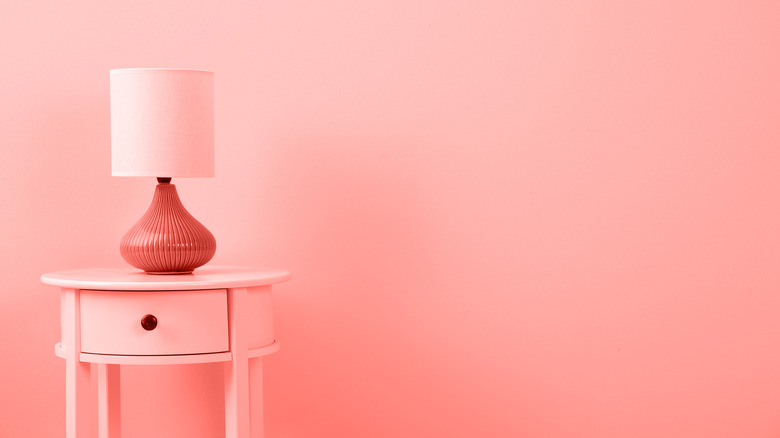 New Africa/Shutterstock
If bright bubble gum pink is too extra for you, consider going with a lighter shade of the pretty color and then coordinating your side table in the same hue. To bring in a complete monochromatic feeling to the room, we suggest picking up your comforter, pillows, and accents in subtle pink for an overall soft look.
20. Pops of red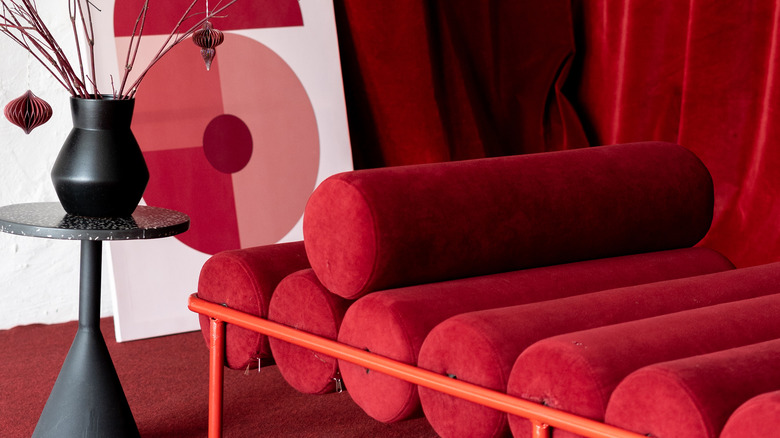 brizmaker/Shutterstock
Bright red is another bold choice that works for big personalities. We think sexy and classic describes it best. For a stellar monochrome look, we suggest taking it a step further, dousing your walls in the hue too. It will look great with an exciting seating area, luxurious velvet drapery, and art.
21. A soft gray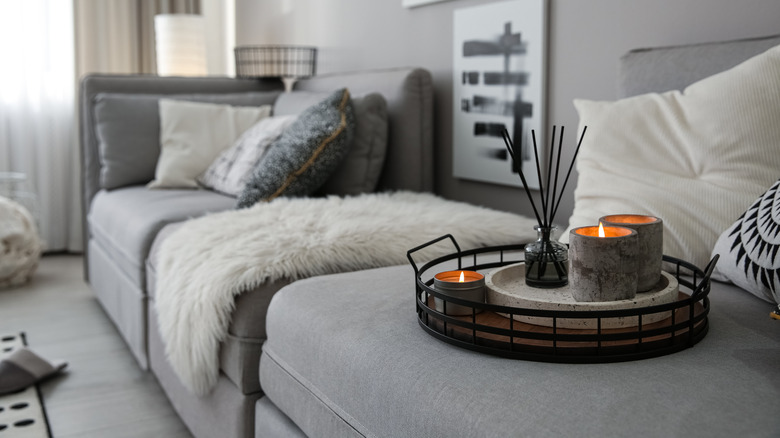 New Africa/Shutterstock
A soft gray is always a good idea if you want to play it safe or create a relaxing environment, and who doesn't want to do that! A delicate gray couch with matching walls sets the tone for this chill vibe, as do the candles. We could spend countless hours reading or napping in this comfortable space.
22. Add lovely ambient lighting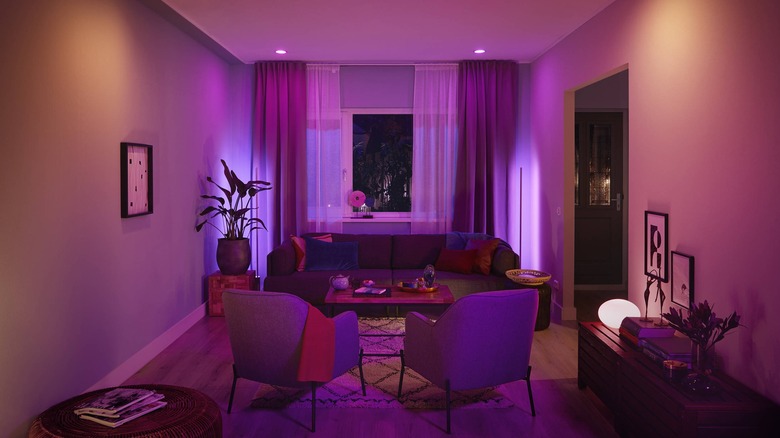 Crystal Ricketson/Shutterstock
Adding lighting to your space can create an incredible atmosphere for your room and an excellent way to wrap your entire room in a specific hue. Here, we have a luxe purple taking over the walls, ceiling, and floors. The homeowner added beautiful drapes, a couch, and purple chairs, making this room extra inviting.
23. Mustard yellow
Followtheflow/Shutterstock
Consider painting your walls with a mustard yellow hue and bringing similar tones to your art, furniture, and throw blanket. The color is playful yet also brings a sense of balance to a room, which we love! However, if you don't want to go too bold with the shade, you can opt for a muted tone of mustard.
24. A gorgeous monochromatic closet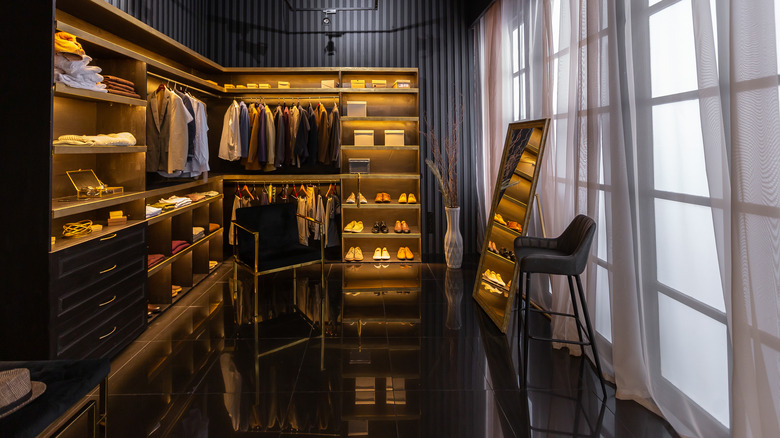 Pinkystock/Shutterstock
Be unexpected! Don't leave the monochromatic looks just to your living spaces; think about adding the style to your closet. This all-black closet is to die for: The textured walls and a glossy floor are incredible. To break things up, especially at night, think about adding lighting to your shelving to make it really stand out.