15 Fun And Fresh Nursery Design Trends To Try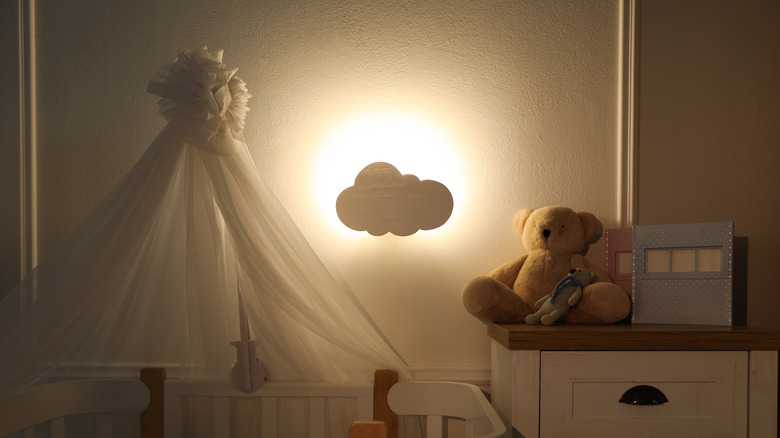 New Africa/Shutterstock
Many people desire to style their homes with a timeless aesthetic. According to Caroline On Design, classically styled spaces include elements that can evolve through time and still appear in style. Of course, this is a generalized definition, because this term is so unique to each person. It's important for you to discover what features you consider to be enduring. 
However, while some may want to style with completely classic elements, this can sometimes get boring. Perhaps you feel uninspired and want to take a riskier and more on-trend design move. If that's the case, there may be no better place to do this than a baby's nursery. Because children grow and change so fast, it's inevitable that you'll have to redesign this room soon. Therefore, there's really no harm in adding some fun and trendy ideas. If you're searching for some nursery design trend inspiration, below are 15 ideas you could implement into your child's room. 
1. Gender neutral colors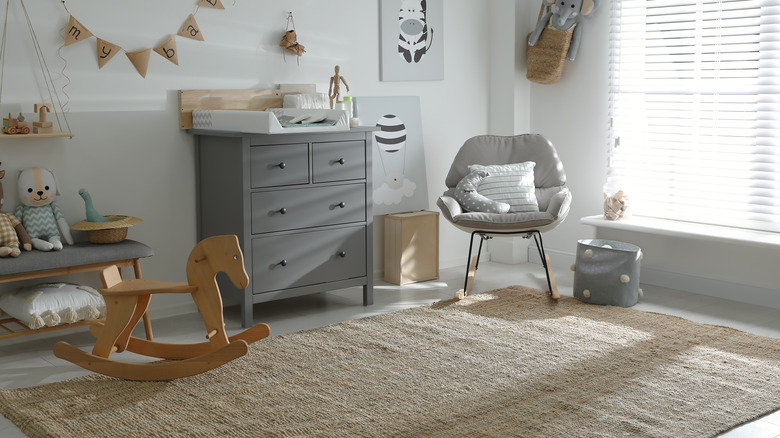 New Africa/Shutterstock
Recently, many parents have chosen to design their nurseries with only gender-neutral colors. To pull off this trend, you could start with a neutral base, then add any colors other than blue or pink. 
2. Dark paint shades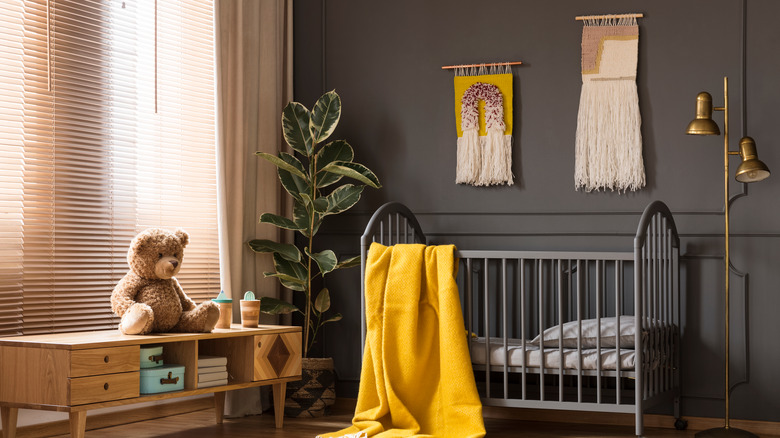 Photographee.eu/Shutterstock
While nurseries are typically light-colored, some parents have begun incorporating darker colors into their designs. Black, dark gray, navy, and emerald green all make for beautiful accent wall colors behind the crib. 
3. Teepee tents
Alena Gan/Shutterstock
To give your child's space a cozy atmosphere, you could add a teepee tent. These could also provide you with a great opportunity to let your preferred style shine — for instance, the above tent would look great with boho or Scandinavian styles. 
4. Potted plants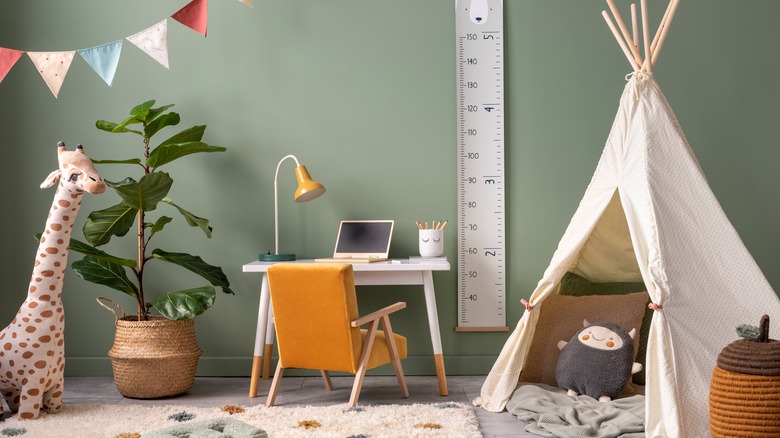 Followtheflow/Shutterstock
While indoor plants are obviously not a new trend, adding them to the nursery is. Greenery would provide your child's room with a soothing atmosphere and a lively appearance. 
5. Boho elements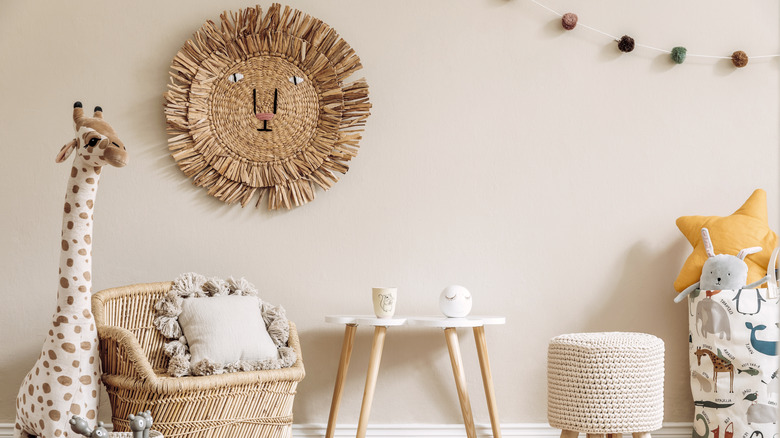 Followtheflow/Shutterstock
Bohemian pieces like rattan chairs and woven baskets are known for their earthy tones and peaceful vibes, which makes them perfect for a nursery. 
6. Unique crib mobiles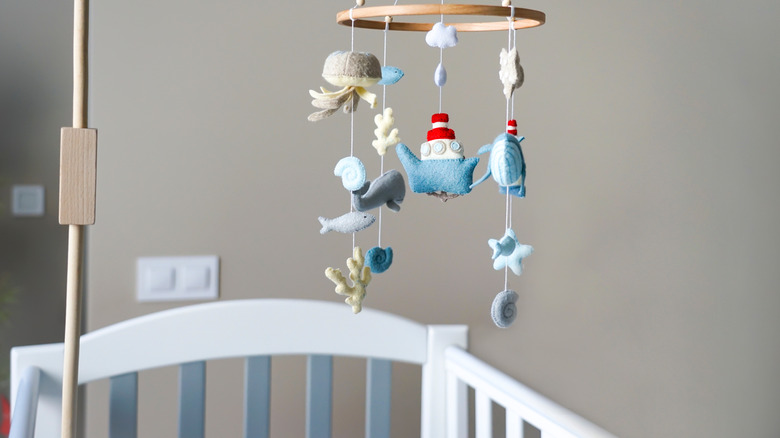 Sergey Pristupa/Shutterstock
Mobiles are a great way to add some personality above the crib. These come in any theme you desire, from jungle animals to under-the-sea creatures to outer space. 
7. Floral wallpaper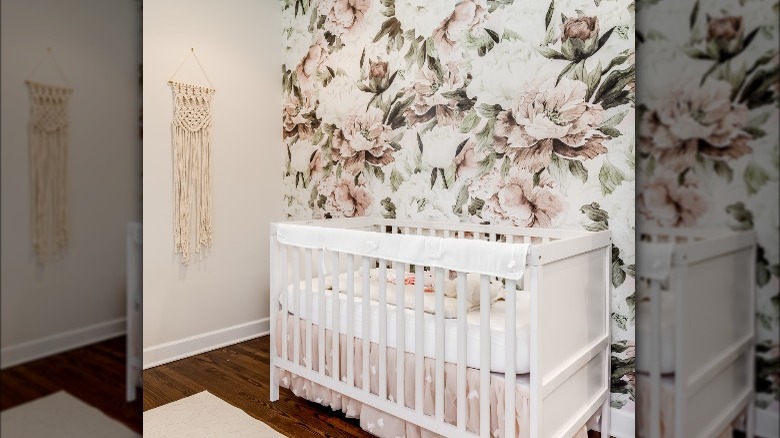 Hendrickson Photography/Shutterstock
This trend is popular in every area of the home — the floral accent wallpaper. This is a great element to add to the nursery because it brings in just a touch of nature. 
8. Other wallpaper prints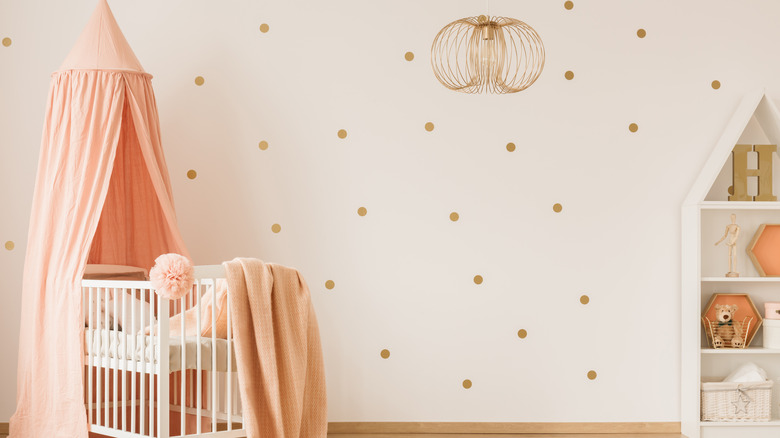 Photographee.eu/Shutterstock
If you're not a fan of florals, you could add another wallpaper accent wall to your child's space. Even prints as simple as polka dots will bring more character into your nursery. 
9. Farmhouse flare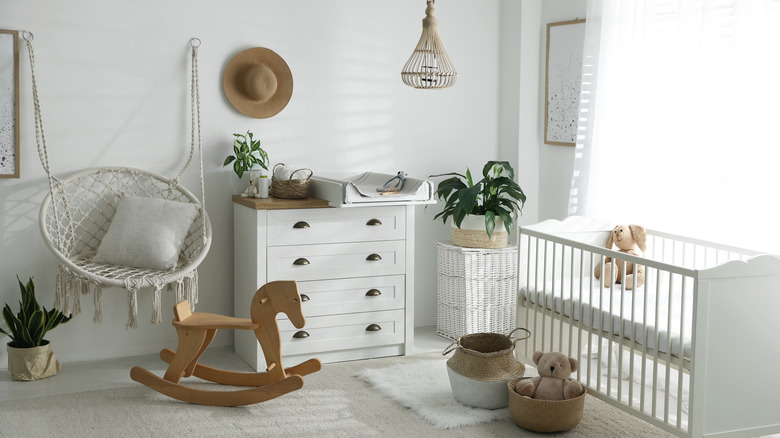 New Africa/Shutterstock
If you love the farmhouse style, this trend could even border on being timeless for you. To add farmhouse elements, choose white wood furniture, neutral colors, and metal hardware. 
10. Scandinavian style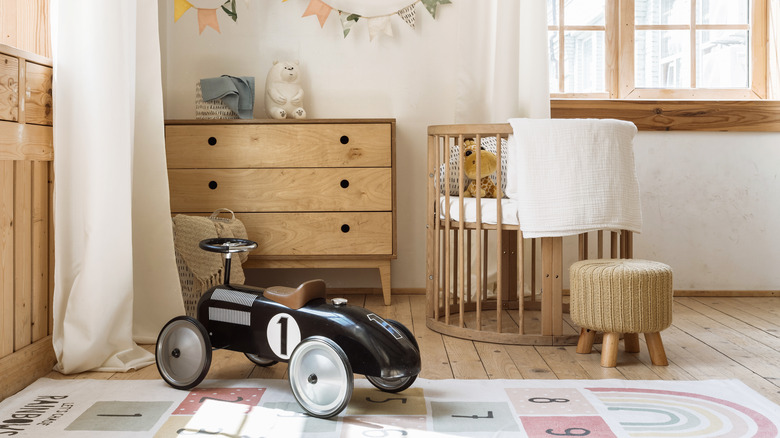 brizmaker/Shutterstock
On the other hand, perhaps you love an airy room with lots of natural light and wooden furniture. If so, you could lean into the Scandinavian style. 
11. Standout light fixture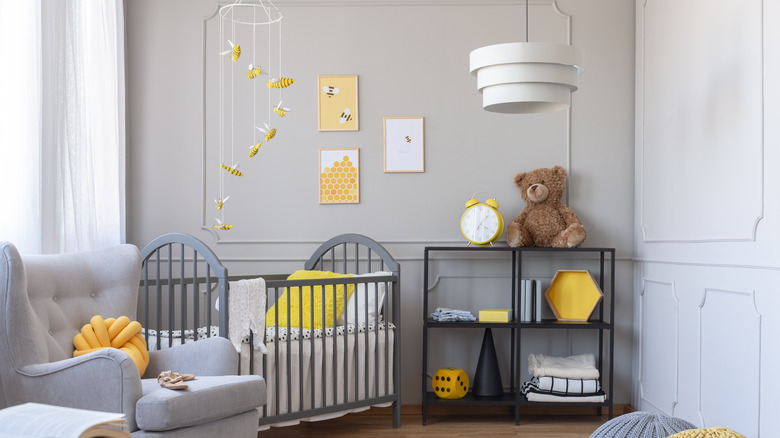 Photographee.eu/Shutterstock
In the past, light fixtures were an afterthought in most nurseries. Recently, however, adding a unique option to your space has become increasingly popular. 
12. Oriental rugs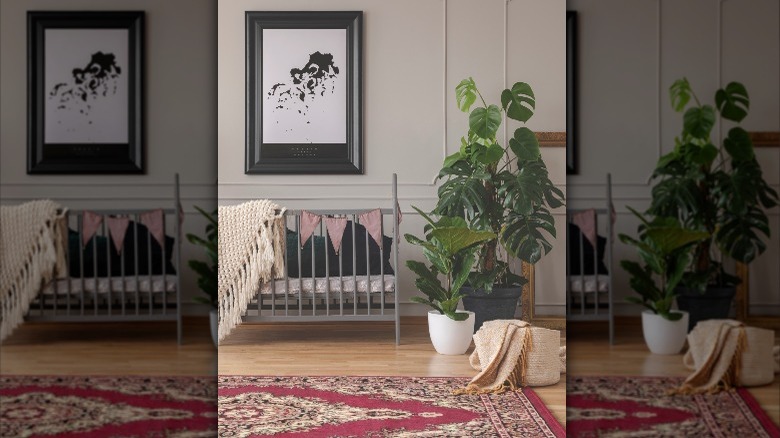 Photographee.eu/Shutterstock
An oriental rug would give your child's nursery a more sophisticated appearance, which many parents have recently desired. At the same time, it could provide your room with lots of color. 
13. Canopies over cribs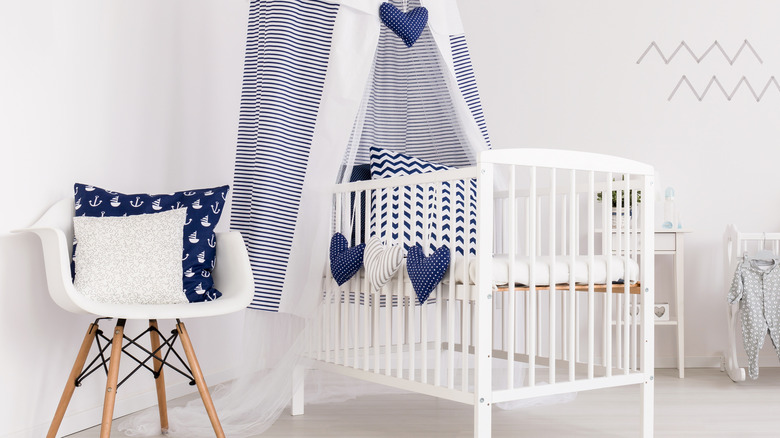 Photographee.eu/Shutterstock
Adding a flowy canopy over one side of the crib gives it a more structured and bed-like appearance, as the canopy side looks like the head of the crib. 
14. Warm wood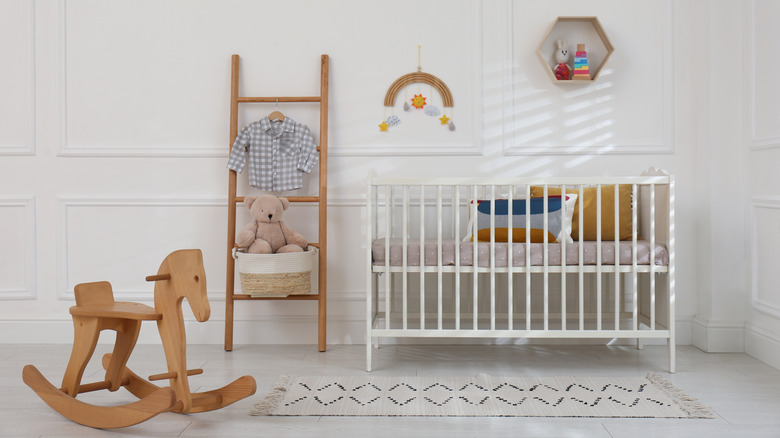 New Africa/Shutterstock
In the past, some have chosen to mostly use soft and light-colored furniture in their nursery designs. More recently, however, sturdy, warm wooden furniture has grown in popularity. 
15. Hanging cozy elements
New Africa/Shutterstock
Many have begun extending cozy banners or strings of pom poms above the crib — the above space has a string of clouds. This trend provides more warmth and coziness.