Shea McGee's Top Tips For Decorating Your Home On A Budget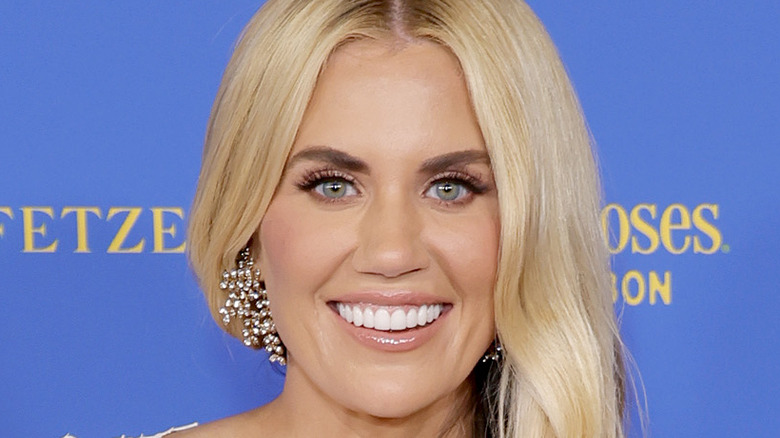 Frazer Harrison/Getty Images
Sometimes, it can feel like it's impossible to decorate a room without spending lots of money. Circle Furniture says that fully furnishing and decorating a living room typically costs at least $10,000. Geez. It's safe to say that if you don't have thousands of dollars to spend, styling a room can be frustrating. It can be especially discouraging when you spend lots of money on your pieces only to find that your home still feels like it's missing something.
If you're in this situation, interior designer Shea McGee of "Dream Home Makeover" has some tips for you. The first? Check out her Threshold line at Target, which, as she says, "gives everyone the chance to bring that intentionally designed but approachable feel into their home, no matter their budget!" (per Real Homes).
She also has two other tips that will help you put the finishing touches on a room without breaking the bank. In fact, the first may cost you nothing at all.
Search for pieces in your backyard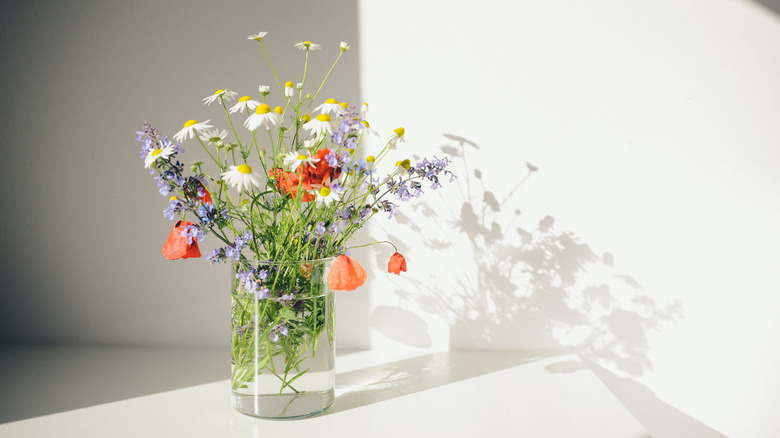 diPersika/Shutterstock
The first tip is to decorate with wildflowers and foliage to add dimension and height to a room. As she says, she loves "using foraged flowers and stems to transform [her] home, especially when it comes to the fall season," per Real Homes. While you could always go to the florist, you could also save some money by clipping the beautiful florals right in your backyard.  
Another pro? This tip can be used year-round. On her website, Studio McGee, McGee says that spring branches can easily be brought into your home during the winter to help transition into the new season, and this could be applied to any time of the year. 
Flower supplies some more tips on foraging for florals. They say that the easiest way to find pieces is to pay closer attention to what's all around you; chances are that you walk right by beautiful flowers every day. Additionally, you could ask your neighbors if you could clip some of their greenery. To stay prepared, you could keep a pair of clippers in your car, just in case you see a flower while out and about.
Another easy and cheap update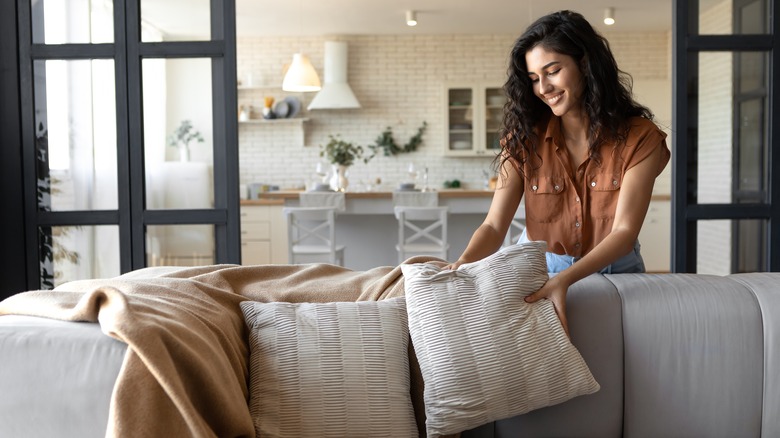 Prostock-studio/Shutterstock
The second way to decorate your space on a budget is with throw pillows and blankets. According to Real Homes, Shea McGee says that she likes to "incorporate a blanket or a couple of new pillows on [her] sofa if [she's] looking to change things up." Additionally, she loves mixing and matching her pillows, per Studio McGee. To add interest, she says to use pillows with both small and large prints and anchor them with solid shades. Further, you can ensure a cohesive look by sticking to a color palette or a certain mood. Pillows and blankets are also a great way to add color to an all neutral room — and they're easy to replace.
A Pretty Fix points out that this is an extremely affordable way to update your space. Pillows and blankets could be added to a bench, couch, chair, basket, or bed. You could find some new pillows at Target in McGee's Threshold line, where they're priced for about $20 to $30 each.