Are Claw-Foot Bathtubs Going Out Of Style?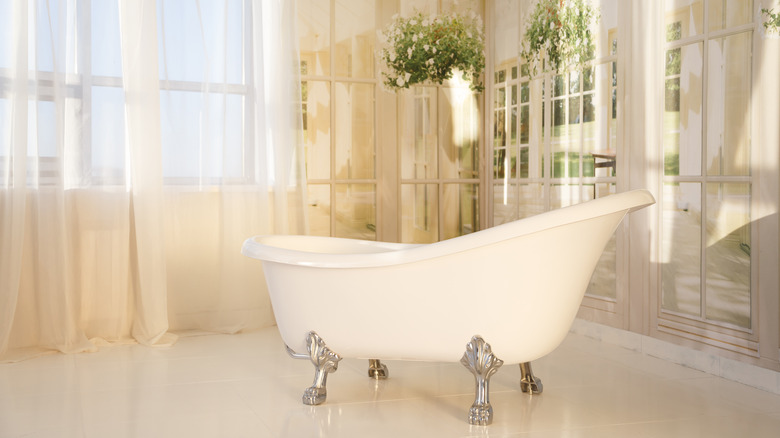 Vladeep/Shutterstock
Claw-foot bathtubs are one of the most iconic and famous bathroom features. Imagine having a luxurious spa-like experience after a tiring long day of work right from the comfort of your bathroom every night. It'll turn into an evening ritual you'll look forward to that will leave your body and mind feeling well rested and relaxed for the following day. Your bathroom will easily become your favorite room in the house, so much so that you'll never want to leave. 
Claw-foot bathtubs have been in style for some time now, and they don't seem to be going anywhere anytime soon, according to Modern Bath Systems. In fact, claw-foot bathtubs may be in style now more than ever before. The four-legged bathtub is visually appealing, aesthetically pleasing, and classic. It'll transform the vibe and ambiance of your bathroom in more ways than one. Not to mention, you can put it where you see fit. If you're looking to give your bathroom an interesting and glamorous style without a big renovation, a claw-foot bathtub may be the perfect design choice.
Claw-foot tubs are here for the long haul
Hendrickson Photography/Shutterstock
If you're into following home trends, this is a good one to jump on. Not only do claw-foot tubs add a certain level of character and chicness to the room, but they will also become the staple of your bathroom, according to Streamline Bath. Picking the right one is a fun way to test your interior designing skills because they come in a number of timeless styles, so you'll have a variety to choose from. Some are more modern and sleek, while other styles are more traditional and vintage. It all depends on the decor and vibe of your bathroom. 
Claw-foot tubs are spacious and easy to get into, and you have the freedom and flexibility to install them anywhere in your bathroom. To have the best experience and get the most out of your tub, acrylic claw-foot tubs are the best choice because they're easier to carry up a flight of stairs and install, plus they stay warmer for a longer period of time than cast iron claw-foot tubs (via Appliances Connection). If you're worried about minimal space in your bathroom, no problem. According to Country Living, a traditional built-in tub takes up more space than a claw-foot tub, so with the right measurements, you can make it happen. Of course, if your bathroom is more spacious and has room for it, why not go bigger.