Are Glass-Front Cabinets Going Out Of Style?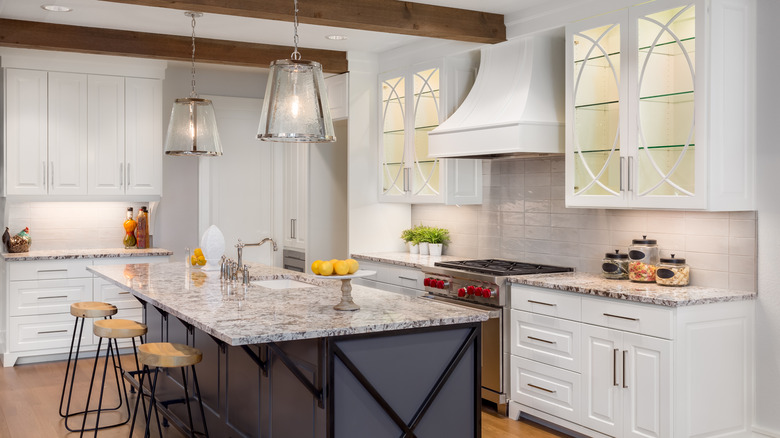 Justin_Krug/Shutterstock
If you're a fan of airy kitchen designs, perhaps you've seen glass-front cabinets. McCarley Cabinet Company says that these are an ideal alternative to open shelving, because they protect dishes from dust and debris while still putting them on display. Additionally, glass adds extra dimension and a light feeling to kitchens. This option creates a high-end appearance that works to brighten up dark spaces.
However, this design choice isn't all positive – in fact, it has some notable cons. The largest con may be the cost, as this option can be quite expensive. At The Home Depot, one glass cabinet can cost over $500 or more, while a closed model typically costs up to $200. Further, they're also more fragile than closed cabinets. And, this style doesn't allow you to messily store away your clutter, as the inside is always on display. Glass-front cabinets can also be harder to keep clean than ones with full doors.
Because of these negative aspects, you may be wondering if glass-front cabinets are still in style. You'll find the answer below.
What people think about glass-front cabinets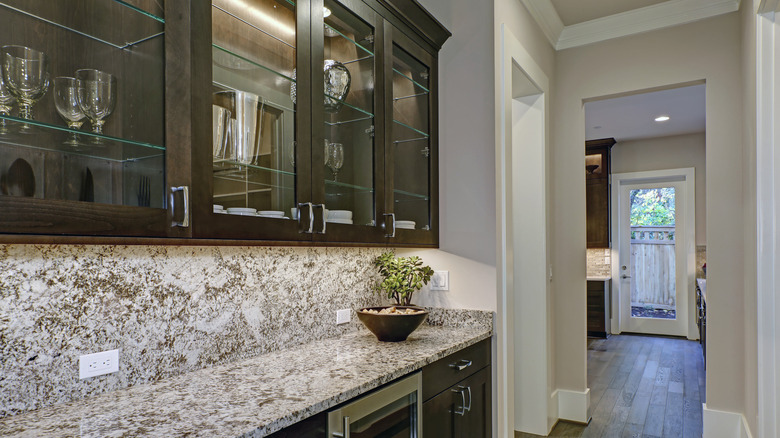 Artazum/Shutterstock
As stated, glass-front cabinets are an ideal alternative to open shelving. However, unlike open shelving, they aren't the subject of great controversy. In fact, it seems like most people really enjoy the appearance of glass-front cabinets. And, because they balance aesthetics with functionality, they're a pretty practical element to add to a kitchen.
According to Homedit, this design choice is popular now and will always be popular to some degree. Therefore, it's definitely not going out of style. Town & Country Living agrees, explaining that these cabinets are frequently used to brighten up dark cabinetry, add an airy feel, or make a small space feel larger.
And, because they fit well into farmhouse, industrial, rustic, and modern spaces, they can be enjoyed by many different homeowners with various styles. Woodmaster Kitchens also adds that this stylish option can be used to divide a room or create a gorgeous display area for prized dishes – both these pros add to the overall appeal of glass-door cabinets.
Where this trend may not work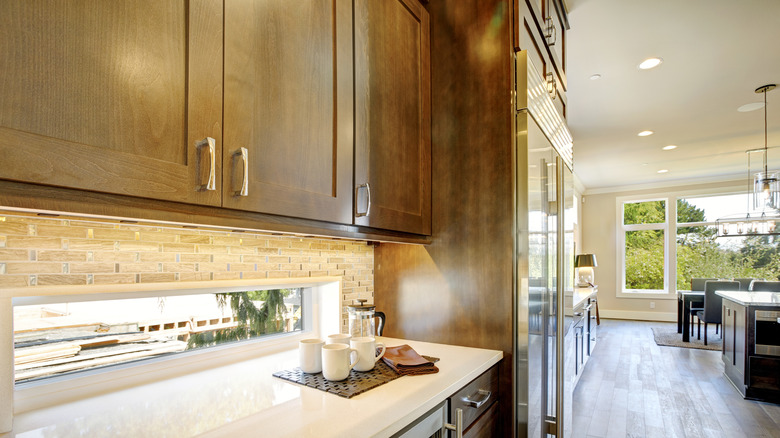 Artazum/Shutterstock
However, with all this said, glass-door cabinets don't work in every space. According to The Kitchen Store, those who want to embrace the look of their traditional kitchen should steer clear of glass-front cabinets. This is because they provide a modern appearance that will take away from the traditional elements in the space.
Additionally, those with very busy kitchens should choose a closed cabinet, as glass is very fragile and could easily break. Further, those searching for the most practical choice don't need to have glass inserts either, per Things That Inspire. This is because glass doesn't make them more functional — it only adds to the aesthetic. Those who put an equal emphasis on both form and function love this trend, but those with only a practical mindset should get a cabinet option with closed doors, which will allow them to store whatever they want wherever they want.