Are Colorful Fridges Going Out Of Style?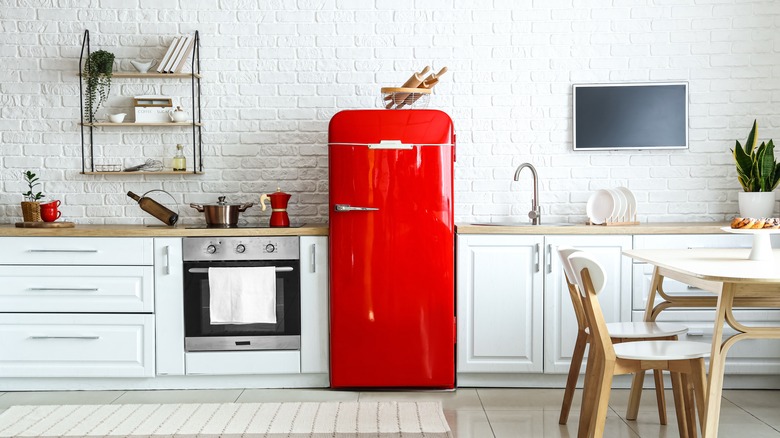 Pixel-Shot/Shutterstock
As home interior design trends have evolved, so has the desire for people to try braver and bolder colors when it comes to furniture and features in their homes. The kitchen is a vital room that most people spend a lot of their time in, and if you fall into this category, why not go all out in retro style with a colorful fridge? When it comes to shopping for a new refrigerator, there are a variety of elements to consider, including features, design, and size. But for the exterior of the fridge, the color matters most. Most people tend to have neutral-colored refrigerators in their kitchens. However, there are more lively options to choose from that will elevate the look and feel of your kitchen if you're willing to take the risk and step outside your comfort zone.
Although this blast from the past design isn't trending as it once was during its prime era in the '50s, colorful fridges are in and still quite admired, according to The Washington Post. It's a beautiful yet subtle way to express creativity in your home without going all out. It's fun, festive, and most definitely unexpected. If you're bored of your kitchen design and craving a small yet transformative spruce-up, a colorful fridge is a good way to go.
Available at your leisure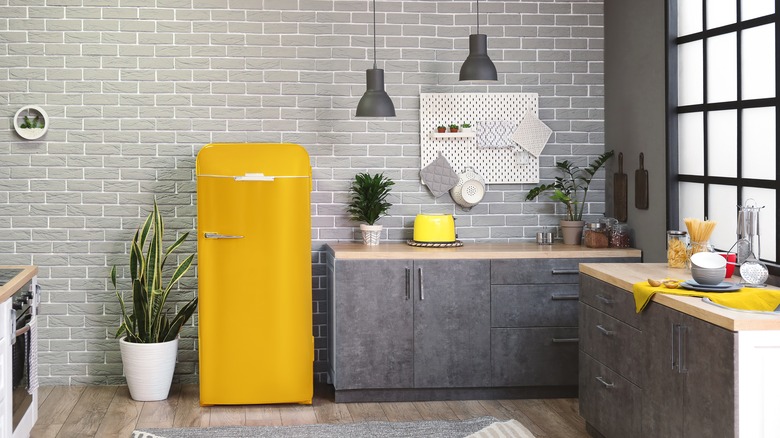 Pixel-Shot/Shutterstock
Even though most people prefer modern neutral colors, colorful fridges are not going out of style. They certainly are available in a variety of colors, and you can find them in bold as well as neutral colors of your choosing. If you're searching for a colorful fridge, Smeg offers a variety of colors and designs to choose from, including sky blue, mint green, cream, and more. It's so bold and uniquely different; you'll wish you got a colorful fridge sooner. 
According to The Washington Post, Gina Sims, the owner and primary designer of Gina Sims Designs, states that having a colorful fridge makes it the main event or focal point in the room. Bold and loud colors make a statement in your home, especially when they don't blend in with the rest of your furniture and decor. A colorful fridge is an out-of-the-ordinary timeless design that's also stylish and vibrant. Your kitchen won't feel the same in all the best ways.
Don't just like it, love it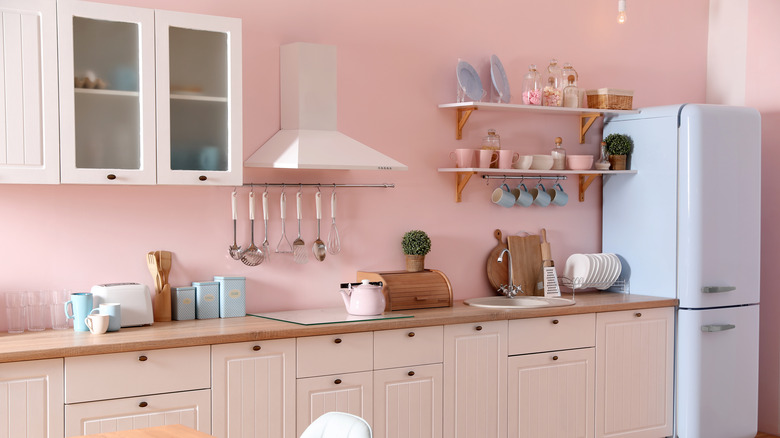 New Africa/Shutterstock
A colorful fridge adds a splash of personality to your kitchen, which will set it apart from the other kitchen appliances and draw attention to it. Your friends will admire it every time they come over. Heck, you might even find yourself admiring it every time you walk into the kitchen. When it comes to choosing the right color, be intentional because color can affect your emotions, trigger memories, and influence a positive or negative vibe in the space, according to IIO Kitchen. 
If you're unsure what color to choose for your fridge, Real Homes recommends neon mint, red, bubble gum pink, or a loud sunny yellow. However, If you prefer neutral tones, go for natural colors like black, white, or gray. You should focus on colors that feel warm and inviting to get the most out of your big bucks because you want to be happy with what you pay for.