Homegrown's Jamila Norman Talks The Importance Of Sustainability Through Farming - Exclusive Interview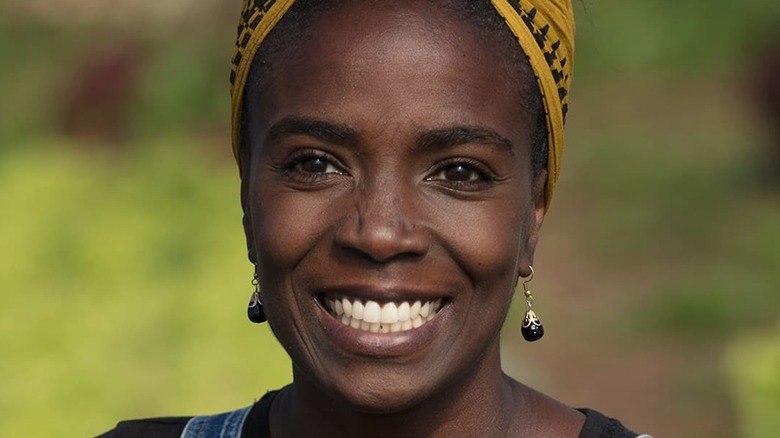 Magnolia Network
Jamila Norman, star of Magnolia Network's "Homegrown," is looking to expand access to fresh, healthy food — one backyard at a time.
As the owner of Patchwork City Farms in Atlanta, an independent and organic urban farm, Norman has dedicated her life to teaching others about wellness and sustainability through food. She believes that a large part of expanding access to fresh, nutritious food is the knowledge and ability to be able to grow it yourself, regardless of where you live.
After seeing a need for improved access to fresh fruits and vegetables in her own urban Atlanta community, Norman decided she wanted to be a part of the solution. Now, after working to educate her own community about the importance of farming and wellness through food, she is looking to bring that same awareness to other communities and families by teaching them how to farm their own backyards on "Homegrown."
Building upon the farming legacy of Black women and paving the way for future generations
How did you get started in urban farming?
I started growing with some friends in my neighborhood, and it mushroomed from there, where me and another friend of mine took on an acre of land in the city of Atlanta and realized that was a lot of food. We started looking for local markets to offload some of it. They're like, "Well, if you're going to be selling, you should be a business." We started our business to sell the food, and I haven't looked back.
How do you think that the representation that you are providing as a Black woman in farming is changing perceptions of the industry?
Black women have always been a part of the farming industry for millennia. It's just visibility. I'm picking up the torch where others left off and carrying on. It's definitely part of my family legacy. It's a major part of the legacy of the South and Black people in general. When I started farming in Atlanta and engaging in a lot of the local food scene, the fresh food scene, the farm-to-table scene, the slow food, it definitely was.
My business partner at the time was another young black lady — she's Kenyan origin; my family's Caribbean — and we were the only Black faces in the room. It shone a light on the fact that we're out here doing this work. The doors that we stepped in opened it up for other people. [I want] to highlight the fact that we're not the only ones; there are others in the city of Atlanta and surrounding. That's how I always look at it. I definitely don't ever want to make it seem like I was out here doing something other people weren't doing. I'm just carrying on in the tradition of what our mothers and grandmothers and great-grandmothers have been doing and being okay being upfront about it.
Jamila Norman started Patchwork City Farms after seeing the need in her own community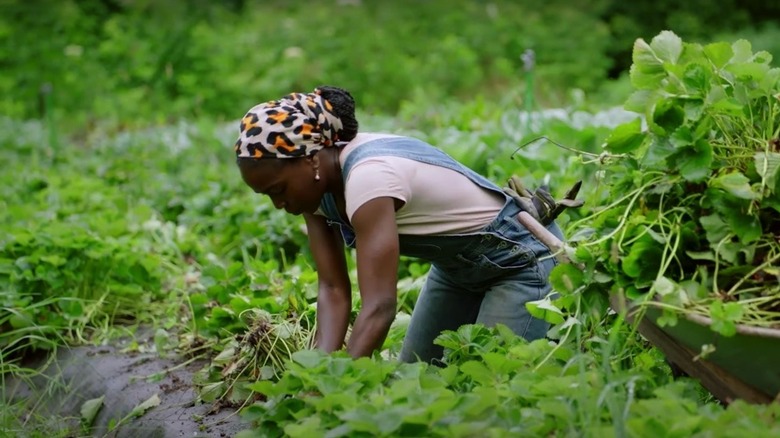 Magnolia Network/YouTube
What made you kind of realize that Atlanta was in need of something like Patchwork City Farms?
I moved to an area of Atlanta that's a historically Black part of town, and food options were not the best. Having a garden was something that I always wanted to have, and being here and seeing that there's not a lot of food options, but there was also a lot of land and empty green space ... It was like, "Well, I'll be part of the solution and create that fresh food and try to address fresh food access in my community." That's what prompted me to start growing food, realizing, "Hey, this is a need for this community."
Why do you think providing access to healthy food and the ability to grow it, particularly in underserved communities, is so important?
Food is life. If you don't have access to good stuff, you don't have access to essentially being your best. Also, this is a community that's dealt with and deals with more health issues than other parts of the city. I had kids and they were in school. We were going to elementary school, and I wanted to make sure that they had good stuff and healthy food and make it accessible to other people in the community. It's about being our best selves and making sure people have what they need to achieve that goal.
Growing advice for beginners and those with limited space
What would you tell someone who says they don't have a green thumb and thinks they aren't able to grow their own food?
You don't know what you can do until you do it, and nobody knows how to do anything until they start doing it. Starting off, I didn't know everything. I still don't know everything. Gardening and growing is always changing — there is always something to learn. Be open to learning. 
You got to be part of a group or a community or have somebody else that you can talk shop with and be able to get insight and information from, and constantly have an attitude of learning and growing. What you do this year, if it goes bad, know that you try again next year. I still have crop failure now. Every farmer that I know has things that are like, "That didn't work this year. We'll try again next year." That's part of the process. You win some; you lose some. You lose battles with bugs and animals and the weather. It's part of the process, and you got to jump in and start small.
You can always grow something. You can grow something in pots. You can grow something on a porch. You can grow something on a window sill. You definitely need sun. That's the main thing people underestimate — how much sun you need. Vegetables and fruits need lots of sun. You need sun, don't buy the cheapest soil — buy good soil — and water your plants. Those are a good three places to start.
What are some indoor growing options for those who don't have access to any sort of outdoor space?
You definitely need sun, and if you don't have sun, you can start growing stuff with grow lights and things like that. It starts to get expensive when you go into trying to do all indoor production, especially in the absence of sunlight. If you find yourself in a space where you're like, "I really don't have good growing conditions where I am" ...
Look, I lived in New York. In some of these high rises, there's no sun coming in there. Then you want to look for opportunities like, "Is there a local community garden?" or "Is there a church that might have a garden?" or "Do I know someone that has some green space at their home or something like that and I can join in?" You might have to step outside of your home to join others in a space. A lot of people are cultivating spaces like that, especially in cities, to give folks opportunities to grow who might not have it in their immediate personal spaces.
Jamila Norman talks Homegrown and her upcoming plans for Patchwork City Farms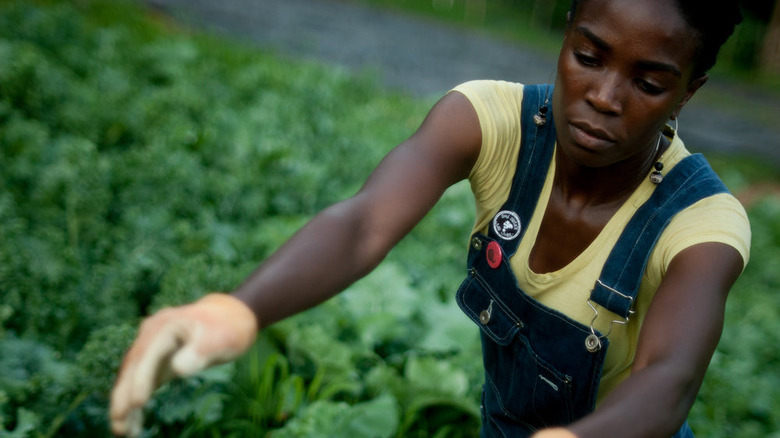 Patchwork City Farms
Is there any word yet about a potential Season 3 of Homegrown?
I don't know. We're still filming and finishing up Season 2. If anything, they're probably like, "Once you give us Season 2, maybe we have a conversation." But the good thing is [for] Season 2, we doubled the order. It's 12 episodes for Season 2.
Season 2 has changed a little bit, where we are with the families for the journey a little bit longer than we were with Season 1. We actually come back and see them two months later and see the harvest and how the garden's growing. It's taken a little bit longer because it's a little bit more involved. I think people will really like that, and that's good. People are every day going, "Oh, my God, when's it coming? We need more, Farmer Jamila, we've seen it all. We need more."
That's where we are with Season 2. Literally, I'm filming tomorrow, and then we're finishing up the last four episodes, and we're on the last stage of all the homes. We'll be able to deliver everything in about a month and a half.
Are you working on any new projects now outside of the show and outside of Patchwork City Farms, or are those both keeping you busy?
No, that's keeping me busy. I'm going through a really aggressive redevelopment plan for the farm, trying to take it to the next level. Essentially, we want to turn it into a wellness center where people are going to be able to not only buy fruits and veggies but also come and do events, do learnings, do workshops, and even stay on the farm overnight — maybe for some days or weekends. We're trying to create a space that is a lot more engaging, can host a lot more opportunities, and at the core of it is all about health and wellness, so [we have] lots of talk with architects and engineers in the city and planning.
Stream Season 2 of "Homegrown" now on the Magnolia app and on Discovery+.
This interview was edited for clarity.