Home Depot Or Lowe's: Which Has Better Deals On Kitchen Sinks?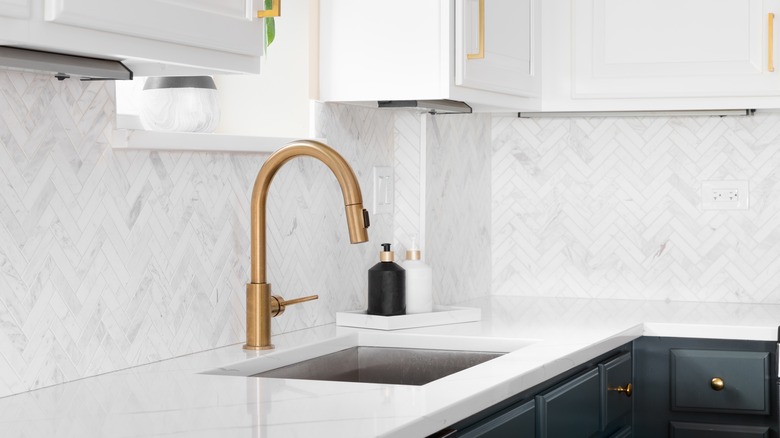 Hendrickson Photography/Shutterstock
If you are looking for a new sink, you have a large number of retail locations to choose from. However, two of the most popular stores are Home Depot and Lowe's. Each of these carries a large variety of different brands, materials, and designs. However, it's crucial to find the sink that best fits your needs. Build states one of the biggest aspects to consider is the size of the sink. For many, the standard sizes are sufficient, while others may need a much larger one.
You should also think about the look of the sink. Many designs are somewhat versatile and can fit in with any kitchen theme, whereas some, such as farmhouse style sinks, are very specific and require a complicated installation. The material the sink is made from is also of importance and is usually based on the durability of the sink and how long it'll last. You should be able to find a sink that perfectly suits your needs at either of these stores. But, with so many options to choose from, we've done the hard work and narrowed down the best deals from each location.
Home Depot's most popular sinks
According to Home Depot, one of the best sinks they have available is made by KRAUS, and costs around $400. The biggest aspect of this particular sink is that it only contains one bowl. However, the size is more than adequate for most, at 33 inches long, 22 inches wide, and 9 inches deep. It's also crucial to note that to install this sink, you must have a minimum cabinet width of 36 inches.
Since it's made of stainless steel, this sink will complement many kitchen designs. As Don's Appliances points out, stainless steel allows for easy clean-up from spills and smudges but will need a bit more care than other types. Another unique feature of this model is the drain placement. Instead of directly in the center, it is located on the far right side. This stylish and modern design allows for more room within the sink and under the cabinet.
Additionally, the sink includes several useful extras, such as a pull-down faucet. Its spout has a reach of 18 inches, which allows for plenty of room to complete tasks in the sink while also fitting under most cabinets. The hose can be extended up to 20 inches and comes with a dual spray nozzle.
The best sink you can find at Lowe's
While Home Depot's best sink is impressive, Lowe's is equally efficient. According to their website, one of their exclusive and best-selling kitchen sinks is a model designed by Elkay. Costing just over $200, it is a more affordable option and contains many desired features. For starters, you have the choice between two finishes: stainless steel and satin (for an $80 price difference.) Sitting at 33 inches wide and 22 inches long, this dual sink must be installed in a cabinet of at least 36 inches wide.
Elkay designed this model with two equally sized bowls. In addition, they also made the drains compatible with garbage disposals. Whether you choose to add this feature or not, the noise shouldn't be an issue as it contains sound-deadening pads to reduce sounds and vibrations. Unfortunately, this sink does not come with a faucet, however, the pre-cut holes allow you to install one with ease. A limited lifetime warranty is also guaranteed with the purchase.