Is Damask Wallpaper Going Out Of Style?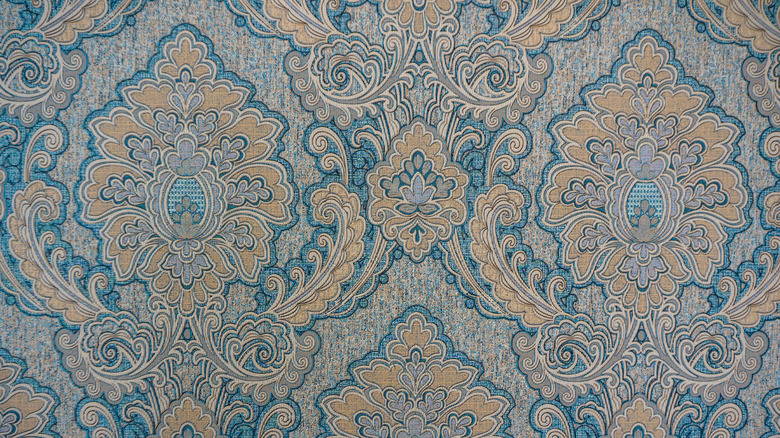 beloved67/Shutterstock
An ancient textile traditionally created by weaving reversible floral motifs and rhythmic patterns into silk, the famous damask print can be traced all the way back to the Middle Ages — specifically, to the popular textile trading port of Damascus. According to Sewport, the pattern is thought to have arrived in France in the 14th-century, where elite members of society became quickly enamored with its luxurious and ornate look.
Fast forward to the introduction of roller printing in the textile industry, and it became possible to quickly and cheaply replicate the damask style. Once reserved for the woven silk tapestries and hand-painted wallpapers of the upper classes, the Victorian era saw damask wallpaper become a far more accessible way for ordinary people to bring an air of elegance into their homes.
And even today, damask wallpaper is definitely still an aesthetic staple. From contemporary gothic grays and metallic tones to rich and regal shades of yellow and purple, this classic print brings a look of luxury and sophistication to any surface it touches.
Putting the focus on adventure, not elegance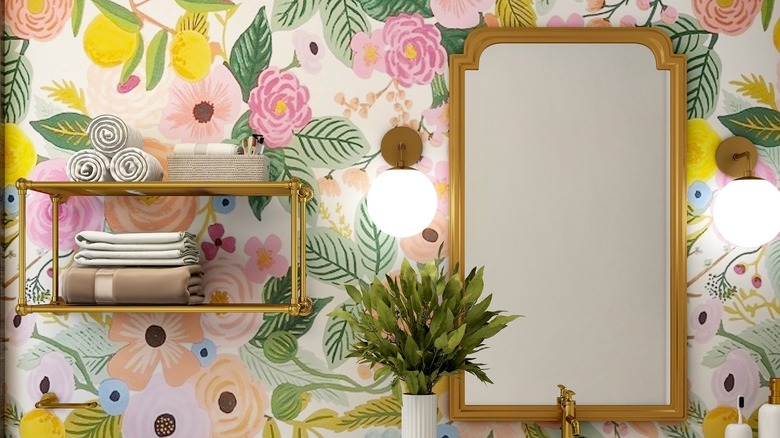 OlliverQueen/Shutterstock
Ornate and elegant, it's clear that there will always be a place for damask wallpaper. But in this post-Covid world, we're definitely seeing more of a demand for heritage floral designs, abstract botanical prints, and playful geometric patterns, as consumers confidently embrace bolder and braver wallpaper styles.
According to Real Homes, biophilia is the main prevailing theme. This nature-inspired aesthetic is represented by the surge in popularity of prints featuring flora and fauna, as well as the dominance of natural color choices, such as greens, blues, and yellows. From traditional floral designs in an arts and crafts style to more contemporary botanical patterns and prints, the sheer variety of biophilic designs is one of the key reasons why it's currently so popular. Its ability to invoke the harmonious energy of the natural world is another.
While damask definitely hasn't completely disappeared, it perhaps feels a little too haughty and ostentatious to fit in with the more eclectic and expressive interior design style of the current moment. If you're looking to embrace the invigorating power of nature, then damask doesn't quite fit the bill.