Christina Hall Shares Her Top Budget-Friendly Home Decor Finds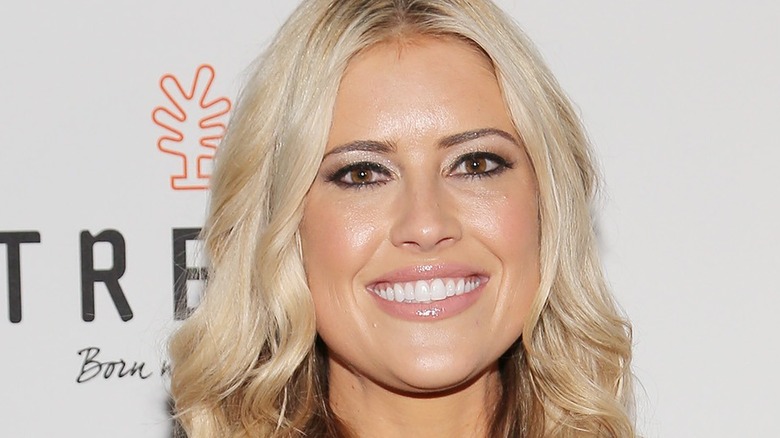 Alexander Tamargo/Getty Images
We may receive a commission on purchases made from links.
Christina Hall of "Christina on the Coast" and previously "Flip or Flop" is known for her clean aesthetic that incorporates equal parts glam and California boho style. The former real estate agent, house flipper, and HGTV host now counts Amazon-influencer among her long list of home and design-related experiences — she's had plenty of practice and time to hone her design eye, and she's learned to choose items of value very quickly. 
People shared that Hall, along with her best pal Cassie Zebisch, highlighted 35 home decor products during an Amazon live stream, many of which she uses in her own home. They were as varied as the home-reno expert's tastes and included storage, textiles, and decorative objects. Notably, the mom of three favored pieces that looked good but also offered functionality. Let's take a look at some of the showcased items and find out what makes them so desirable.
Texture
Christina Hall loves neutrals and natural materials. According to HGTV, in rooms that feature little color, texture is imperative. Many of Hall's renovations include a tonal palette of subdued colors supported by organic components. Features like stone countertops, wool area rugs, and rattan help to impart interest, movement, and texture. Black is one accent that appears frequently in Hall's schemes and is used to good effect in this Jute Rope Basket. She uses it to organize her kids' laundry but recommends it for stuffed animal storage, too. Cassie Zebisch keeps living room throw blankets in hers. 
Another recommendation is the BOURINA Throw Blanket. The neutral ivory background, raised diamond pattern, and long fringe suit both bohemian and more traditional decor. It offers function, texture, and coziness, and if your preference is for a brighter hue there are 24 available colors. Hall also featured this Stonewashed Turkish Throw Blanket in charcoal gray, however, it's sold in six additional shades. It's huge at 80 by 57 inches, and Hall is quick to point out that it's machine washable. Finally, these Decorative Throw Pillow Covers add visual interest with raw edge applique. In 21 colors, it's a perfect pop for monochromatic spaces, or go neutral for tone-on-tone layering.
Gorgeous storage
Christina Hall likes to keep her kitchen organized so she employs the AUYE Glass Storage Jar with a wood lid to help her do just that. Transparent glass offers instant confirmation of what's inside, and the minimal shaping and warm wood tops elevate an everyday object to one where the design takes center stage. Hall decants pantry items, cereal, and candy into various canisters, and stores her coffee beans in the 26-ounce container as part of an espresso station. Beyond their use in the kitchen, they're ideal for bathroom sundries and displaying small collections, such as sea shells or buttons, suggests Refresh Living. 
These Preprinted Spice Jar Labels feature minimal black text on a white waterproof sticker. They are a perfect match for many of Amazon's glass and bamboo spice jar sets as the labels neatly and clearly display the contents — never mix up cayenne pepper with paprika again. Another kitchen workhorse, the Bamboo Expandable Drawer Organizer makes flatware or junk drawer organization a breeze; Hall said she uses them in all her kitchen drawers and claims they're easy to clean.