Is Distressed Furniture Going Out Of Style?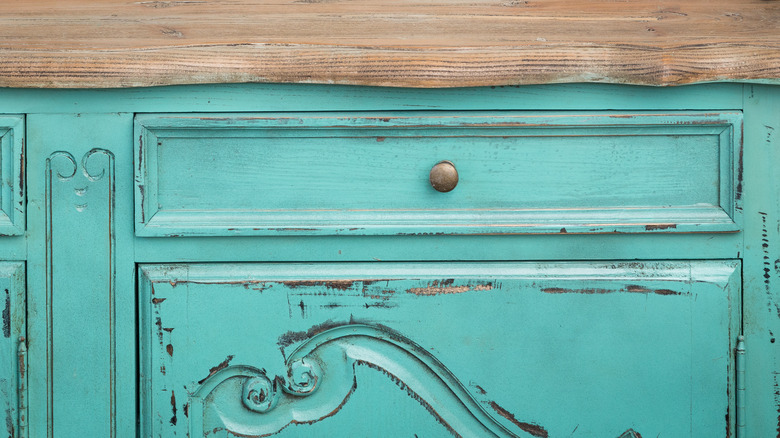 SeeInside/Shutterstock
From French chateau shabby chic to the popular coastal style, distressed furniture has managed to carve out a space for itself in many of the more rustic interior design trends of the 21st Century. And in the past five years, it's found fame once again, thanks to its close association with the incredibly popular classic farmhouse trend — where the faux-worn and weathered look has felt like just the right fit for this countrified vibe.
However, could it be that alongside all-white kitchen cabinets, excessive use of shiplap, and kitschy market signs, faux-distressed furniture is another trope of the classic farmhouse trend that may now feel a little overdone (per Kaitlin Madden). But not in the intended charming and rustic way.
While there's definitely still a demand for some of the core elements of farmhouse decor, the style is evolving into one that feels more modern, and less cliché. But the real question is — will distressed furniture be making the cut?
A more modern and stripped-back take on rustic farmhouse style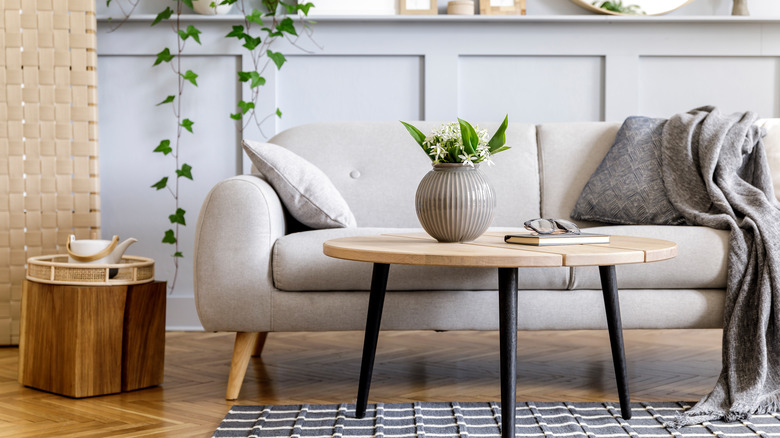 Followtheflow/Shutterstock
Still a style centered around creating a rustic and homey space, the farmhouse style of 2022 strives to do this through the use of raw materials and textures, modern artisanal crafts, and a generally more streamlined look. According to Real Homes, instead of using faux-distressed furniture to create that famously rustic farmhouse feel, this modern take on the trend encourages using earthy materials, like wood, wicker, and linen to provide a more authentic sense of warmth, that's rooted in craftsmanship and nature.
Rather than just mimicking vintage or rustic charm, this more artisanal version of farmhouse style encourages celebrating heritage design in a more subtle and less clichéd way. For example, instead of choosing a faux-distressed cabinet for your kitchen, go to your local thrift shop in search of an actual second-hand piece. But if you already have a cabinet you were planning on using, Family Handyman suggests painting it in a historic color — rather than just leaving it to look weathered.
Put simply, at a time where we're embracing nature and authenticity, distressed furniture, unfortunately, just feels a little too artificial.