The Flip Or Flop House Tarek El Moussa Designed On His Own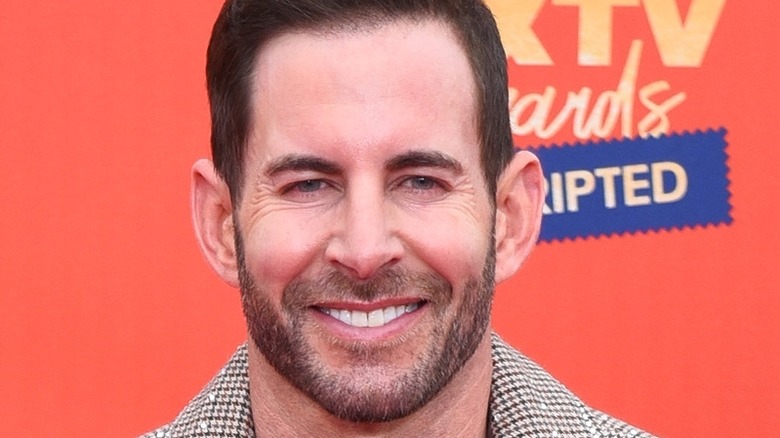 Michael Mattes/Shutterstock
Tarek El Moussa and Christina Hall once made a good pair on HGTV's "Flip or Flop." And it's well-known that the design duo has now gone their separate ways personally and professionally, yet during the 10-season run, they balanced each other's strengths and opportunities for growth. El Moussa's logistic and pragmatic contributions complemented Hall's focus on the floor plan, design, and final finishes, although they actively collaborated throughout the projects. They realized more than $200,000 in profits from the sale of some properties, with a spectacular $241,000 one-time gain in Season 8, per Realtor. According to The List, their most fruitful flip until then, a Season 7 residence in an unfamiliar area, garnered them nearly as much. 
There were plenty of challenges as well, including Hall and El Moussa's only official flop: a small home that lost them money after paying the buyer's closing costs, and a few tense disputes. Another test of their mettle occurred during the rehab of a Costa Mesa home. El Moussa discovered that the three-bedroom, two-bathroom property was being sold for less than similar comps and the couple snapped it up. Yet they soon learned that Hall, who was pregnant and ordered by her doctor to rest, was unable to be onsite for the project, leaving El Moussa in charge of the majority of aesthetic decisions. Let's get the details of his single flip — and more importantly, find out how much profit his reno made in the process. 
A tasteful modern kitchen
Tarek El Moussa and Christina Hall purchased the entry-level beach community home for $525,000 in the Season 5 episode, "Fire Sale Flip." The house was dated but clean (compared to many of their previous flips), with Hall remarking, "It needs a big cosmetic rehaul." However, a huge double-sided fireplace and the neighborhood were positive aspects. The couple decided on a $60,000 budget and began demolition of the cramped kitchen.
Per Trulia, buyers consider the kitchen (along with the primary bath) to be the most critical room in a potential home purchase. At Hall's insistence, she and El Moussa relocated the washing machine from the pantry and the dryer from the garage to an alternate indoor room, simultaneously creating more space in the kitchen and indoor laundry facilities — a must for the neighborhood. They also knocked down kitchen walls to create an open layout. With one foot out the door, Hall tells El Moussa she's prepared to go into labor rather than let him handle the design, but doctor's orders take precedence. 
It turns out she needn't have worried about his abilities; El Moussa chose flat-panel white and glass-fronted aluminum accent cabinets for minimal European style. In addition, polished concrete floors update and unify the space with the rest of the interior. In contrast to the modern feel, a rustic and economical wood laminate-clad peninsula adds warmth. Prospective buyers liked the openness of the bright kitchen and were wowed by the adjacent stucco fireplace (via YouTube). 
A backyard attraction
From the sunny kitchen and dining area and by way of a sliding glass door, the open house attendees take in a show-stopping fire feature (via YouTube). What they can't see are the origins of the backyard: an undersized and unevenly growing grassy area and a wall of cinderblock. Tarek El Moussa concealed the uninviting cinderblock behind a horizontal slatted wooden fence stained a deep brown. In addition, he created a focal point with a metal and concrete waterfall and fire pit; it's hard to miss as the new raised decking is laid to point right to it. The scheme is finished with a mulch bed and plantings that line the fenced perimeter, softening the hard surfaces and adding color. 
According to SoCal Contractor, an ideal outdoor lounge is a prime space to relax and should include plants, a fireplace, and a water feature. It seems that El Moussa made the grade — the resulting backyard feels private and calming, yet also a welcoming place for gatherings — and Hall was amazed by the transformation.
After a $624,500 investment including interior staging, the home was listed for $789,900 and ultimately made more than $100,000 in profit. With little help from Hall (who admittedly chose the subway tile in the kitchen and devised its vertical placement to give an illusion of height), El Moussa crafted a modern, clean, and inviting home that universally appealed to prospective buyers.