Which Furniture Store Has The Cheapest Bookshelves?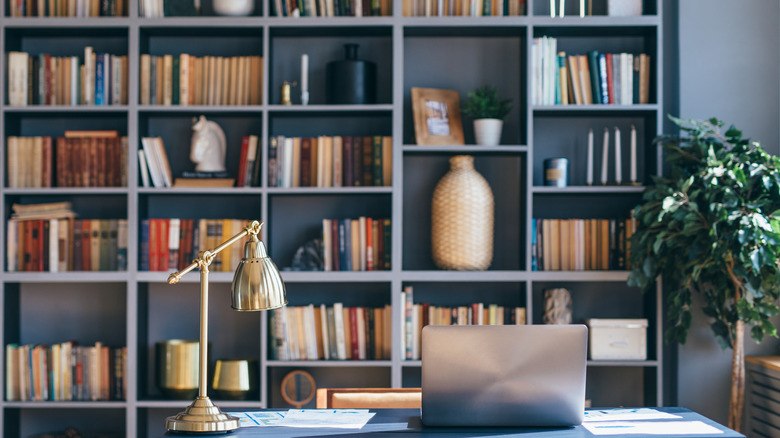 Undrey/Shutterstock
Bookshelves are essential storage items for any home. Whether you have an extensive collection of books or plants, need a place to store games or DVDs, or just want a space to display your knickknacks, shelves are the furniture item of choice. They can get pricey, though, especially when you buy multiples or want the look of custom-built shelving. On the other hand, looking for an inexpensive bookshelf also comes with risks.
If they're cheap, bookshelves may only last for a few years or crumble under the weight of the items you put on them, warns Book Riot. Others might just look rickety or cheap rather than an attractive piece of home furniture. Thankfully, there are some options that are sturdy enough to hold heavier objects yet still be a nice backdrop for all of your decor. You don't have to empty your bank account to find the best bookshelves — you just need to know where to shop.
IKEA BILLY bookcase
It's no surprise that IKEA is one of the best places for inexpensive furniture. The Swedish furniture brand is known for its affordable products that are stylish and fairly good quality. IKEA's BILLY bookcase is a favorite because it's inexpensive, good quality, and simple. The BILLY collection features multiple styles of bookcases, including a narrow one that's only $49.99 or a wider version that's $89.99. These shelves boast 4.7 out of 5 stars, with high marks for appearance and product quality.
In addition, what many people love about IKEA is that the products are highly customizable, which is also true of the BILLY bookcase. According to The Cottage Market, many people paint or add shiplap and wallpaper to the bookcases so that it fits better with their home's decor. Some add doors for closed storage or lights to make the shelves a feature. With the IKEA BILLY bookcase, you won't have to pay a premium for stylish and sturdy shelves.