Home Depot Or Lowe's: Which Has Better Deals On Fencing?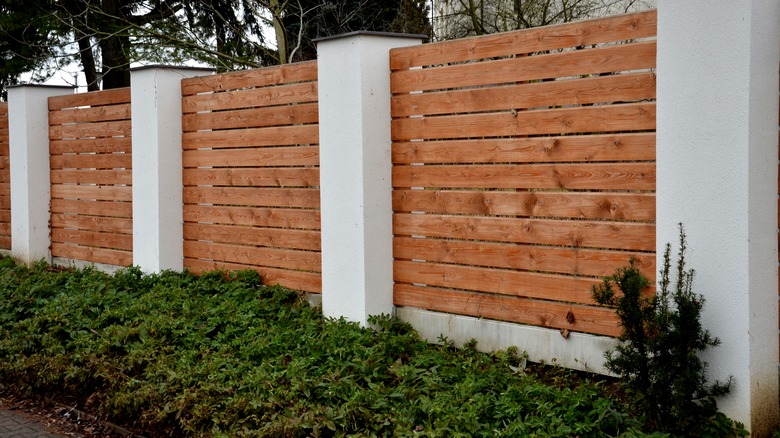 Beekeepx/Shutterstock
Fencing is perhaps one of the biggest additions to your outdoor areas. However, it's crucial to find the right type that best fits your needs, otherwise, you could end up wasting hundreds or even thousands of dollars. According to The House Designers, the first important task is to check your local ordinances to make sure you can install a fence, to begin with. Once that has been established, consider why you are wanting to put up a fence. This is a crucial step to ensure that you decide on the right type of material and design.
National Fence Systems also recommends checking in with your neighbor before installing. In doing so, you can reconfirm the property line as well as inform them that there will be temporary loud noises at your residence. In addition, depending on your area, you may need to factor in the weather conditions. Certain regions can become extremely hot or cold throughout the year; therefore, it's vital to purchase a fence that is weather-resistant.
But, where is one supposed to buy fencing? While there are many retail chains you can choose from, Home Depot and Lowe's each have a variety of options. Fortunately, we've narrowed down which location has the better deals on fencing.
Home Depot's pressure-treated fence
The best fencing that Home Depot has to offer is a pine, 6-foot by 8-foot pressure-treated fence. At just under $80 per panel, this fence provides resistance to termites, decay, and rotting, and a lifetime warranty is available at the time of purchase. In addition, the material features a dog-ear design that can be painted or stained to better fit the aesthetic of the property. Tony Almond Home & Garden strongly recommend sanding the fence and then adding a primer to ensure longer-lasting results. The fence panels come pre-assembled, however, posts are not included and must be purchased separately. 
With a 4.2 out of 5-star rating, this fencing has been reviewed over 800 times and is recommended by 86% of users. One consumer stated that this fence did the trick in creating privacy around their pool area. Another said that they love how beautiful it is and how the sun turns it darker over time. They went on to add they have a piece of mind knowing a child's finger can't go between the paneling slits. A third purchaser chimed in saying they loved the good quality of the fence and were able to install the size they needed for less than $1,000.
Lowe's severe weather privacy fence
One of Lowe's best-selling fences is a severe weather privacy fence that costs just under $70 for each panel. It also sits at 6 feet by 8 feet and is pressure treated against weathering and termites. However, HGTV also recommends applying a wood preservative to the wood to further help seal it. While the standard color of this fencing is a light wooden shade, it can be both painted and stained to better fit your needs. The top of these panels are shaped in a stockade style which helps to reduce noise and wind while allowing for more privacy as well. It comes pre-assembled without any posts and a lifetime warranty against termites and decay is available as well.
Out of 5 stars, this fencing was given a 3.6-star rating and was recommended by 62% of consumers. Reviews are divided with one user saying that they did not have a difficult time installing them in their yard and the fencing has since survived a few days of high winds and heavy rainfall. However, another stated that while they also experienced ease in the installation process, six months later they are noticing corrosion around the nails.
While both of these fences are very similar, it seems that the better deal is at Home Depot simply due to the better reviews. Nonetheless, no matter which option you choose, both should meet your needs and look aesthetically pleasing at the same time.