30 Thoughtful Wall Art Ideas To Spruce Up Any Room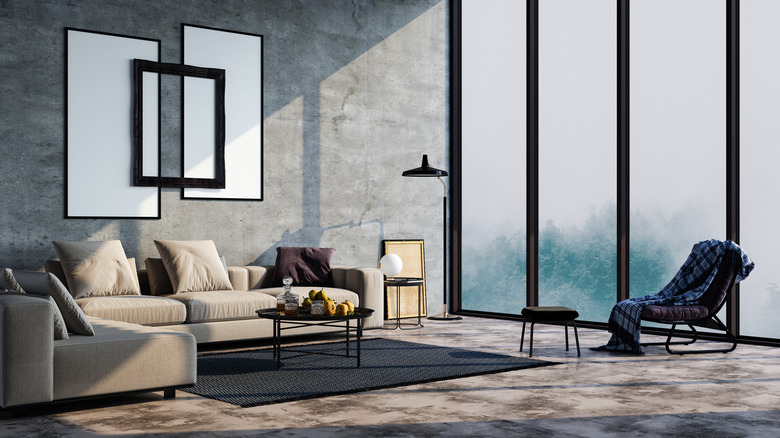 mixphotos/Shutterstock
Wall art is essential in interior design. Without it, our homes would feel dull and impersonal. According to Aspect Wall Art, the art pieces we hang on our walls may be the most crucial part of designing a space. This is because art can act as a focal point, something every room needs, so it doesn't feel cluttered or overwhelming. Additionally, wall art is a great way to add a pop of color to a primarily neutral area. And the textures and images in these pieces can work to tie an entire room or even a home together.
Perhaps you're not sure what to add to a blank wall. Or maybe the artwork currently hanging on your walls looks a little stale. Possibly, you've always used the same type of wall art and are looking for some unique inspiration. If any of these scenarios is the case for you, below are clever ideas you could try.
1. Construct a gallery wall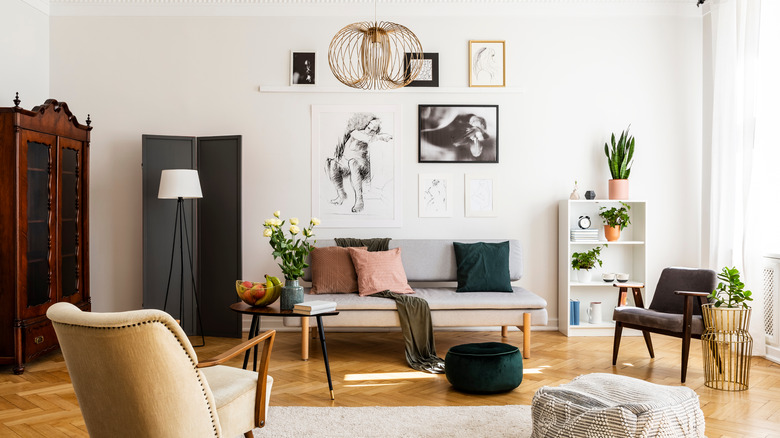 Photographee.eu/Shutterstock
For those who love maximalism, a gallery wall may be the best way to cover a wall's surface. Arranging many art pieces in different sizes and shapes will add interest. 
2. Center a large art piece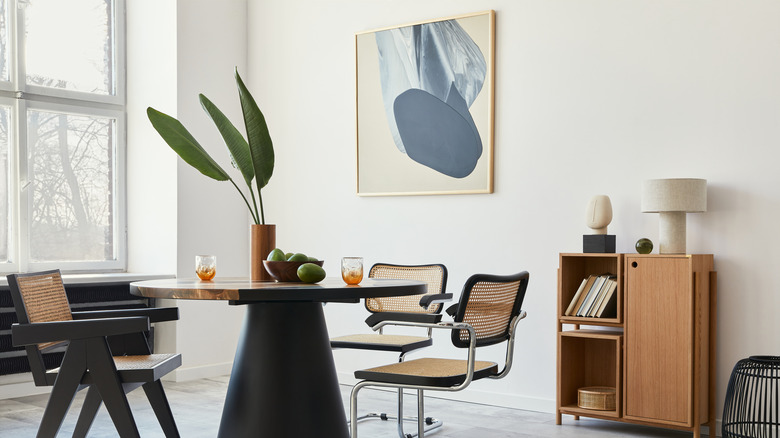 Followtheflow/Shutterstock
Or, if you're looking to create a more simple focal point, you could hang one large piece of art in your space. 
3. Line up multiple pieces of art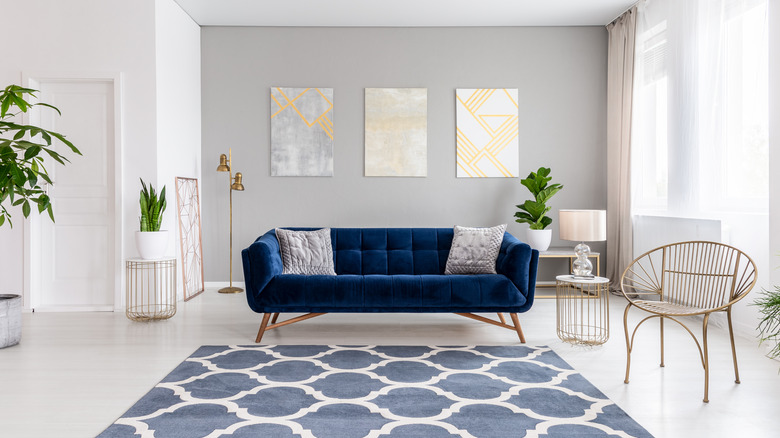 Photographee.eu/Shutterstock
Multiple pieces of artwork in the same size could also be used to cover a wall. If you're unsure how many to use, three create a pleasing appearance. 
4. Engulf a wall in wallpaper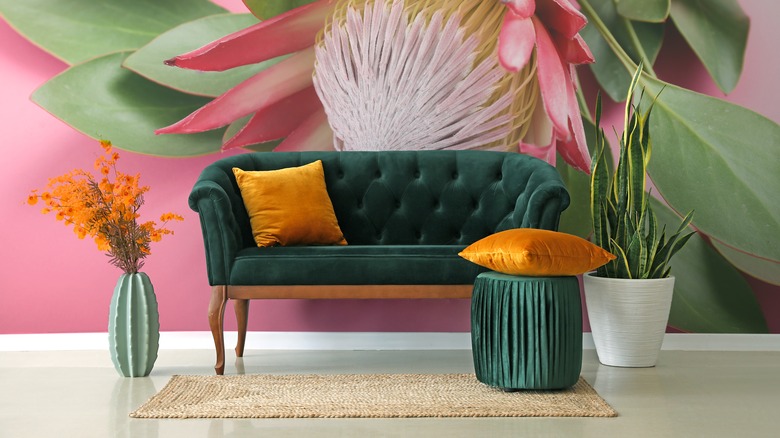 Pixel-Shot/Shutterstock
A bold wallpaper will completely cover your wall and create a unique focal point that draws attention. 
5. Paint a mural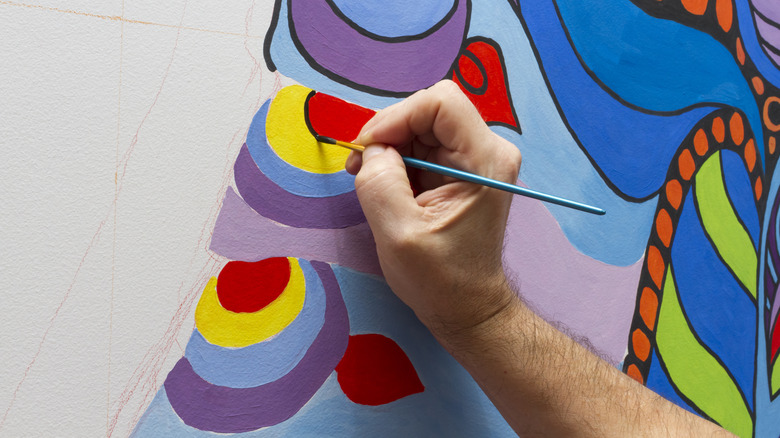 Oleg Vinnichenko/Shutterstock
A painted mural will also captivate the eye, but unlike a printed wallpaper, a mural will provide a one-of-a-kind, extra-personal look. 
6. Hang a tapestry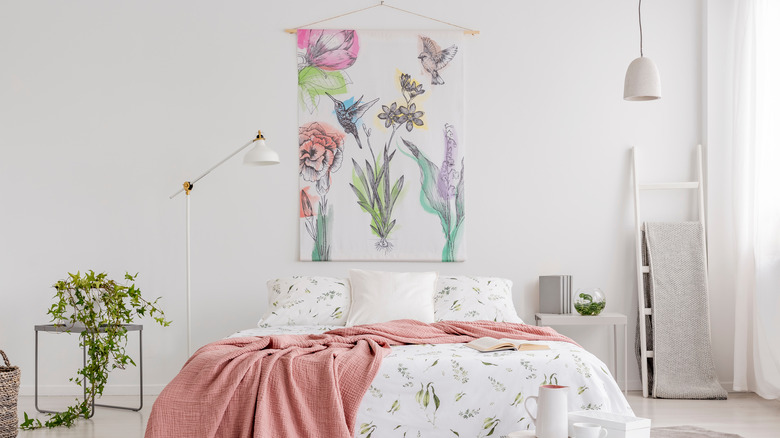 Photographee.eu/Shutterstock
A tapestry will add texture and a soft appearance to a wall and could feature any image or design you desire. 
7. Suspend a mirror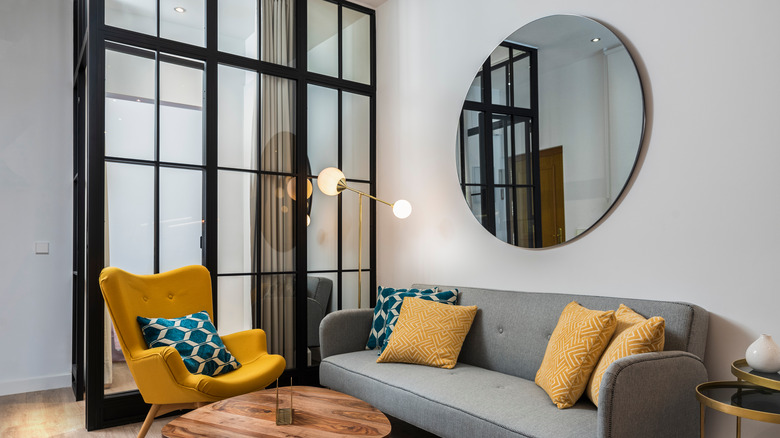 Juan Francisco Gomez/Shutterstock
Mirrors make spaces look larger by reflecting more light into the room. They're a great way to cover a large wall. 
8. Utilize floating shelves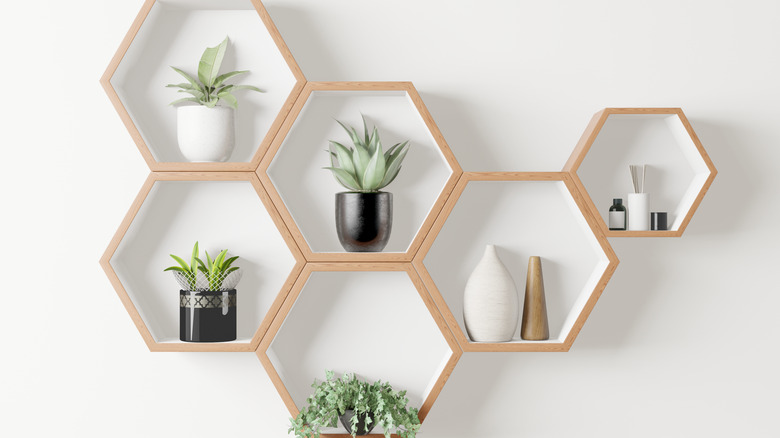 NukTD/Shutterstock
Floating shelves will allow you to personalize your wall with small knick-knacks or plants. They come in several shapes, from basic flat shelves to hexagonal ones. 
9. Add a brick wall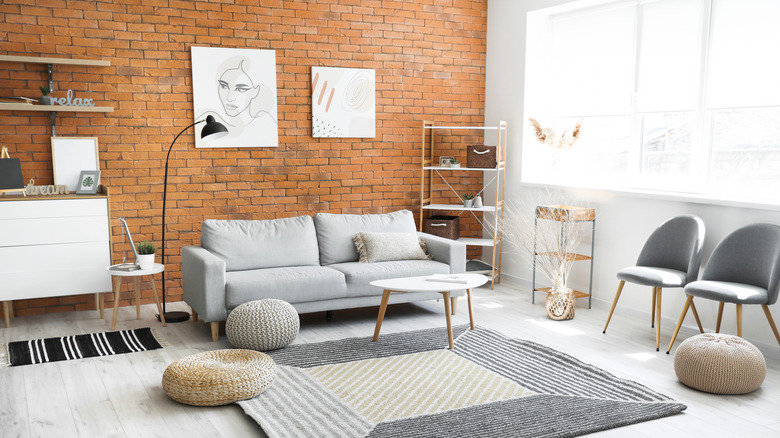 Pixel-Shot/Shutterstock
A brick wall will provide your room with rustic and natural vibes. Red bricks could add a pop of color to a neutral space and be an excellent background for lighter-colored art pieces. 
10. Cover a wall with plants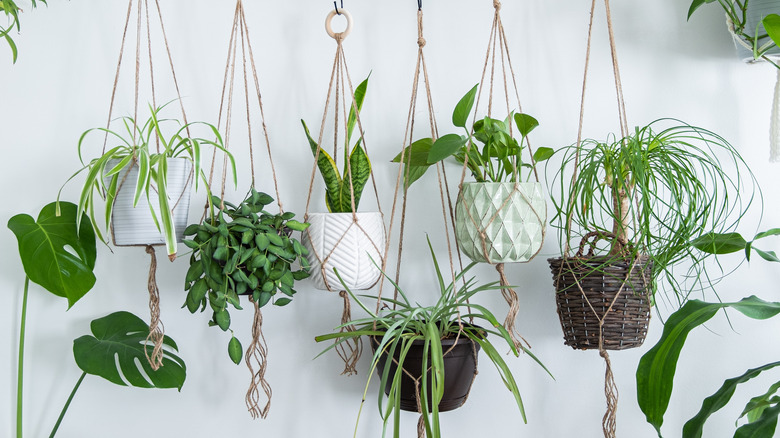 TippyTortue/Shutterstock
Another way to bring natural vibes into your room is by suspending many plants along the wall. 
11. Use lighting sconces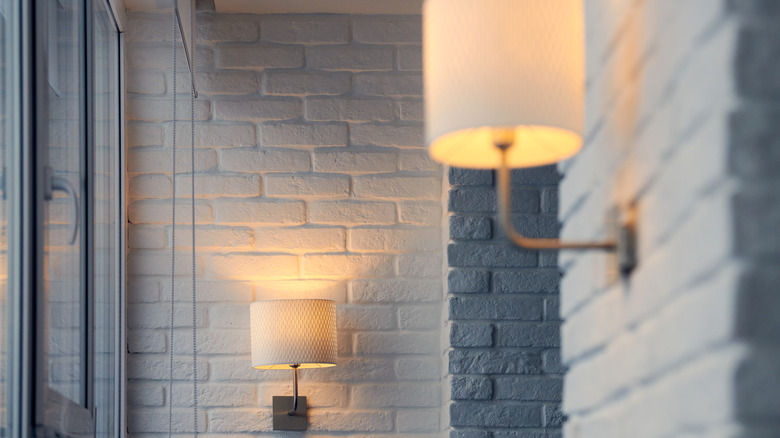 travelarium.ph/Shutterstock
Lighting sconces don't only have to be used for functional purposes; they can also add more character and interest to a space. 
12. Choose a macramé piece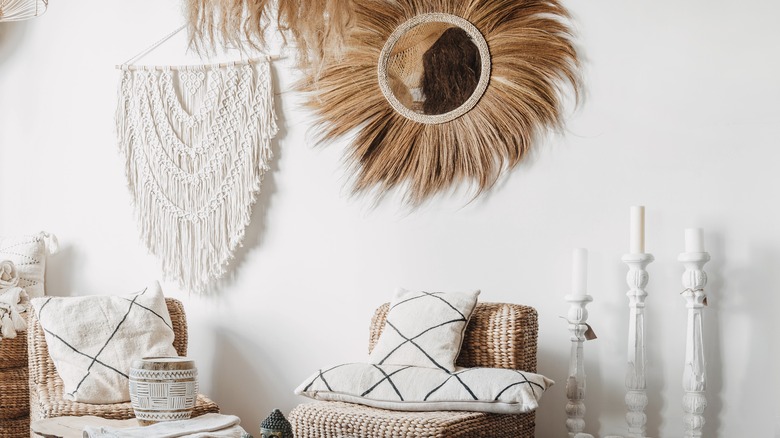 brizmaker/Shutterstock
Macramé pieces are great for bohemian and Scandinavian-styled rooms because they add a soft and welcoming appearance to any space.
13. Decide on beaded art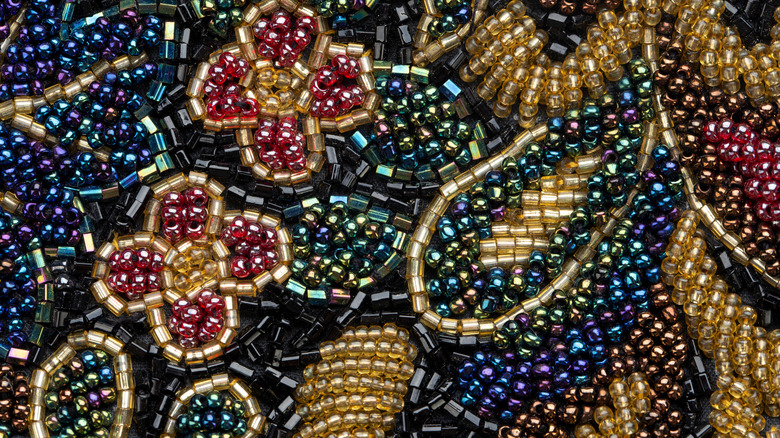 Shyripa Alexandr/Shutterstock
A unique beaded art piece or tapestry will add lots of color and fun texture to a wall. 
14. Make it functional with a calendar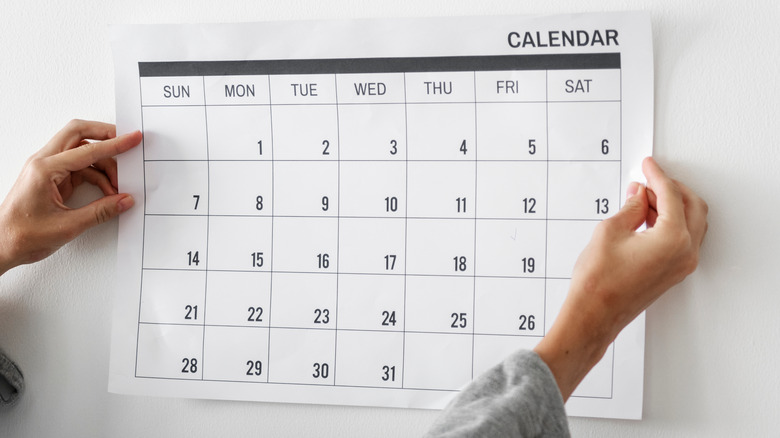 Rawpixel.com/Shutterstock
If you're more interested in functionality over aesthetics, you could hang a calendar on the wall. To make it more aesthetically pleasing, frame it or surround it with other art pieces to create a gallery wall. 
15. Include a clock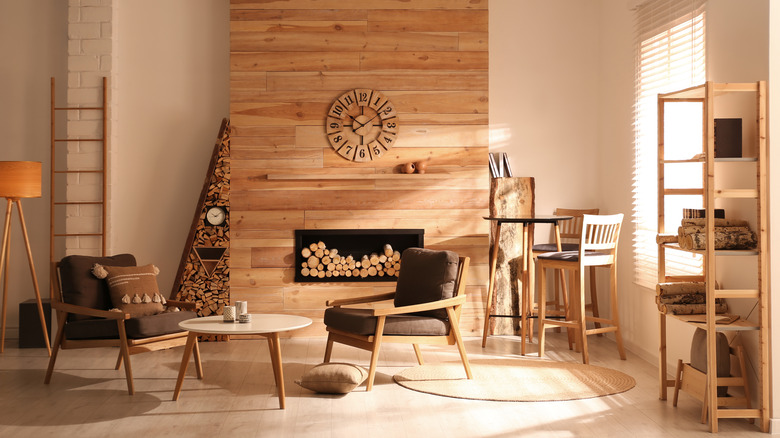 New Africa/Shutterstock
A clock may seem like a simple choice. However, there are many different clocks to choose from, and the appearance can go a long way in adding your unique style to a room. 
16. Display multiple baskets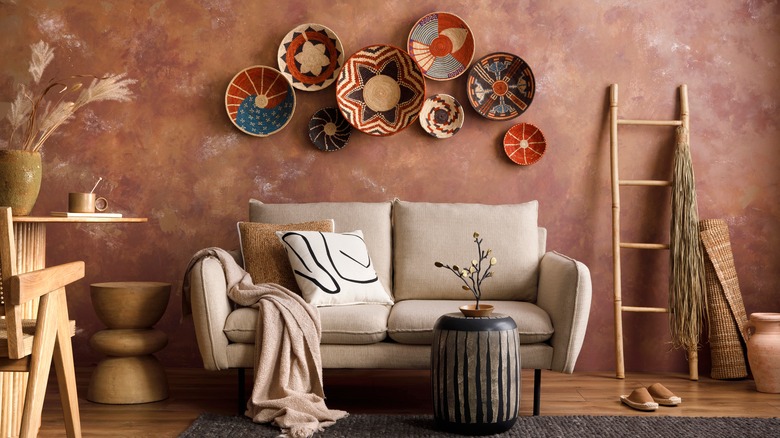 Followtheflow/Shutterstock
Typically used in bohemian spaces, hanging baskets add texture and interest. They could be neutral or display some bolder tones, as shown above. 
17. Decorate with a textured piece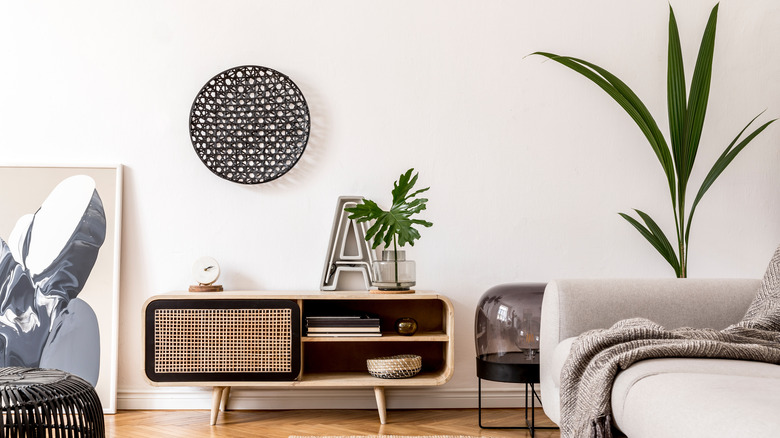 Followtheflow/Shutterstock
Instead of a flat painting, you could hang an abstract textured sculpture on the wall, like the round piece above. 
18. Cast shadows with branches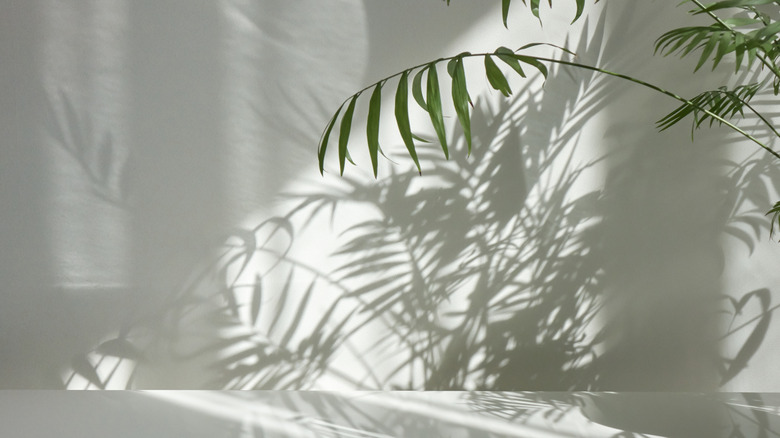 artjazz/Shutterstock
If you want to subtly cover an empty white wall, use branches to cast shadows across the surface. This will create a very dynamic appearance, as the shadows will look different during the various hours of the day. 
19. Personalize a map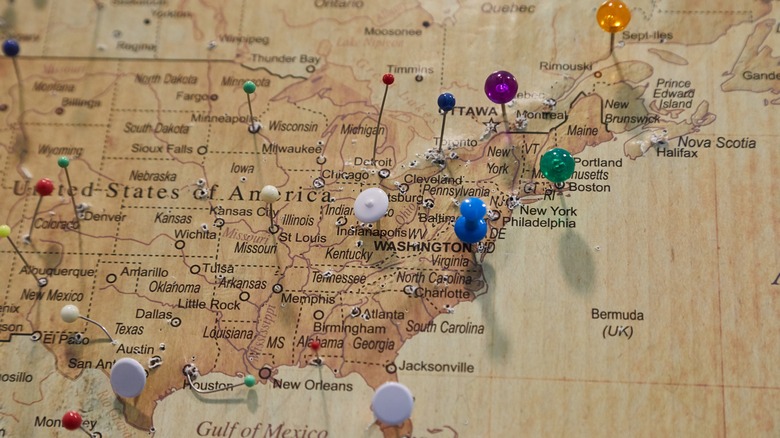 Peter Gudella/Shutterstock
If you love to travel, you could hang a map and add tacks over the places you've visited. This will create an extra personal art piece. 
20. Mount a television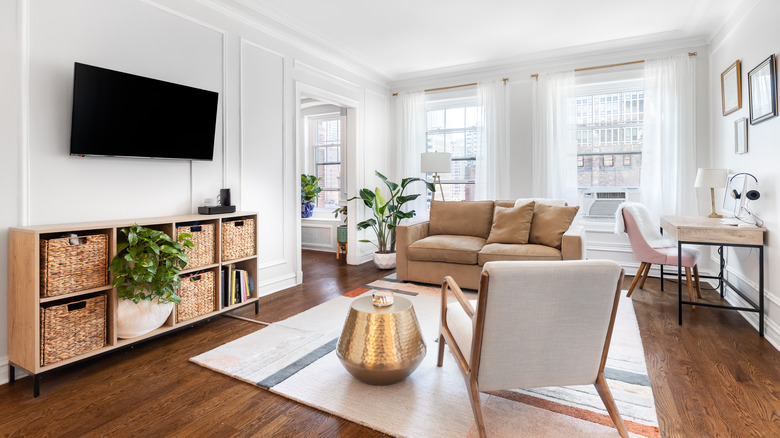 Hendrickson Photography/Shutterstock
You could mount your television to cover a blank wall in the living room, and framing your television with your preferred design elements will make it more aesthetically pleasing.
21. Try using crates as shelves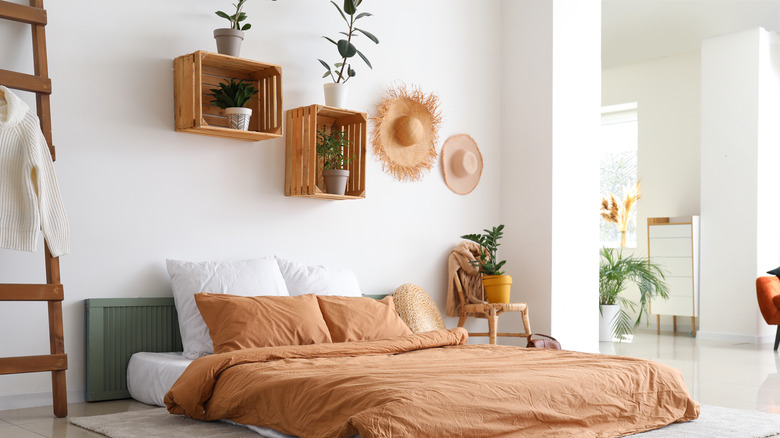 Pixel-Shot/Shutterstock
Hanging wooden crates as shelves is an easy way to add a natural feel to a room. They will also allow you to display some of your favorite possessions.  
22. Array of hats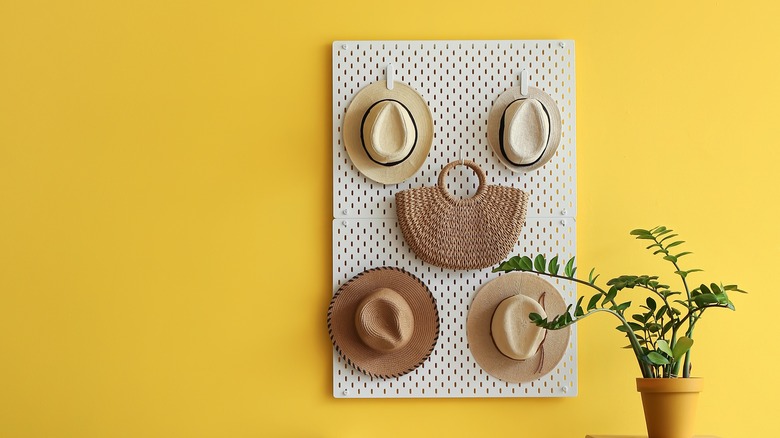 Pixel-Shot/Shutterstock
If you have an extensive hat collection, you could arrange it on the wall in a fun pattern. This could be done by hanging hats on hooks or a peg board, as pictured above. 
23. Employ your hobbies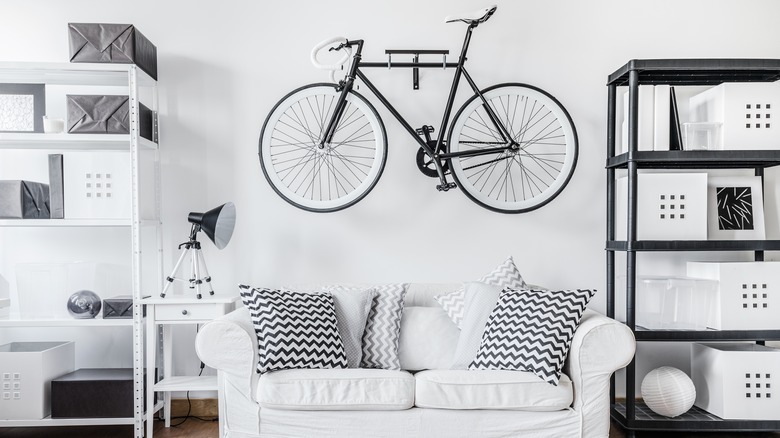 Photographee.eu/Shutterstock
Using your hobbies is a unique way to cover a blank wall. For instance, you could mount your bike, fishing poles, skateboard, personal paintings, books, etc. 
24. Adorn the wall with a wreath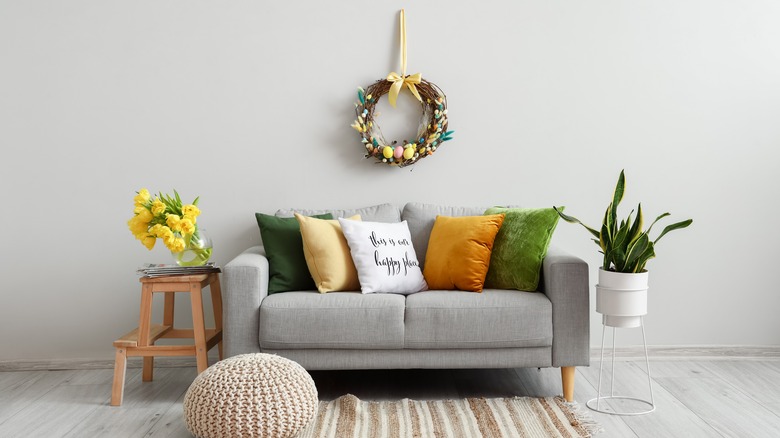 Pixel-Shot/Shutterstock
Wreaths don't only have to be used during the holiday season; those adorned with flowers or simple designs could be hung on the wall year-round. 
25. Envelop a wall in a bold color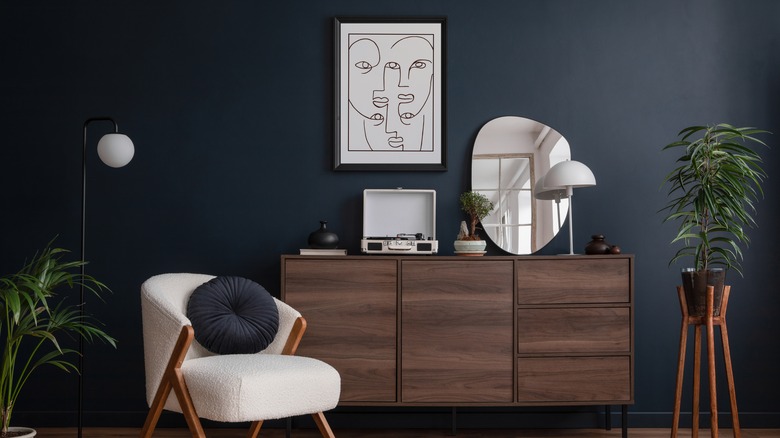 Followtheflow/Shutterstock
To cover a whole wall, you could paint it a bold color, such as the dark blue paint above. This could be the perfect backdrop for other art pieces like paintings and mirrors. 
26. Build wainscoting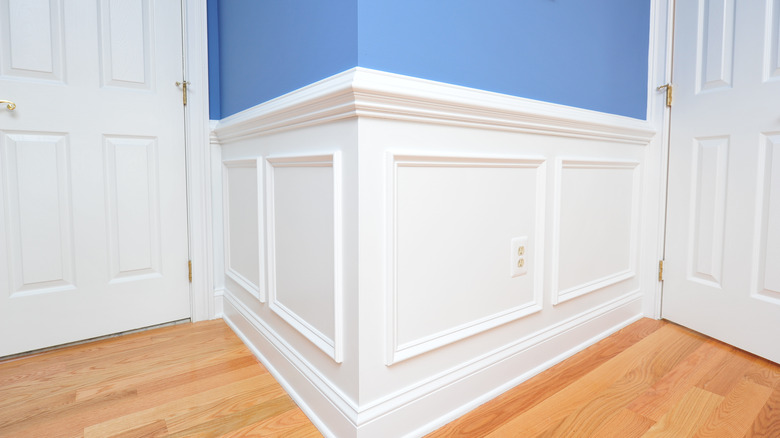 victory.dv/Shutterstock
Wainscoting will add a fun architectural element to a blank wall. It's also a great way to add two different paint colors to one wall. 
27. Design a vinyl wall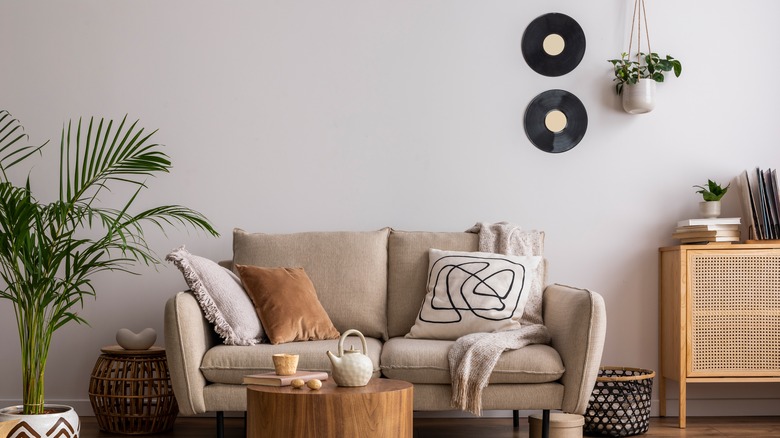 Followtheflow/Shutterstock
Hanging vinyl on the wall will add personality to your space. Records can also be a great addition to a unique gallery wall. 
28. Make a memory wall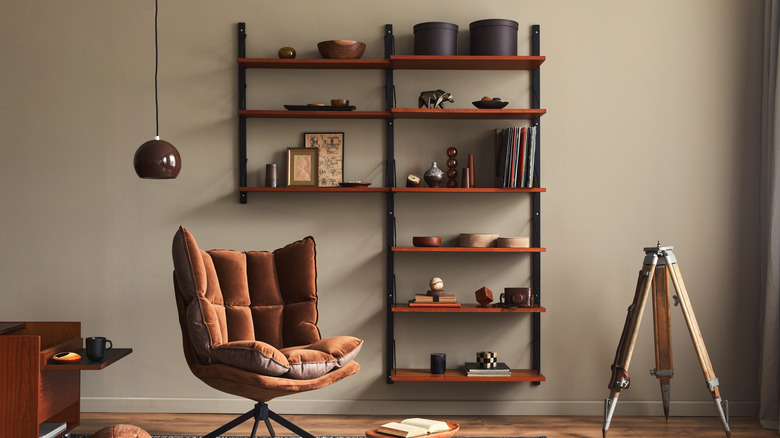 Followtheflow/Shutterstock
If you love to travel or make memories, you could create a memory wall. Adding books, knick-knacks, and other personal pieces to shelves will always remind you of all your past adventures. 
29. Bring in warm wood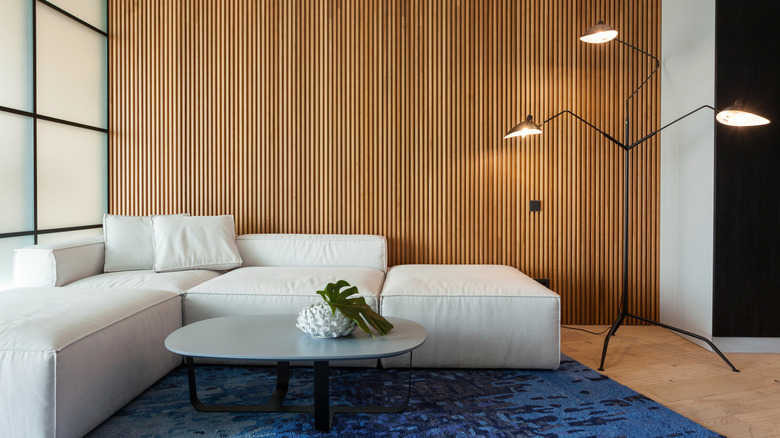 brizmaker/Shutterstock
A wooden wall will warmly cover an entire area, which could soften a mostly cool-toned space. 
30. Include coat hooks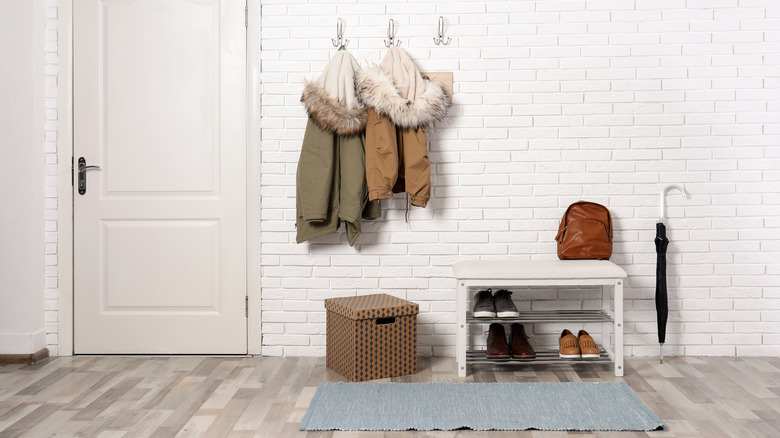 New Africa/Shutterstock
To make an empty wall near your entryway more interesting, you could hang coat hooks. While functional, this will also make your home feel more inviting.