Should You Use Peel-And-Stick Countertops On Your Kitchen Island?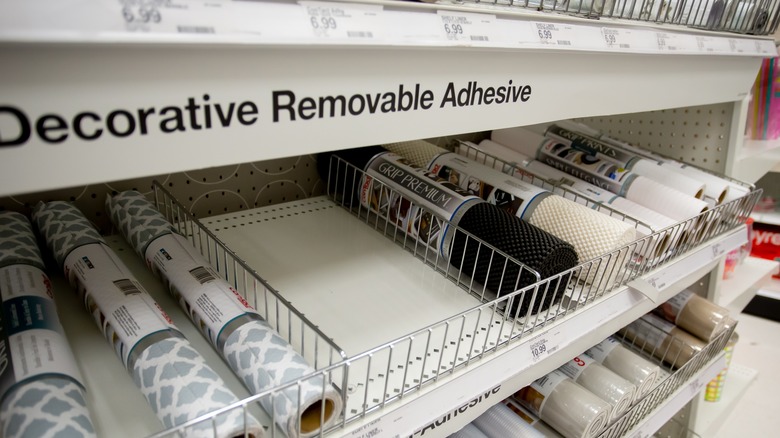 The Image Party/Shutterstock
As high-use rooms, kitchens are exposed to humidity, spills, and potential damage from hot and sharp items. Kitchens are also the places where gatherings with friends and family occur, so we want them to look and feel good. Sometimes a kitchen needs a full makeover; other times, it needs just a little lipstick. And while updating a kitchen can be fun (albeit stressful), it can also be expensive.
One creative way to save time and money is to use peel-and-stick products in place of other more permanent options. Once considered merely shelving liner, clever marketing has inspired a renewed interest in contact paper (thin vinyl sheets with a decorative pattern on one side and glue on the other). Nowadays, quality contact paper comes in rolls, sheets, and tiles that are easy to install as peel-and-stick backsplashes and other decorative elements, and the options go beyond vinyl. You can find self-adhesive countertop products that are made with glass, gel, metal, stone, and other materials, according to My Domaine.
But can these peel-and-stick products be functional and durable enough to meet the high demands of countertops and kitchen islands? That depends largely on the type of product you choose and the amount of use the surface typically endures. The Dedicated House says self-adhesive countertops are best reserved for lower traffic areas such as a secondary kitchen or guest bathroom. But that doesn't mean you should shy away from installing them on your kitchen island.
What peel-and-stick countertop options are available?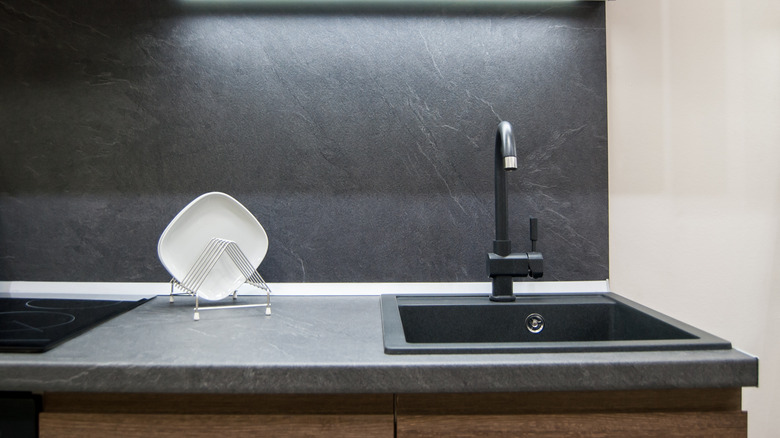 Oleg Chernyavsky/Shutterstock
According to Designing Idea, the product options available today are incredible and economical, coming in sheet form like a traditional wallpaper or in various sizes of tiles in laminate or other materials. There are even heat- and water-resistant types available for use around sinks and stoves. Backsplashes can be created with any type of tile, but vinyl is most suitable for countertop application because the single, unified coverage resists moisture. When selecting your vinyl countertop material, Designing Idea recommends going with a thicker option to offer more protection from cuts and surface damage.
If you're buying your product online, it's best to request a sample first to see, feel, and experience the quality for yourself. Designing Idea says that when you place your actual order, be sure to get more than you think you'll need. HPD Consult says that self-adhesive countertops are convenient, easy to maintain, and can last for up to five years. So, they're a great option for high-use surfaces like kitchen islands; they're also something to consider for folks who are temporarily updating a rented space.
How to install peel-and-stick countertops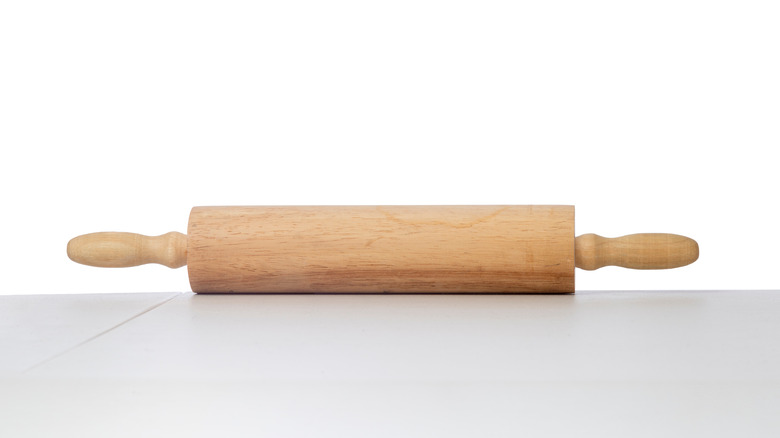 Carolyn Franks/Shutterstock
Begin by clearing, cleaning, and repairing the countertop surface that will be covered by the peel-and-stick product. Any debris remaining on the old countertop will be visible and felt through the new layer, leading to tears and bumps. Plus, it will interfere with proper adhesion of the vinyl to the prepared surface.
The Countertop Factory says that once this is done, you are ready to roll your sheet of vinyl (or lay the tiles out) across the countertop. For now, keep the paper backing on so you don't expose the glue. Laying everything out first will give you a visual of how the material will look when complete, allowing you to make adjustments if needed. Next, start at one edge and peel away the protective paper to reveal the adhesive side of the vinyl sheet. Press the product firmly to the countertop.
If cuts need to be made, The Countertop Factory advises using a straight edge tool as a guide while trimming with a utility knife. To set the tiles, apply pressure to a rag while running it along the top of the new countertop and follow up with a rolling pin for maximum effect. Once applied, your new countertop is ready to use.