Steal The Style Of Brigette Romanek's Breathtaking Laurel Canyon Home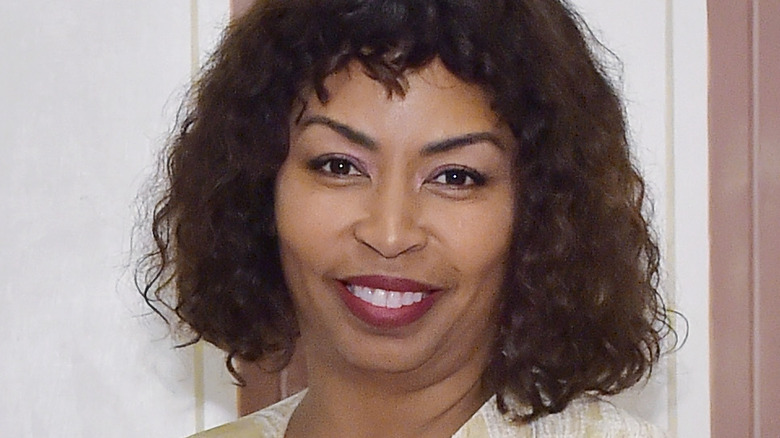 Stefanie Keenan/Getty Images
Self-taught Brigette Romanek is one interior designer you need to know about. She and her firm have been gathering a fanbase with their engaging and dynamic point of view, as well as a certain celebrity project. (Romanek Design studio collaborated on Gwyneth Paltrow's Montecito home, recently showcased in an Architectural Digest Open Door tour.)
Romanek's own Laurel Canyon home has served as a stellar portfolio, yet it experienced a fair share of attention before she changed a thing. According to C Magazine, the 1925-built residence was once a music recording studio and a stopover for icons like Jimi Hendrix and Mick Jagger. That's a lot of character to contend with, but that's what Romanek does best. She grabs at quirks and individual characteristics, celebrating them for what they are yet encouraging an altered perspective via new relationships. 
Romanek shared her family home with lifestyle brand Jenni Kayne. One of its remarkable elements is the quality of play among the varied pieces and modes present. For example, an abstract painting hangs adjacent to classical decorative molding, while a small tree soars to a ceiling suspended with futuristic pendants. Another is the way Romanek contrasts spaces from one to the next with a bright white room opening to a chamber cocooned in wood-paneling. Romanek told Details Matter, "My design style is eclecticism through and through." She continued, "I love it all and I appreciate it all." If you appreciate Romanek's sensibilities, read on to discover the main components of her sophisticated style.
Eclecticism
We've established that Brigette Romanek considers eclectic decor to be a mainstay of her design approach, however, let's get a more detailed picture of what that entails. She explained to Jenni Kayne that honoring the history of her home was important, saying, "Some of the most unusual things about the house are the things that I chose to embrace rather than remove or change." Within this rooted structure, Romanek has deftly layered and composed her furnishings, artwork, and decor to create something that has raw energy, soul, and even a little humor. 
Romanek described the process in a Details Matter episode. "Eclecticism to me is really having the freedom to pull pieces that you think are great regardless of their period, regardless of the era, the style." To mimic her look in your own home, focus on pieces you love without worrying about their origins. Instead, be more concerned with how they work together. To help put it in play, try following Romanek's advice to her young design self: trust your gut (via Studio McGee).
Purchasing items second-hand or from various retailers is a sure avenue to an eclectic style. It helps to avoid the furniture showroom phenomenon, where things are sold in suites or lack the patina of age. Search for inspiration (Romanek turns to books) and collect images into a digital or physical mood board as a means of focusing your intention for the space. Additionally, think twice before erasing original character during home renovations. 
A white and light background
There are a number of competing elements in the designer's home, yet it feels serene. That's partially due to her editing — there is much to see but no clutter. With abundant books, sculptures, and paintings, there's a museum mood about the house; albeit one with the plushest, chicest places to lounge. And there's nothing stuffy about it. She described her style to Artful Living as " ... a balance of eclectic, cool, and livable luxe." The living room is painted a bright white, and the untreated windows allow every ray of light to sweep in. The blank canvas and sense of airiness (the ceiling almost disappears) offer space for pops of color and unusual furnishings. Texture lends the rooms coziness: wool, netting, leather, and area carpets add interesting and comforting physicality. 
A white paint treatment strips everything bare so that individual pieces can be highlighted. It also unifies and quiets disparate components, which is the reason the decorative moldings become texture rather than an additional color in the design scheme. Additionally, white walls make it easier to decorate as every color works with them.
Gather samples before painting to determine whether the pigment has a yellow (warm) or blue (cool) undertone. Generally, warmer whites appear traditional, cooler whites lean modern. Furthermore, consider the exposure; a north-facing room can read cold when covered in cool white. Also, remember to provide a retreat from these spare spaces. Romanek's home features colorful and enveloping dark rooms too.