Home Sale Prices In Miami Are Finally Trending Down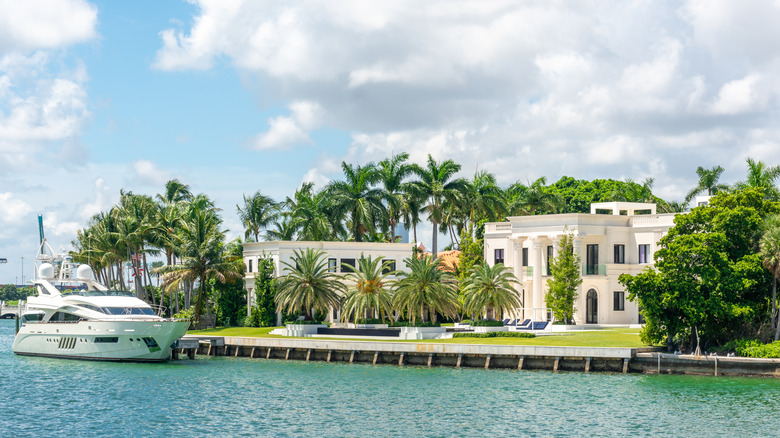 mariakray/Shutterstock
Over the past several years, the housing market has seen an unprecedented surge in demand. There were many reasons for this change, according to The Spokesman-Review. At the start of the pandemic in 2020, many homebuyers were hesitant about making a large investment such as the purchase of a new home. Fluctuations in the economy at the time made the investment seem too risky. Practically speaking, it was difficult even to visit traditional open houses with the restrictions on social distancing.
Everything began to change in 2021. As lockdown rules began to lift, the housing market took off. Homebuyers who had put off a decision to make a move in 2020 suddenly began to make up for lost time. They were joined by new homebuyers who were ready to make a change after a year of quarantine. The appeal of working from home in a more affordable location also appealed to new buyers who were ready to relocate. As the demand for houses rose, so did prices, and new listings were on the market for only a short time before they were sold for over the asking price. 
However, according to a Miami Herald interview with Ana Bozovic, founder and real estate market analyst at Analytics Miami, "Prices never go up forever." She explains, "The steady ramp up we have had through mid-2022 was neither normal nor sustainable." Here are several reasons why home sale prices in Miami are finally seeing a downward trend.
Home sales prices in Florida
The median sale price for a home in Miami was around $260,000 in January of 2018, according to recent data compiled by House Digest. That estimate almost doubled when it jumped to a high of $503,000 in May of 2022. Since that time, prices have begun to drop, with rising interest rates being one of the main causes, according to Forbes. As the cost of buying a house increases, demand for homes begins to cool off. Rising inflation has also contributed to this downward trend in demand. House Digest's data indicates that the latest median sale price for a home in Miami was $470,000. 
One key reason that home prices may be dropping is that the appeal of new construction homes is starting to decrease. A large number of homebuyers were choosing to build their new homes, and these homes are generally more expensive than existing housing. Florida Realtors indicates that this downward trend in new construction could have a big impact on the market in Florida. Construction costs may go even higher as the impact of Hurricane Ian is felt, and this impact may become even greater.