What Is Warm Minimalism And How Can You Bring It Into Your Home Design?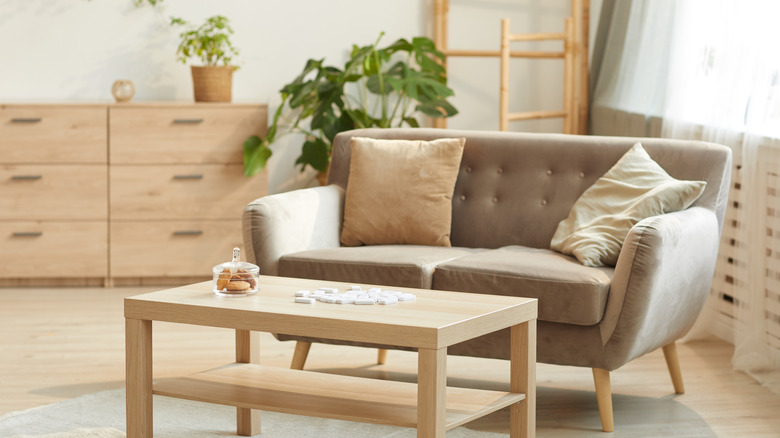 SeventyFour/Shutterstock
When you picture a minimalist room, what comes to mind? Perhaps lots of open space and white walls appear first. Maybe you picture furniture and décor pieces with clean lines in whites, blacks, and grays. Perhaps the artwork is abstract and simplistic. 
Minimalism has become increasingly popular for a number of reasons. Urban Rhythm points out that it can reduce stress, allow you to save money, and make cleaning easier — not to mention that it also looks beautiful. However, while classic minimalism can look stunning and chic, there's another trend that has been taking over the interior design world. Many are starting to lean more into warm minimalism, which replaces cooler tones with warmer neutrals and uses texture to add lots of interest.
Perhaps you want to know more about this popular design trend, or you want some advice on how to incorporate it into your home. If either of these scenarios is the case for you, you'll find the information you're searching for below.
What exactly is warm minimalism?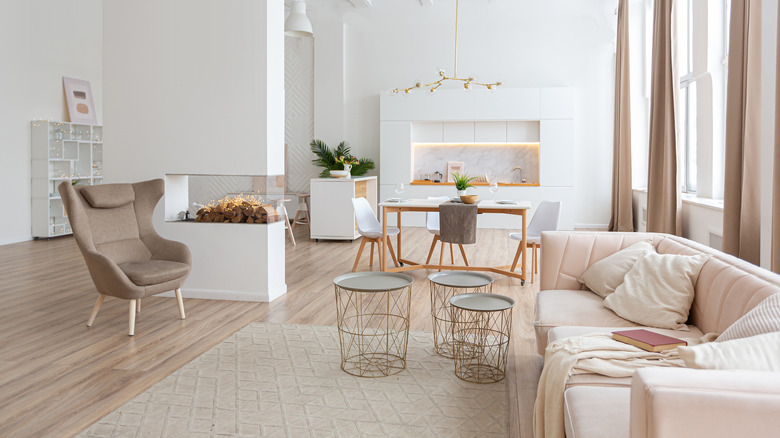 Pinkystock/Shutterstock
According to Corporate Queendom, warm minimalism, just like its classic counterpart, focuses on creating a clean and clutter-free home. However, it has some notable differences, specifically that it replaces clean lines and black and white colors with rounded edges, textured elements, and warm neutrals like tans, ivories, creams, and browns. Warm minimalism focuses on creating an inviting and soothing atmosphere that doesn't ever feel cold. If you're looking for ways to describe this style, Chloe Dominik says that it's minimalism but with a lived-in feeling. Or, you could say that it's elegant while still feeling comfortable.
Empoword Journalism adds that warm minimalism, similar to regular minimalism, focuses on choosing pieces that are functional and practical. Therefore, almost every decorative element used should have a purpose. This is how it is different from the bohemian or Scandinavian style. Warm minimalism also uses layering to create a more comfortable appearance.
How to infuse warm minimalism into your home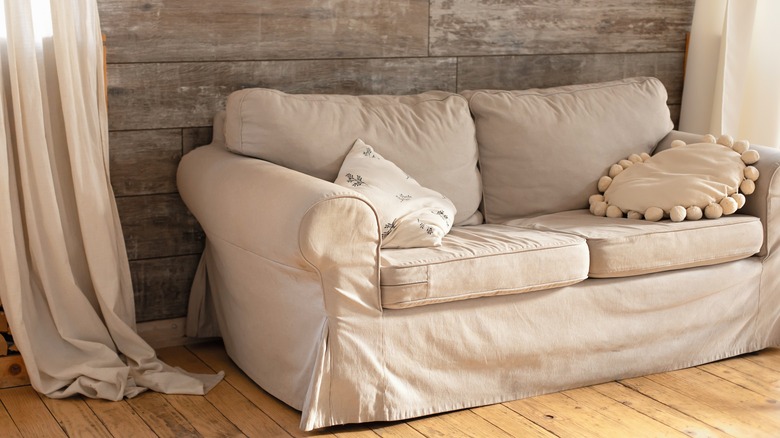 stock_studio/Shutterstock
To create a warm minimalist home, first begin by decluttering your items and tucking things you want to keep into hidden storage spaces, per Empoword Journalism. When doing this, only keep items that serve a tangible purpose in your home. This will provide you with the clean aesthetic that's essential for any minimalist space. Next, replace any stark white tones with warmer neutrals and beiges, either in your wall colors or décor and furniture pieces. Finally, add in natural elements and organic materials — plants are always a great idea, too.
Michael Helwing Interiors points out that, while you shouldn't use patterns in your space, you can still add interest and warmth through layering textures and lighting. Also, make sure to include lots of different kinds of materials like ceramics, wooden pieces, stone elements, and woven fabrics. Chloe Dominik adds that vinyl and plastic should be avoided, as they don't provide the space with a cozy and earthy feel. Further, when choosing metals for faucets or hardware, opt for warmer materials like copper or brass.