Home Depot Or Lowe's: Which Has Better Deals On Bathroom Mirrors?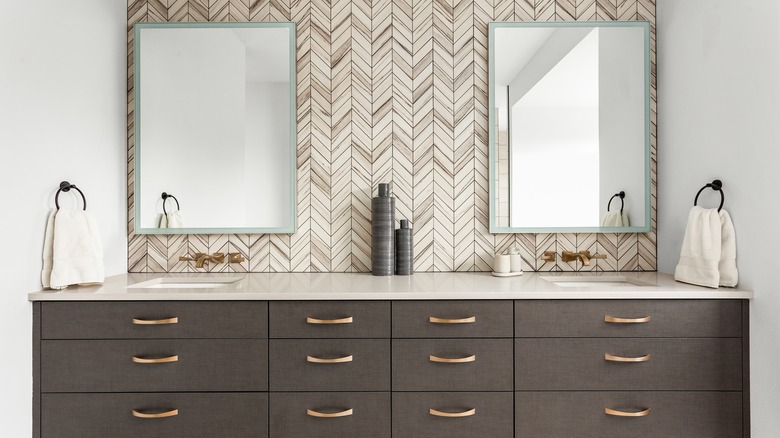 Justin_Krug/Shutterstock
A new mirror can be a luxurious asset that enhances your bathroom. However, deciding which type to purchase should be done carefully as there are several factors to consider. As Mirror Lot points out, you must first decide on your budget. Mirrors vary in price depending on several factors such as shape and size. Therefore, knowing how much you're willing to spend upfront will help you not get carried away. Next, you need to figure out the best location for the mirror. Measuring the area in which the mirror will reside will let you know how big or small a mirror to purchase. 
Once the size is squared away, you can figure out the shape you want. Take into consideration your bathroom design, layout, and size when choosing this. The most common forms are circles, squares, and rectangles, however, you can experiment with other shapes to find the one that best fits your bathroom furniture. Lastly, figure out if you want a mirror with or without a frame. Both are viable choices that give a different feel to the room. After you've decided all of this, you then need to choose where you're going to purchase your new mirror. Since Home Depot and Lowe's each have a variety of options to choose from, we've broken down which realtor has the better deal.
Home Depot's TOOLKISS mirror
The best-selling mirror that Home Depot has to offer is made by a brand called TOOLKISS. Equipped without a frame, this model comes in six sizes each with a different price tag. The smallest size available is 48 inches by 36 inches and can be bought for just less than $500 when on sale. For just under $550, you can also buy a 55-inch by 30-inch mirror or a 60-inch by 28-inch one, while the largest option available is 72 inches by 36 inches, for $727.
The LED lights on this mirror can be changed when desired as it has three different temperatures to choose from as well as a dimmer. A smart memory function is installed that adjusts your mirror to its previous setting when turned on. While being waterproof, the mirror also contains an anti-fog function that you can turn on and off with a touch-sensitive button.
Based on 15 reviews, this product received a 4.9 out of 5-star rating and has a recommendation rate of 100%. One purchaser stated that the mirror elevates the look of their bathroom and the brightness and colors make it desirable. However, they do warn that you may need an additional source of lighting, as it doesn't illuminate the whole bathroom.
Lowe's allen + roth mirror
Over at Lowe's, their best-selling mirror is made by allen + roth. With only one size available, this model sits at 30 inches in width and 30 inches in height. This is perfect for standard bathrooms as Modo Bath says the average bathroom mirror is 36 inches. Costing just less than $100, the mirror contains a brushed, nickel-finished frame. Fortunately, all the hardware you need is included in the package and it comes with a 1-year limited warranty.
This mirror received a score of 4.4 from 80 reviews and a 79% recommendation rate. One consumer stated that they would recommend this model as it is simple, pretty, and perfect for their small bathroom. Another said they would also recommend it as it is a good quality mirror with a good frame, and went on to say that it feels nice and sturdy and it was exactly as described. A third stated this is an affordable mirror that doesn't look cheap.
Based on this information, we have to say the better deal is at Home Depot. While it does cost a significant amount more than Lowe's brand, you will be getting more bang for your buck as it has more features. In addition, the former model also has a slightly better rating than the latter.