HGTV Designer Kim Myles Shares Her Savvy Tip For Installing Heated Flooring
Installing heated flooring within your home comes with many benefits. According to InterCounty Supply, one of the main advantages of this type of flooring is how energy efficient it is. This is because the system requires lower temperatures to produce heat. In addition, there aren't any bulky heaters or furnaces in the way that other units come with as this system is designed to be hidden out of sight — thus also saving space. No ductwork is required under your house, which may allow for a quieter experience.
As Home Bunch points out, there are a lot of therapeutic benefits that come with this heated flooring as well. Of course, the main advantage is the soothing environment it provides. Not only are your feet comfortable and warm, but the even heat distribution allows your home to maintain the same level at all times. Heated floors can also improve air quality. Since vents are no longer needed, air doesn't blow dust, dirt, and other unhealthy elements into your home. This also results in the air not being dry like it can be with other heating and cooling systems. 
However, with all this being said, installing heated flooring should be done with extreme caution to not damage the foundation and other elements of your home. Fortunately, HGTV designer Kim Myles has a savvy tip to share for installing this flooring.
Kim Myles' helpful advice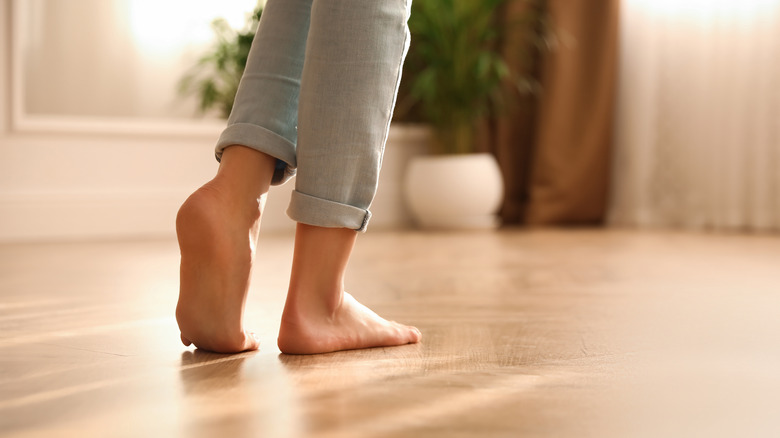 New Africa/Shutterstock
As per Essence, Kim Myles states, "The key here is to call in a proper contractor to access your floor situation, troubleshoot, and give you an estimate. Once you have the right information, you can make an educated decision." Installing heated flooring is not a simple DIY project that you should indulge in, as there are a lot of steps in place. While finding a contractor may be lengthy, it is crucial to ensure you are getting the highest quality of work. However, there are certain requirements you should look for in a contractor as well.
Travelers suggest finding a local contractor as they are likely familiar with the codes and regulations in your area. Once you've decided which ones you're interested in, check their past projects to see if they've done this type of work. If so, look closely at how they've installed it and if the customer was happy. It's also crucial to make sure they're properly insured and bonded any case accidents occur. Once you've hired a contractor, get all the details in writing and document the entire process along the way. This will provide proof if any arguments or disagreements arise or if there are issues with the flooring after the installation is complete.
Overall, consulting a contractor can save you a lot of time and frustration when installing heated flooring. If you find the right one, it is said to be an added benefit that is worth investing in.