The Headboard Hack That Will Brighten A Dark Basement Bedroom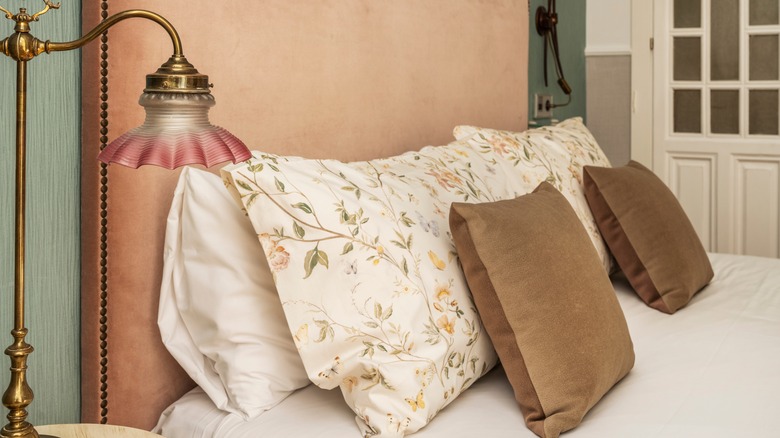 Toyakisphoto/Shutterstock
If you live in a home with minimal rooms, perhaps you've converted the basement into an extra bedroom. Or, maybe, you or one of your family members have claimed this space as their own. While the basement can be a great place to add an additional bedroom, there are also some cons to living under the main floor of your home. As Model Remodel points out, basements typically have limited windows and doors, which means they have very little natural light. Not only that, but they can also sometimes feel cold.
Maybe you want to brighten up and add a cozy feel to your basement bedroom. If so, you may want to focus on how you can transform your headboard. This is because, as Crafts On Fire says, the headboard is typically the main focal point in any bedroom. Below, you'll discover what you can do to your headboard that could help add a lighter and more airy feeling to your space.
How to brighten your basement bedroom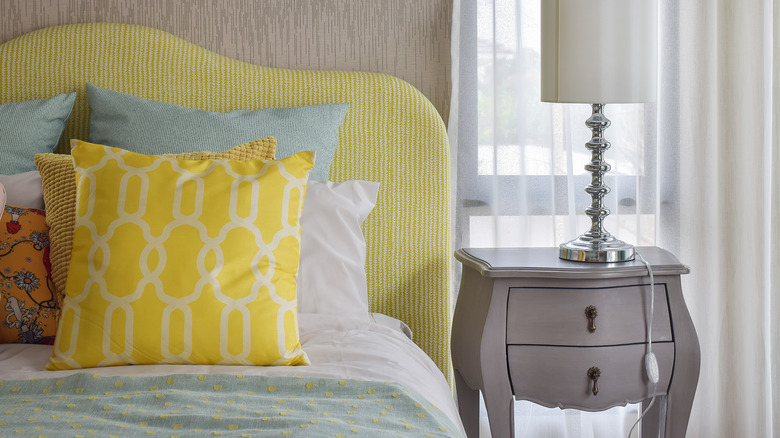 WorldWide/Shutterstock
The best way to brighten a dark basement bedroom is by upholstering your headboard with a light-colored fabric. Bridge Beds says fabric headboards add comfort and softness to cold or dark bedrooms. Additionally, they give spaces a very personal element. And they could be reupholstered for less money than a new headboard, which could save you some cash.
As Home Decor Bliss explains, while dark tones can give a room a more formal feeling, lighter shades will expand small spaces and make them feel more casual. Therefore, having a dark headboard in the basement may cause your room to feel too sophisticated. To add joy, you could reupholster the furniture piece with a fun fabric pattern. Crafts On Fire suggests focusing on the mood you want to create and the room's overall color scheme when choosing the specific color. Those who want to create an optimistic mood could choose pastel, light neutral, or warm tones. If you harness the warmth of natural lighting, you could select a yellow fabric.
How to upholster your headboard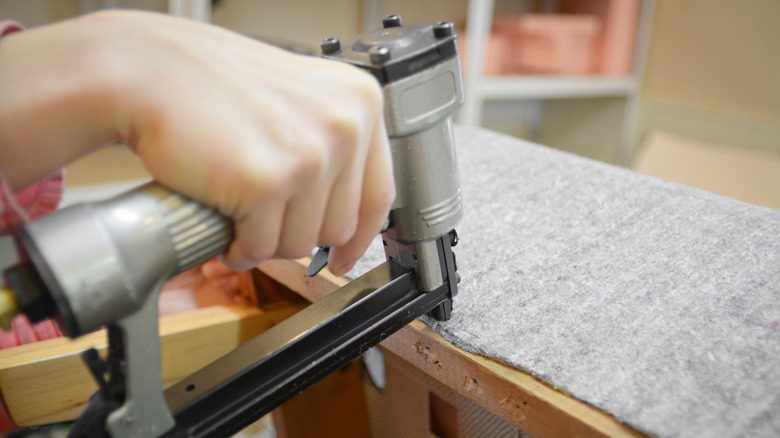 Chodimeafotime/Shutterstock
If you're thinking about completing this DIY, you're in luck, as it's pretty simple and easy to do. To start, you'll need to collect your materials. These include a headboard, your fabric, batting (the material inside of quilts), muslin (a cotton fabric), a staple gun, and scissors. HGTV says to lay the headboard down on the batting and cut around it; don't worry about the legs. Then, lay down another piece of batting and place the first layer of batting and the headboard on top. Cut another piece of batting out, but this time, leave 6 inches around the exterior of the headboard. Then tightly staple this piece to the headboard with the staple gun. Next, lay a piece of muslin down and lay the headboard on top, with the batting facing towards the muslin. Cut out a piece of muslin and leave 6 inches around the edge, then staple this to the headboard. Finally, repeat the same steps with the fabric.
If you want to add buttons to your upholstered headboard, Craftberry Bush says to drill holes before attaching anything. Then, once you've stapled everything on, you can thread your buttons through the holes and tie them to the back.