The 15 Best Bathroom Vanities You Can Install In 2022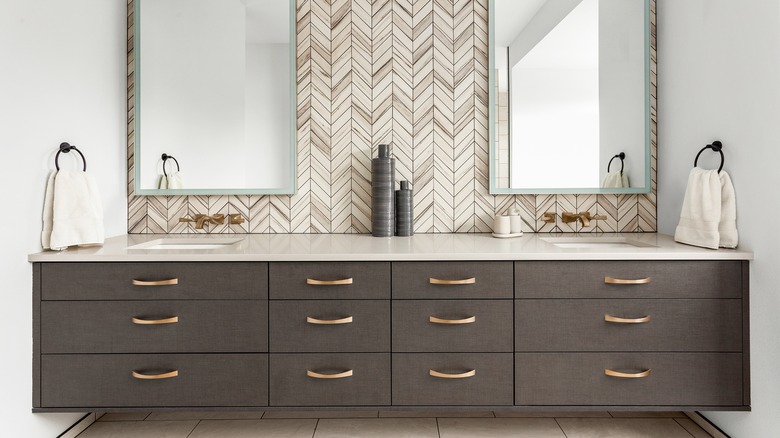 Justin_Krug/Shutterstock
If you're redoing your bathroom, then picking the perfect vanity for your space is an important decision you'll need to make. According to Kitchen & Baths Unlimited, a bathroom vanity consists of a cabinet that's been fixed to the wall and hides the plumbing beneath the sink. Concealed behind cupboard doors, there are also typically a few hidden storage shelves for toiletries, towels, and any other bathroom essentials. But there is also a range of more unique — as well as more space-saving — solutions that are well worth considering.
Essentially, while a large guest bathroom might be able to accommodate a dreamy double vanity, a small en suite will be better suited with a corner unit or a space-saving pedestal sink. Similarly, if you're after something a little more unique than your classic cabinet, then there are also lots of sleek and slimline floating solutions that look great in more modern homes, as well as vintage-style freestanding dressers with elegant vessel sinks that'll provide the perfect finishing touch to any heritage home.
1. Cute corner vanity
You can't go wrong with a corner vanity for a downstairs loo that's pretty limited in space. This one feels super rustic with its wood finish and large countertop basin.
2. Modern freestanding vanity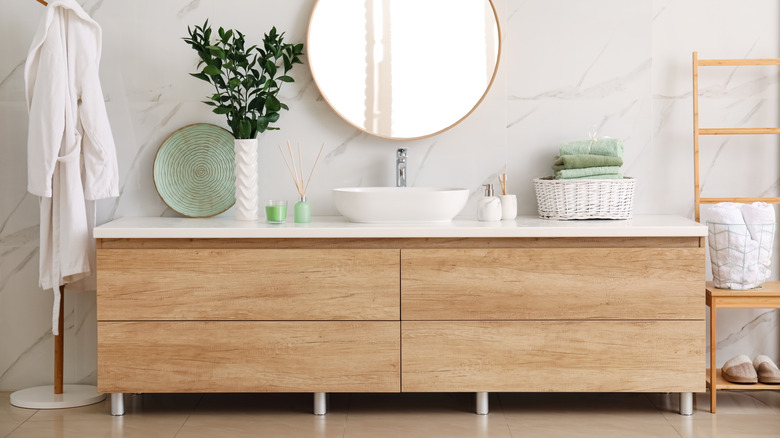 New Africa/Shutterstock
Rather than being fixed to the wall, this vanity stands on stainless steel legs and has deep storage drawers that are well concealed due to their lack of handles.
3. Antique-looking cabinet vanity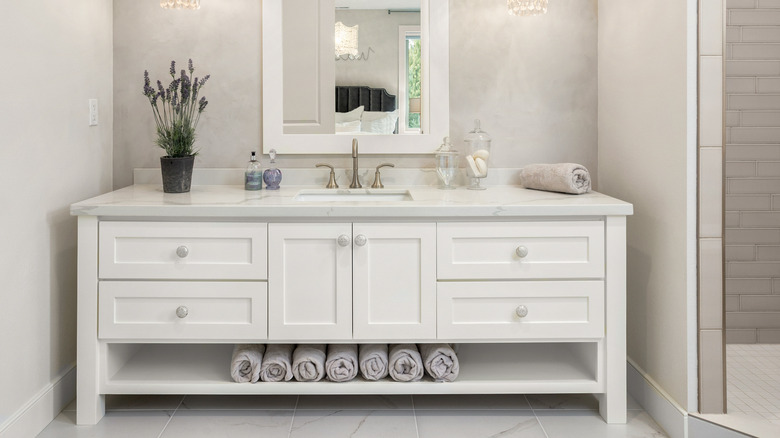 Justin_Krug/Shutterstock
This is another great example of a large freestanding vanity unit with a single sink — but its classic style and the luxurious marble countertop make it better suited to more traditional décor styles.
4. Sleek and modern floating double vanity
For a large bathroom that's shared between two people, you can't go wrong with double vanity. With its floating style, angular vessel sinks, and sleek wood finish, this one feels really contemporary and industrial.
5. Classic pedestal sink unit
Hendrickson Photography/Shutterstock
A slightly more modern take on the classic pedestal sink, this statement option boasts a larger and more rectangular basin shape that feels a little more luxurious than more traditional variations. Plus, it's the perfect fit for a smaller bathroom.
6. Cabinet vanity with rectangular vessel sinks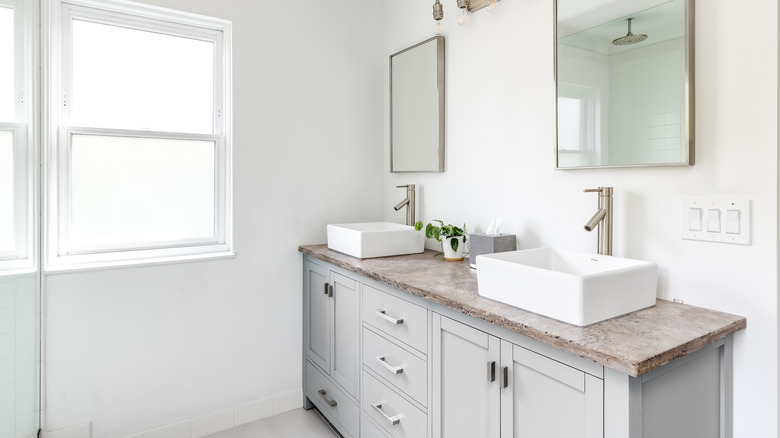 Hendrickson Photography/Shutterstock
To give a freestanding cabinet vanity a more luxurious feel, consider pairing a granite countertop with smart, rectangular vessel sinks.
7. Chic floating recessed sink
When wall space is truly limited, this is a great solution. This recessed sink has been encased in a rustic stone countertop that's just about big enough to disguise any plumbing.
8. Unique small freestanding vanity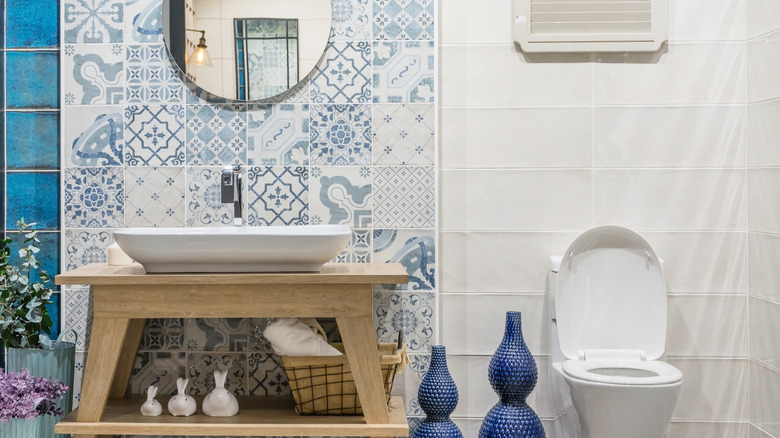 NavinTar/Shutterstock
This unique freestanding vanity looks like it could have been a wooden console table that's been repurposed — which feels very fitting for the coastal style of this bathroom.
9. Floating vanity with drawer storage
Floating vanities are gorgeous, but they can often really lack storage space. So, we really like how this one still makes the perfect contemporary statement but doesn't force you to compromise on storage.
10. Contemporary twin concrete sinks
If you've got plenty of other space to put your toiletries, and want to take a really modern and minimalistic approach in your home, then consider a super slimline floating vanity. With its raw concrete composition and hidden sinks, this one gives off such an earthy vibe.
11. Colorful floating vanity
There's no reason why you can't bring a bit of color into your bathroom! This floating vanity has mint green doors that pair perfectly with the floral wallpaper.
12. A rustic floating wooden vanity
Another great solution if you're lacking in space, this floating vanity is just the kind of handcrafted piece you'd expect to see in a home that's artisanal in style. 
13. Large corner vanity with under-mount sinks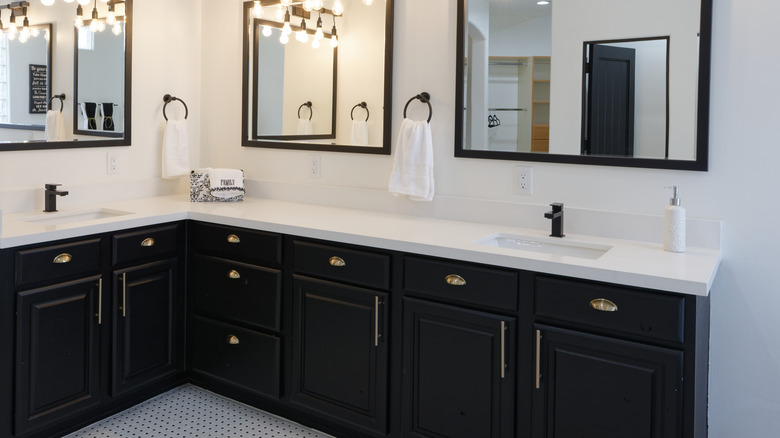 Gill Couto/Shutterstock
Rather than picking a double vanity where the sinks are side-by-side, why not go for a luxurious L-shaped option? With its sleek under-mount sinks and gorgeous cabinetry, this one feels super stylish and elegant!
14. Fitted storage with countertop basins
We love how this fully fitted solution merges the towel cupboard with the vanity unit for a really cohesive finish. With its marble countertop and gorgeous round basin sinks, this feels super luxe.
15. Floating double sink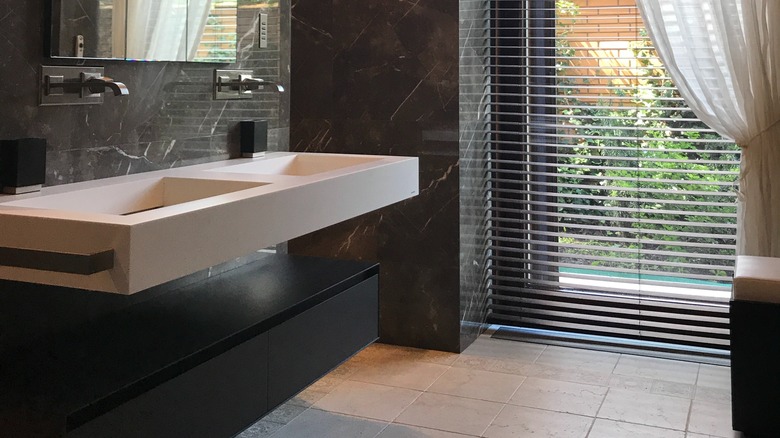 Sheila Say/Shutterstock
Let this angular option inspire you if you're just after floating vanities rather than any form of storage. Boasting two recessed sinks, it's the ideal shared solution for a small en suite.