Home Depot Or Lowe's: Which Has Better Deals On Power Tools?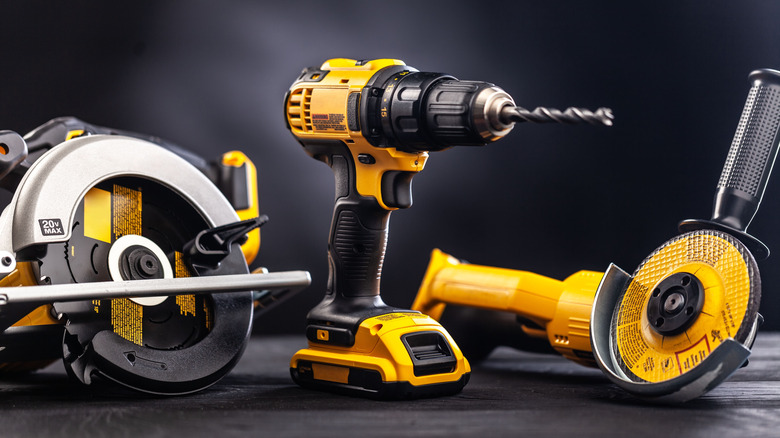 Billion Photos/Shutterstock
Home Depot and Lowe's, two of the most popular home improvement retail powerhouses, both offer a wide array of products for every do-it-yourself renovation project. From paint to lumber to outdoor furniture and decor, both of these retail giants tend to be among the first locations people visit when beginning any home improvement undertaking at home. 
Understandably so, both Lowe's and Home Depot are equally popular destinations for those looking to invest in a new set of power tools. This got us wondering, which one has the better deals?
With each store offering tools manufactured by various brands for all sorts of purposes around the home, knowing where to shop can be tricky. Tracking the sales schedules of each store and analyzing reviews of power tool selections offered can help determine which location gives you more bang for your buck, especially when you're looking to invest in some new, quality tools for your workshop. We've done the grunt work so you don't have to. Here's what we found out.
Analyzing yearly sales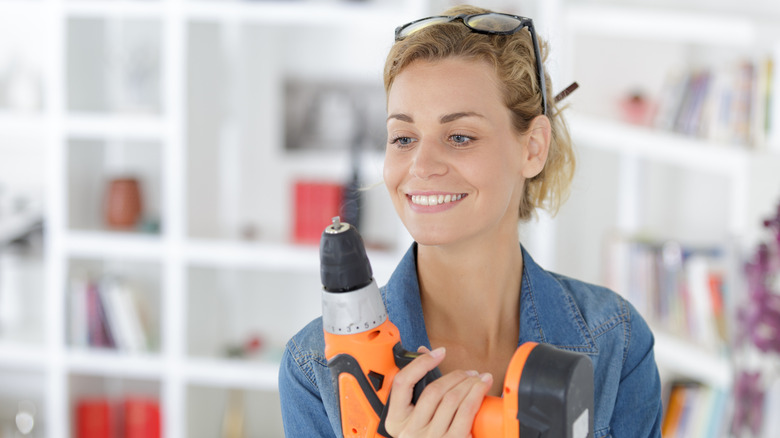 ALPA PROD/Shutterstock
Clark Howard analyzed how both Home Depot and Lowe's have performed in their frequency and quality of sales on power tools since 2016 and compared them to nearly 20 other retail destinations. While both stores earned the number one and two spots for their deals on power tools, they found Home Depot fared slightly better than Lowe's with 200 notable deals to have been offered versus 141, respectively. So while shoppers can score savings at both stores, if you want to have a better chance at a deal on any given day, Home Depot might be the better destination.
However, knowing when to shop can make the biggest difference in your overall savings, and, ultimately, where you choose to buy your new set of power tools. The Krazy Koupon Lady notes that Lowe's annual Father's Day sale typically offers one of the best deals to be found on power tools, with customers receiving as much as 50% off. If your home improvement project can wait until Father's Day, it'll be worth it to make Lowe's your first stop. Otherwise, you're likely better off keeping an eye on upcoming sales at Home Depot since they happen more frequently. Additionally, signing up for emails and coupons from both retailers will improve your chances of scoring great deals all year long.
Comparing brands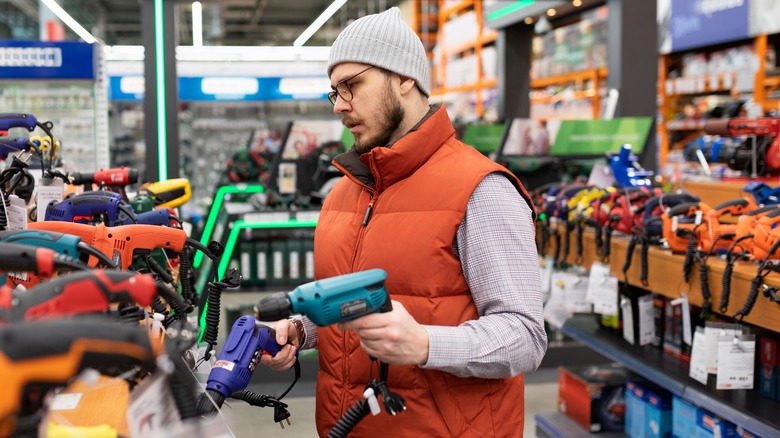 Jasen Wright/Shutterstock
According to Popular Mechanics, buying a new set of power tools that are sold as a combo pack is usually the more cost effective option, as you can save up to 30% off of the price you would pay when buying the same tools individually. This is a particularly good idea if you anticipate your home improvement project to be a large undertaking requiring the use of multiple tools.
The ongoing analysis by Clark Howard found that DeWalt tends to be the highest rated brand across the board, and also offers the greatest number of brand-specific deals when compared to 13 other popular brands. While both stores offer a large selection of DeWalt power tool sets, Home Depot has a larger selection within the brand than Lowe's. Additionally, you can shop other popular and highly-rated brands at either store, with Home Depot selling brands like Milwaukee, which Durability Matters ranks as the best brand for professional use.
Though Lowe's doesn't sell Milwaukee brand power tools, they do offer a wider array of other brands to choose from; these include Craftsman and Bosch. While all brands are highly-rated and offer many combo power tool sets, knowing which brand you want to go with can play a big role in determining which retailer you should visit.