Home Depot Or Lowe's: Which Has Better Deals On Wheelchair Ramps?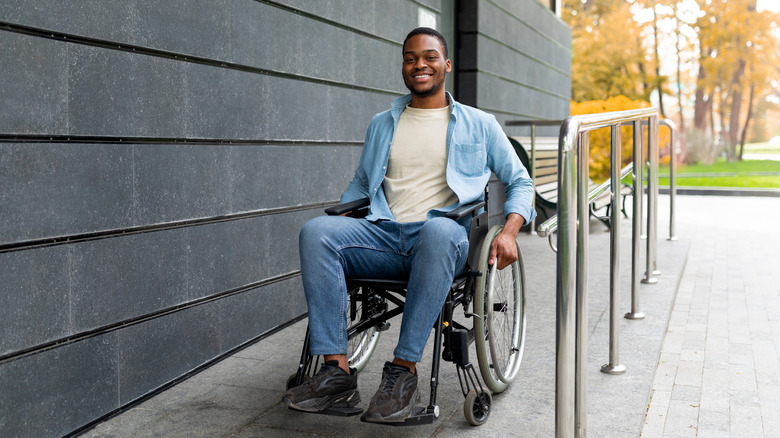 Prostock-studio/Shutterstock
When you need to add a wheelchair ramp to your home, it is vital to get the best quality you can afford that also meets your specs. According to National Ramp, the ADA guidelines for the right pitch of a ramp should be 1:12, which means that the rise should only be 1 inch per 12 inches of length. BraunAbility states if your space is very limited you can use a 3:12 ratio, but it is not ideal for motorized wheelchairs, so a 2:12 ratio is a better option if space allows.
Other safety features available to reduce the risk of injury on wheelchair ramps include non-slip surfaces like aluminum treads, grit-coat, or ridges, as noted by Discount Ramps. Railings or side curbs also help reduce the possibility of anyone falling off the side of the ramp. Additionally, it is important to check the weight capacity of the ramp you select; choose an option that is strong enough to withstand the weight of the user, chair, and anyone assisting.
Bearing all of these factors in mind, two of the most common places you can purchase a premade wheelchair ramp are Lowe's and Home Depot. But which of these stores has the better deal for those seeking to make their home more accessible without renovating?
The best option at Lowe's
The EZ-ACCESS PATHWAY 3G Aluminum Entryway Wheelchair Ramp at Lowe's is $1,619.00 for the 10-foot long option, but other lengths from 4 to 18 feet are available to meet your specific needs. Since it is made from aluminum, it is designed to withstand the elements without rusting. Pathway also claims this product can be customized with picketed handrails for a different aesthetic option. The EZ-ACCESS PATHWAY 3G is made in the U.S., which helps support American workers, according to DegreeCouncil.
With a 4-star average rating, reviewers are overall happy with the product. Some mentioned the ease of DIY installation as they were able to put it together in around two or three hours, in spite of the fact that several people mentioned that the instructions were confusing. Others reported mis-drilled holes. Overall, most reviewers praised the sturdiness of this wheelchair ramp and how happy they were with the item after it was put in.
Home Depot has a similar ramp
A comparable product that can increase the accessibility of your home at Home Depot is the 10-foot EZ-ACCESS GATEWAY 3G Aluminum Solid Surface Wheelchair Ramp, which sells for $1,439.99. Also made entirely of aluminum (which won't rust, according to the Industrial Metal Supply Company), this product is almost identical to the Lowe's wheelchair ramp. Both items include slip-resistant surfaces for safety in any weather.
Home Depot claims this product can be assembled and ready to use in just a few minutes, and with an average rating of over 4 stars, many reviewers seem to agree. But while the vast majority of people were happy with the ramp, stating it was sturdy and they felt safe using it, there were some exceptions. For example, one customer said that although the product is approved to withstand up to 1,000 pounds, they felt it strain under 300 pounds. Another mentioned the welds were weak. In spite of those criticisms, however, most people were very happy with their purchase. And since this product is very similar to the Lowe's option for almost $200 less, it seems Home Depot has the best deal on wheelchair ramps for your home.