Should You Put Furniture In Front Of Your Windows?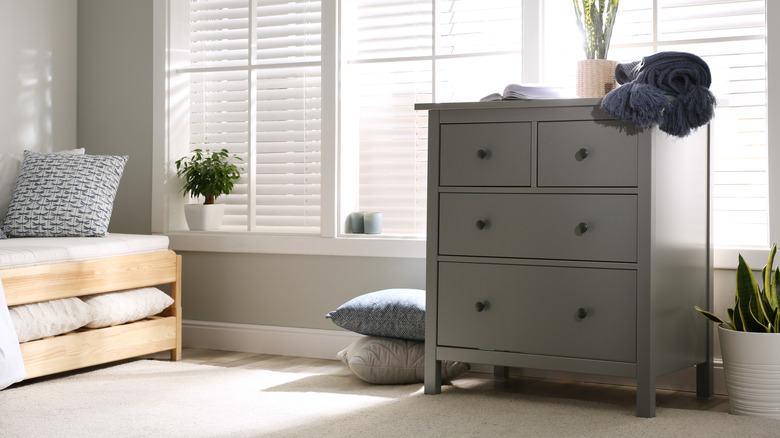 New Africa/Shutterstock
Whether you're moving into a new home or want to give your space a fresh look, you might find yourself picking out furniture and trying to find a place for it. While that sounds relatively easy, it might be trickier than expected. To end up with a stylish and satisfying design in your rooms, you need to factor in a few things, according to Invaluable's In Good Taste blog. Along with figuring out what items to create the primary visual interest in the room, you'll also need to figure out how you intend to use the space and the kind of look you'd like to achieve.
While doing that, be sure not to forget how the size of your rooms and the lighting might affect your furniture placement choices. At the same time, you will also want to consider what kinds of windows you're dealing with — such as their particular size, design, and location — and how that might affect where you place items in the room. For instance, you might wonder if you can put furniture in front of your windows or if that is a décor-related faux pas that you should avoid at all costs.
Furniture in front of your windows is iffy but doable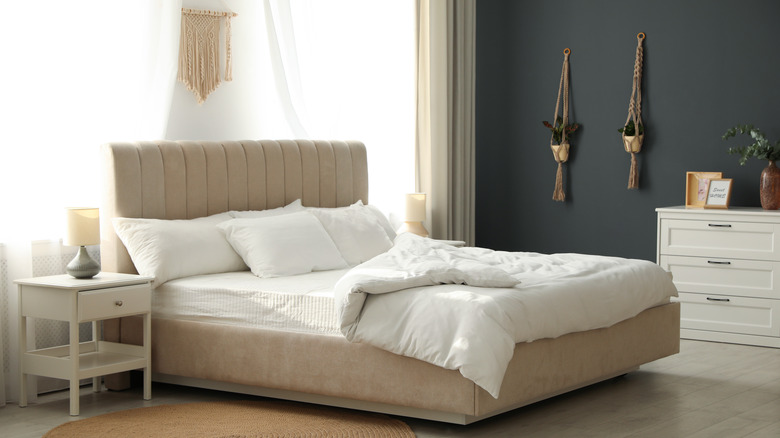 New Africa/Shutterstock
Whether you think putting furniture in front of your windows will look fabulous or don't have any other choice due to limited space, you should know that it's an iffy decision. Emily Henderson admits that it's not always a good idea to place furniture in front of a window, but they point out that you can make it happen with a few design tactics. One of which is to allow light to stream through the windows when you place furniture in front of them.
Matthew Anderson, West Elm's VP of visual merchandising, also expresses concern about blocking natural light; however, he offered a solution, telling MyDomaine, "Leave space between the window and the sofa if the footprint absolutely requires it be in front of the window. Using a small console behind the sofa with table lamps can help define the space and keep it from not blending into the window." While that's one solution, there's another option if you want to consider feng shui.
How furniture in front of windows can work with feng shui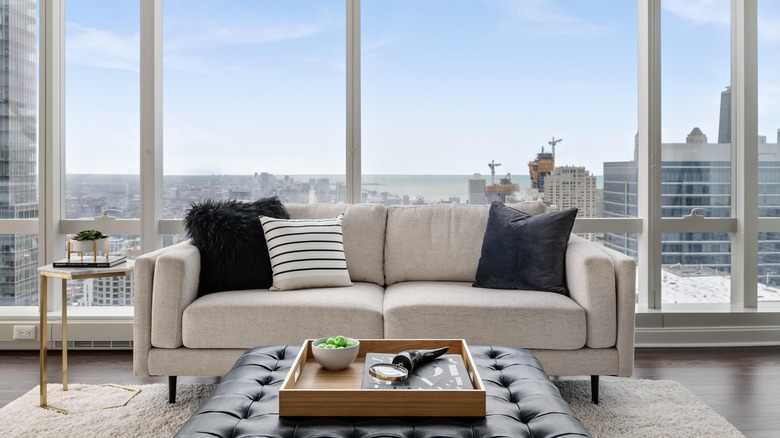 Fio Creative/Shutterstock
If you like to make sure that you're home is all well and good when it comes to the guidelines and rules of feng shui, then you should be concerned about placing furniture in front of your window. This is not a good idea feng shui-wise, according to Love to Know. Since windows are a passageway for chi energy, it's important not to keep them blocked — doing so can disrupt or stop the flow of this energy. Furthermore, if you place a couch in front of your window, anyone using that seat could be hit and affected by the energy swirling around them.
Although putting furniture in front of your window isn't a great option when it comes to feng shui, there is something that you can do to make it work if you have no other choice. Love to Know notes that you need to keep a second sofa in the same space. If possible, use a larger couch somewhere else in the room while maintaining a tinier one in front of the window. This should allow you to use your windows and furniture as needed while keeping the energy in the area flowing nicely.