The Price Of Outdoor And Garden Equipment Has Gone Up Drastically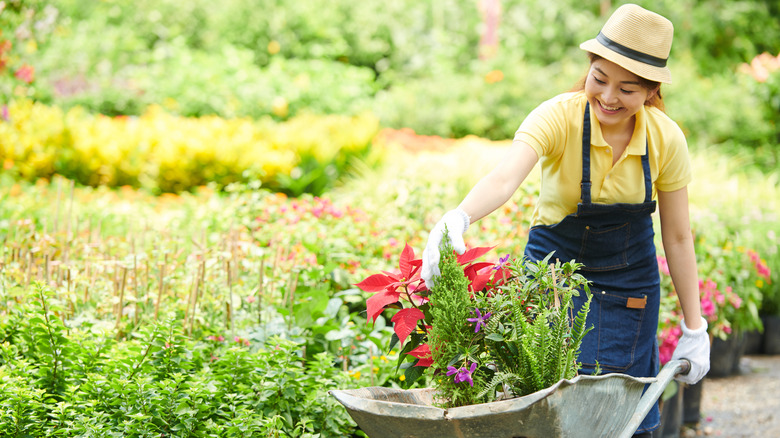 Dragon Images/Shutterstock
You may have noticed that the last time you visited your go-to home improvement store to pick up a new lawnmower, leaf blower, or other lawn and garden care tools, the prices have been a little heftier than usual. Well, there are a few reasons to explain why you will need to increase your gardening equipment budget over the coming years. Influenced by the stay-at-home orders during the COVID-19 pandemic, there was a major uptick in people wanting to work on their outdoor spaces. The market spike was largely due to an influx of people who were beginners to gardening and lawn care now having the available time to indulge in their green thumb explorations as well as seasoned gardeners purchasing products to help with their projects, according to the American Society for Horticultural Science.
But with an increase in consumer demand for outdoor and garden equipment comes the inevitable rise in costs for these items. Especially for products that are having trouble keeping up with supply when there is a huge demand for them, you might find that there is a higher-than-normal cost for these specific commodities. Now, let's take a look at how much the cost of this type of equipment has climbed and what it means for you over the next few years.
Here's how much the prices have changed on outdoor and garden equipment
A newfound interest in gardening and more time available to spend on outdoor spaces weren't the only factors that affected the sudden increase in consumer spending with regard to lawn and garden equipment. Another reason for the increase in shopping could correlate with the rising food and gas prices as well. Because of rising costs in these areas, more and more people are looking toward battery-powered lawn and garden equipment as opposed to gas-guzzling options, according to GlobeNewswire. Also, rising food expenses are enticing folks to start growing their own fruits and veggies in an attempt to lower their food budgets.
The stats above show the percentage change in the price of consumer lawn, garden, and snow equipment gathered by the U.S Bureau of Labor Statistics, it indicates just how much and how rapidly these prices have increased. Just before the COVID-19 pandemic hit in March 2020, you will notice a complete lack of increase then a subtle uptick to around 1 to 2%. As soon as the first summer lockdowns happened in 2020, they increased to 3%. However, it isn't until just after April 2021 that you can see a steady uprising in percentage as they continue to climb to upward of 14% from the original costs just a year later. In fact, Market Research Future predicts that there will be an annual growth rate in this area of just over 13% by 2026.