Home Depot Or Lowe's: Which Has Better Deals On Washing Machines?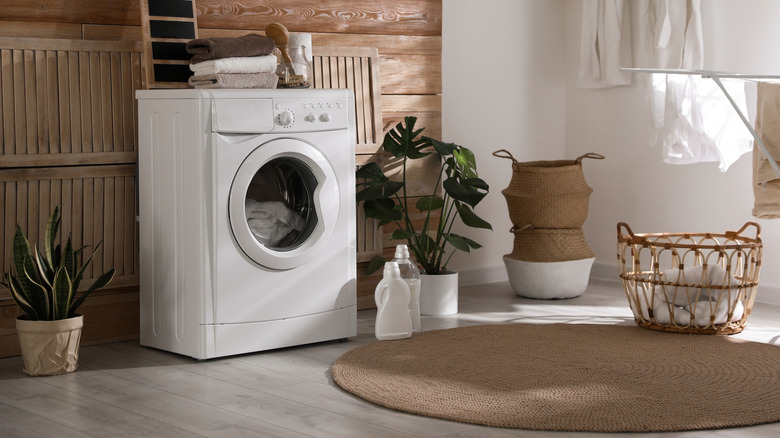 New Africa/Shutterstock
If you are planning to purchase a new washing machine, there are a lot of factors to take into consideration. According to tom's guide, one important feature to decide on is whether you want a top load or a front load. While they essentially serve the same purpose, each has its own set of benefits. Next, you should think about the size of the washing machine you need. If you live by yourself you may only require a small model, however, if you have a bigger family, then you'll need something much larger. 
After these are decided, you'll want to think about which particular settings you want. While there are many different settings and cycles, you'll need to decide if there are any special features you want. Reviewed also states that setting a budget is necessary in order to ensure you can buy a model with all of these features. Lastly, just like any appliance, you must decide where to purchase your new gadget. Of course, there are many retailers out there to choose from; however, Home Depot and Lowe's are two of the most popular choices. Let's look at one of the best-selling washing machines at each retailer to see who has the better deal.
Home Depot's Hotpoint washing machine
Available normally for $579, Home Depot's best-selling washing machine is made by Hotpoint. On sale, you can catch this model for around $498, of course, these prices may vary based on region. With a 3.8 cubic square feet capacity, this top-loading machine is equipped with an agitator. Whirlpool states that washing machines with agitators are potentially more useful than those without as they are better at removing stains. The top speed of this gadget is around 700 RPM. Its other features include 10 different wash cycles, four water levels, an end-of-cycle signal, deep rinse, and customizable load sizes, while a 1-year limited warranty is also available.
This product received a 4.4-star rating based on over 8,000 reviews. It has a recommendation rate of 86%, however, many of the reviews are mixed. One consumer stated that they enjoyed how big the machine is, as it was able to fit their queen-size comforter without a problem. While it finished washing quickly, they also stated that it was very noisy during the cycle. Another said that almost every time they washed laundry, the machine would push the items to one side of the machine, thus causing the user to stop the cycle to correct the problem. A third consumer stated that their model worked great for five months and they had no complaints. However, it then abruptly stopped working.
Lowe's Whirlpool washing machine
Over at Lowe's, one of their best-selling washing machines is made by Whirlpool. The normal pricing of this model is around $700; however, when it is on sale, you can find it for about $500. This model features a 3.5 cubic feet capacity and also houses an agitator. It is a top-loading machine that comes with many features, including automatic temperature control, status lights, an extra rinse, a quick cycle, a delicate cycle, and automatic load balancing. While this washing machine comes with the power chord and the drain hoses, the fill hose is sold separately, and a 1-year limited warranty is available at the time of purchase.
Based on over 13,000 ratings, this machine received 4.4 stars out of five. With a recommendation rate of 87%, reviews are evenly mixed. One customer stated that they love how quiet the machine is, as well as the auto-sensing feature that saves on water. However, many other reviews stated that their auto-sensing feature doesn't work at all. One consumer also complained that after three years of usage, the washing machine started to move around and caused damage to their wall, door frame, and the machine itself.
While this was a fairly close call, we'd have to say the better deal is at Home Depot. Since the reviews, ratings, and pricing were all similar, our decision is based on the extra features their model provides compared to Lowe's.