15 Stylish Futons That Are Perfect For Your Dorm Room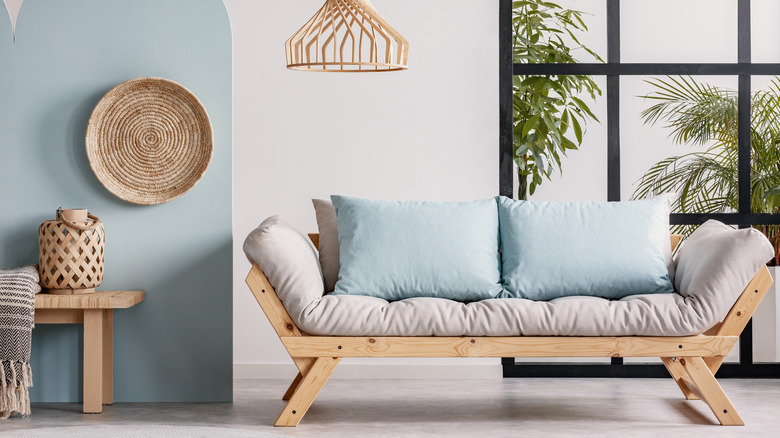 Ground Picture/Shutterstock
When living in a cramped dorm room, it can be difficult to find space-saving furniture that's also comfortable. A couch would most likely be too large or heavy to carry up to your room, and an armchair may be too small, as it wouldn't provide your friends a place to sit when they come over. 
If so, a futon could be the perfect solution. According to Designing Idea, this mix between a couch and a bed originated in Japan. However, the futon became popular in the United States during the '70s for a number of reasons, including that it's portable, small, and costs less than a normal couch (typically $300 to $1,000). More recently, most futons have also become much more comfortable.
Futons come in a number of models, styles, sizes, and colors, so you have a good chance of finding the ideal one for your dorm room. Below are 15 options you could choose from.
1. Common design
Most college futons have metal legs but don't have a visible frame or armrests. Because these models are small and light, they're easy to transport. 
2. Wooden frame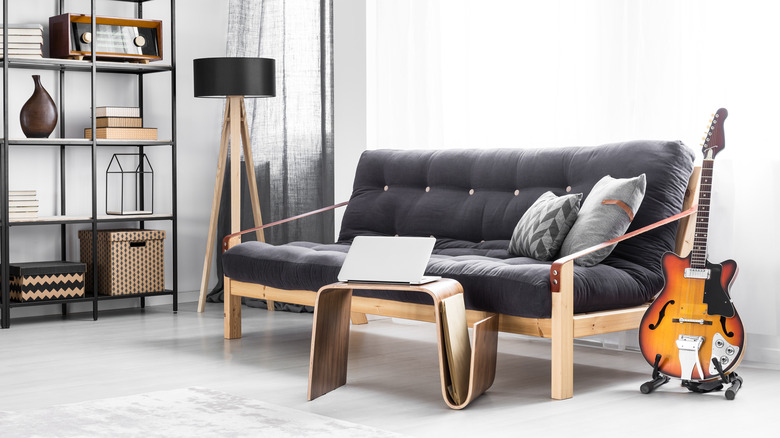 Ground Picture/Shutterstock
A futon with a simple wooden frame would bring a natural feel and a chic look to your dorm room.
3. Angled sides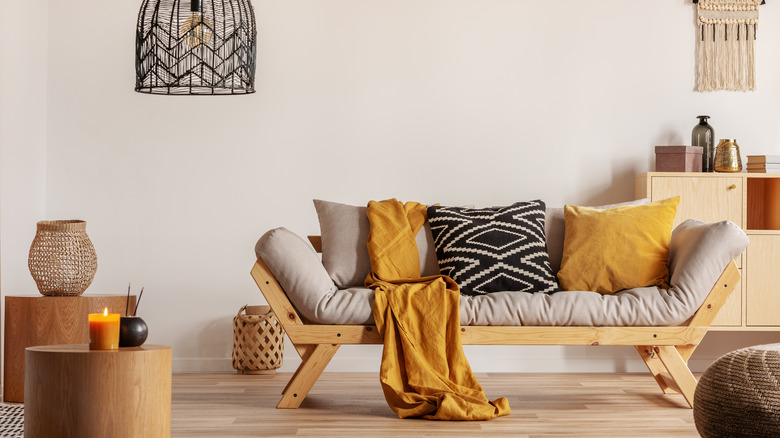 Ground Picture/Shutterstock
Futons with angled sides fold out into a skinny design. This may be best for those who don't actually want to sleep on the futon, but just want some extra space during movie nights. 
4. Comfortable armrests
To ensure you and your friends are comfortable in your dorm room, purchase a futon with armrests. Some models also have lowering armrests that can become a great place to rest your head. 
5. Velvet gray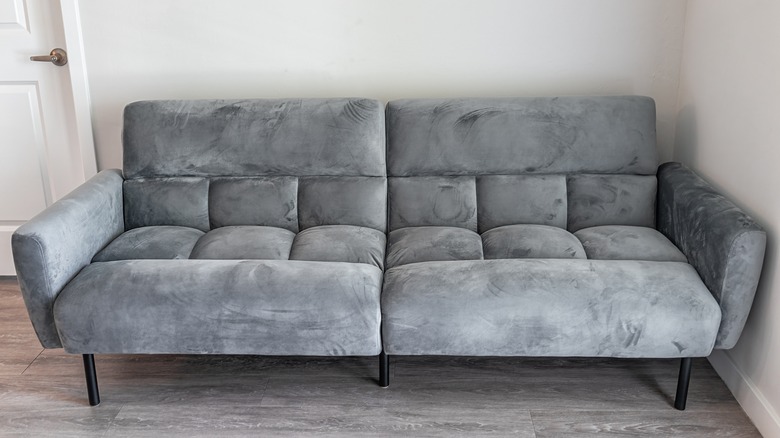 Kristi Blokhin/Shutterstock
A velvet futon could make your dorm room feel more luxurious. However, keep in mind that velvet can be difficult to clean. 
6. Leather material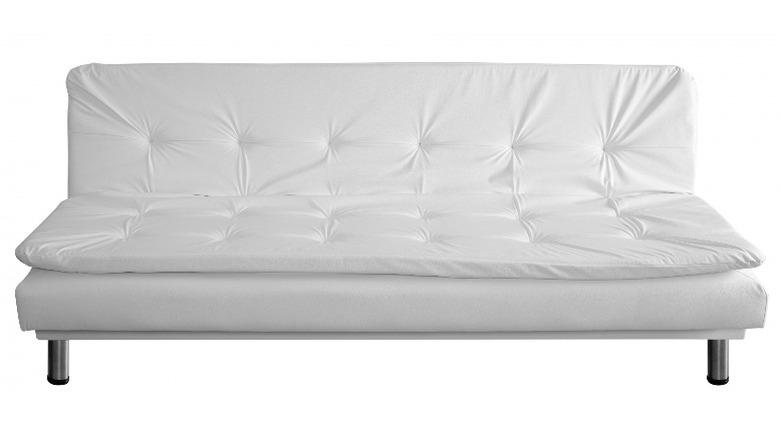 Luisa Leal Photography/Shutterstock
Futons made out of a faux leather material may be the best option, as they're typically durable and easy to clean. 
7. Folded mattress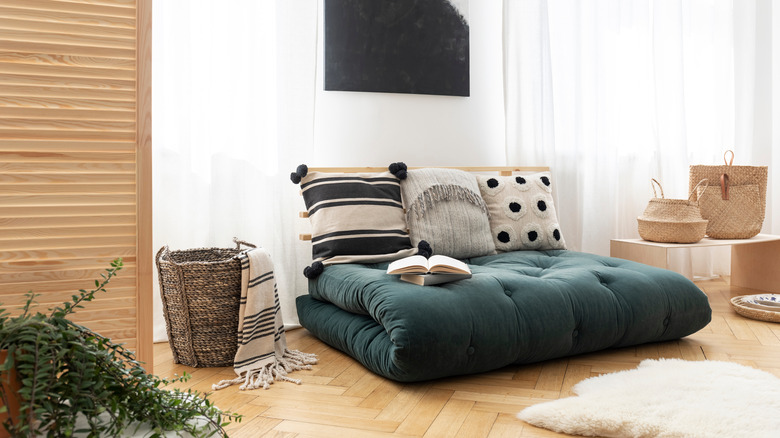 Ground Picture/Shutterstock
If you have limited space in your dorm room, you could get a small futon cushion that folds up. This could easily be stored under your bed when not in use. 
8. Back support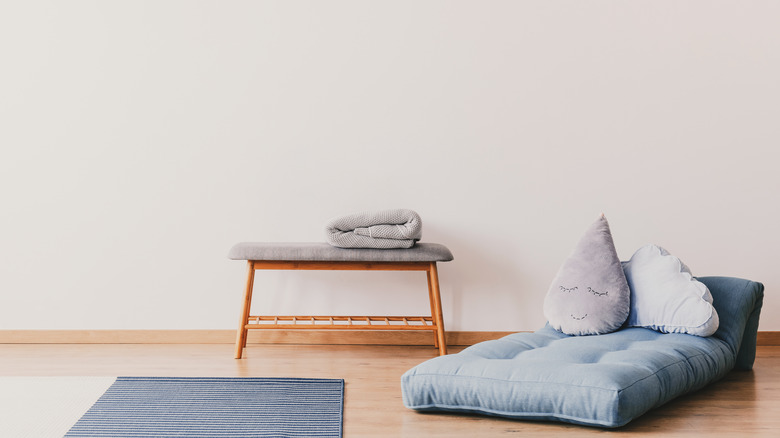 Ground Picture/Shutterstock
Here's another example of a futon floor cushion, except this one has back support. It's also smaller, which may benefit those with really limited space. 
9. Bold color
If you want to make a bold statement with your futon, you could choose one in a vibrant color — just make sure to run it by your roommate first.
10. Contrasting tones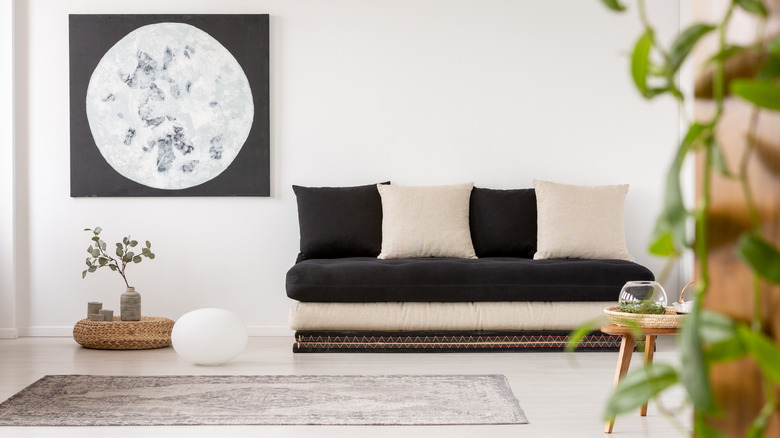 Ground Picture/Shutterstock
This futon has two cushions in black and off-white. Not only do they provide extra comfort, they also create a contrasting appearance that catches the eye. 
11. Plush look
In addition to looking very plush and full, this futon is also quite skinny, which could appeal to those with a small dorm room. 
12. Classic appearance
Futons made out of brown leather provide a classic look that would make your side of the dorm room feel more cozy. 
13. Pull out design
If you have friends stay over often in your dorm room, you could choose a couch with a simple pull-out design, which would give your guests lots of space to sleep.
14. Wooden backing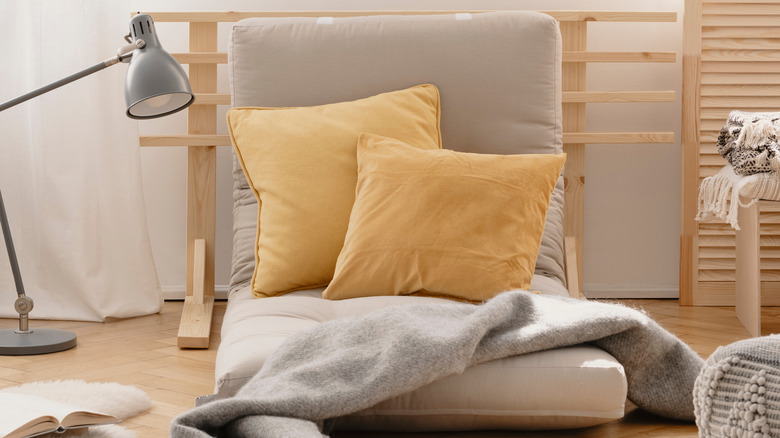 Ground Picture/Shutterstock
This simple cushion and wooden backing model would be a great space saving solution, as you could store both the pieces when not in use. 
15. Storage space
If you tend to lose the TV remote or other small items often, you could get a futon for your dorm room with side pockets.