How Much Does An Outdoor Kitchen Add To A Home's Value?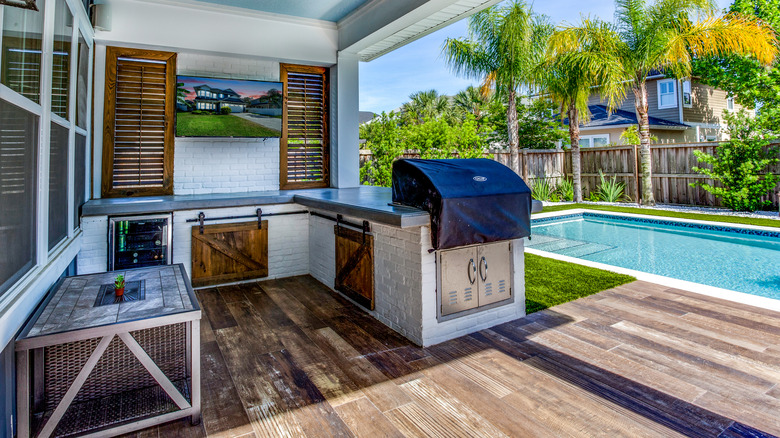 Pipas Imagery/Shutterstock
If you've ever looked into upgrading your backyard, perhaps you've come across outdoor kitchens. This design feature has recently grown in popularity, especially in places with warm weather, per BBQGuys. According to Forbes, the recent interest could be because of COVID-19, which made many want to add some personal touches to their home. 
An outdoor kitchen could be a great place to entertain guests. Additionally, it could drastically improve your quality of life and lower your energy costs in the summer, since your hot indoor stove would be used less. And, if you hate the way food smells linger inside your house, you wouldn't have to deal with this dilemma anymore, either.
Further, this feature would also add value to your home. Below, you'll discover how much an outdoor kitchen could increase your home's value. You'll also get some tips on deciding whether or not this luxurious feature is right for you.
The increase in value revealed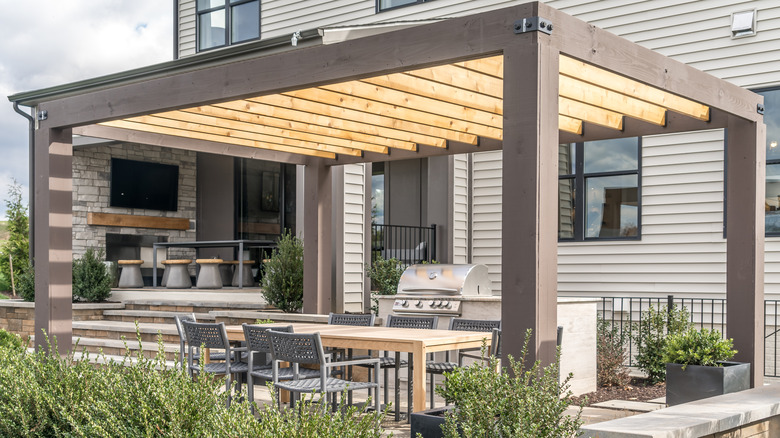 tokar/Shutterstock
There are differing opinions about how much value would be added to your home. According to Texas Outdoor Oasis, a study conducted by Absolute Outdoor Kitchens revealed that adding an outdoor kitchen could increase your return on investment anywhere from 100% to 200%. In other words, for most homeowners, if you invest in an outdoor kitchen, you should get your money back — and you could even make a profit.
Another study conducted by the National Association of REALTORS (NAR) found the average percent of value recovered was actually lower, at 71%. However, this is still a pretty good return on investment; for reference, Ramsey says that the national average value recovered for a major kitchen remodel is 54%.
At the same time, because you probably won't make all your money back, it's not a good idea to install an outdoor kitchen just to get more money when selling. In fact, according to the same NAR study, only 1% of Realtors suggest installing an outdoor kitchen right before selling your home.
Deciding on an outdoor kitchen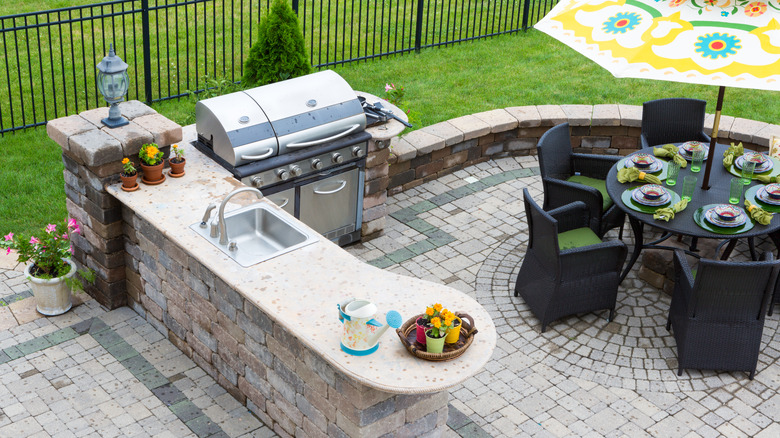 Ozgur Coskun/Shutterstock
When deciding whether or not to install an outdoor kitchen, the most important factor should be your lifestyle. Would you and your family enjoy this space? If not, you shouldn't add one to your backyard.
Another factor to consider is your budget. If you don't have lots of money to spend and aren't handy with tools, you probably shouldn't install one, either. This is because, according to HomeLight, 70% of your budget will most likely go solely to labor costs. And, the typical price you'll have to pay for an outdoor kitchen is $5,000 to $23,000, per Angi. Landscaping Network adds that, if you chose to add the nicest features, the price could rise even higher to around $100,000.
However, if you love completing home improvement projects, you could install one yourself to save money. Rocket Homes describes how to build an outdoor kitchen. First, you'll need to establish a budget, create a plan, and apply for building permits, if required. Then, you can decide on a grill and other appliances. Finally, you can install your cabinets and countertops and add outdoor seating.