This Laundry Pearl Trick Will Keep Your Rug Smelling Fresh
Walking into a fresh-smelling home is one of the best luxuries there is, and knowing your dwelling offers an appealing scent is a good feeling. While many things can contribute to bad smells within the house, one of the easiest places for bacteria and odors to hide is in your rugs. Every day, people walk on them, pets lie on them, and kids play on them. Over time, all of these interactions can leave your floor coverings less than fresh, and cleaning them can be a daunting task. Vacuuming regularly is advisable, and according to Reviewed, you should be doing it once a week, but this savvy trick can actually help your rug smell even better rather than just cleaning off surface dirt.
Many homeowners have used baking soda to clean their carpets and rugs, but this hack transforms the powder's effect into a whole new result. Gone are the lingering odors or detrimental detritus that causes off-putting aromas — now your home will exude a welcoming and appealing fragrance longer than ever.
Add laundry pearls to your baking soda application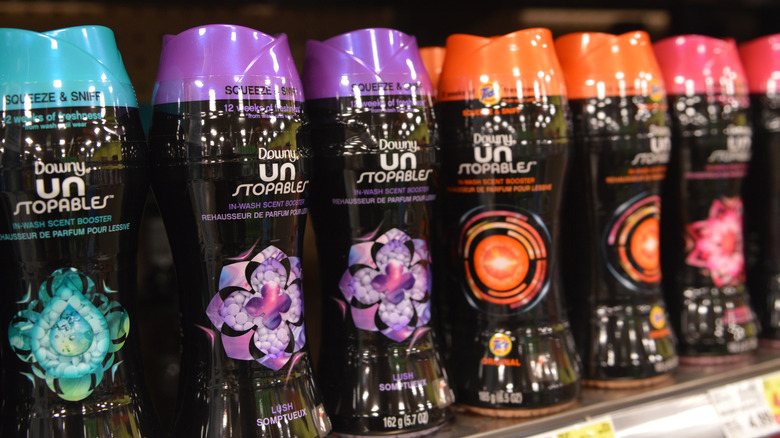 Eric Glenn/Shutterstock
Laundry pearls have become a popular household addition, making your clothes smell fresh and clean even longer than regular fabric softeners. While they usually take up residence near your washer and dryer, these little beads can transform your floor coverings and bring their pleasant fragrances out of the laundry and into your living spaces. Mommy Savers recommends sprinkling some of the pearls onto your rug(s) before vacuuming. You can use these along with baking soda, which helps clean the fibers more thoroughly than just the pearls alone.
Let the mixture sit for an hour to give it time to soak into the rug and immerse the fragrances into the material. An added bonus of using this trick is that your vacuum bag will actually smell better, too, since the pearls will remain in it until discarded. In addition, they can dissipate the musty odor that usually accompanies these bags, breathing a nice aroma out into the air when it is in use.
Why does this work?
You can choose any brand of laundry pearls you want, but people prefer Downy, which shows since it is one of the most popular options on the market. Basically, this hack works because, without water, the beads won't dissolve but will still release their scent into the rug's fibers. Baking soda doesn't require moisture to clean carpets and floor coverings, and according to Arm & Hammer, you simply need to sprinkle it across the entire surface, then leave it for 15 minutes to deodorize and remove dirt, bacteria, and other particles. If you're trying the laundry pearl trick, leave them longer, as mentioned, to get the most out of it.
Combined, these two substances work together to freshen and fix worn-out rugs, which see a lot of foot traffic, play times, or just plain wear and tear. The baking soda can help lighten up or remove stains, too, though sometimes these might require a spot treatment plan. Once your mixture has sat for an hour, vacuum everything thoroughly to ensure nothing gets left behind. From there, just enjoy the feel and smell of clean, odor-free rugs!