The Controversial Lawn Swap That Good Bones Star Mina Starsiak Hawk Says Is A No-Brainer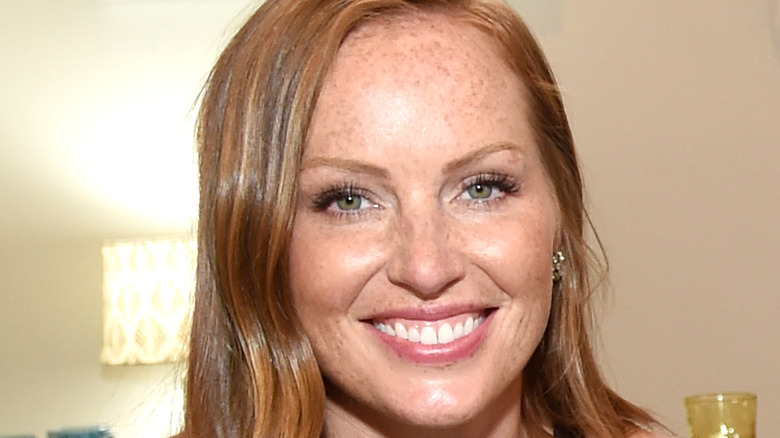 Michael Kovac/Getty Images
A healthy green lawn is the pride of many homeowners — but maintaining a beautiful lawn is no easy task. With grass, you'll often have to spend time fertilizing and testing soil to maintain that lush green color, says Scotts. You may also need to reseed bare grass patches while watering frequently and mowing the lawn for a manicured look. If you hire a professional, you can expect to pay, on average, between $30 and $80 just to cut the grass. Lawn maintenance services can average between $120 and $430, depending on the size of the lawn, according to Home Advisor. Some homeowners may want the look of a beautiful lawn but don't want to put in the time or costs for maintenance.
That's where Mina Starsiak Hawk's suggestion comes in. As a star on HGTV's Good Bones, she renovates homes alongside her mother, Karen Laine. The pair know how to transform a rundown home from the inside out. And through their renovations, they've learned how to save money without sacrificing looks. On the finale of "Good Bones: Risky Business," Starsiak Hawk takes a big gamble that seems to work out, per Realtor. The renovator transformed an old mansion into an event venue, and fans may want to consider the swap in their own homes.
Consider an artificial lawn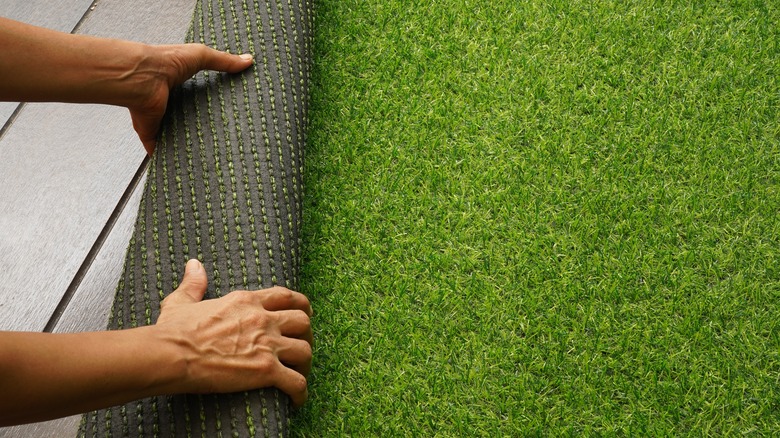 LisaSaeng/Shutterstock
Mina Starsiak Hawk swapped out real grass for an artificial lawn at Charlotte Hall, the historic mansion she transformed into an event venue. "As much stress as the turf has caused, it's always the right choice in my book," said Starsiak Hawk (via Realtor.)
When people think of artificial turf, they probably think of sports fields rather than their backyard. This material is not only for commercial use, but because it's often used for sports, it's incredibly durable, according to Heavenly Greens. It's made to withstand cleats and tackles, so it's sure to stand up to kids running around and playing. However, the one complaint is that it often doesn't look like real grass.
In that case, homeowners might opt for artificial grass, which is similar but not exactly the same material. Artificial grass has longer blades and is softer, so it mimics real grass. Moreover, you can also choose the shade of green to fully customize your yard. For the most durable artificial lawn, you'll want to choose quality products and a good installer.
Benefits of an artificial lawn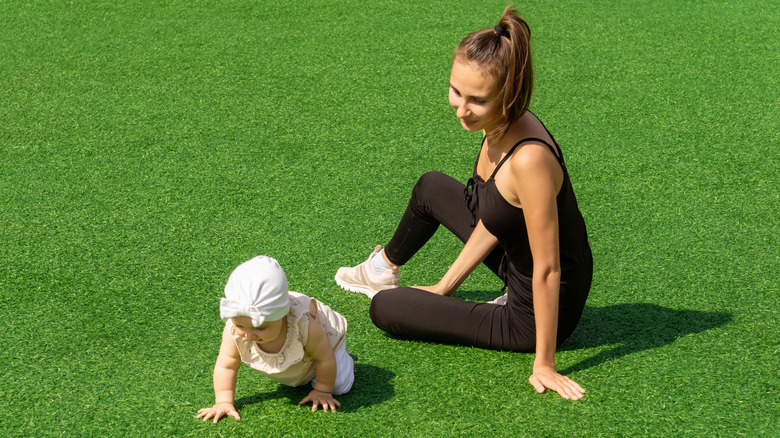 Evgeny Haritonov/Shutterstock
If you're not one to spend Saturday mornings agonizing over your lawn, artificial grass is probably right for you. "It's basically zero maintenance and looks epic year-round. So even a winter wedding can have a nice pop of greenery," Starsiak Hawk says, "Now, we have a nice, big, low- to no-maintenance yard" (via Realtor.) You won't need to spend time cutting, watering, or fertilizing your yard, and it will also look great during periods of drought or intense heat, as well as with a lack of shade, notes Heavenly Greens. You can also send kids out to the yard to play without worrying about them coming back in with grass stains.
Getting your Saturday mornings back isn't the only benefit — artificial lawns are also more eco-friendly and sustainable. According to Bio Friendly Planet, because it uses less water, synthetic grass can be an eco-friendly option. And, if you choose an option made from recycled materials, it can be recycled at the end of its life, which can be as long as 25 years. However, artificial grass doesn't reduce carbon emissions like real grass because it's not a plant — but, you can always fill your backyard with real plants to combat this.