How To Know If A Corner Bathtub Is Right For Your Bathroom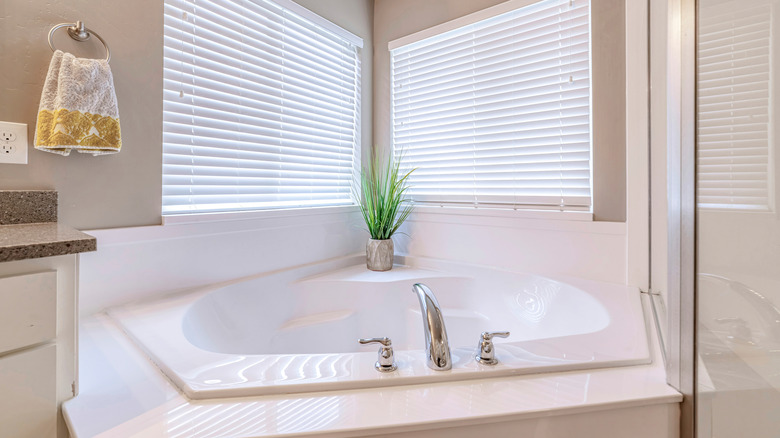 Jason Finn/Shutterstock
If you're trying to decide what bathtub to install in your bathroom, you may be feeling a bit overwhelmed. Choosing the right tub takes careful consideration, and there are numerous options in shape, size, and style. According to Weinstein, there are four main styles. Most modern bathrooms have a rectangular tub that's typically combined with a shower. For a more luxurious look, some may choose an oval design. Or, for a more vintage appearance, you could decide upon an angled bathtub, which has one or two raised edges.
Another popular shape is a corner-style bathtub. These are best used in awkwardly shaped or small bathrooms, and they are usually more spacious than the other options. Additionally, their unique design could give your room an interesting appearance. Below, you'll discover the pros and cons of a corner bathtub, as well as how to determine if one would work in your bathroom.
Pros and cons of a corner tub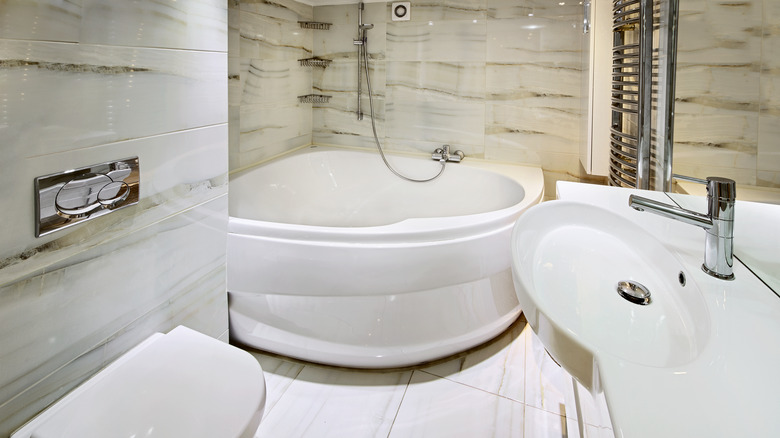 HamsterMan/Shutterstock
The largest benefit of a corner-style bathtub is that it can fit into small areas. If you have limited space, this could be a great option for you. Or, even if you have a large bathroom, a corner tub would save you floor space and could make your room appear bigger, explains The Bathtubber. Additionally, according to Badeloft, these bathtubs are typically deep and can fit more than one person. And, corner tubs often come with a tub surround or a deck, which would provide your bathroom with a more cohesive and expensive look, per Quality Bath.
However, they can also come with a high price tag; they typically cost over $1,000. Not only that, but because they have a unique design, they can be more difficult to clean, as it may be hard to reach the far edges of the tub. And, in some bathrooms, these bathtubs can appear bulky or too large.
Is a corner tub right for you?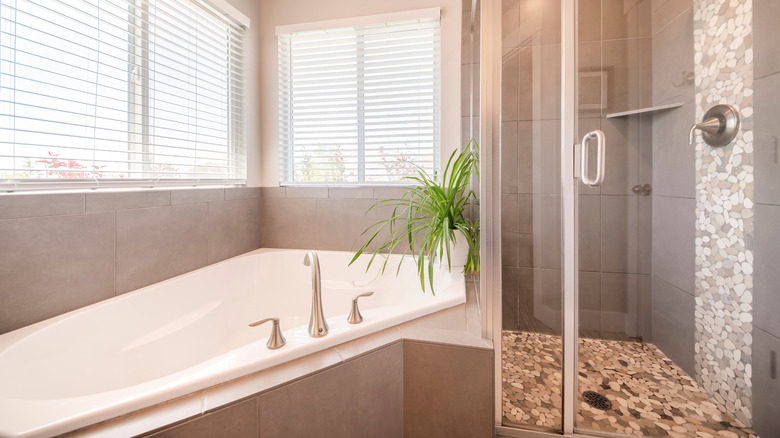 Jason Finn/Shutterstock
As stated, corner tubs are great solutions for those who have limited floor space or an awkward layout in their bathroom. They could also add a unique style or luxurious feel to your space. And, if you want a separate tub and shower to fit into a cramped area, this shape could work for you, per Bathtubs Plus.
However, there are some situations where a corner bath won't work. If you have an extremely small bathroom, it may not fit, warns Quality Bath. Most suggest having at least 30 inches of empty space past the edge of the tub, and typically these bathtubs are either 4 feet by 4 feet or 5 feet by 5 feet. Many also have a tub surround, which will take up even more space. Moreover, you'll also need to make sure it can fit through your doorway during installation.
You should also consider your lifestyle when determining whether this shape is right for you. Badeloft points out that those who have trouble getting in and out of the bathtub may not benefit from bathtubs with this shape, as they can be quite deep. And, for those with a tight budget, this may not be a good option, as they're typically more expensive.